Every once in a while, you stumble upon a place that you can't forget. Years later, fond memories still envelope you and put in a dreamy mode. Il Glicine Sul Golfo, a Bed & Breakfast in Mondello, Sicily is one of these unique places.
Il Glicine Sul Golfo totally unsolicited and honest review
The gorgeous villa overlooks beautiful Mondello Bay. The terrace presents sweeping views of the sea and the mountains. The garden is overflowing with flowers. Silvana, the proprietress, is the epitome of old-fashioned hospitality.
In short, Il Glicine Sul Golfo is the Ideal accommodation for a traveler wishing for a comfortable and enjoyable laidback break just a few minutes from Palermo.
La ringrazia per l'ospitalità!
Un angolo di paradiso!
It was our first ever morning in Sicily. The previous night we left windows open. By daylight, garden flowers filled the room with fragrance. The endless chirping of invisible birds worked better than any alarm clock.
Drawn by curiosity, I went outside.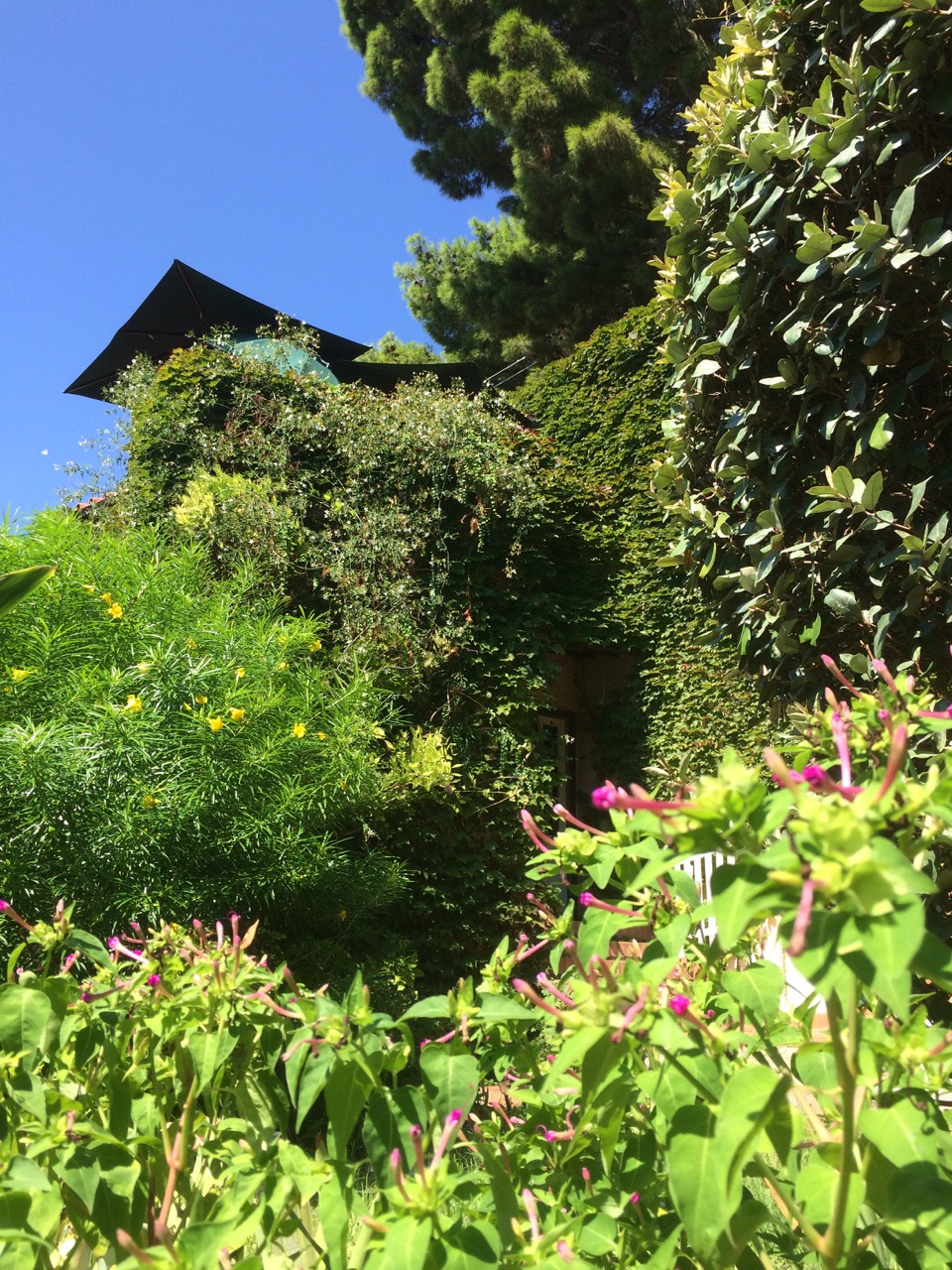 The abundance of vegetation was astonishing. The house was fully hidden behind lavish vines.
The garden was bursting with a myriad of plants providing much-needed shade. It was getting hot very quickly. The air was absolutely still. A sea breeze would be so welcome to offset oppressing humidity.
Standing in the middle of the overgrown garden facing the invisible house, I was hit with a sense of déjà vu. I read about a place like this once…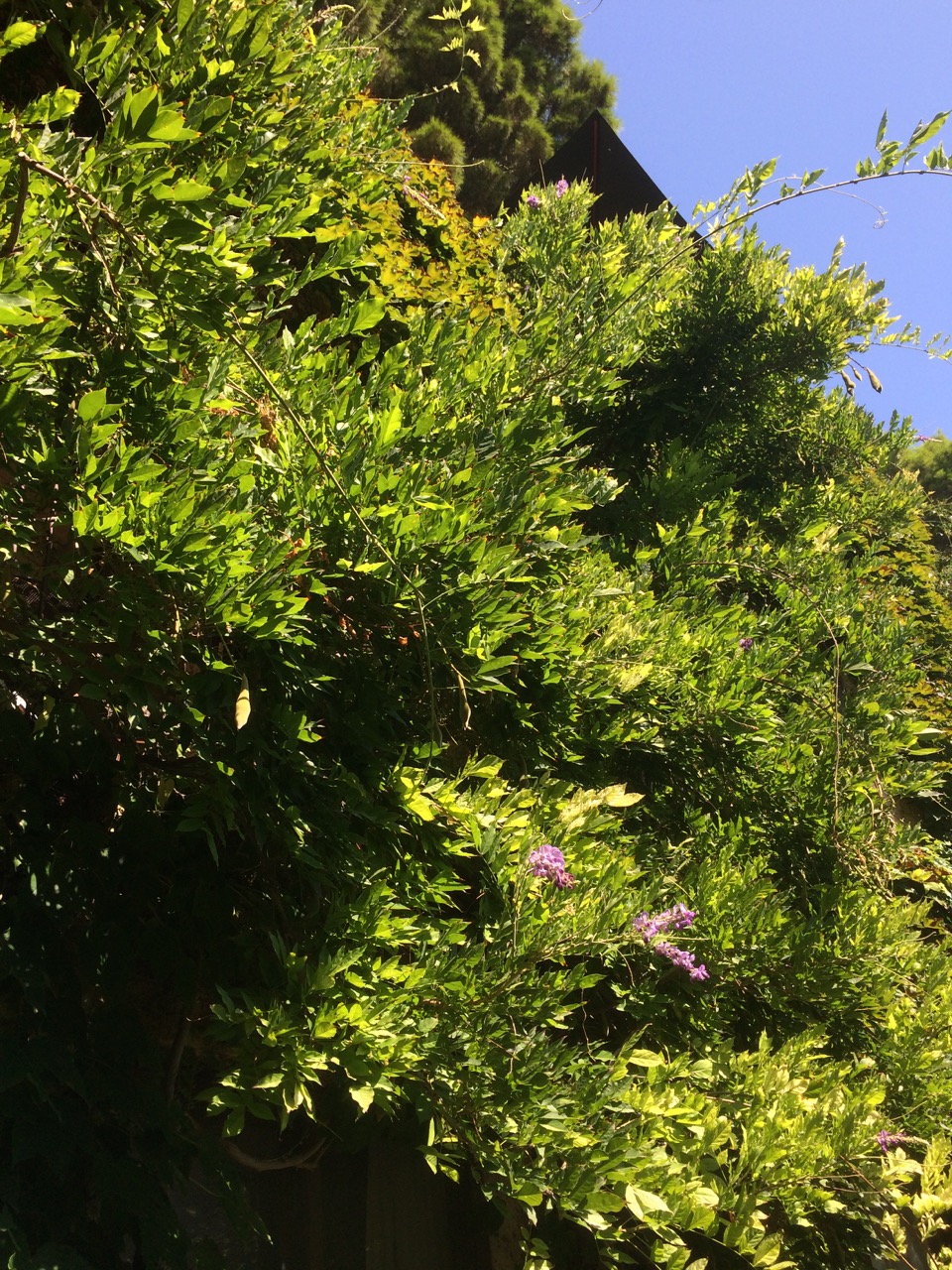 The 19th century flashback
Russian writers in the nineteenth century knew Italy well. I think it was some story written by Turgenev that triggered my memories.
Lazy sun-soaked summer day – checked; an old stone house covered with overgrown greenery – checked; quiet garden – checked. Or maybe it was my imagination playing tricks after too much sun.
In any case, there was something special about that place that hard to explain. Perhaps the best way to describe it would be: a long lost friend found.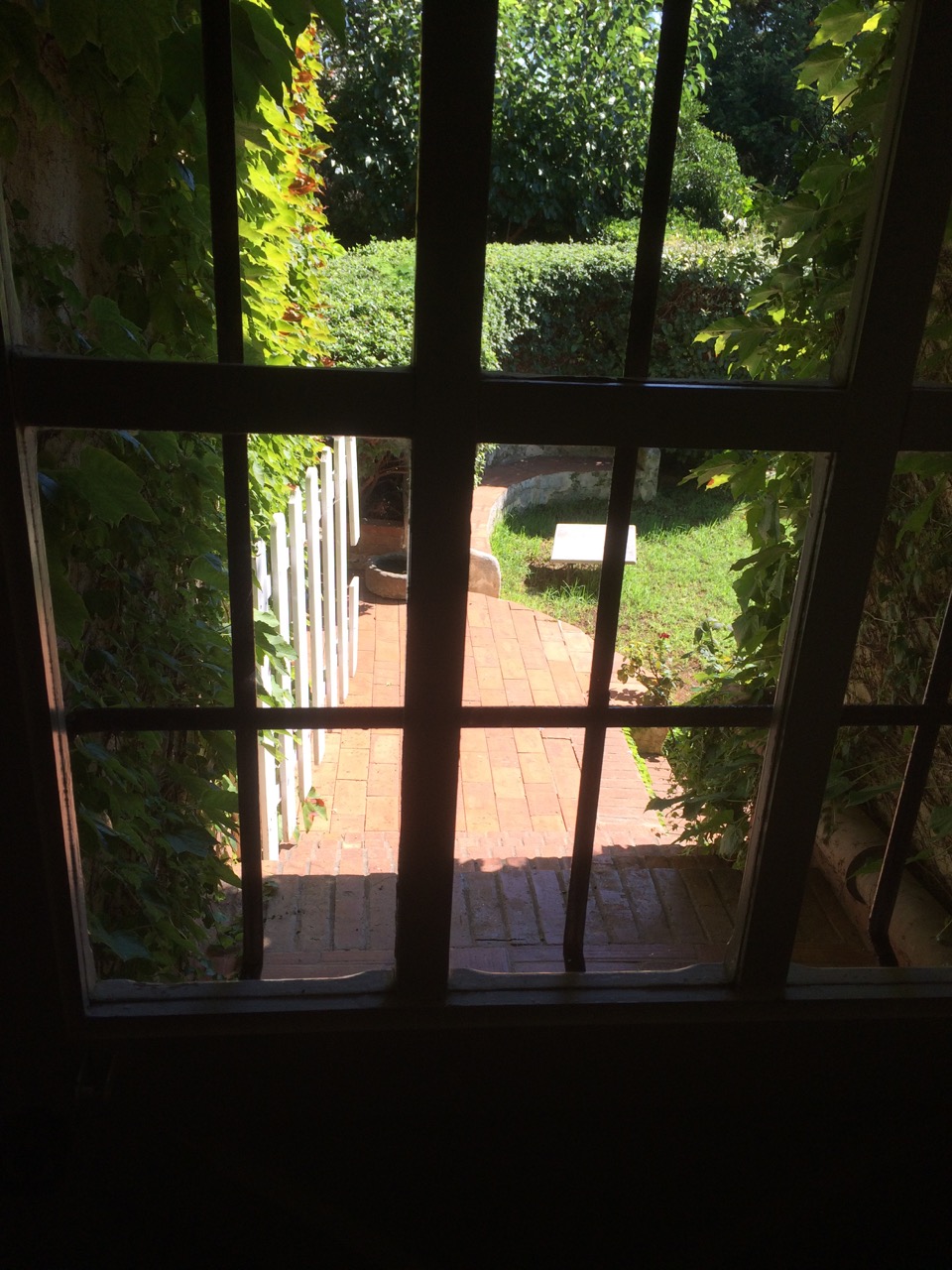 The wisteria on the bay
Let's switch from poetry to the mundane. The place is called Il Glicine Sul Golfo. In English, it means the wisteria on the bay, which is a perfect description of the villa. It is literally hidden behind abundant greenery.
It is a typical Mediterranean villa with a spacious terrace overlooking Mondello and the sea.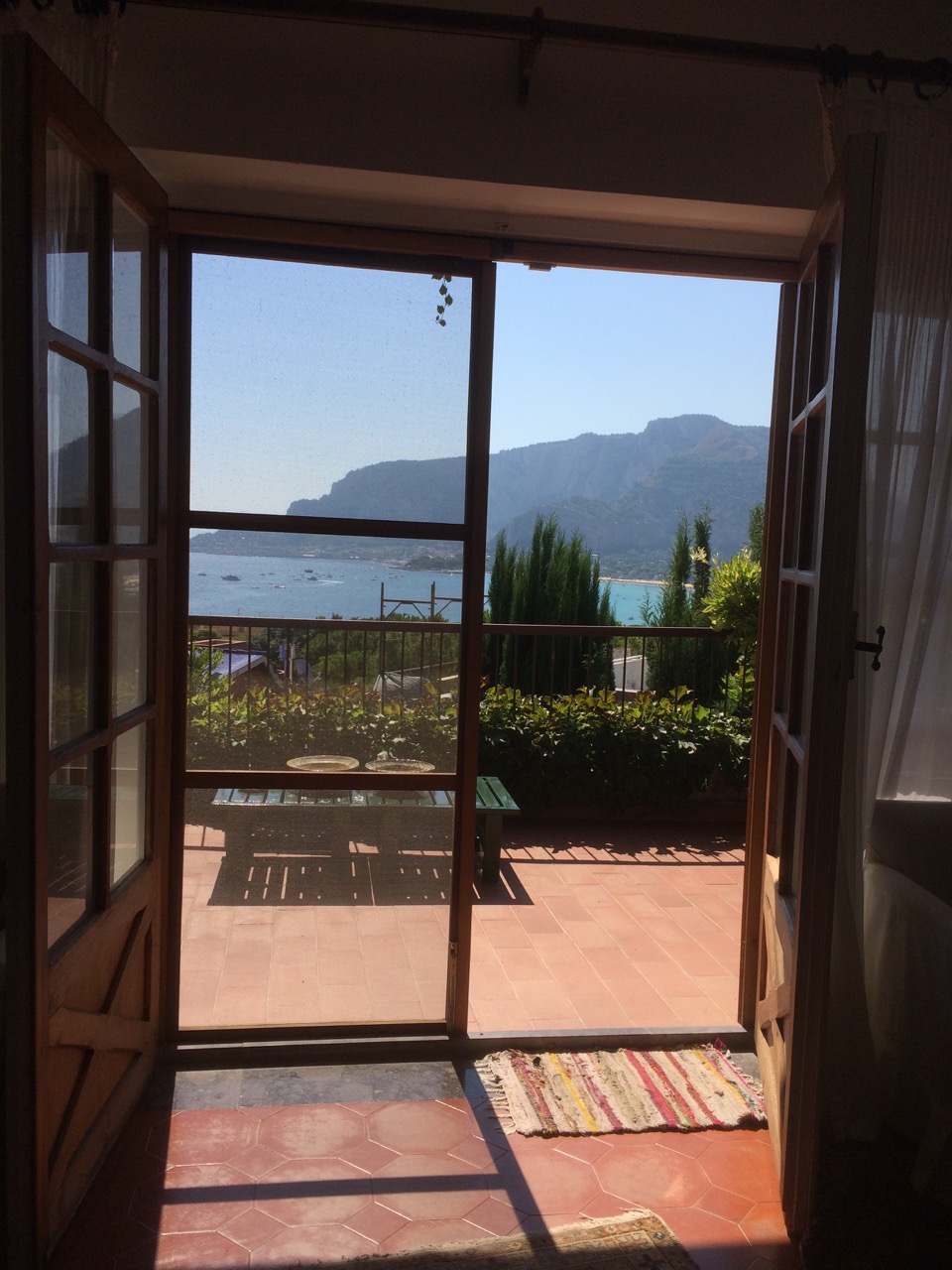 Perched on the outskirts of Monte Gallo, it provides sweeping views of the town and the valley.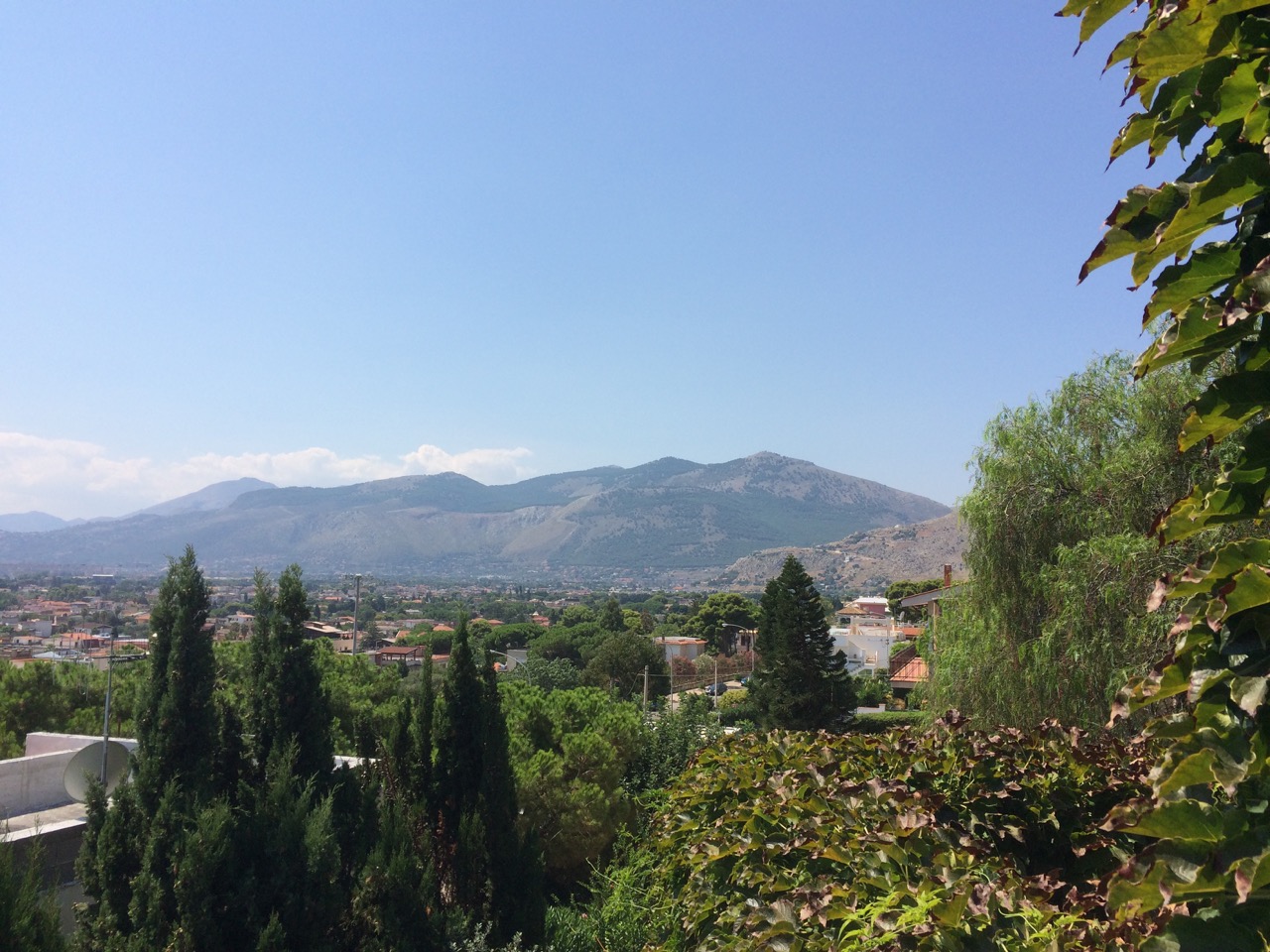 Back when we stayed at the villa, there was only one minor inconvenience. Unfortunately, the villa next to Il Glicine was undergoing some expansion which slightly affected the views from the terrace.
Unless, of course, you prefer to watch muscular descendants of famous Italian masons at work stretching their impressive physiques under the ferocious Sicilian sun.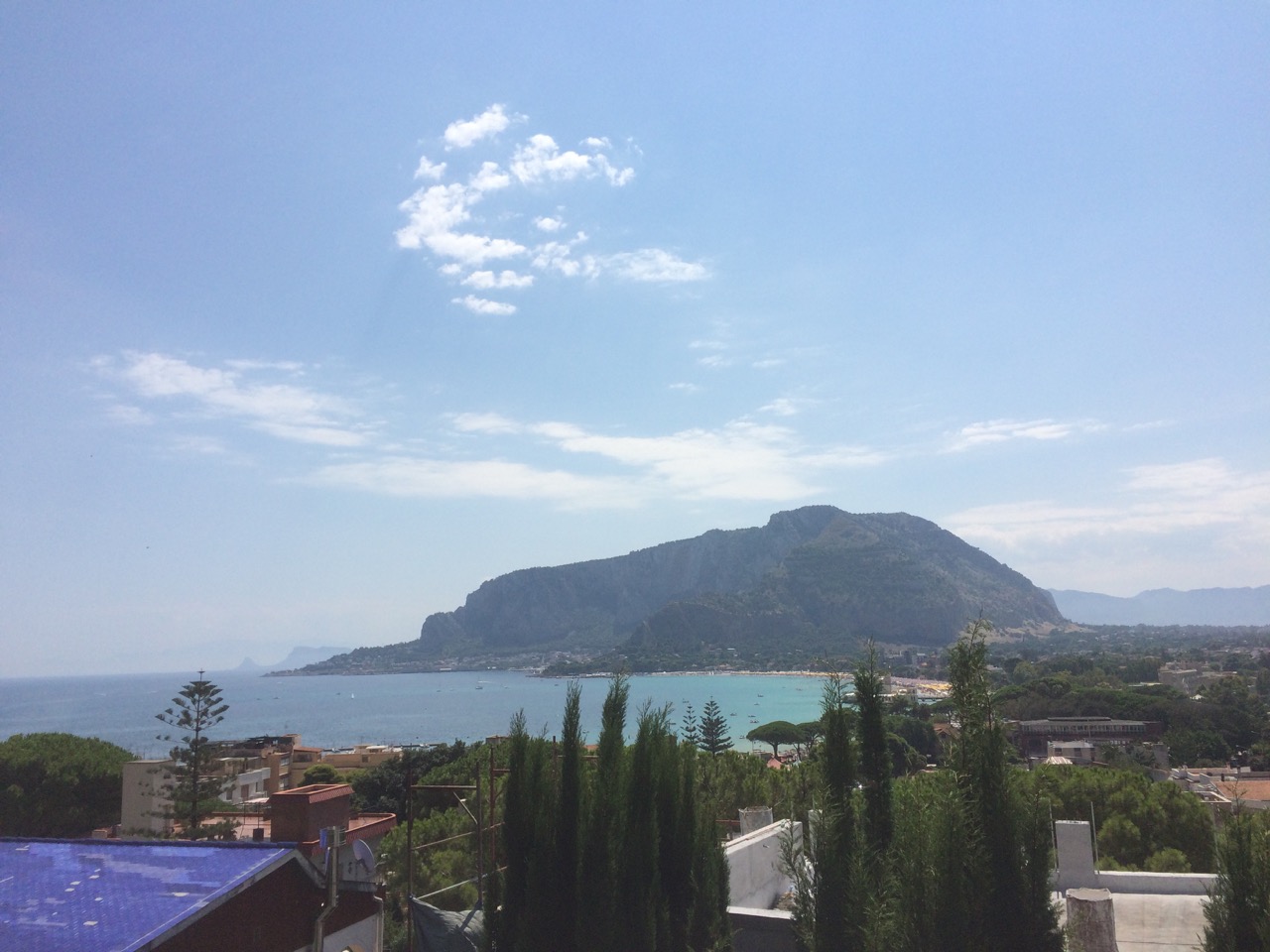 Walking down from the villa to the sea takes about 10 minutes. Nice and easy. However, climbing back provides welcoming exercise after all these sweets and gelato consumed by the beach.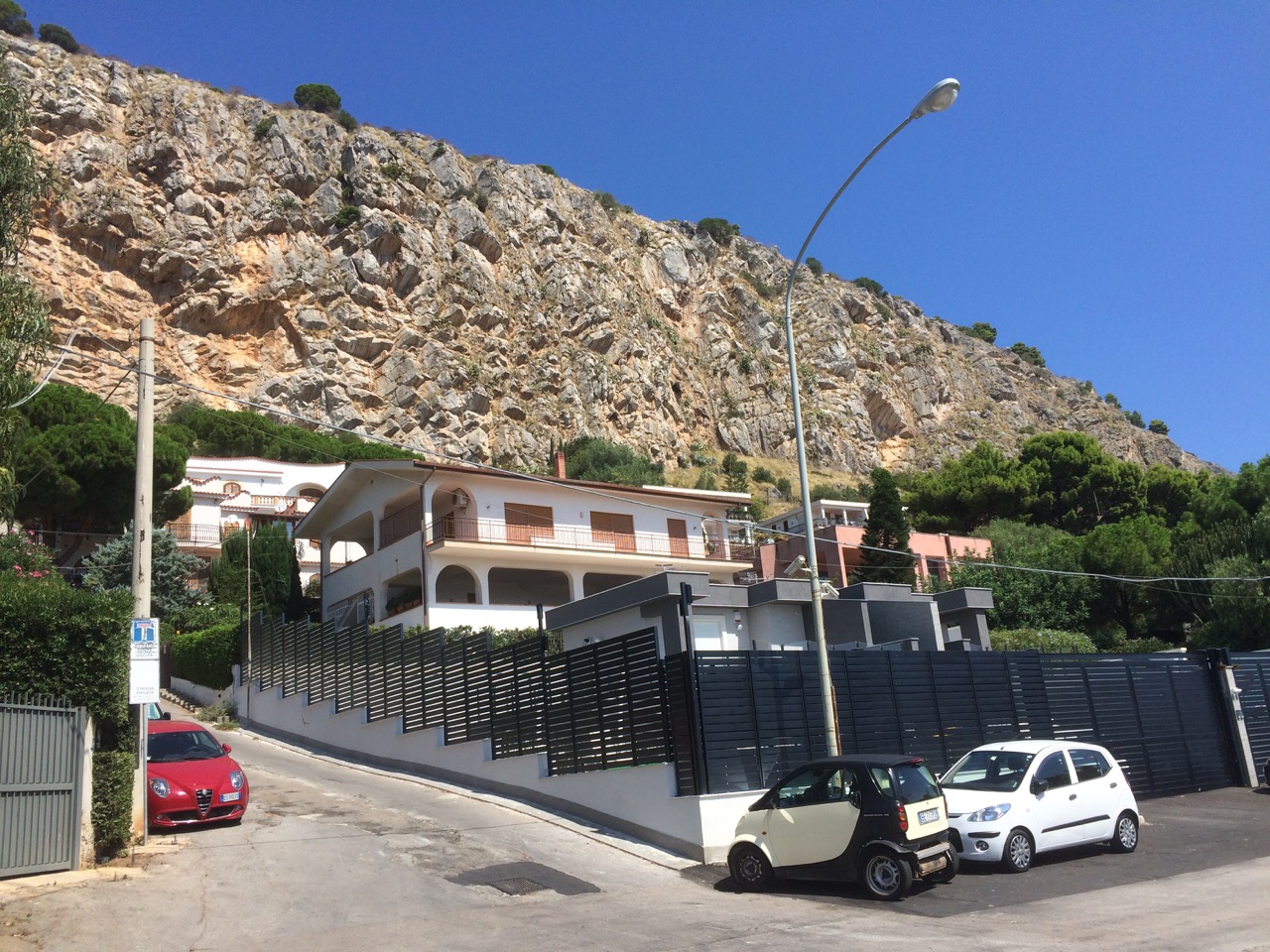 Memories of a bygone era
I was surprised that Il Glicine was built in the 70s. Old-fashioned furniture, wooden beams and overgrown vines create an impression of a much older dwelling.
The villa looks, perhaps purposefully, as if it existed for centuries.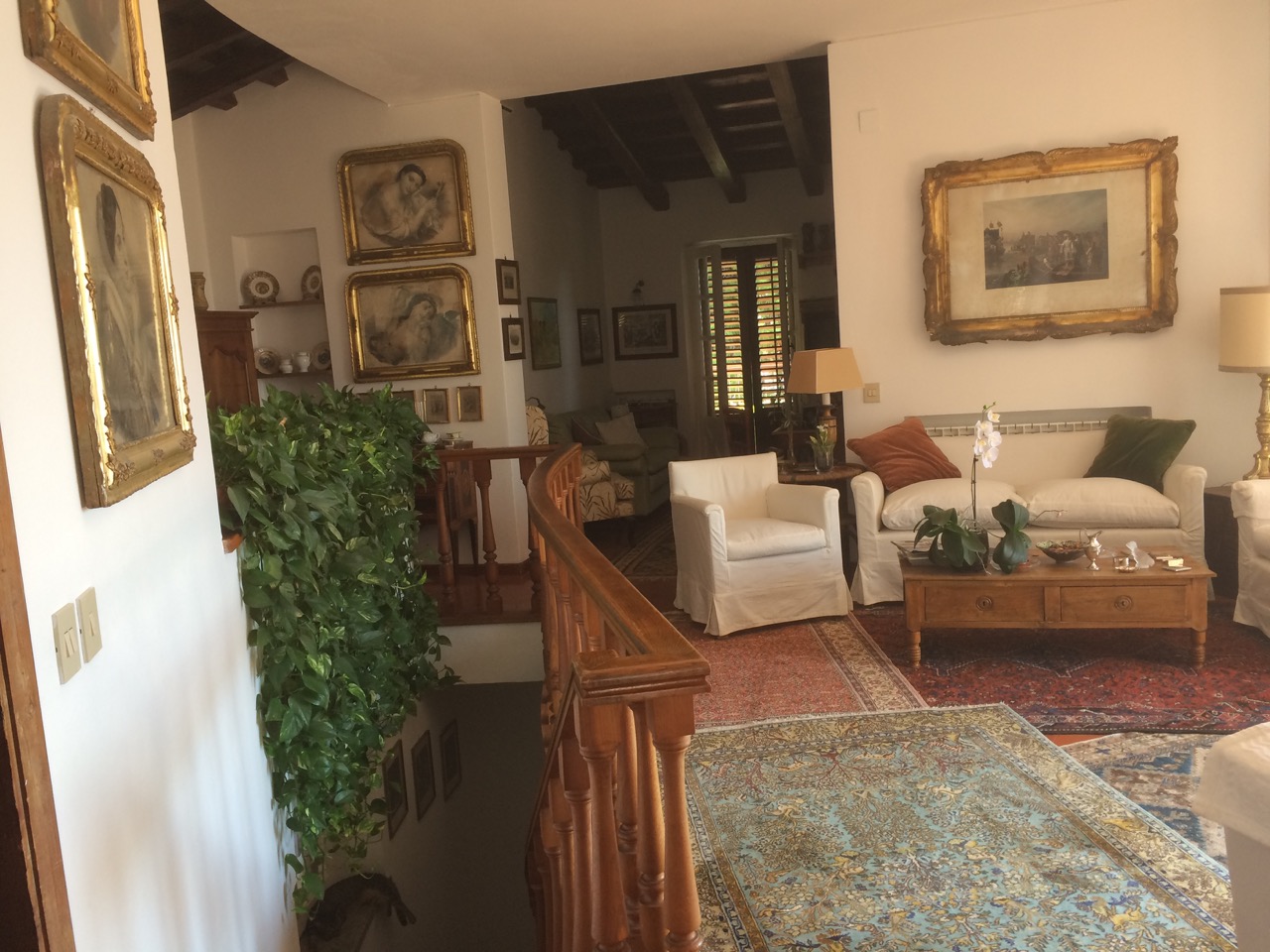 Il Glicine Sul Golfo Bed & Breakfast rooms
There are 3 types of accommodations: a double room, a suite and an independent apartment. All three have en-suite bathrooms and WiFi (albeit not the fastest variety).
The suite and the apartment are air-conditioned. The suite has a balcony facing the sea. The apartment opens to the garden.
All rooms have their own personality and look like a picture-perfect illustration of Italian pensiones so popular a century ago.
Il Glicine is not a five-star accommodation, but what it lacks in modern facilities department is absolutely superseded by the level of hospitality.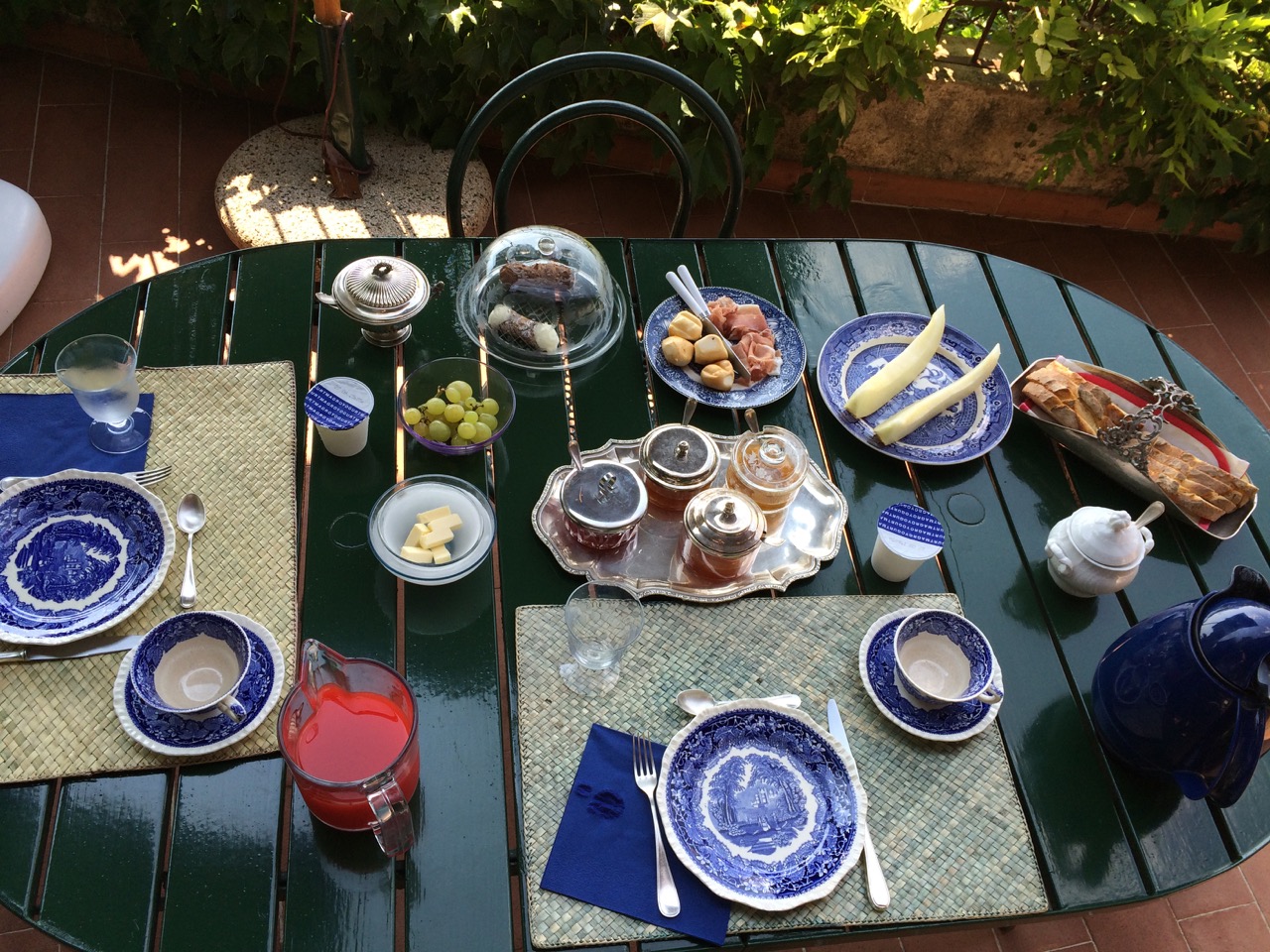 Meet the Il Glicine hosts
The place is run by two charming ladies, Silvana and Daniella.
They are eager to make you feel special and enjoy every minute. Silvana waited for us late into the night, and Daniella dutifully served the strongest coffee for AT and a fresh pot of tea for me at every breakfast.
Without any doubts, our first favorable impression of Sicily in part is definitely due to the hospitality of Silvana and Daniella.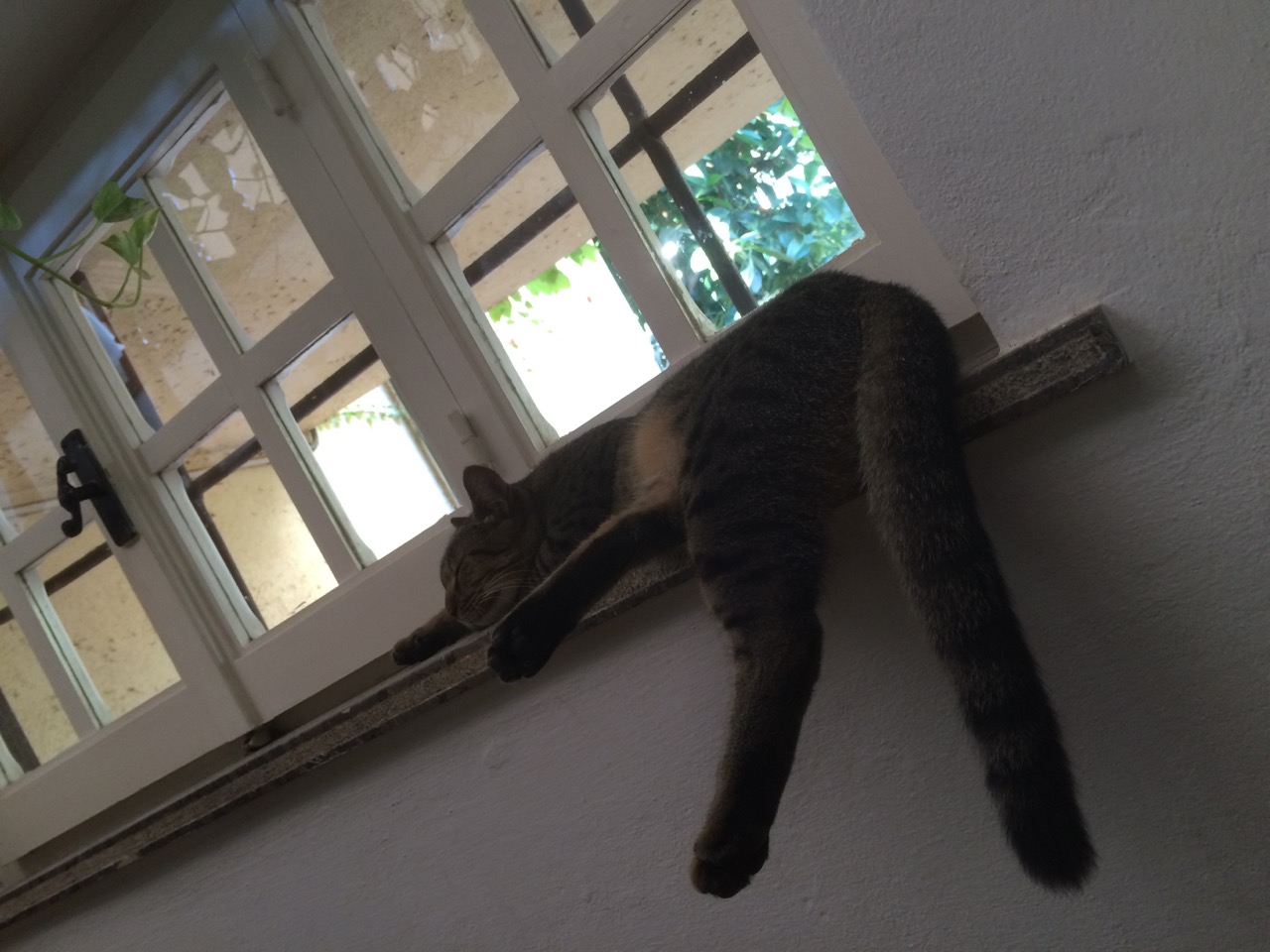 Finally, everybody's favorite question: would you recommend this B&B? Yes with two remarks:
there are two or three adorable felines on premises. If you are allergic to cats you might want to stay somewhere else;
walking from the beach includes climbing up the hill. During hot summer months, you have to be either in decent physical shape or just rent a car.
Thinking about staying at Il Glicine?
Good choice! However, accommodation aside, what can you do in Mondello. Do not worry. We got it covered.
Ready to book? Make a reservation on Booking.com.
Il Glicine Sul Golfo Bed & Breakfast location:

You may also like:
Published: September 2015. Last update: June 2019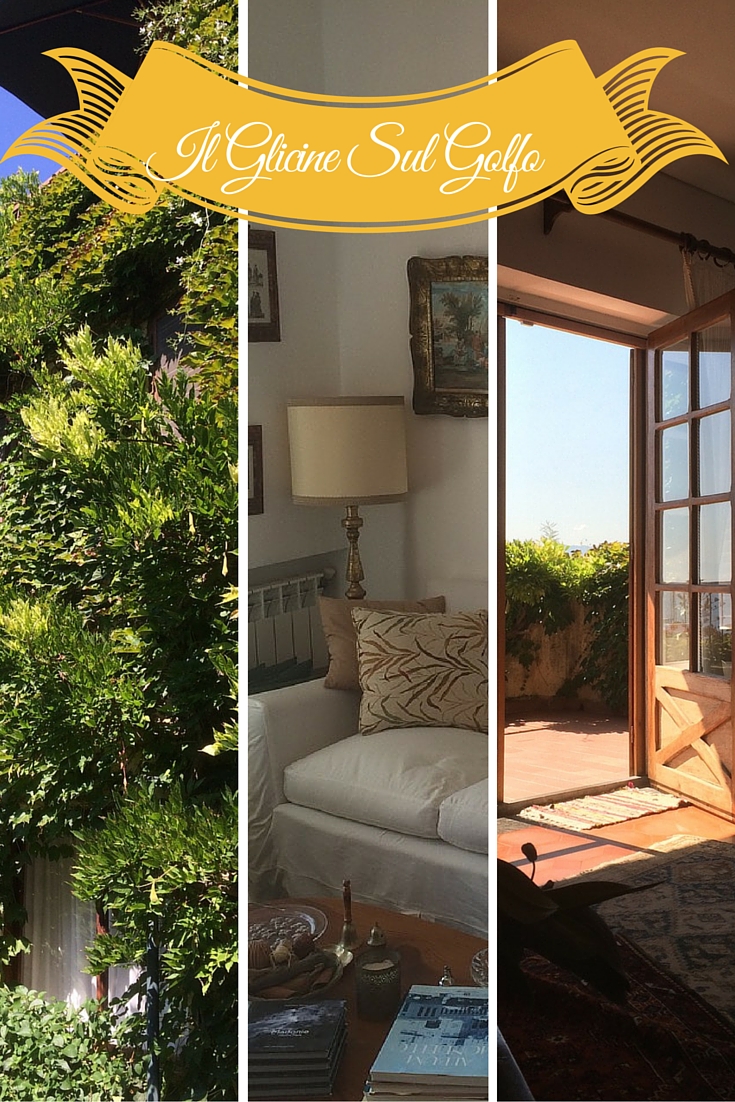 This review is an independent, unsolicited opinion of the author.