Looking for a quieter one-on-one time with Etna, we drove up to Piano Provenzana, the North access point, on an early morning in late October.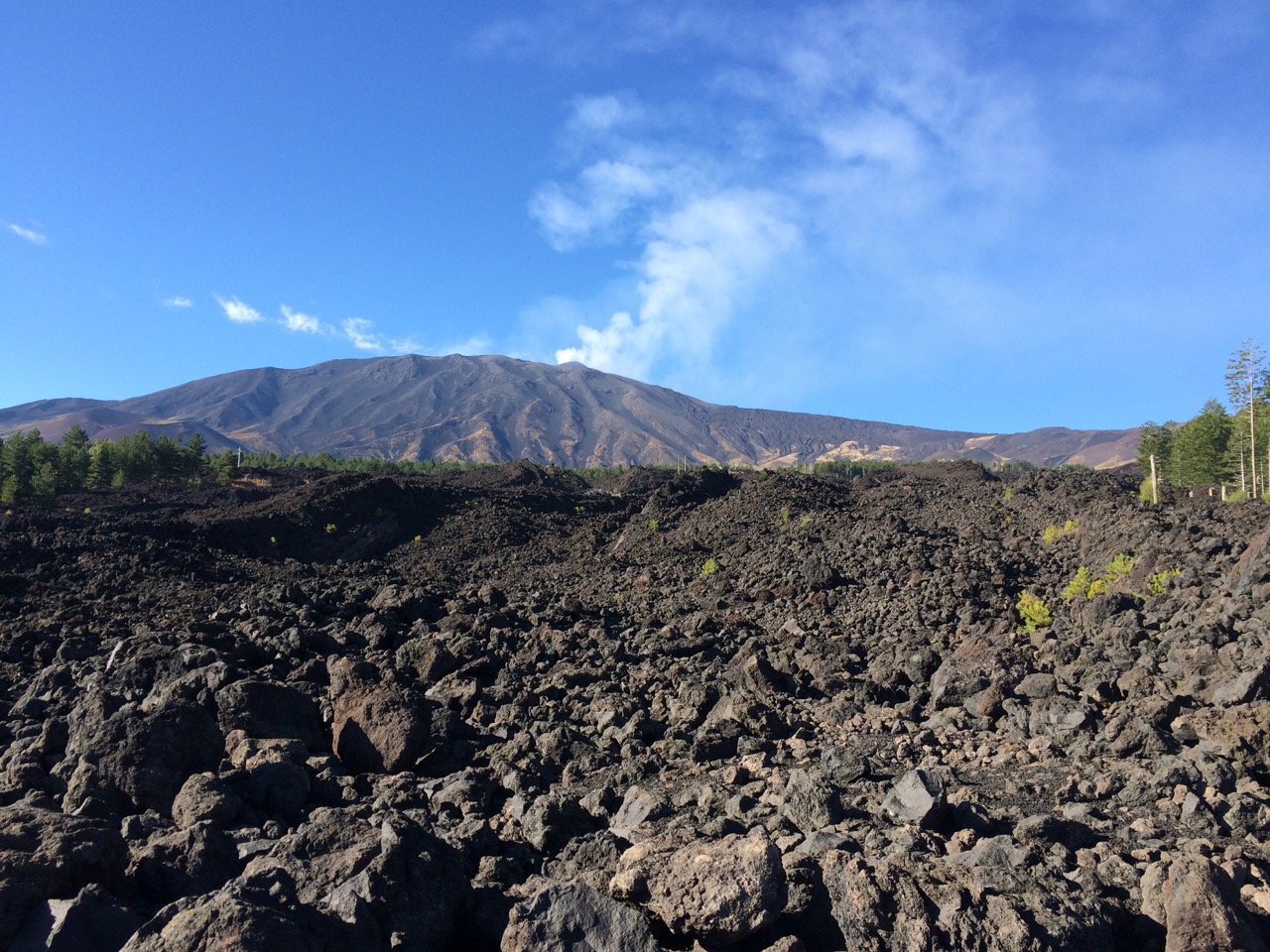 Piano Provenzana, the main ski resort on Etna, is smaller with markedly less commercial establishments in comparison to Rifugio Sapienza (Etna south).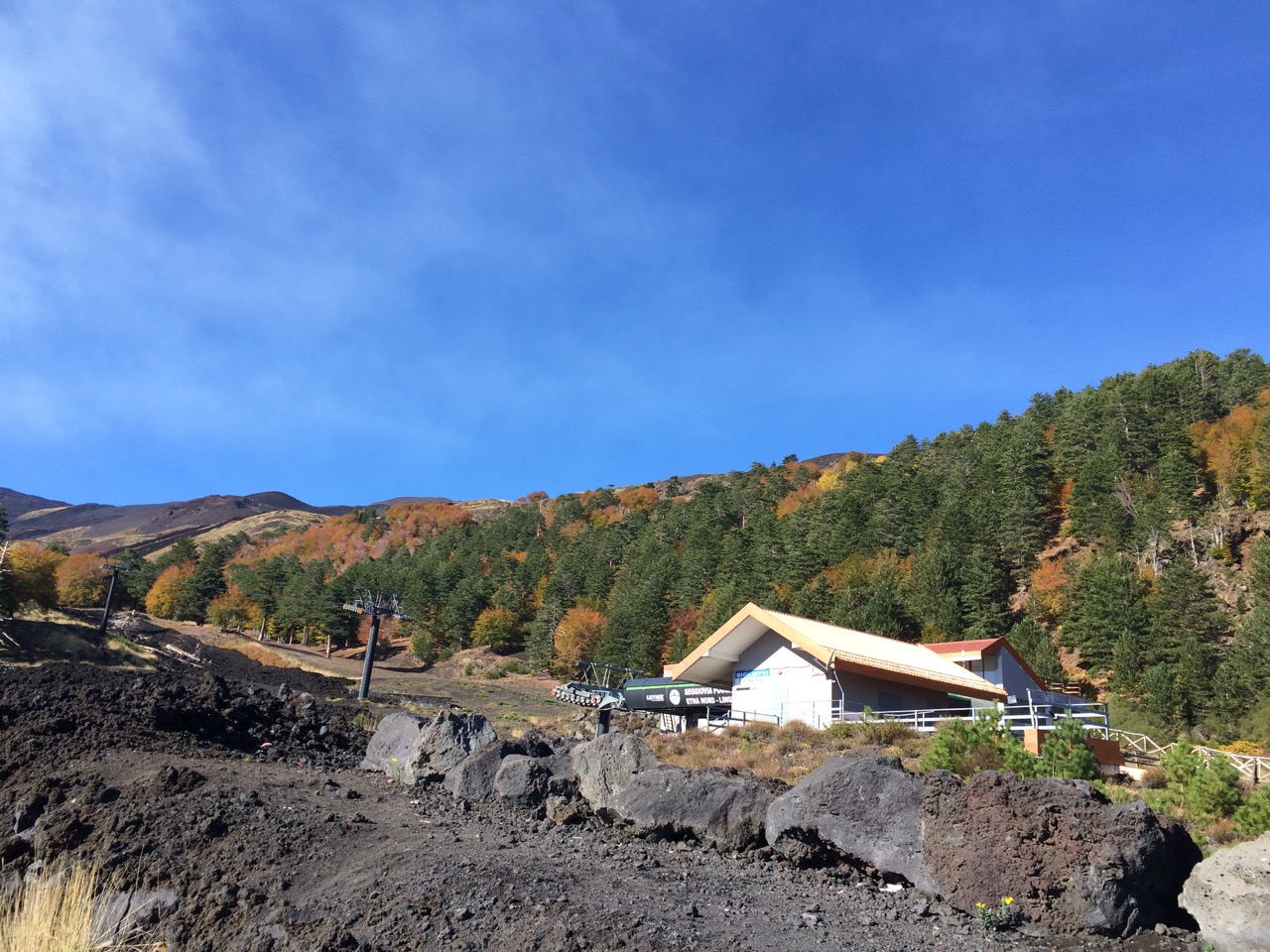 End of October is a quiet in-between-season break on the northern side. Ski season hasn't started yet, but all summer tourists with their lookalike itineraries are long gone. Mornings belong to free-roaming cows freely exploring deserted facilities.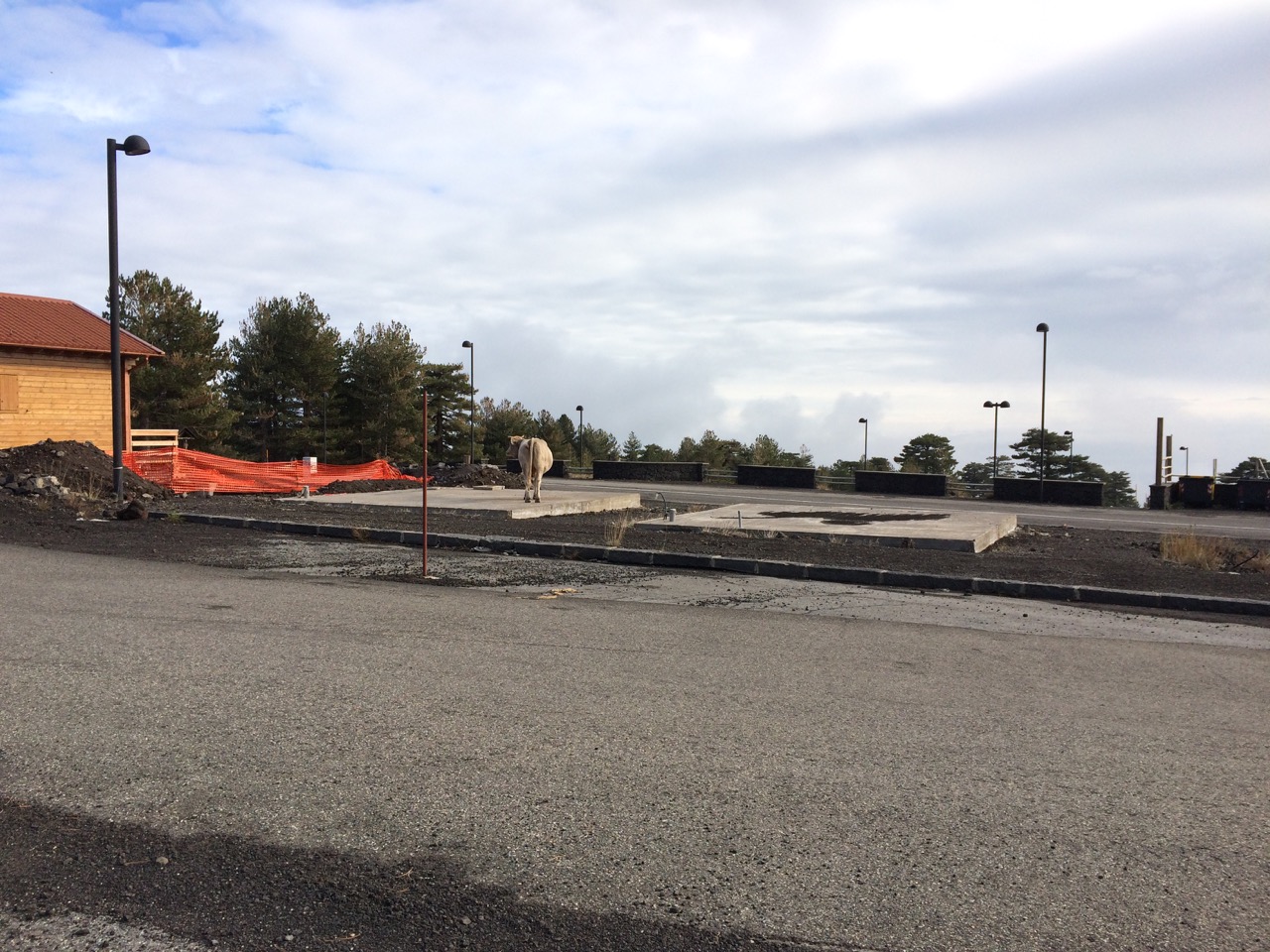 Closer to noon, they retreat to better pastures avoiding a thin trickle (in comparison to the south side) of tourists arriving by bus or car.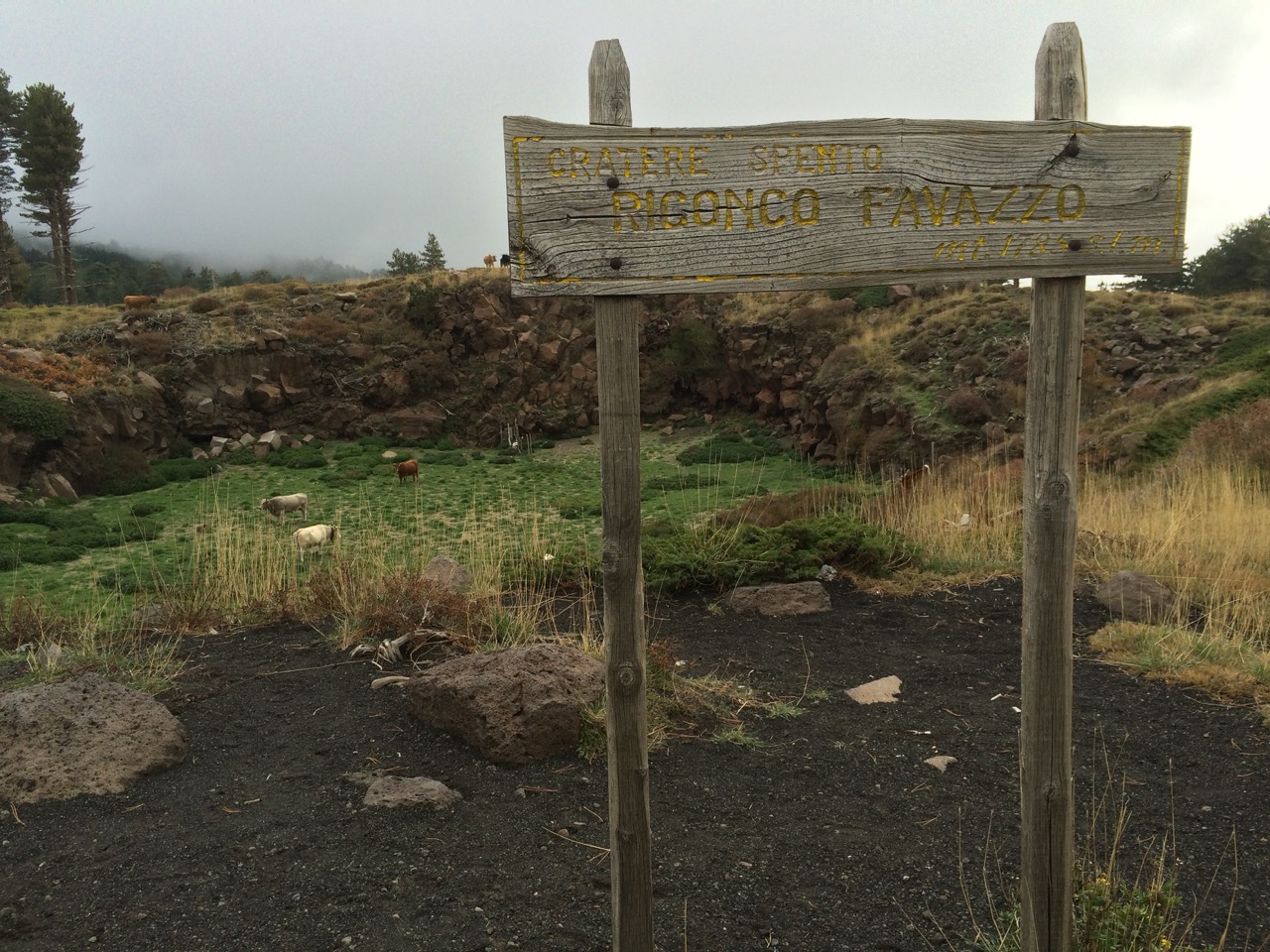 The north side of Etna is covered with forests and wildflowers in opposite to the barren looking south side encrusted with lava flows. Yet, in my view the almost lunar surface lost to the earthen landscape.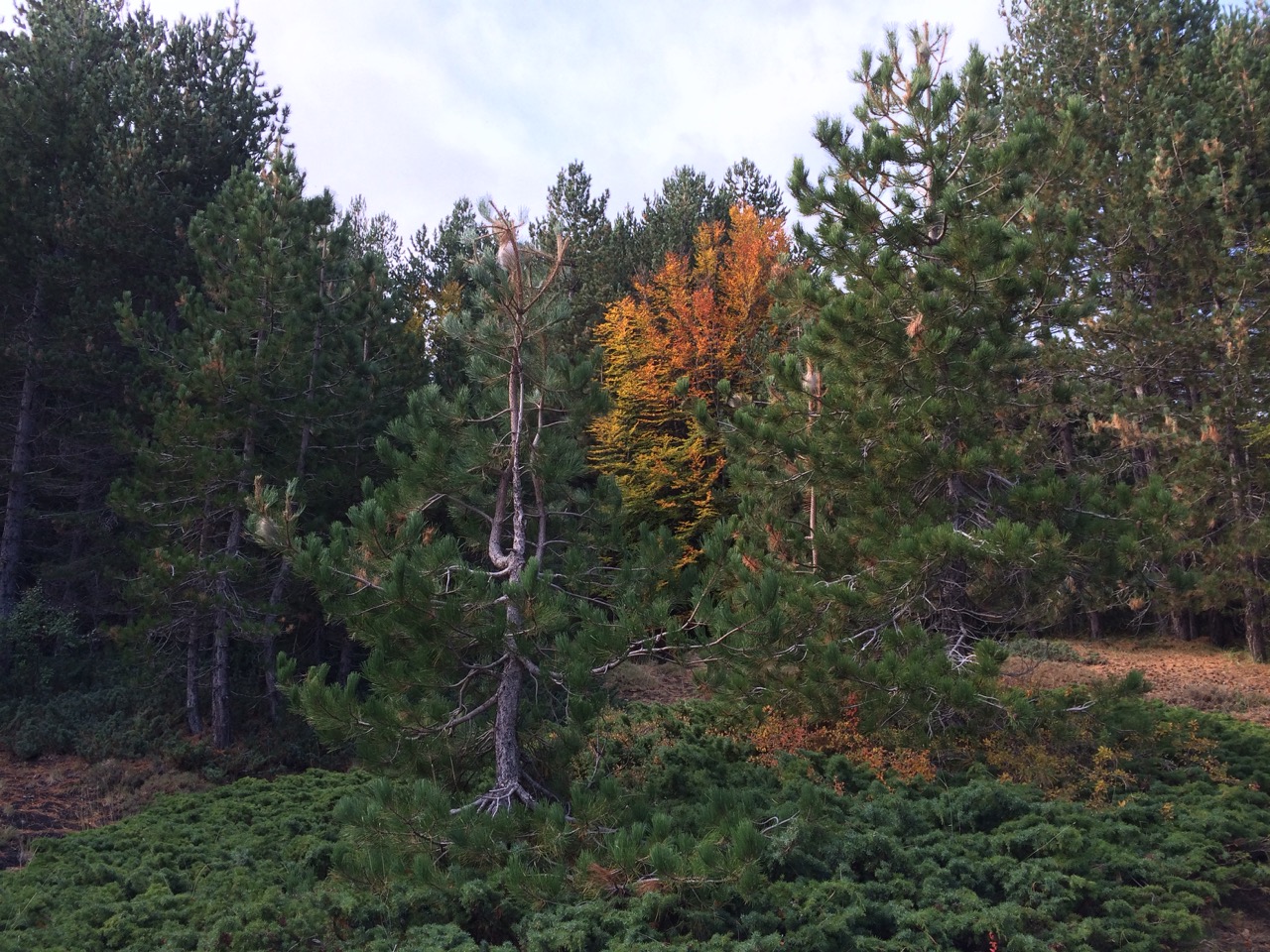 There is a very short window of opportunity for a cloudless view of Etna. Early mornings are sunny, but just in a few short hours dirty looking heavy wall of moisture begins to envelope everything around.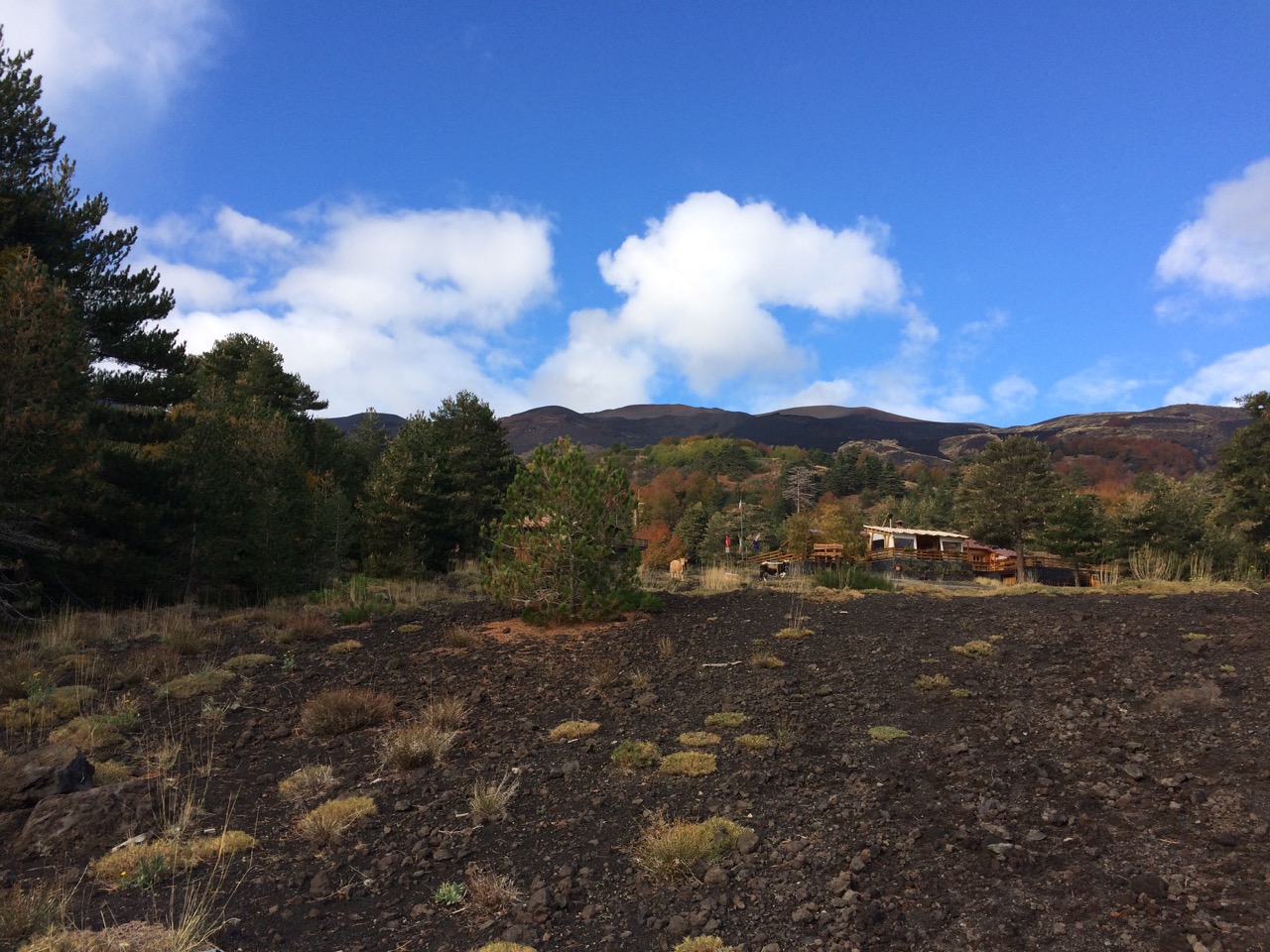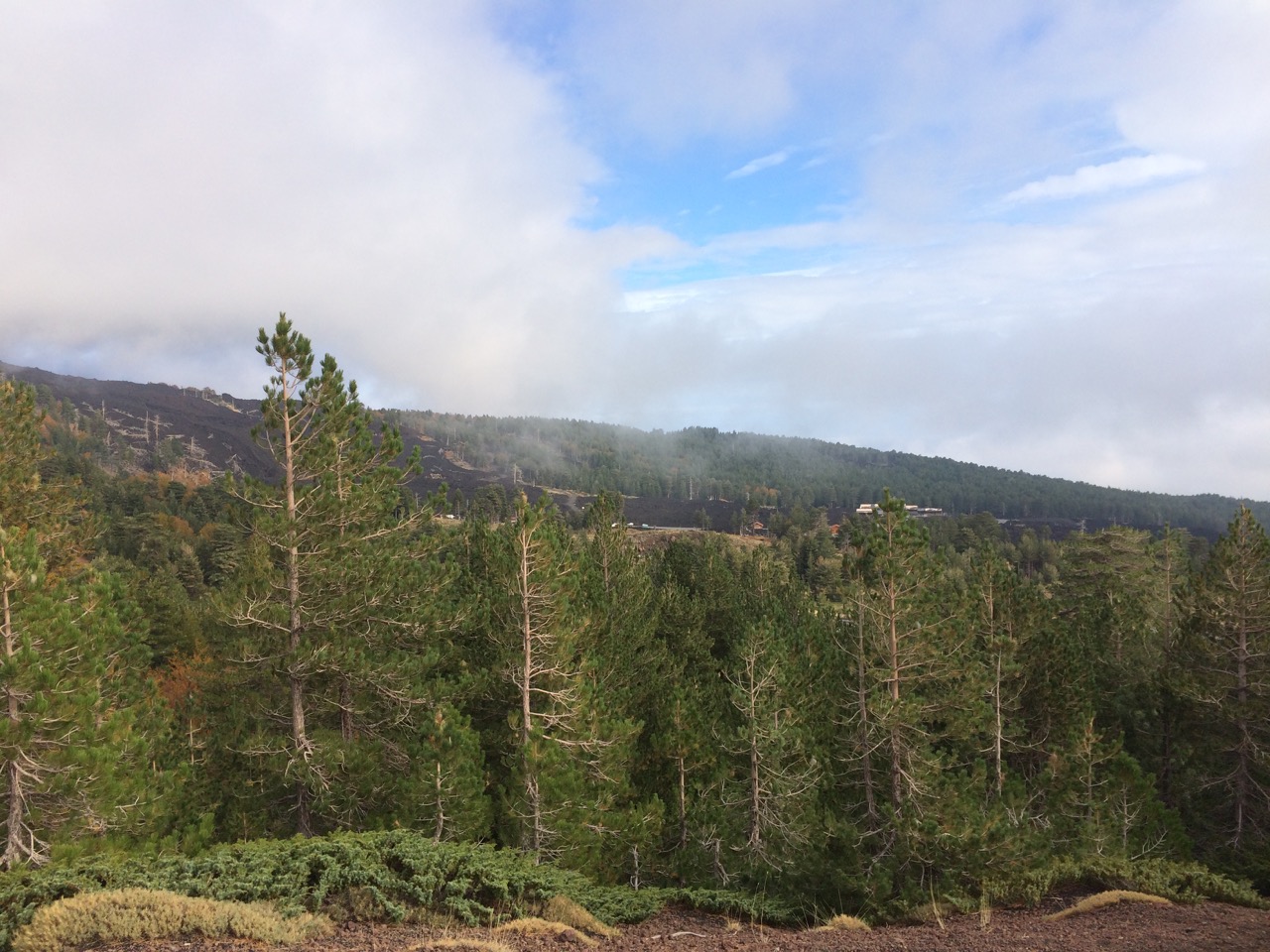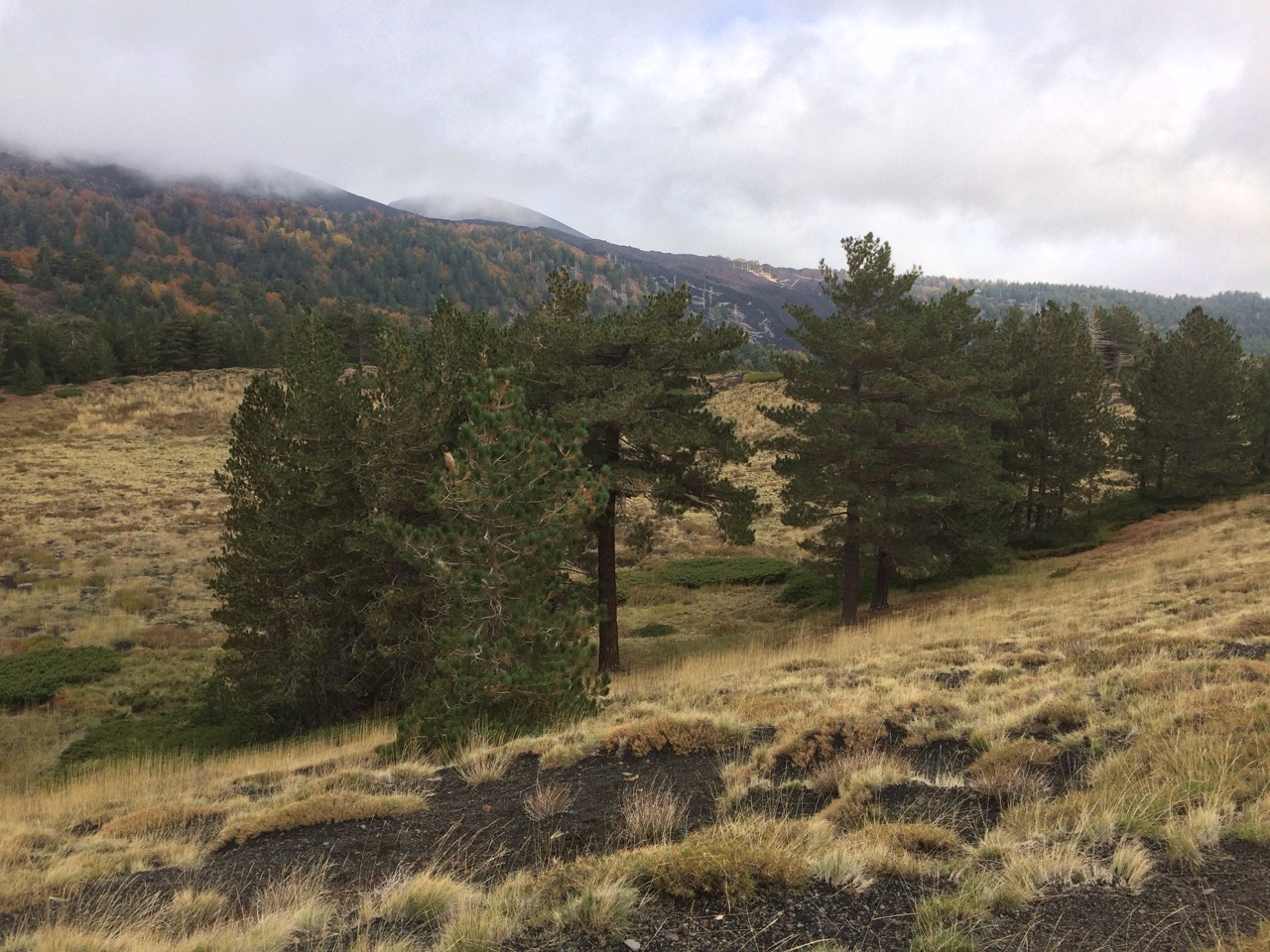 Remembering this phenomenon, we started our hiking trip around 8:30 in the morning to allow the sun to warm up the chilly autumn air a little bit. We were absolutely alone sans a flock of cows moving in opposite direction. We jumped into the forest and almost immediately hit a steep climb. At times, the ground covered with leaves and pine needles was rising so sharply that the only way we could continue was on all fours.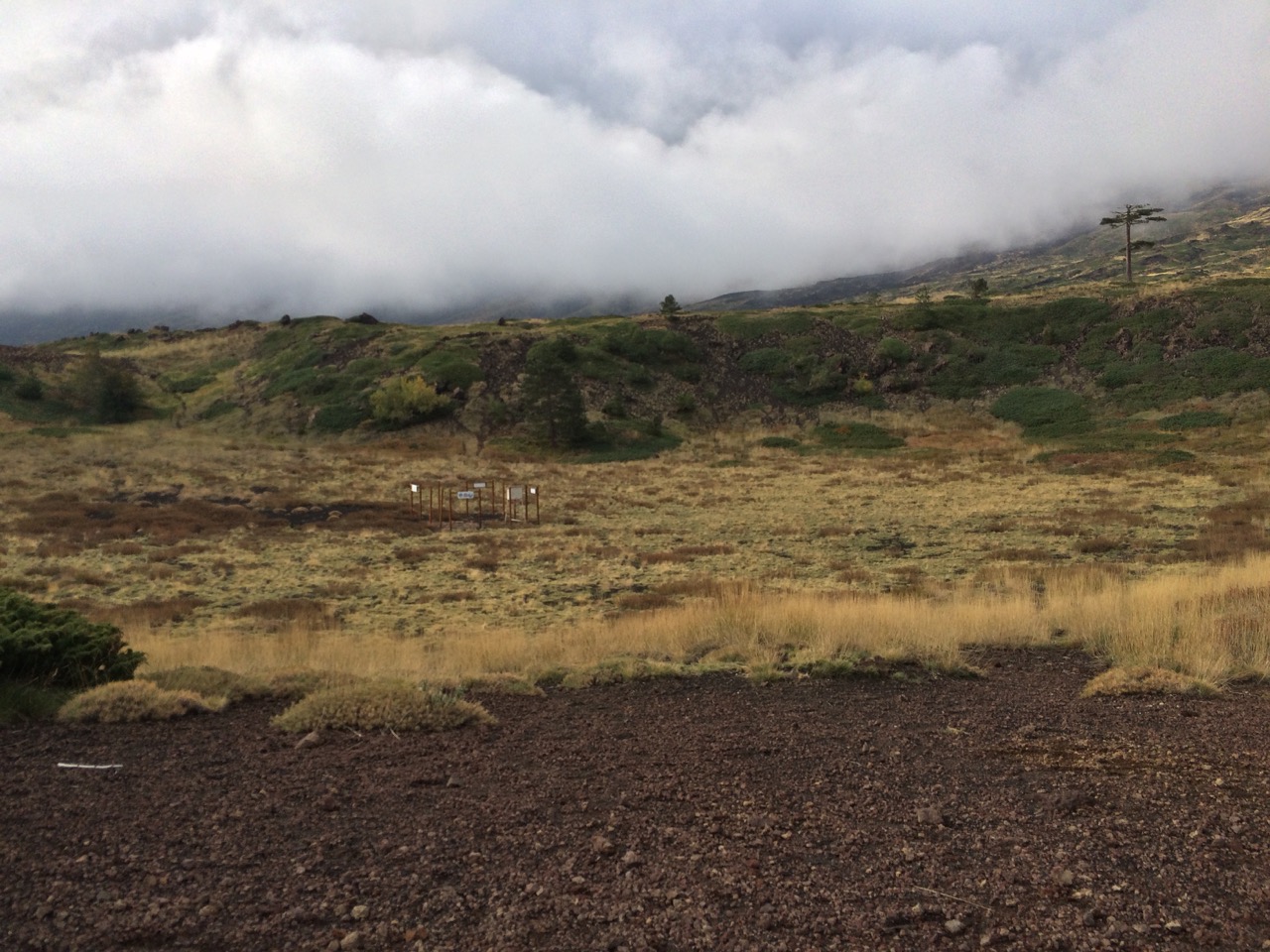 Finally, we reached the top point which happened to be the rim of a crater. Welcome to Monte Conca!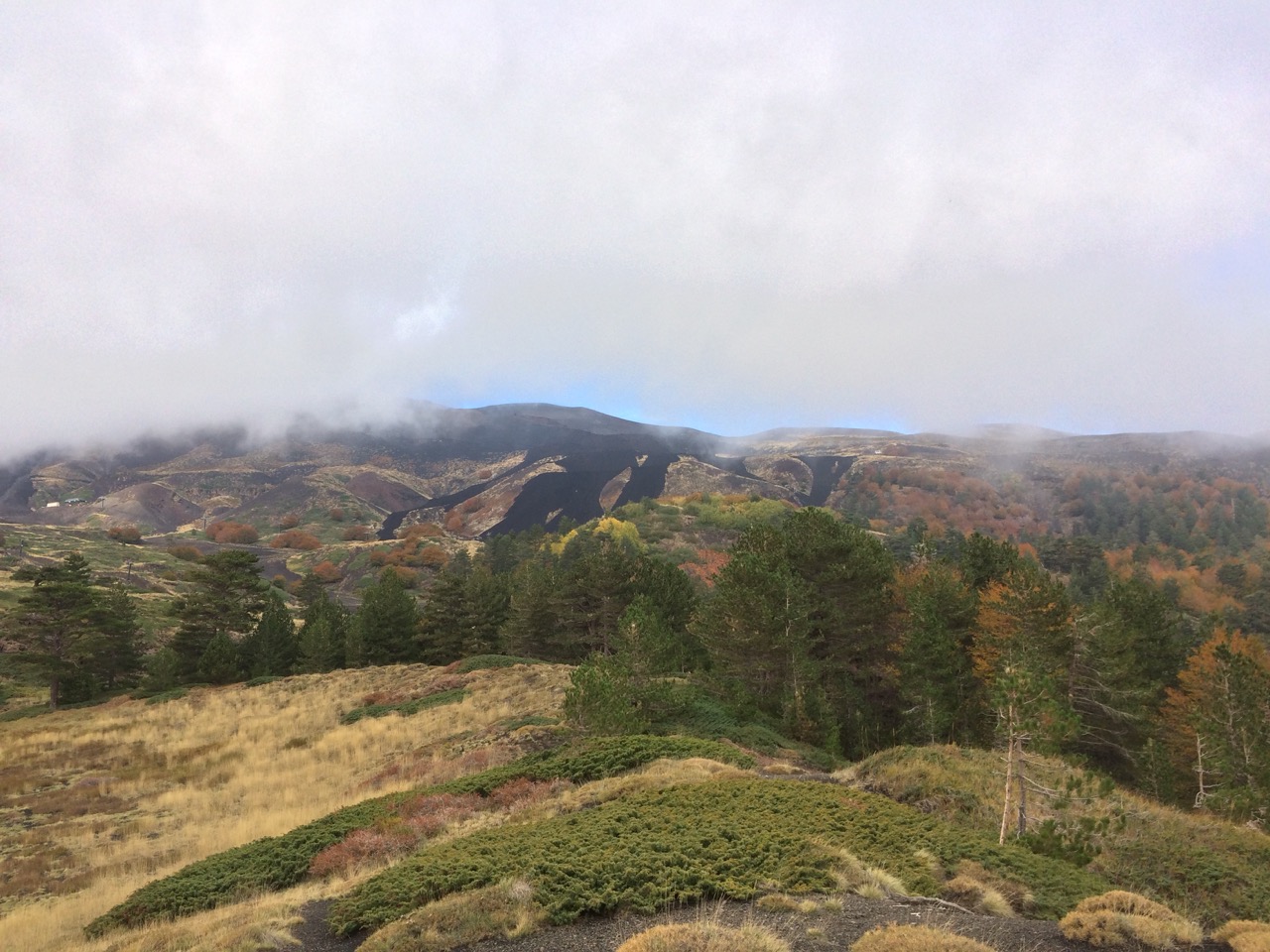 Practical advice for hiking on Mount Etna:
Personally, I think the autumn is the best time to visit Etna if you prefer to avoid summer crowds or freezing during winter, taste freshly squeezed olive oil (trust me, it's delicious) and young wine, or want to try your hand at mushroom hunting.
Dress in layers! Sun and wind are unpredictable at any elevation. If the sun is out with no wind, air is becoming hot pretty quickly. If the wind picks up, it's becoming icily cold in no time.
Wear sturdy hiking shoes.
Do not forget water. Food is optional ;). With all climbing and possibly under the bright sun, you would get dehydrated very quickly.
Do not overestimate your navigational skills. Etna Nord is covered with forests. Once you get into the forest, your chance to get lost is pretty high. Even though trails often marked on maps, in reality, they are not always easy to follow: they fork, disappear, criss-cross…
Higher you go —> fewer trees around —> better views & harder to get lost
Mushroom hunting: do not assume that you are a mushroom expert. Either get yourself a local guide or, at the very least show your "catch" to locals.
Google Maps are very imprecise in Etna area. OpenStreetMap is better choice.
Have fun!
Piano Provenzana (Etna Nord) and Monte Conca on OpenStreetMap: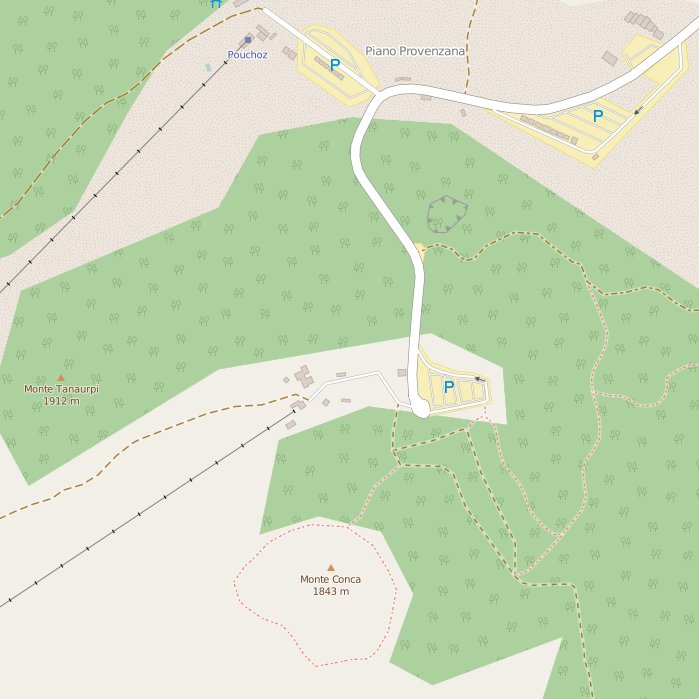 Share this article on Pinterest by clicking Pin it button