Messina was supposed to be a quick stop on the way back to Palermo.
After the raw beauty of Etna, show-off Taormina and a hefty portion of ancient history in Siracusa an uneventful drive home looked very appealing. Messina happened to be a middle point on our road.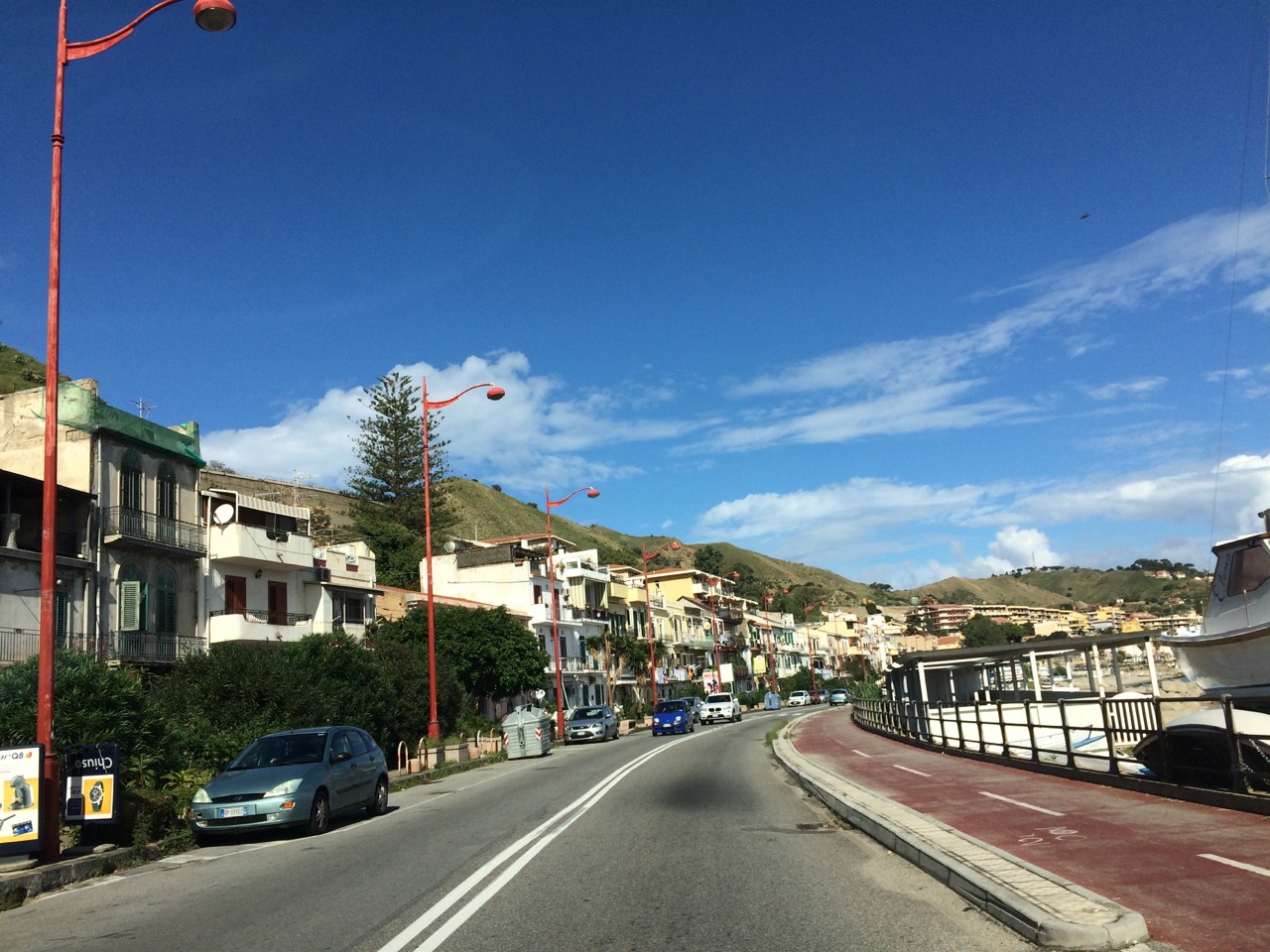 Why not have a lunch there? Of course, our adventurous spirit intervened and forced us to add a short walkabout along the water searching for sights of mythical monsters Scilla and Charybdis, who lived on opposite ends of the Strait of Messina between Italy and Sicily.
Apparently, since ancient Greek times, Scilla had a change of heart and graduated to a more peaceful occupation of ferrying people between the mainland and the island.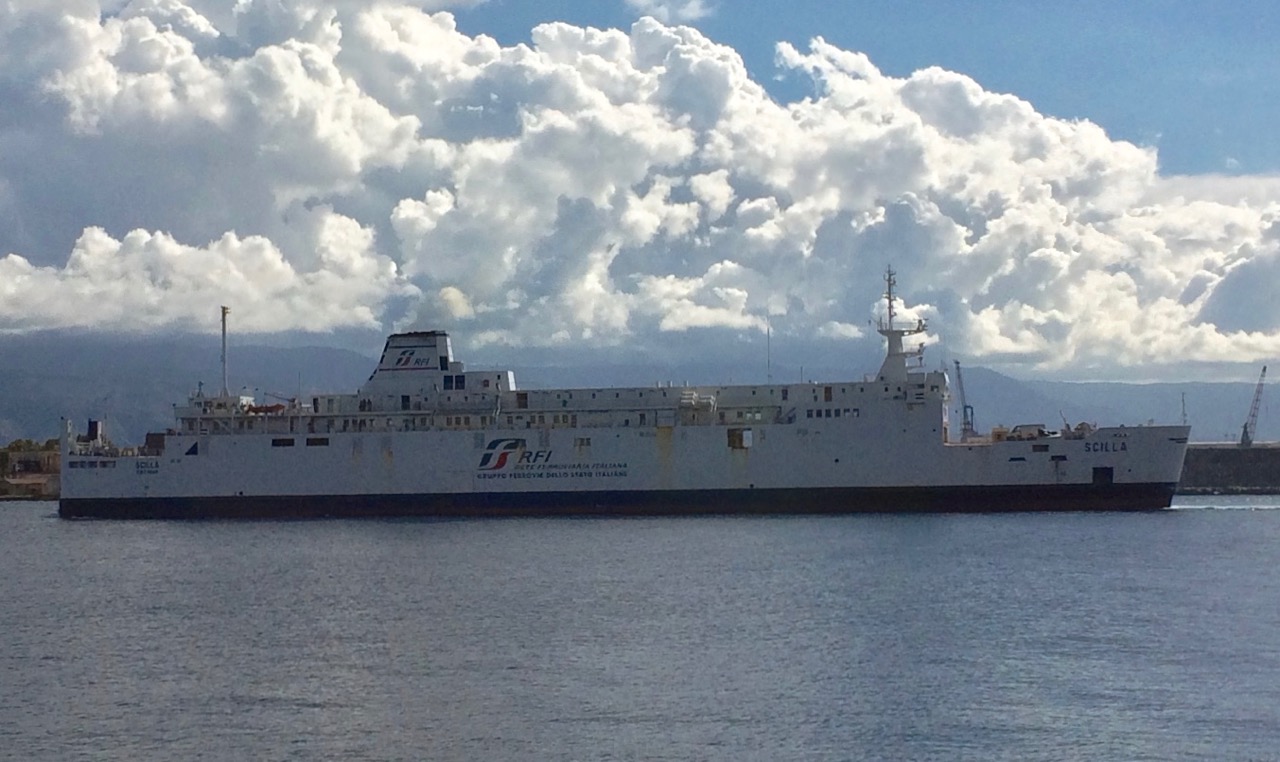 2 hours in Messina were enough to convince us that it would be our base when we come to Sicily next time.
Usually, making a decision of this magnitude takes days or even months. Since we slow travel, choosing the location that we would call home for three or more months requires some serious research. This time, though, it was a spontaneous decision. We just instantly liked this city. I have no idea why. Maybe, because it so closely reminded our beloved Montevideo.
Or maybe because of an irresistible combination of sun, sand and the sea?
While we were merrily sightseeing and making plans for the future, the city was in the midst of a major disaster. October's stormy weather caused massive landslides in the area. One of them damaged the aqueduct that supplies water to Messina. From there on, the story unfolded as a badly written drama script. It took roughly a week to make repairs. All this time Messina was stuck without water. Residents had been forced to turn to a few functioning street fountains and cisterns to stock up on the water. Then, another bout of bad weather brought more landslides. The crisis deepened even further with the breaking of a bypass pipe, which had been installed after a landslide took out a broken aqueduct. By November 6th, the city had been without water for two weeks. Imagine, water is not coming through the pipes: no cooking, no shower, no laundry. On that day, the government declared the state of emergency in Messina.
In our travels, we had some troubles with water. There are couple things to note:
there is a big difference between a city environment and a place that uses a well as a water supply.
We had water disruptions in Medellin (Colombia), San Jose (Costa Rica) and some places in the US. A short break is tolerable, but anything longer than 6 hours becoming problematic. Hey, bathroom break, anyone?
My heart goes out to the residents of Messina. I am pretty sure that they will overcome this hurdle in no time. After all, the city survived so many obstacles during its illustrious history (check "History of Messina at a glance" below).
In any case, see you next year, Messina.
Due to lack of time, we walked along the promenade near the Neptune Fountain and then drove along the water toward Capo Peloro.
History of Messina at a glance
Messina, also known as the Gates of Sicily, occupies a curved harbour at the right top corner of the island.
It was founded by Greek colonists in the 8th century BC. From ancient times till today, it has been a major transport hub and an important gateway to and from Sicily. Messina has reached the pinnacle of its greatness between the late Middle Ages and the mid-seventeenth century when it was contending for the role of the Sicilian capital with Palermo. Messina reached the peak of its splendour between the late Middle Ages and the early 17th century under Spanish rule. At the time, it was one of the ten greatest cities in Europe.
After the anti-Spanish revolt, Messina was reconquered by the Spaniards in 1678. Its leadership was destroyed, and all the privileges of autonomy it had enjoyed since the Roman times were abolished. In 1783, an earthquake severally damaged much of the city. It took decades to rebuild and revive the cultural life of Messina. In 1848, it rebelled against the reigning Bourbons but was heavily suppressed suffering serious damage. In 1908, an earthquake and associated tsunami almost entirely destroyed the city, causing the death of about half of its population and destroying most of the ancient architecture. The city was rebuilt by 1912 with wider and straight streets running north-south. Messina suffered further damage by the massive Allied air bombings of 1943. The city was awarded a Gold Medal for Military Valour and one for the Civil Valour in memory of the event and the subsequent effort of reconstruction.
Today, Messina is a busy city with the commercial seaport, military shipyard, cruise tourism, commerce, and agriculture (wine production; cultivating lemons, oranges, mandarins, and olives). The downtown boasts wide boulevards and elegant art nouveau buildings.
Share this article on Pinterest by clicking Pin it button