Taormina in hiking boots
Courtesy of unpredictable Etna's weather, we'd got a chance to visit Taormina.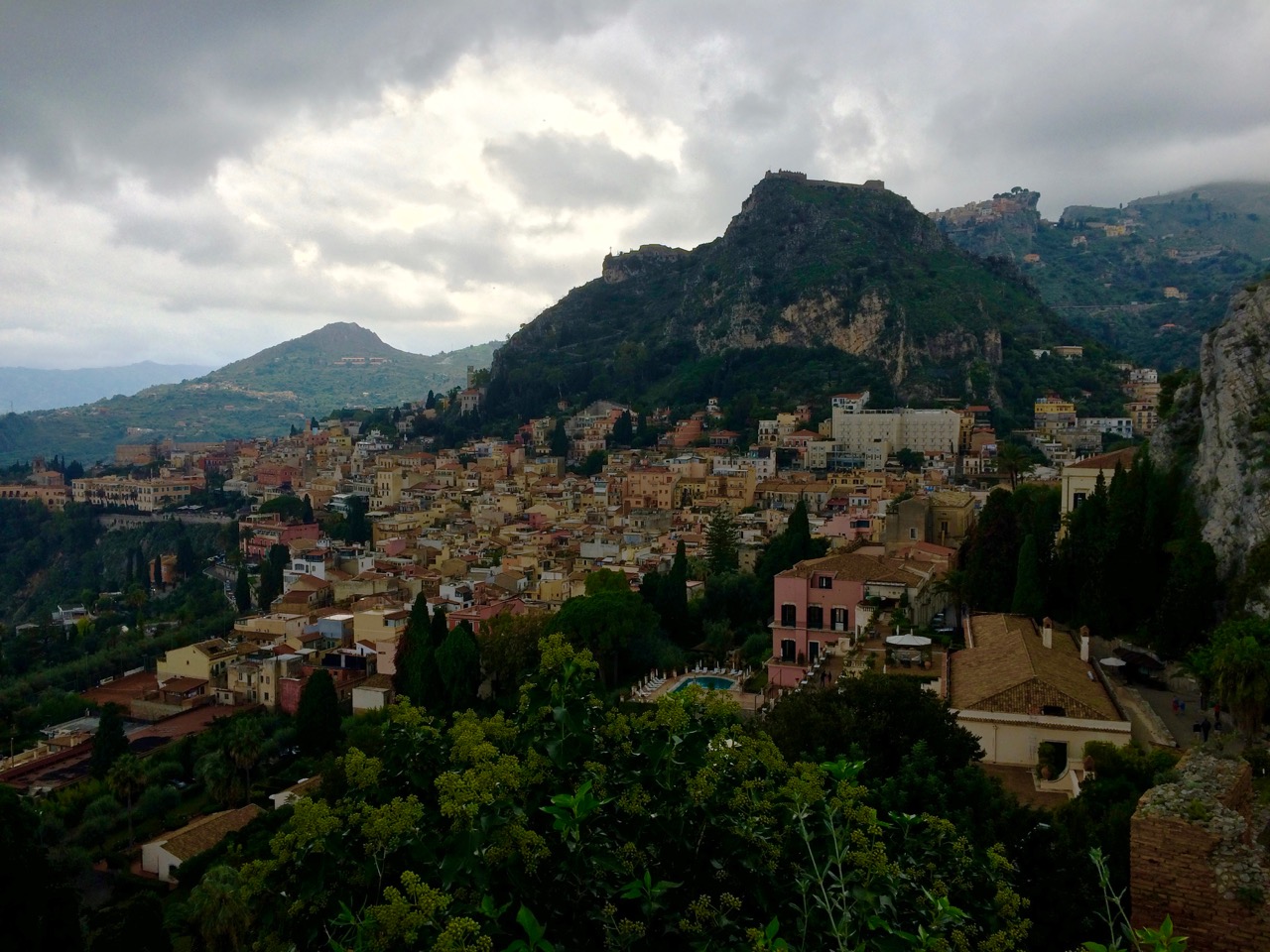 By 11:00 we were done with first round of mountain hiking and exactly at the same time it started to rain. Prospect of climbing slippery lava rocks with zero visibility looked, ahem, less than exciting but how to spend more than 6 hours of daylight left at our disposal?
That's how Taormina came into play.
Everybody heard about it. Countless celebrities spent enough time there to be spotted and photographed in front of the picturesque town.
In a bid to show Taormina's true colors, I decided to leave photos untouched. By now, we all are too familiar with Instagram magic and Photoshop makeovers. But what would happen if Taormina sheds its makeup?
Here it is as we saw it.
Time to visit Taormina, a darling of travel guides
According to Lonely Planet, spectacularly perched on the side of a mountain, Taormina is Sicily's most popular summer destination, a chic resort town beloved of holidaying high-rollers and visiting celebs. It is also listed on TripAdvisor as a Travelers' Choice.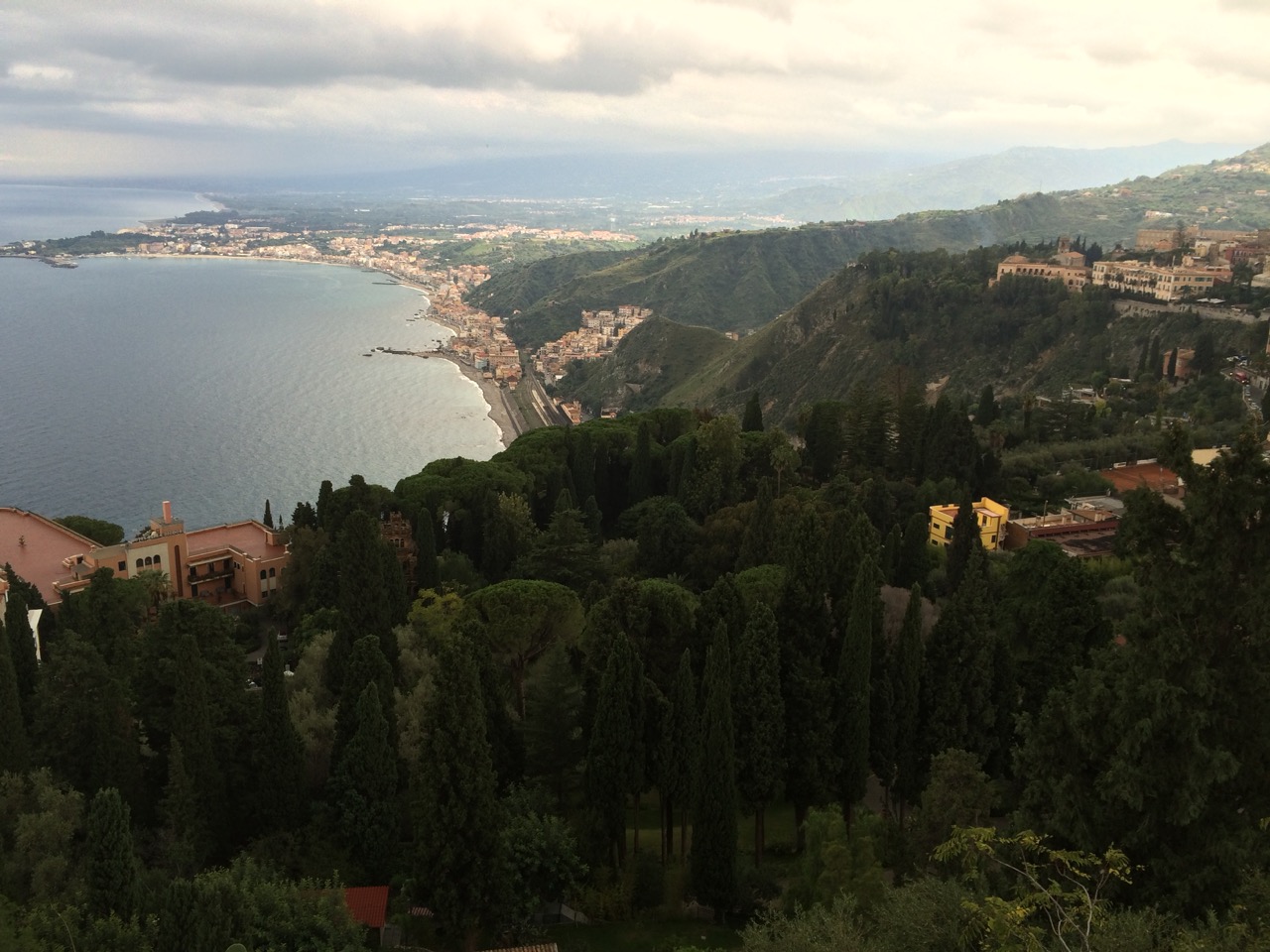 Any place with such accolades is bound to become a tourist trap.
Hence, we haven't planned to visit it simply because there are too many other charming tiny towns and villages in Sicily not mentioned by "big guns" of tourist industry where one can walk without a need to stay in line to snap a photo at some picturesque spot.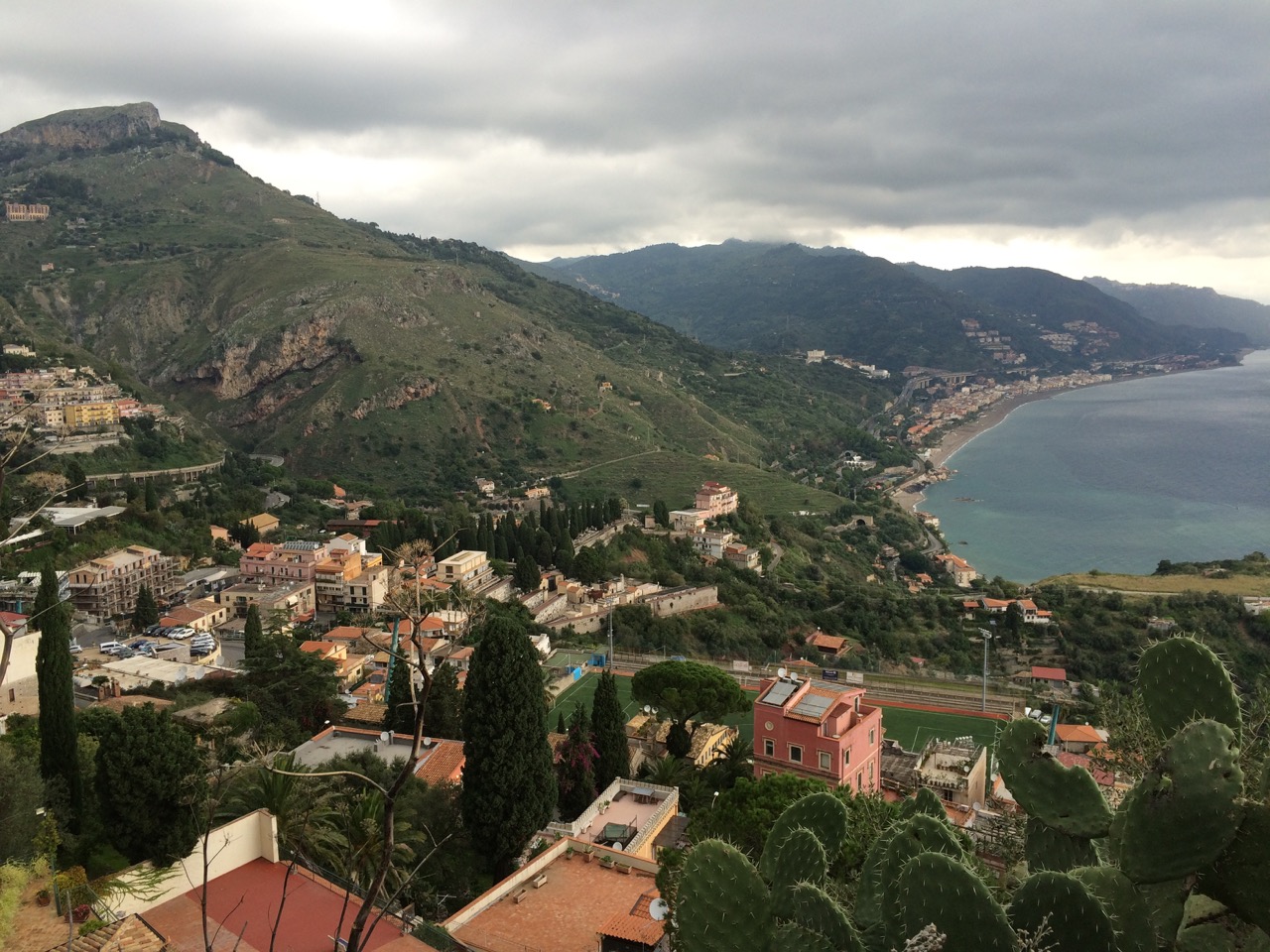 However, curiosity, a curse of any true traveler, was wrestling with common sense asking the nagging question.
What was so special about Taormina that Goethe, Alexander Dumas, Johannes Brahms, Gustav Klimt, Richard Wagner, Oscar Wilde, Truman Capote, John Steinbeck, Ingmar Bergmann, Francis Ford Coppola, Leonard Bergman, Marlene Dietrich, Greta Garbo, Federico Fellini, Cary Grant, Gregory Peck, Elisabeth Taylor and Woody Allen sojourned there?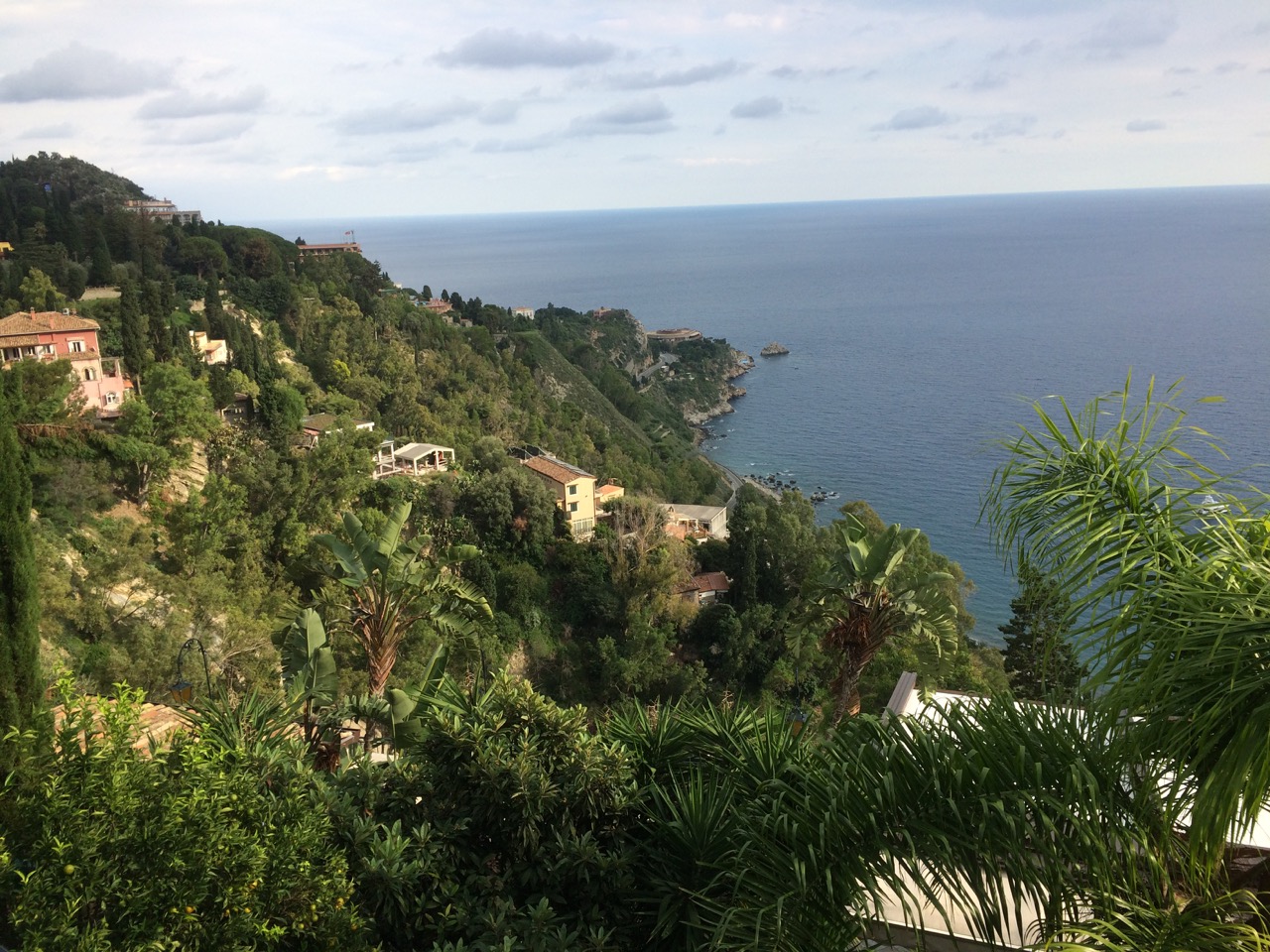 When is the best time to visit Taormina?
Accidentally, we chose the right time to visit Taormina.
In summer, it becomes so busy that it is literally difficult to walk there.
With the weather getting colder, crowds get thinner and thinner, and from the end of November till April the town virtually shuts down.
According to local wisdom, the best time to visit Taormina is either in April/May or in September/October. Right on cue, we came in late October.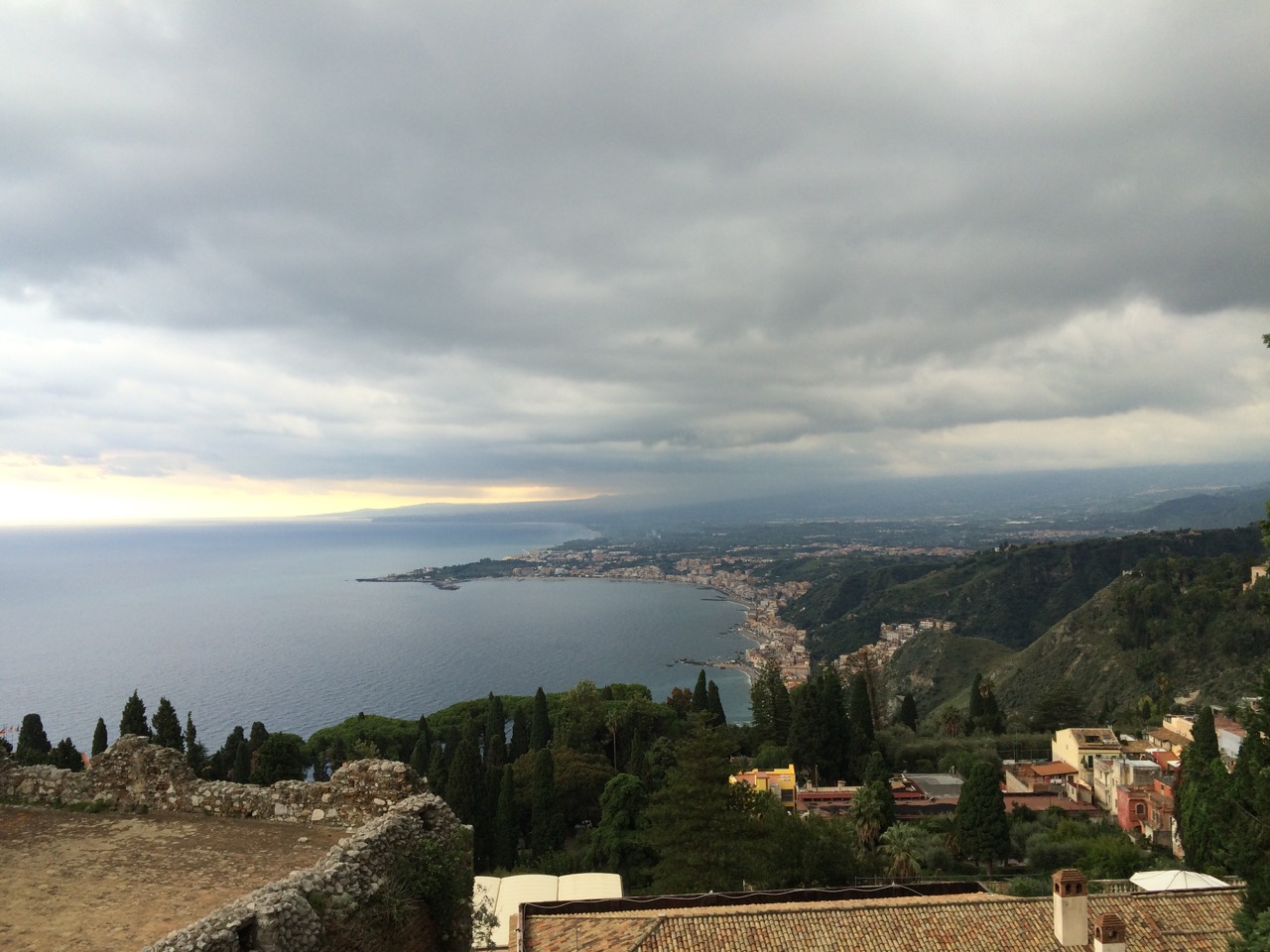 Taormina is a show-off with substance
It was a cloudy afternoon, but nevertheless there was a fair amount of activity along the main street.
Tourists, mostly of advanced age with expensive-looking photo gear, were zigzagging between high-end designer shops, antiques and souvenirs boutiques and endless row of posh looking restaurants.
I have to admit that our heavy-duty hiking boots looked rather out of place.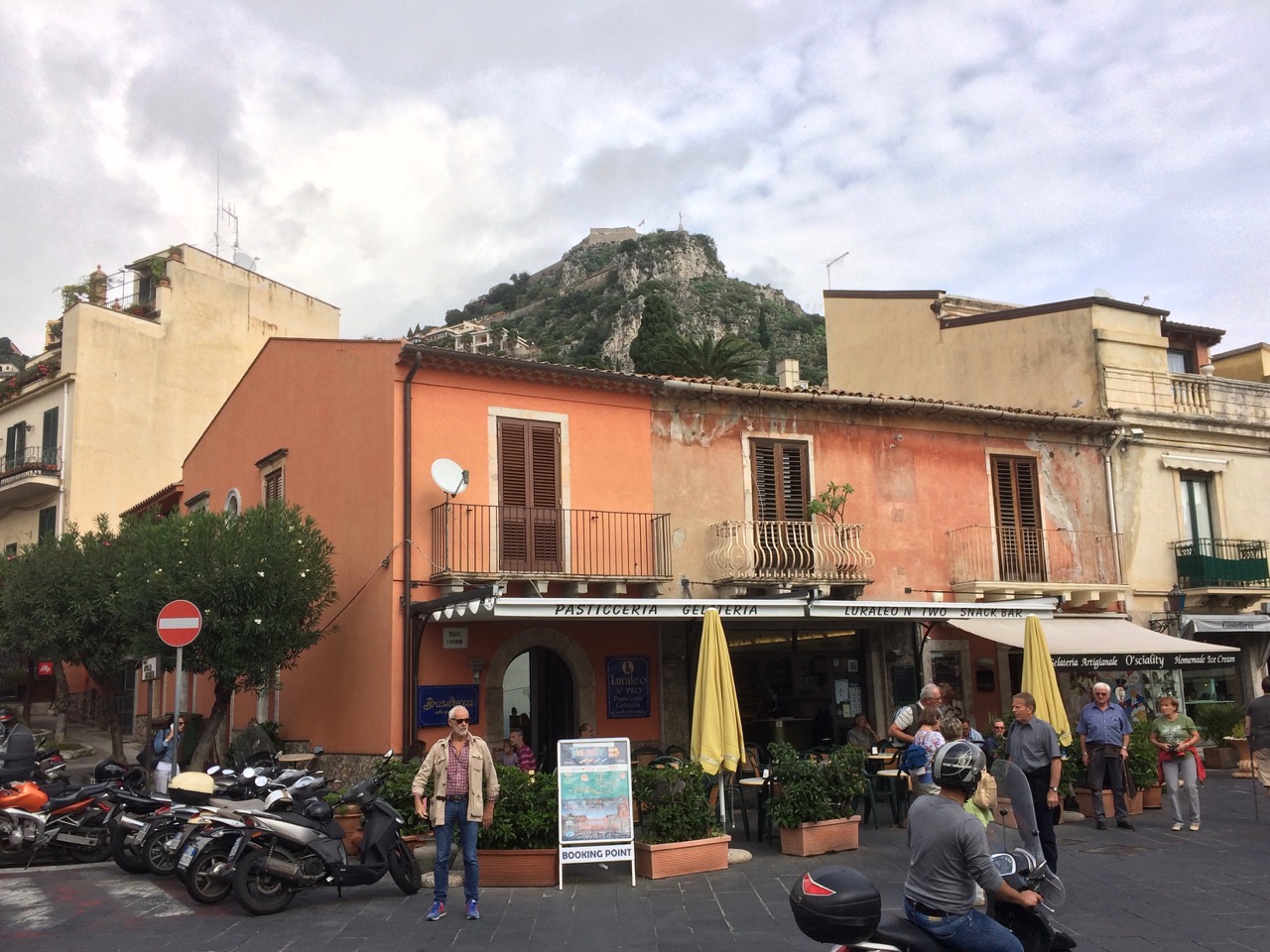 First impression of Taormina: the toy town.
The main street, Corso Umberto I, seems like it spends at least an hour every morning in front of a mirror to make sure it looks the best.
Walking there makes you forget about all worries in the world: just shop, eat and admire the scenery.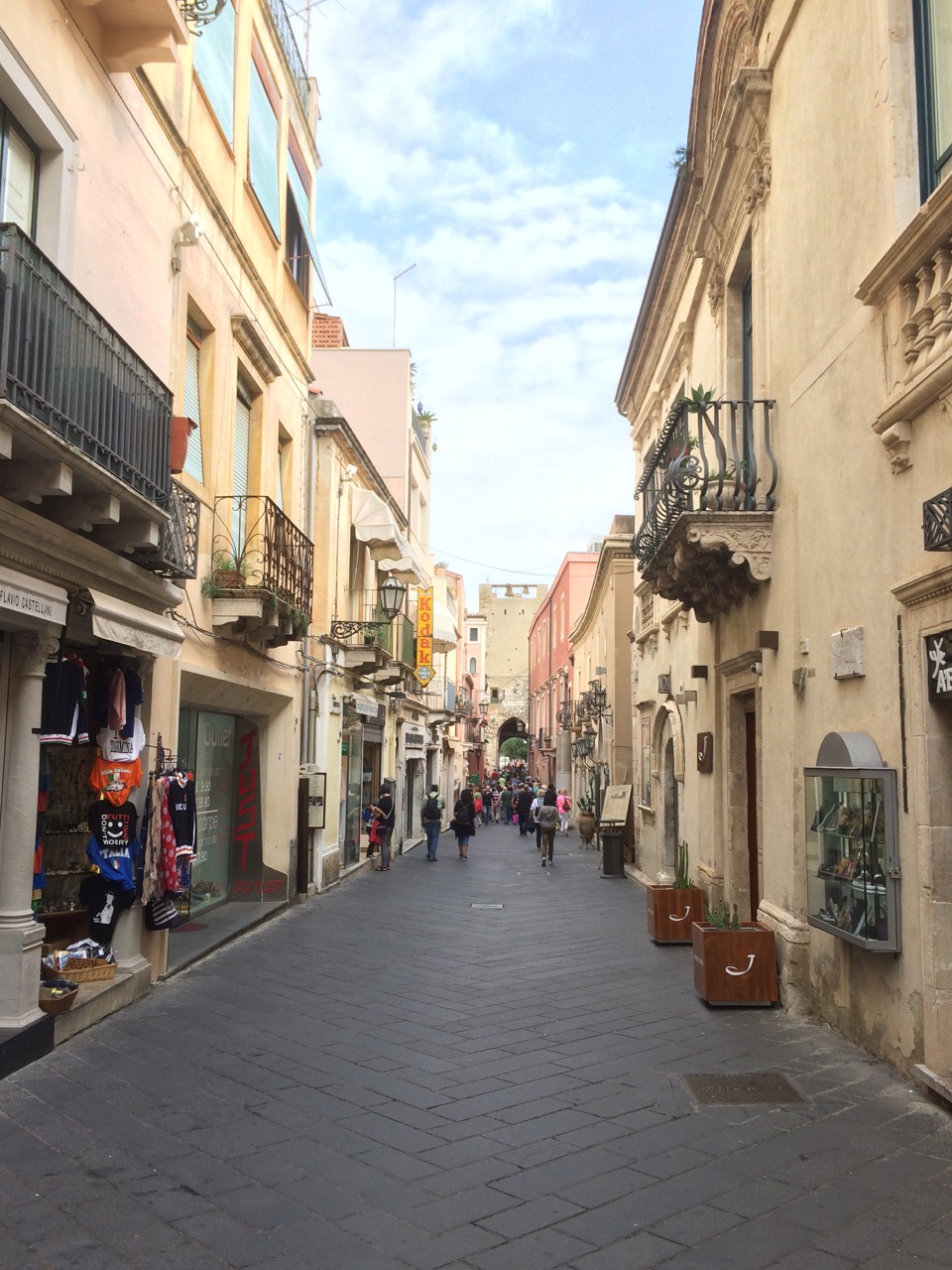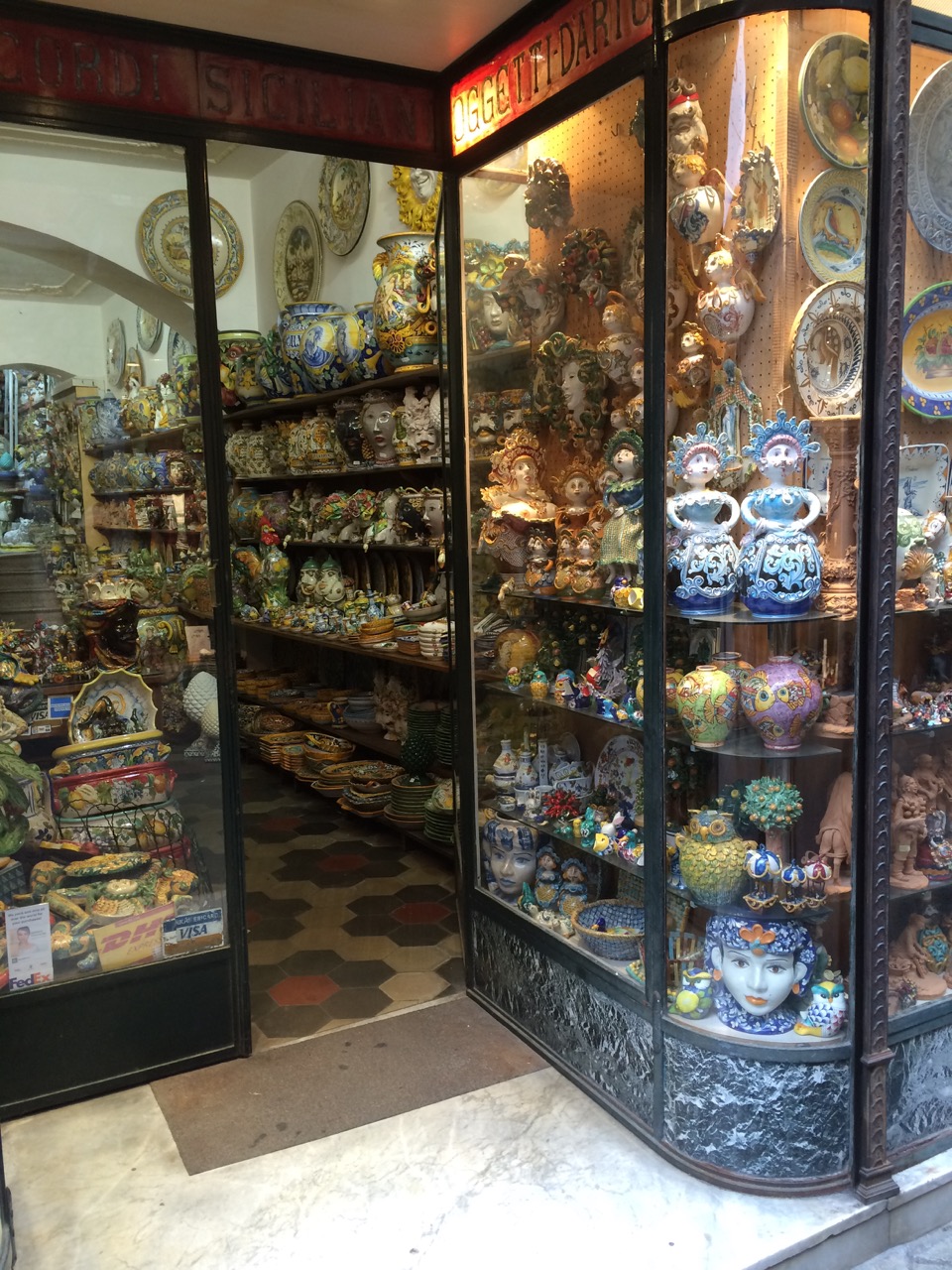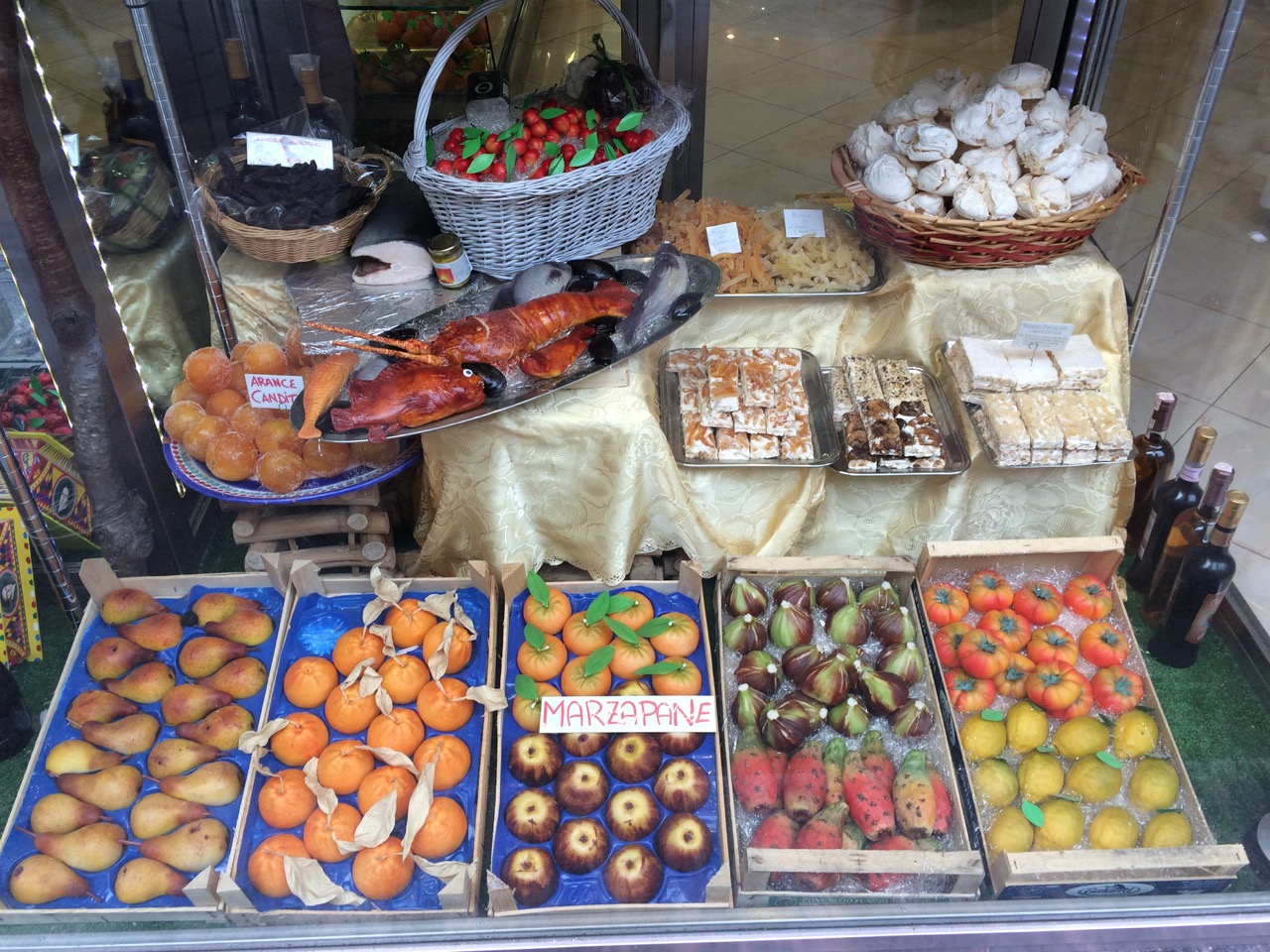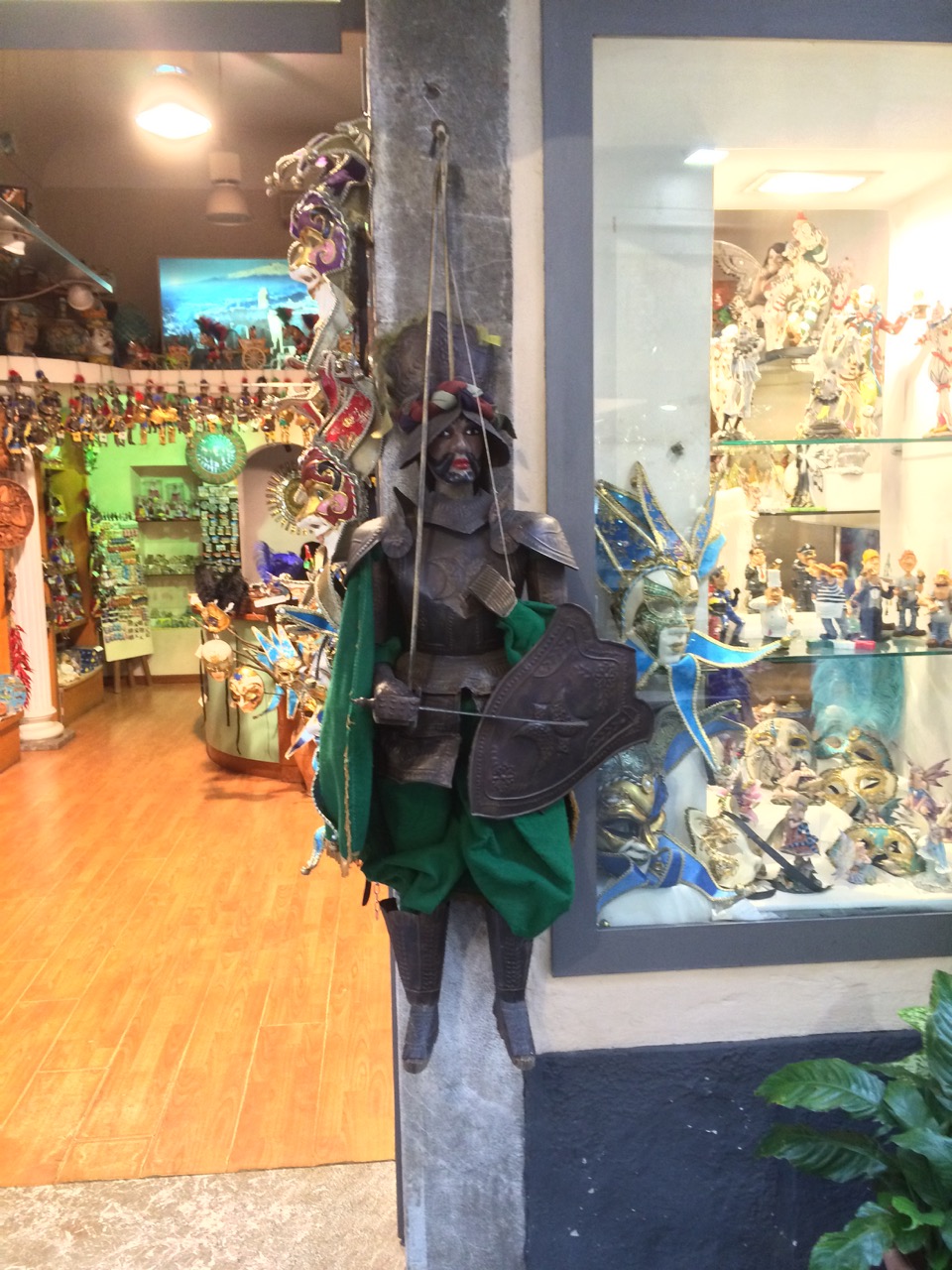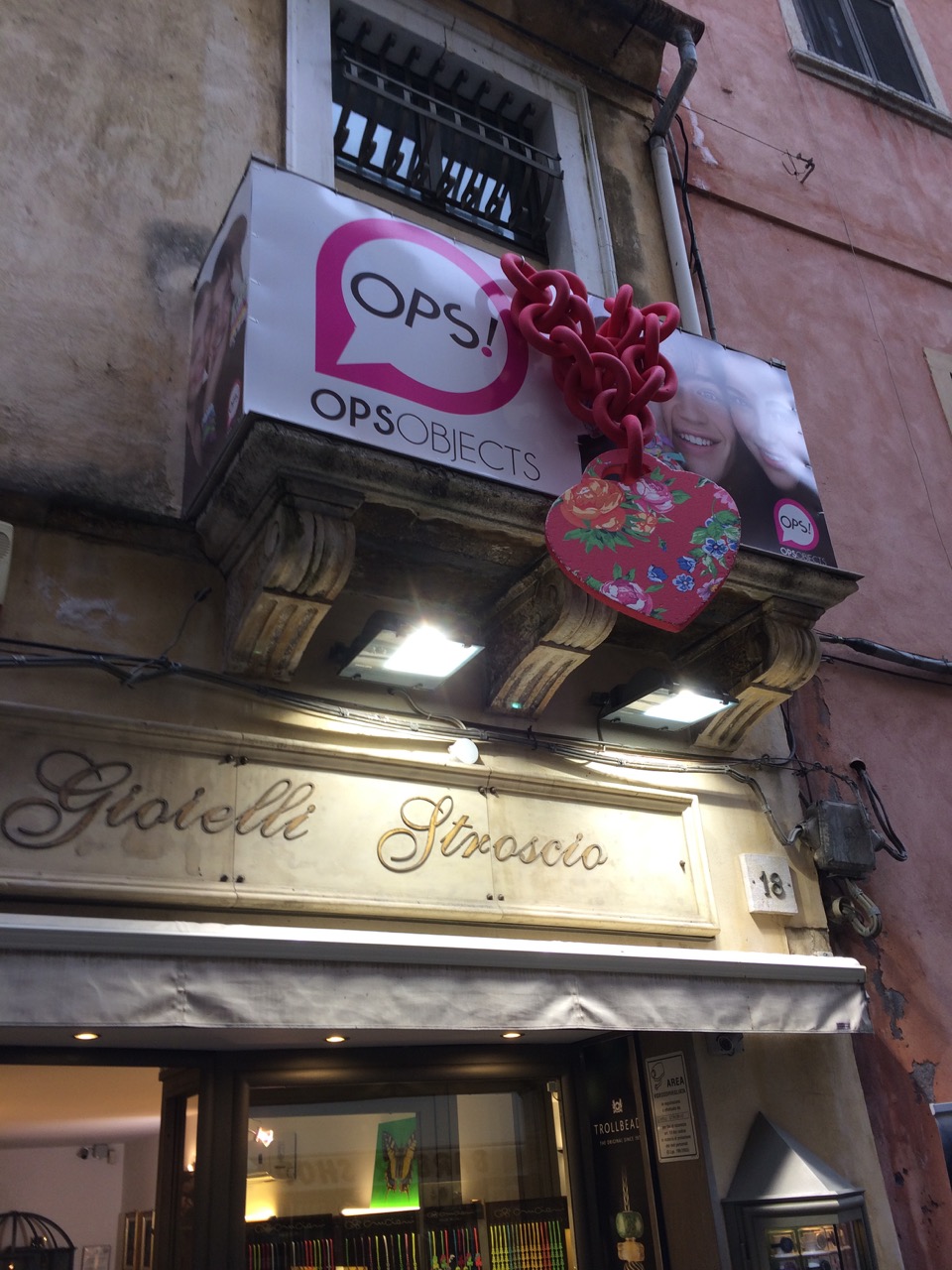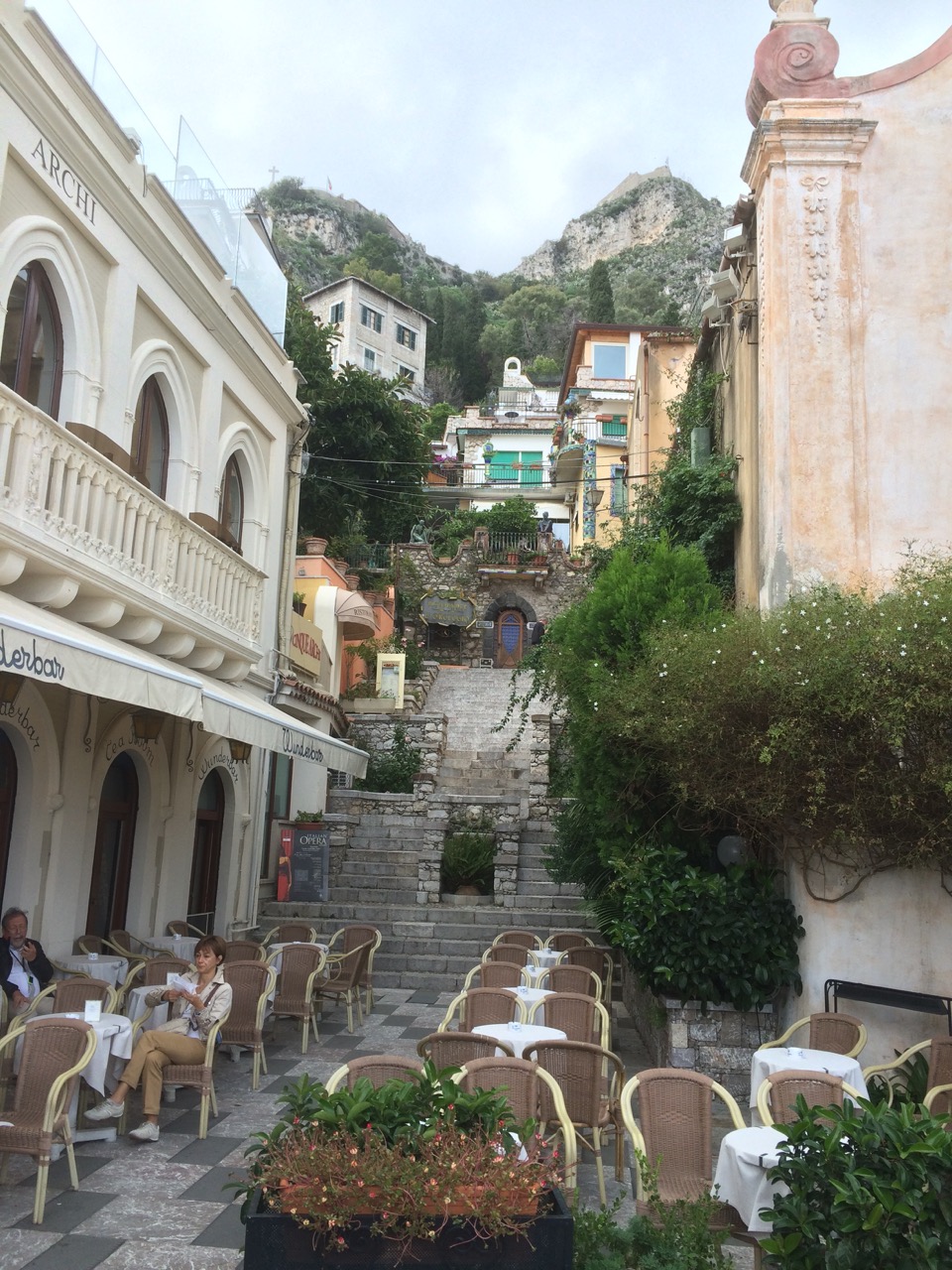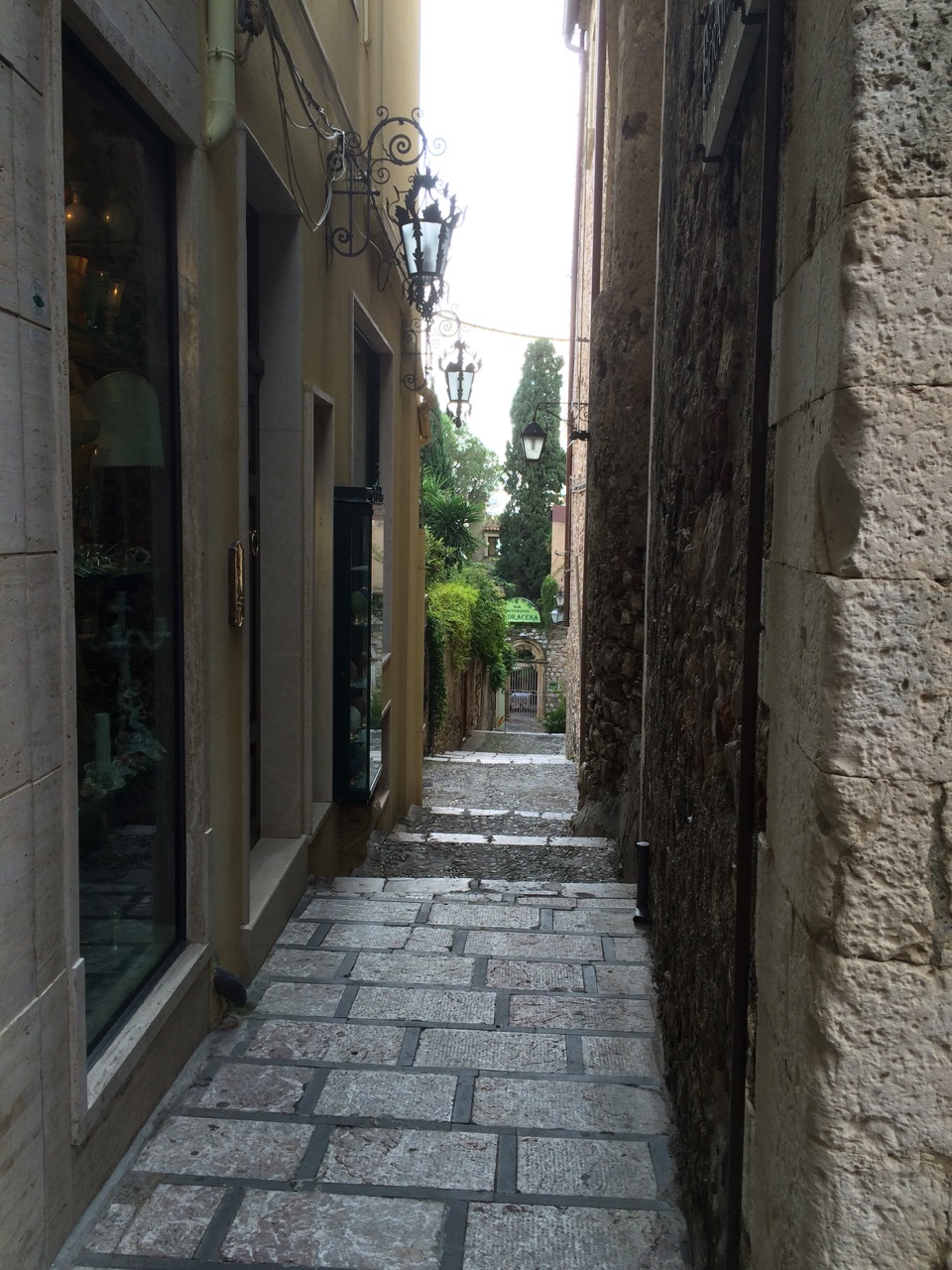 Two faces of Taormina
While Taormina is undoubtedly a show-off, it is also achingly beautiful filled with exquisite medieval buildings, an impressive Greek theater and sweeping views of crystal clear waters of the Gulf of Naxos.
On a clear day, Mount Etna acts as gorgeous and at times ferocious backdrop.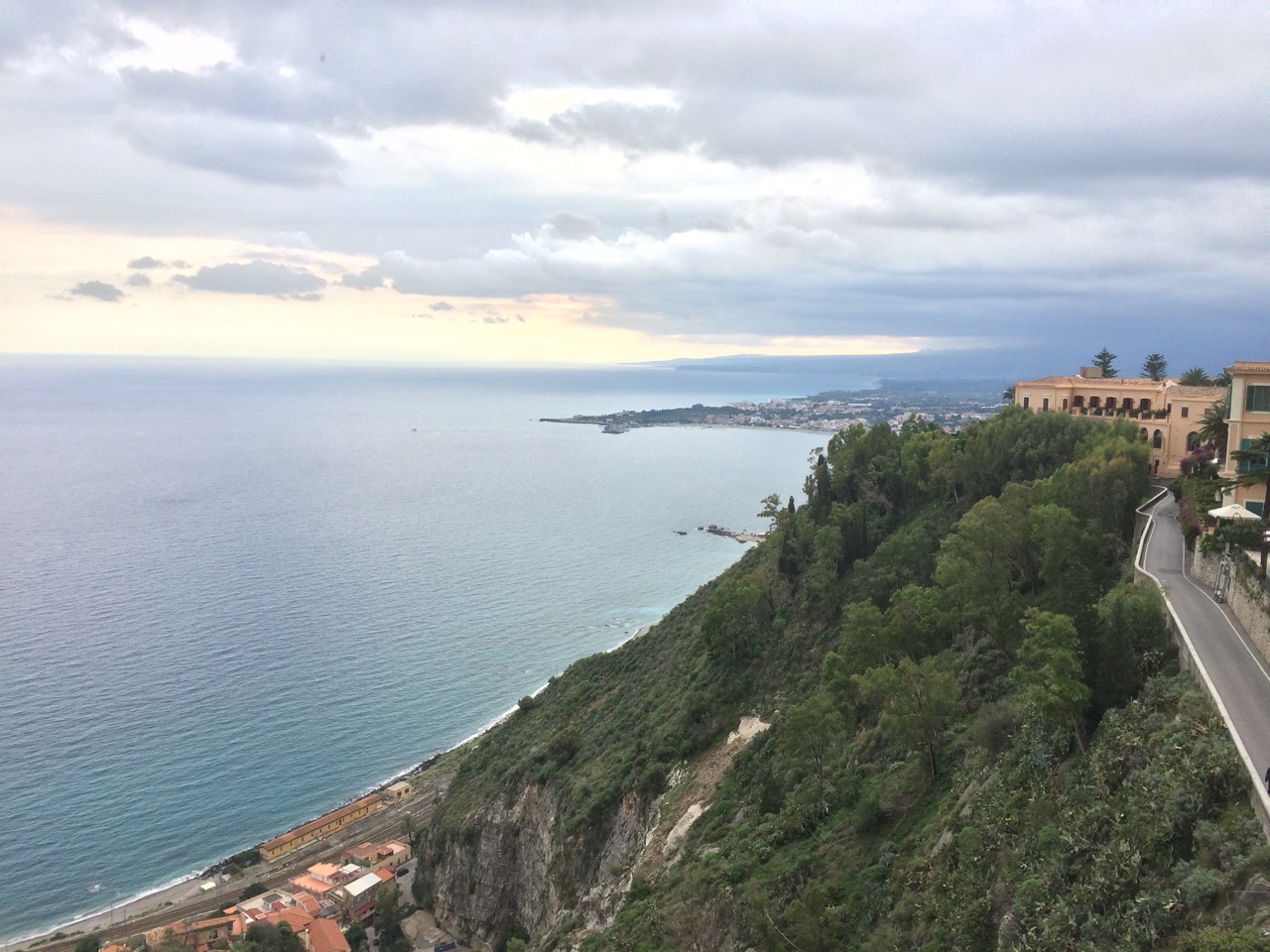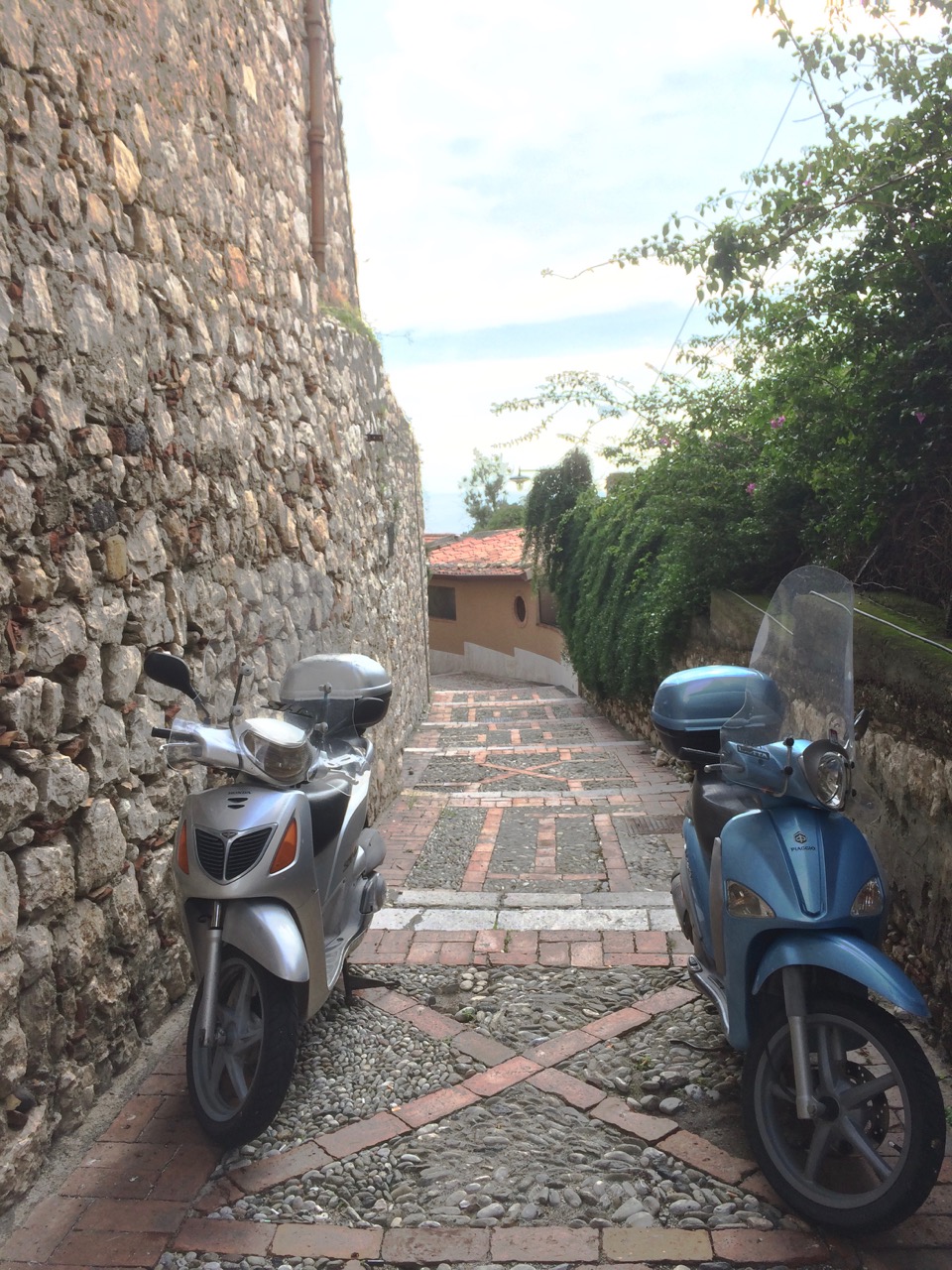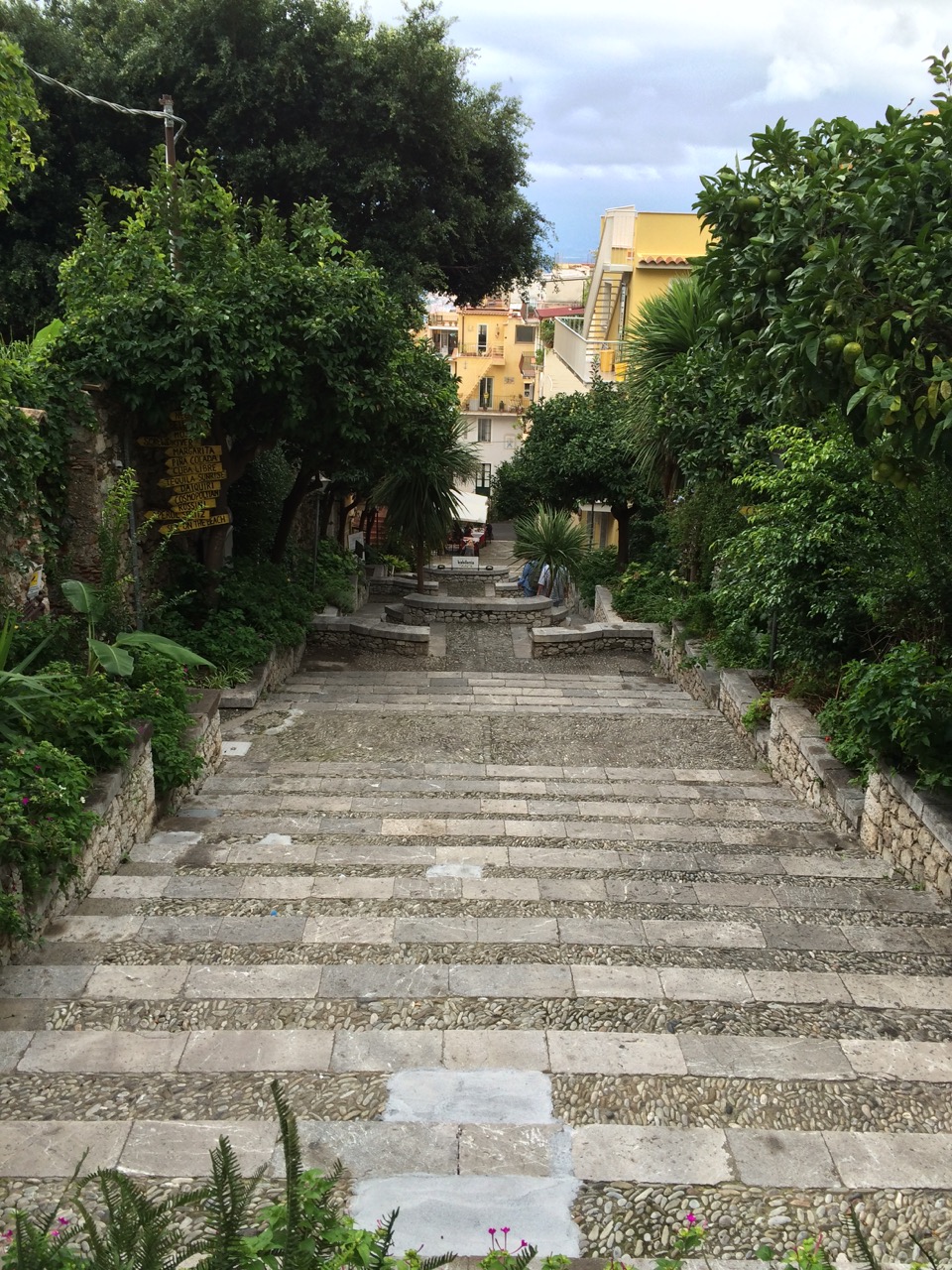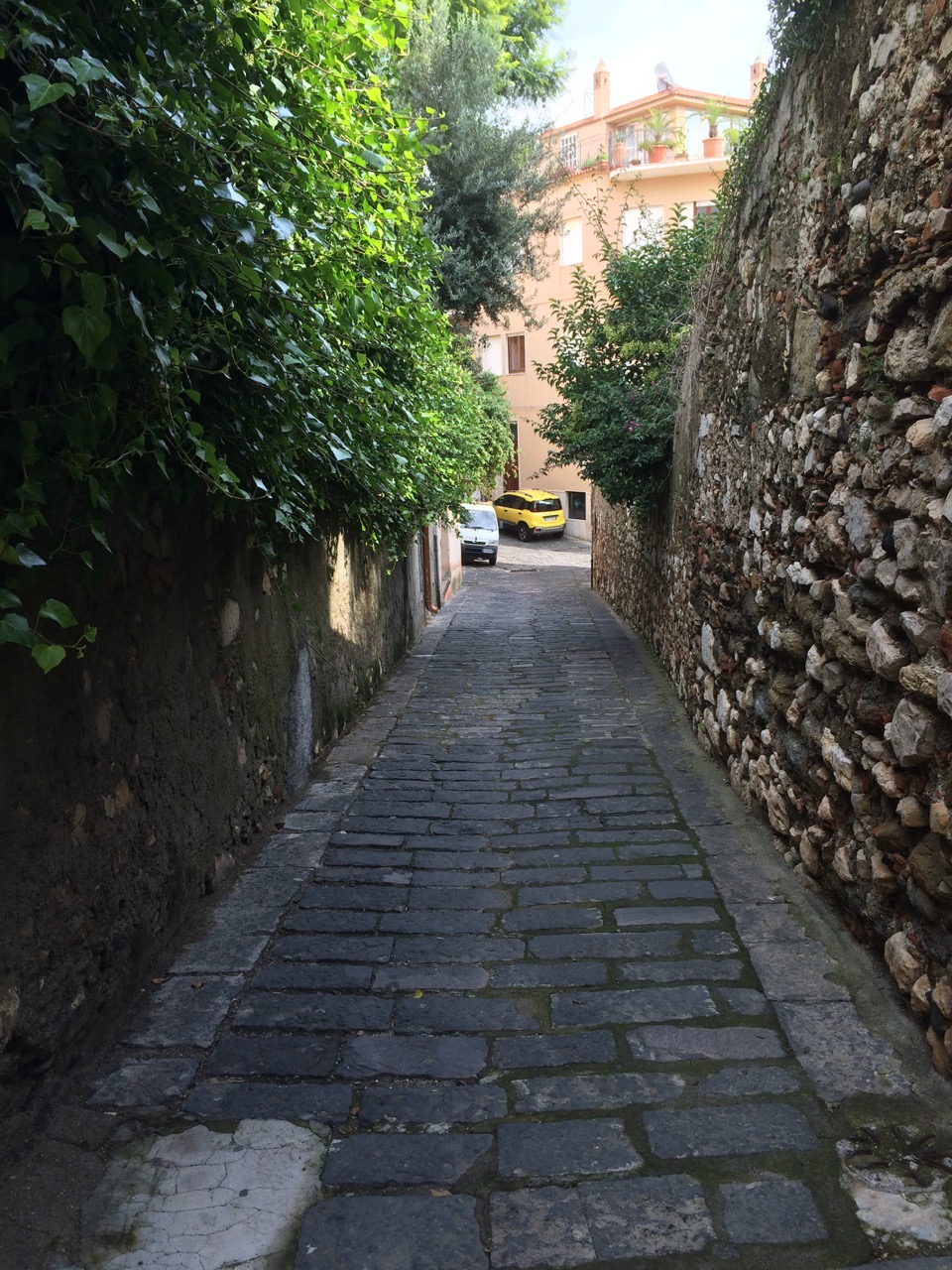 A brief history of Taormina
Founded in the 4th Century BC, Taormina has a typical Sicilian upbringing: Greeks, Romans, Byzantines, Arabs, Normans, the French and the Spanish all came, saw, conquered and sunk into oblivion.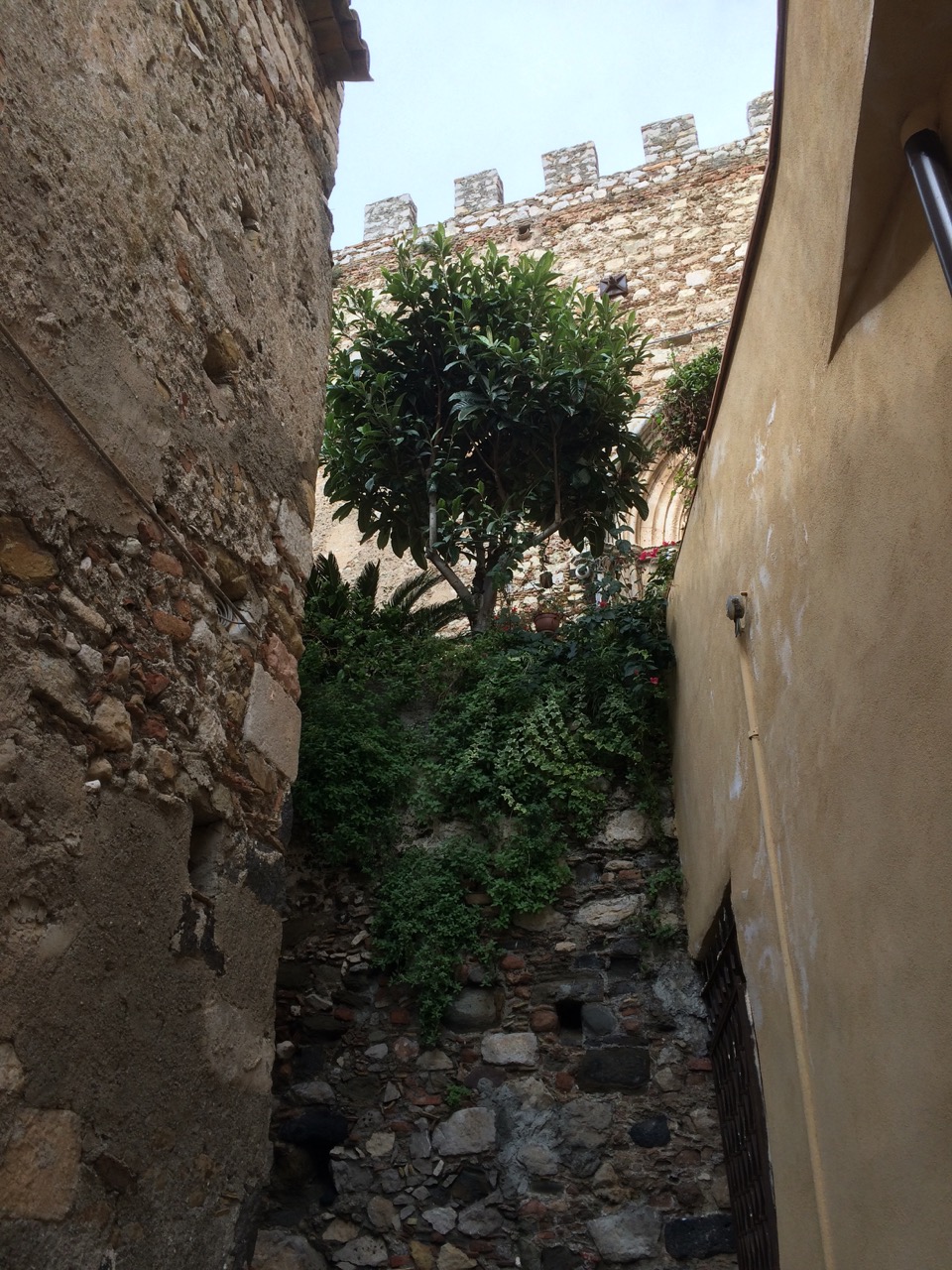 The ancient Theater is arguably the most interesting sight.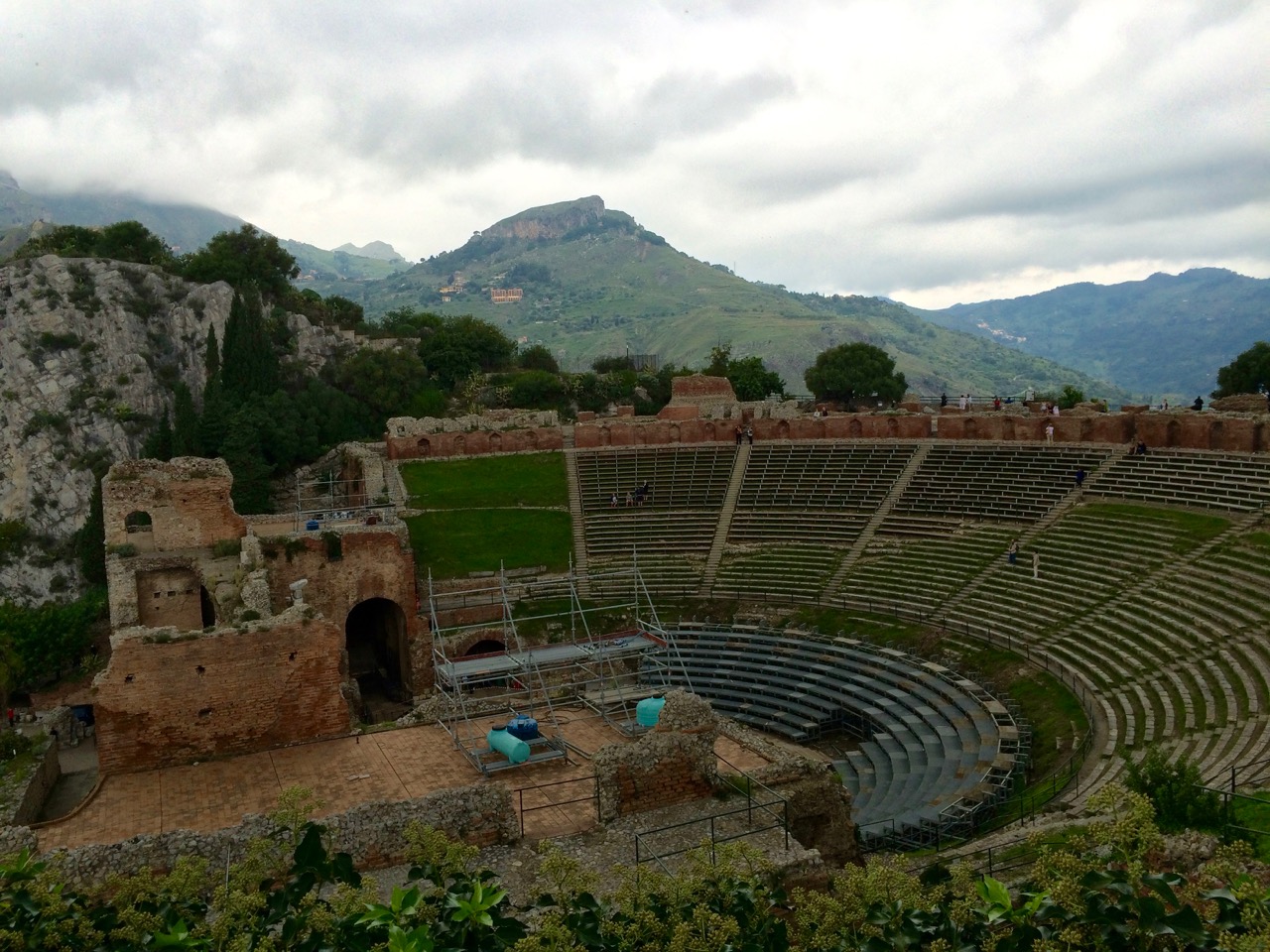 It occupies the ridge of the hill overlooking Taormina.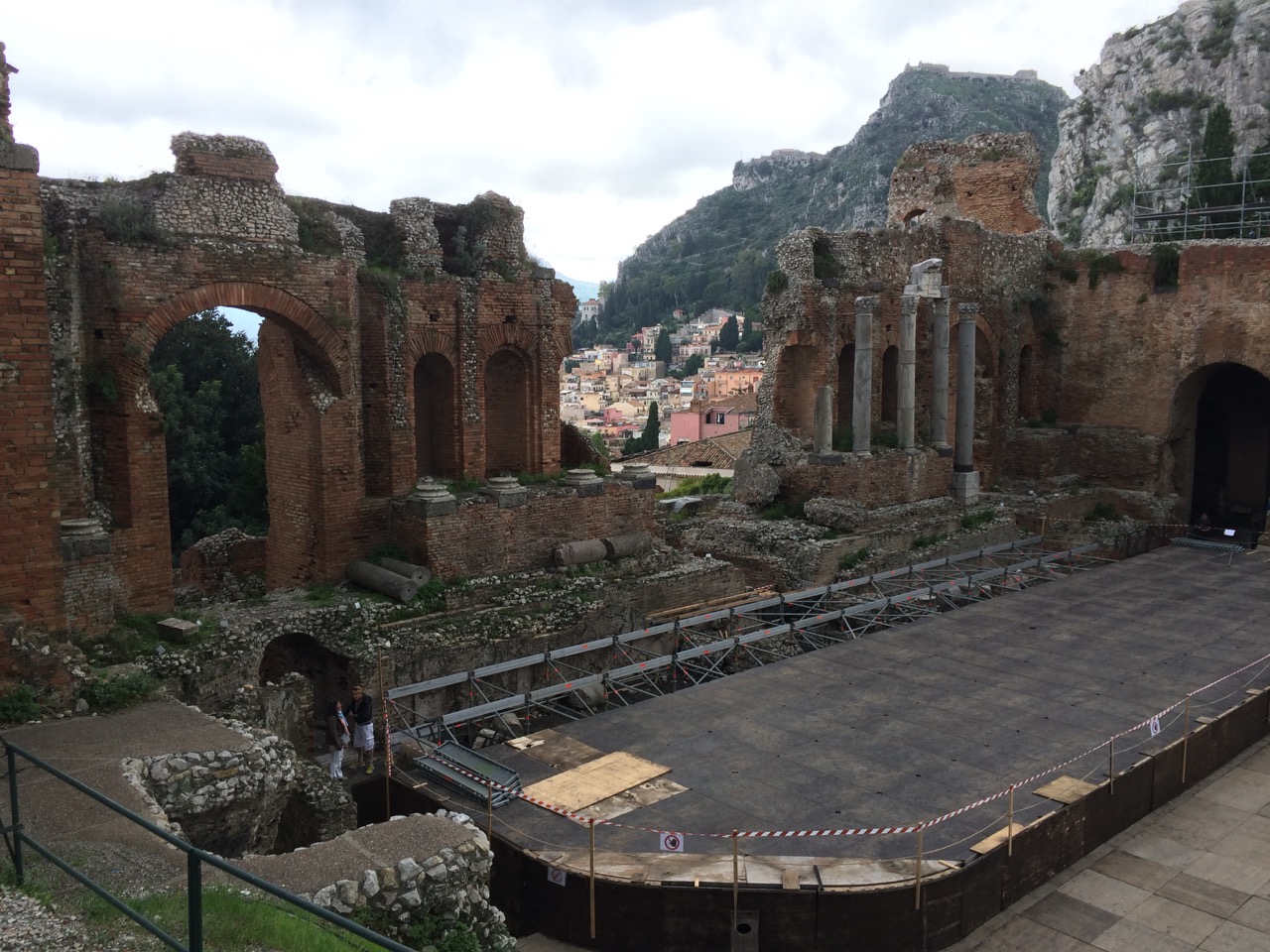 The original plan dates back to 3rd century BC.
However, it was almost completely rebuilt and enlarged by Romans in 2nd century AD. What is visible of the Theater today belongs entirely to that reconstruction.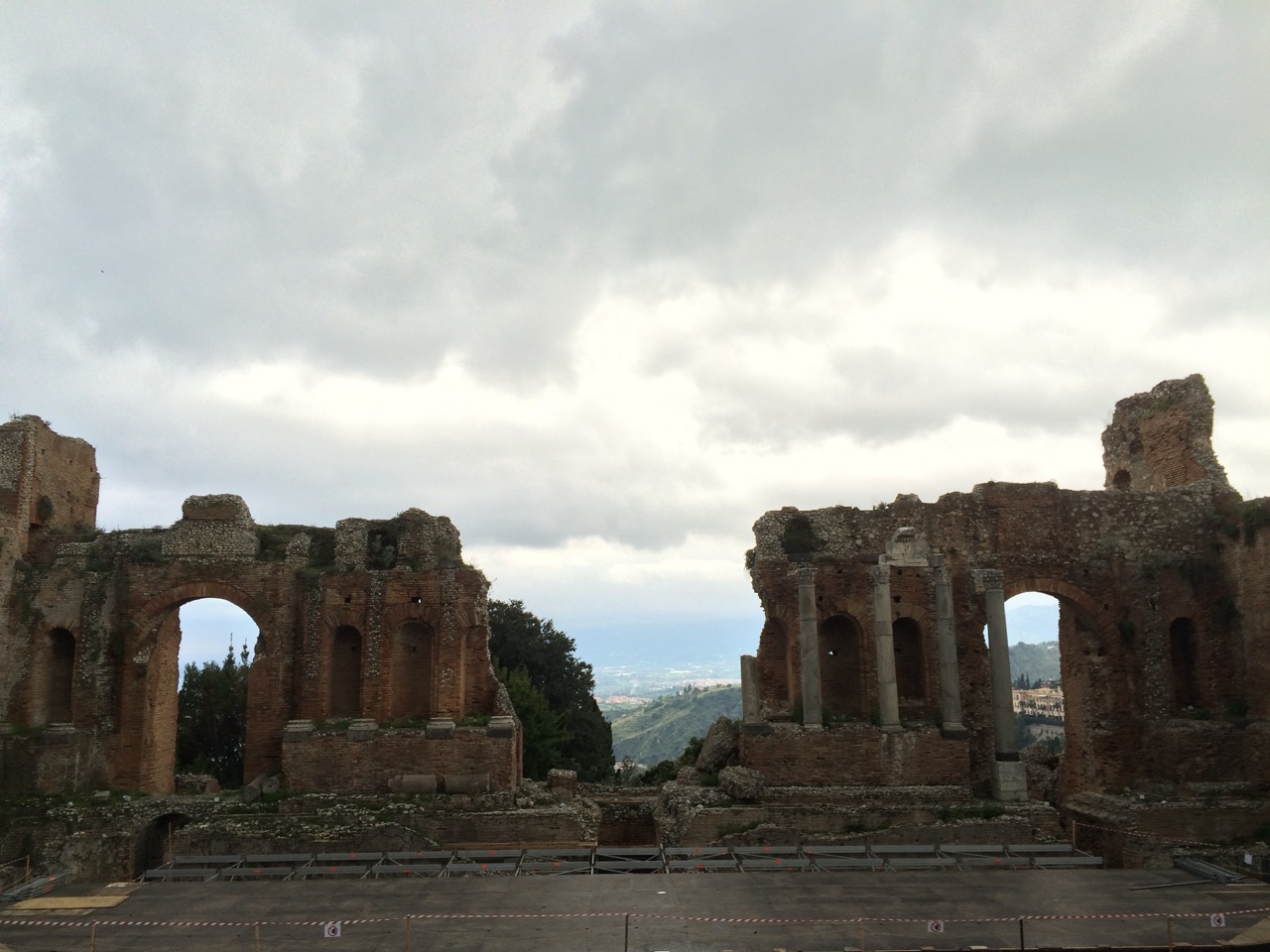 In modern days, the Theater was a setting for a number of movies including some that might sound familiar to English speakers, i.e. The Light Touch and Mighty Aphrodite.
From 1957 to 1980, the Theater's stage was the ground where David di Donatello Award (Italian analog of Oscar) was presented to many outstanding personalities, among them Ingrid Bergman, Laurence Olivier, Federico Fellini, Audrey Hepburn, Marcello Mastroianni, Anna Magnani, Elizabeth Taylor, Marlene Dietrich and Gina Lollobrigida.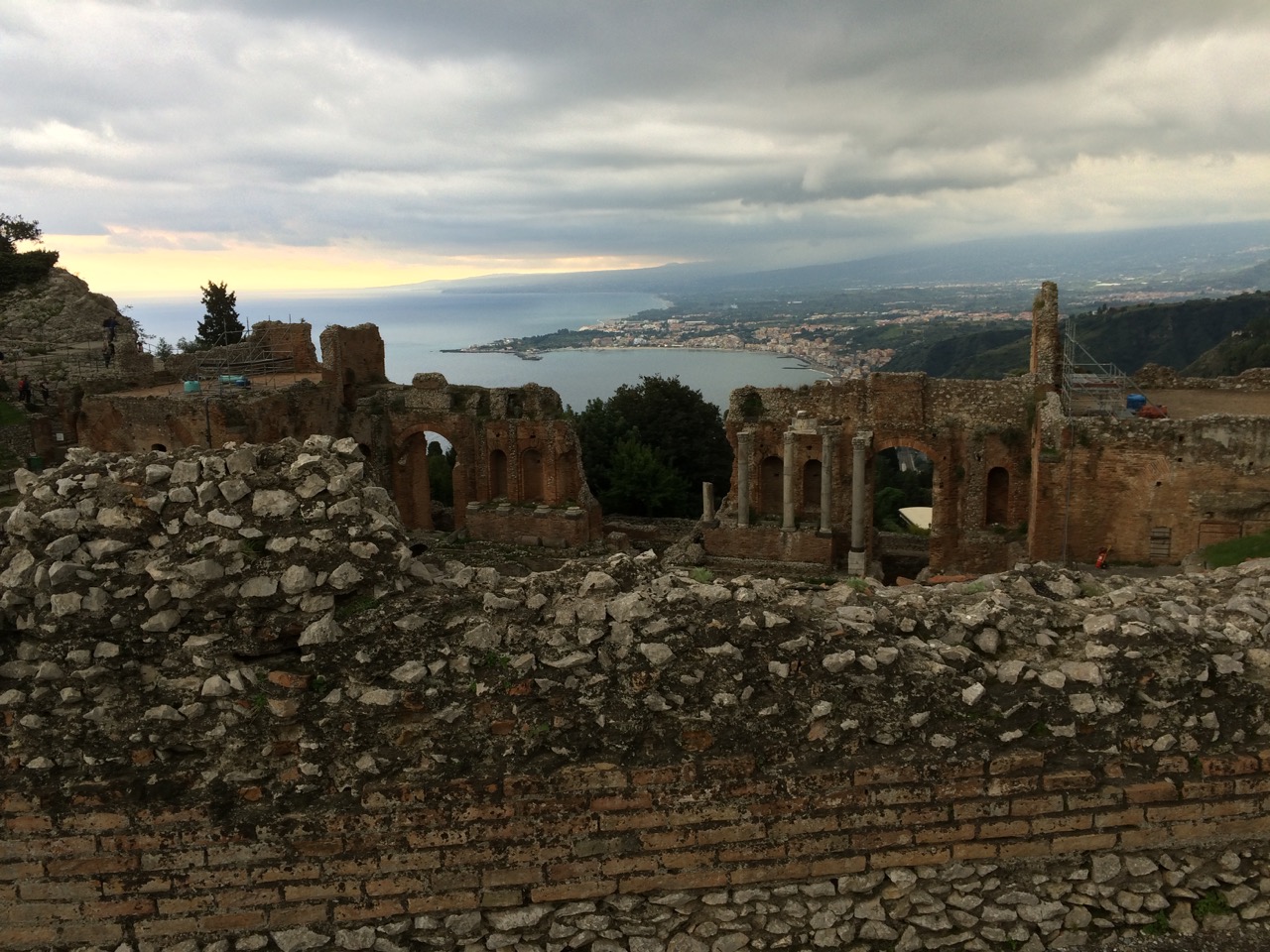 Some other notable attractions in Taormina:
Odeon Theater
Walk along Corso Umberto I
Piazza del Duomo with 13th-century Cathedral and the Fountain
Porta Messina and Porta Catania (two ancient town's entrances)
Palazzo Corvaja
More photos from our walkabout in Taormina. Enjoy!
In conclusion, our 6 hours in Taormina were well spent but it's unlikely that we will visit it again anytime soon.
Practical advice for visiting Taormina:
Finding a parking spot inside the old town is virtually impossible. Even if you see one, most likely it reserved for town residents only.
If you coming to Taormina by car, save yourself headache of navigating twisty medieval streets in search of elusive parking spots, and go straight to the one of two parking garages: Parking Garage Porta Catania or Parking Garage Lumbi. Click here for more information about exact addresses and prices.
Restaurants on the east side of Corso Umberto are generally boasting great sea views but tend to be fancier and arguably more expensive.
Taormina on Google Maps:
Parking Garage Porta Catania on Google Maps:
If you are interested in Sicily, you may also like:
If you prefer off-the-beaten-path ways to explore popular destination, we have some ideas for you:
Published: November 2015. Last update: May 2019
Share this article on Pinterest by clicking Save button