How to spend a weekend In Bangkok
This isn't just another Bangkok travel guide…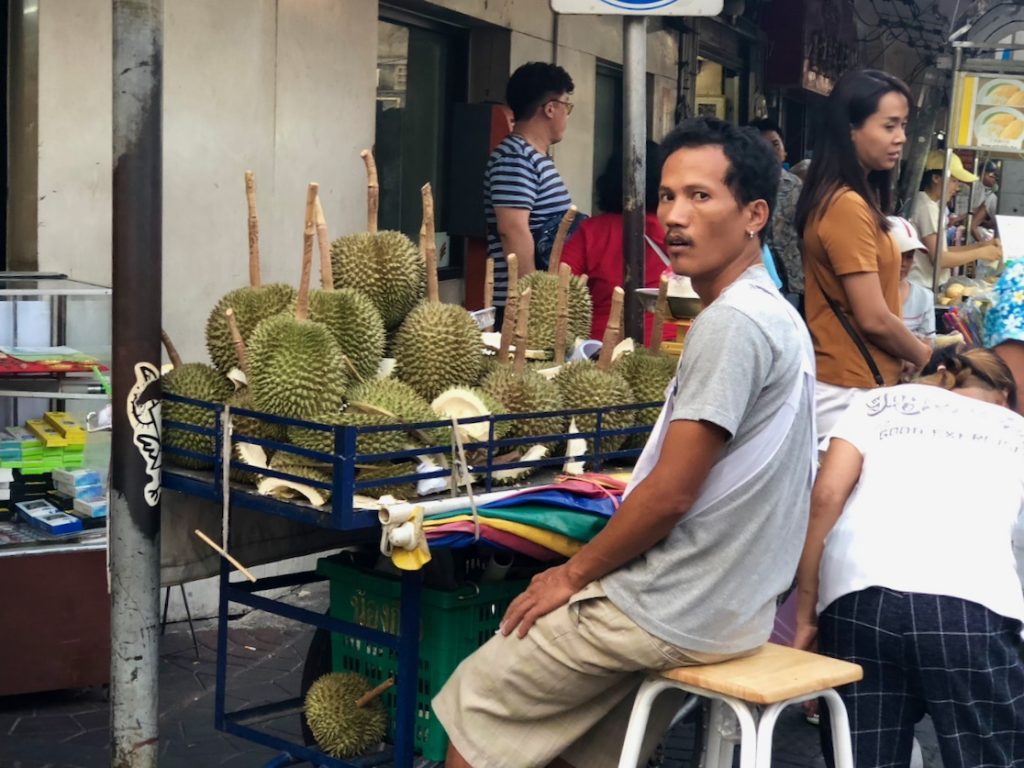 If you are looking for how to spend a few unique days enjoying non-touristy things to do in Bangkok, then this article is for you.
I've always been the type to wander off, which has afforded me the best getaways in my travel endeavors. My weekend trip to the capital of Thailand was no different. After a few days of touring Bangkok off the beaten track, I couldn't help but share my experience.
Alternative things to do in Bangkok
There are many different guides to this city, with a focus on 'what to do in Bangkok.' Specific sights and attractions that are on most everyone's 'must-do' list. As a result, many first-time visitors have a preconception of what they'll experience, based on another's perspective.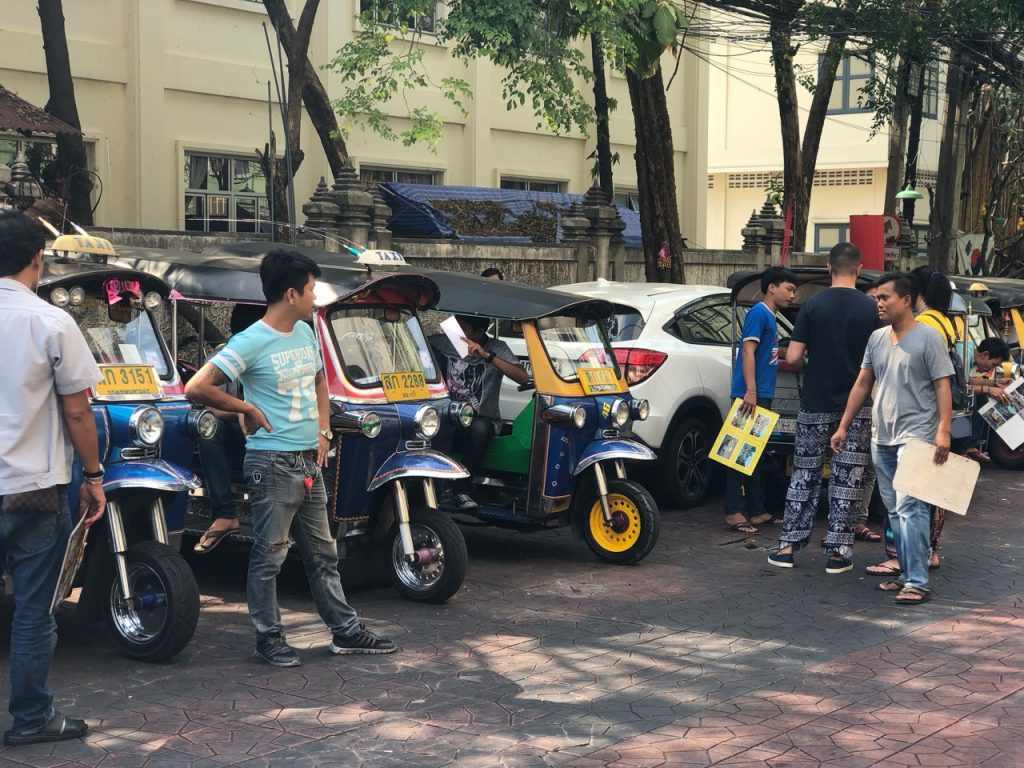 In contrast, what if everyone experiences their own personal Bangkok. Dare to toss the guide books aside and discover this great city on your own terms, off the beaten path. One of the best ways to do this is to take advantage of Bangkok's ferries. I call them hop-on-hop-off ferries since this is how a city visitor will be using this very cool branch of Bangkok public transportation (not to be confused with hop-on-hop-off tourist boats).
The independent spirit of slow travelers finds that these ferries are the perfect way to really get a sense of the unmatched place Bangkok has in the world. The ability to see as little or as much as you want allows for true exploration on your own schedule.
Bangkok Offbeat
To me, Bangkok is not a city of "activities." I do not find a long list of "to do's" here as far as attractions go is necessary. Here is a different idea. What you will find is that Bangkok is a city worth experiencing – for making friends, for enjoying food and drinks and enjoying life.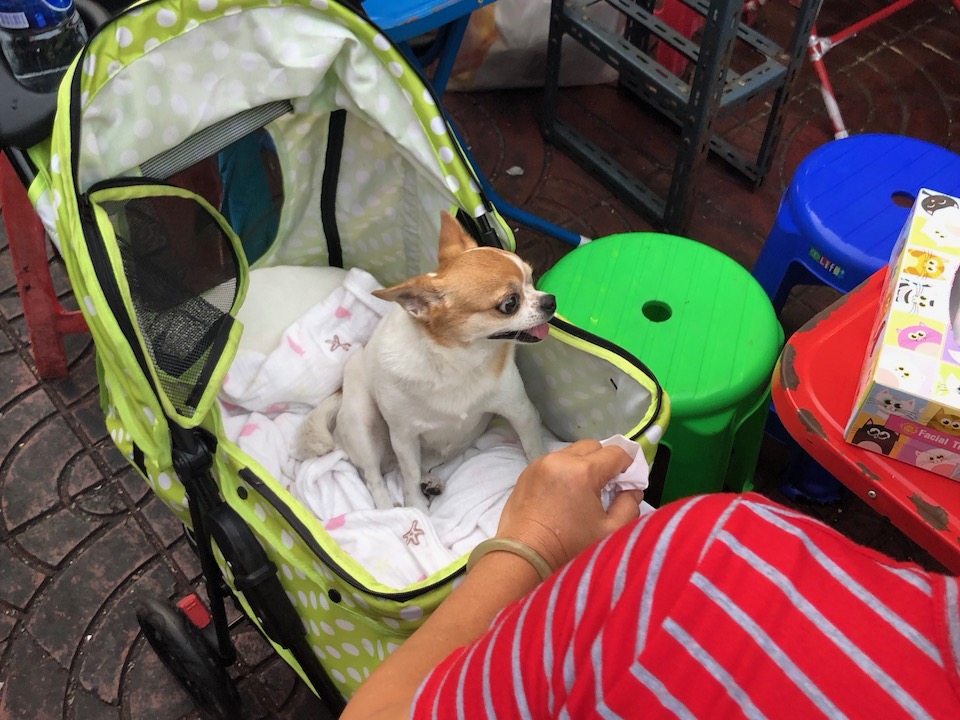 If a weekend is all you have, then do it up right, your way! Just know you have choices. Simply relax by your hotel pool, or get active and ferry hop on hop off. If you choose the active route, be sure to wear comfortable shoes, as walking is the absolute best way to see the city. If you're not sure of where to go, not to worry. Many of the city's best finds are discovered by chance. Strive to not have an agenda – just explore.
Bangkok ferry hop on hop off
Do you have a taste for adventure? Instead of taking organized and predictable boat tours, jump on a ferry.
There is a hop on hop off touristy boat, but I recommend using a ferry instead for a more authentic and convenient experience. Ferries stop more often and bring you to some less crowded sites. Moreover, Bangkok ferries are extremely affordable at 15 Baht per ride, or about $0.48 USD). The ferries are fast and look really cool. Imagine an oversized Venetian gondola that carries 100+ passengers!
Riding a ferry in Bangkok is easy. The ferry routes are color-coded, and they carry flags corresponding to the routes. You can buy your ticket either on a pier or on the ferry itself. Then, just hop on the boat and enjoy the ride!
During weekends, orange ferries (look for the orange flag flying at the rear end of the ferry) are the best. They stop at almost every stop and are scheduled fairly often – every 20-30 minutes. It costs 15 Baht per journey. During weekdays, there are no-flag ferries that run every 20 minutes and stop at every stop, at the cost of 10-20 Baht per ride.
Ferries do not waste time. They load and unload passengers very quickly. Be prepared to jump on and off quickly and not dawdle.
The Ultimate Relaxing Stay in Bangkok
Stay in the Raweekanlaya Bangkok, an unexpected slice of paradise in the city.
The tranquil neighborhood is out of the tourist path. This charming resort is a historic mansion and an exquisite showcase of 19th-century architecture and gardening. Built 150 years ago, it has a spa, a restaurant, and a pool underneath sprawling banyan trees.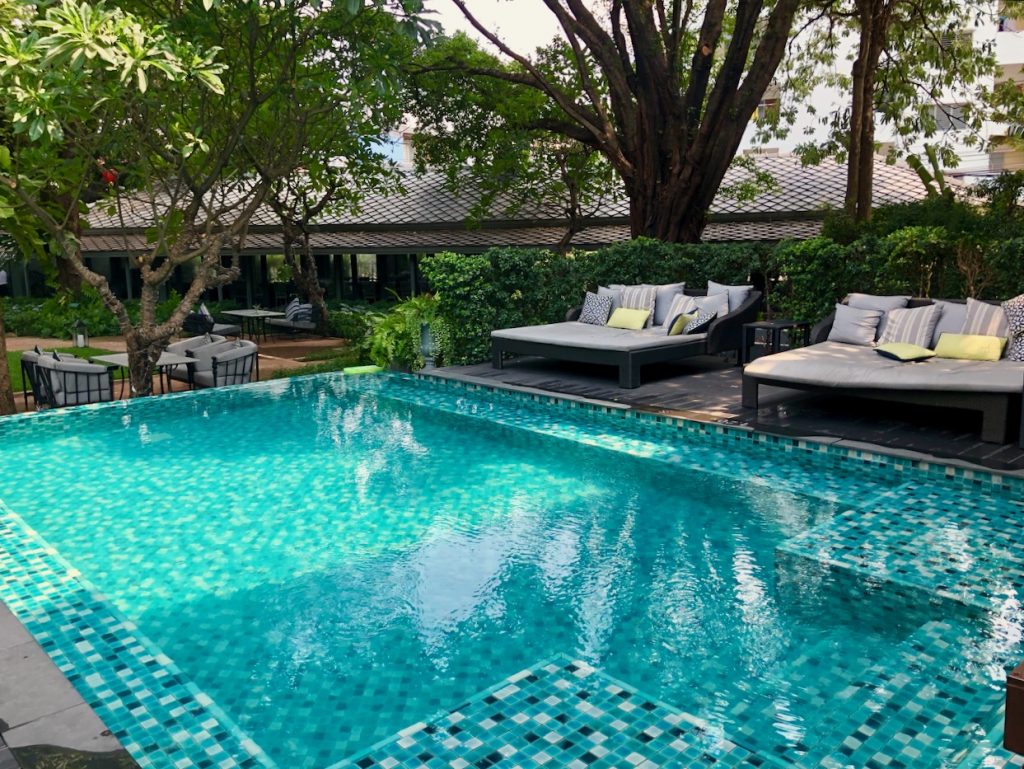 Splurge on a suite and enjoy a weekend of guilt-free laziness. Listen to the sounds of nature, bask underneath the sun or relax under the canopy of trees, all in the heart of Bangkok. The charm of a bygone era and smiling, friendly staff are fantastic.
If possible, try to book the Governess Suite on the second floor (my favorite.) With its charming colonial style and plenty of space, it is perfect for couples. Or book the Taywet Suite, which is more suitable for a family. I highly recommend booking a suite for a luxury weekend.
I wouldn't be surprised if all you wanted to do is chill out by the pool for a day. Do it! With a side visit to a spa, of course. For this, you'd do well to book in advance. The spa experience is amazing – and Thai massage is a must.
Explore Bangkok's forgotten beauty and history on foot
Bang Khun Phrom rarely appears in Bangkok tourist guides. Indeed, the quiet old neighborhood peacefully spreads toward Chao Phraya River adorned by stunning Rama VIII bridge.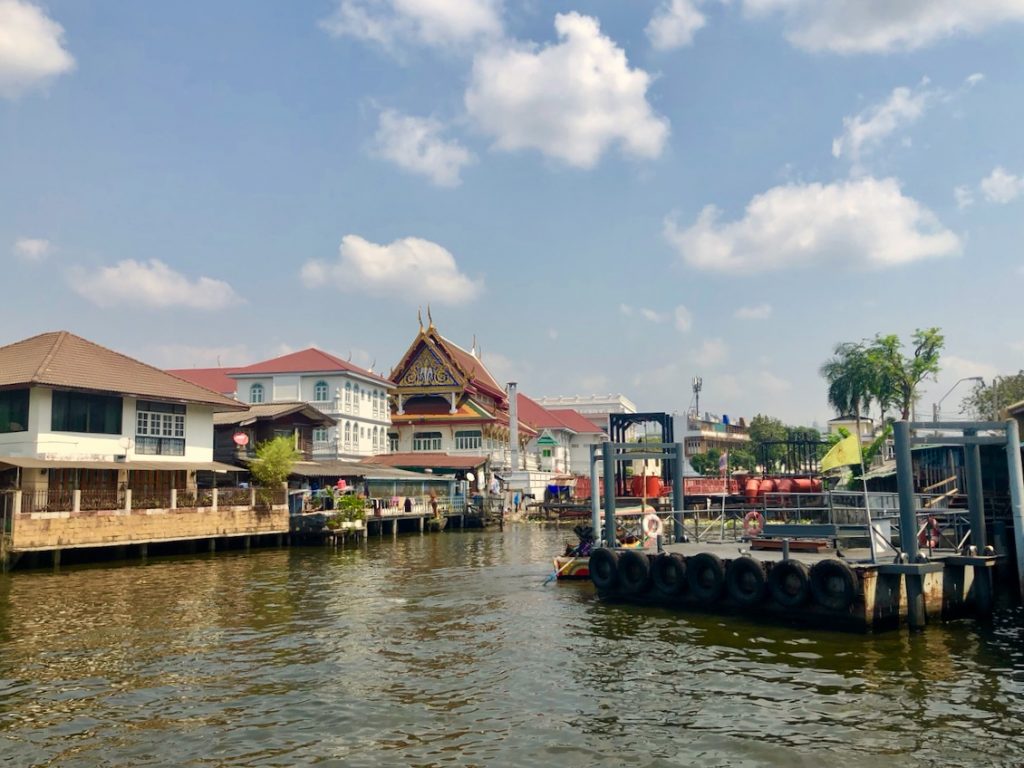 Do not be fooled by sleepy surroundings. There is plenty to see there if you are looking for non-touristy things to do in Bangkok.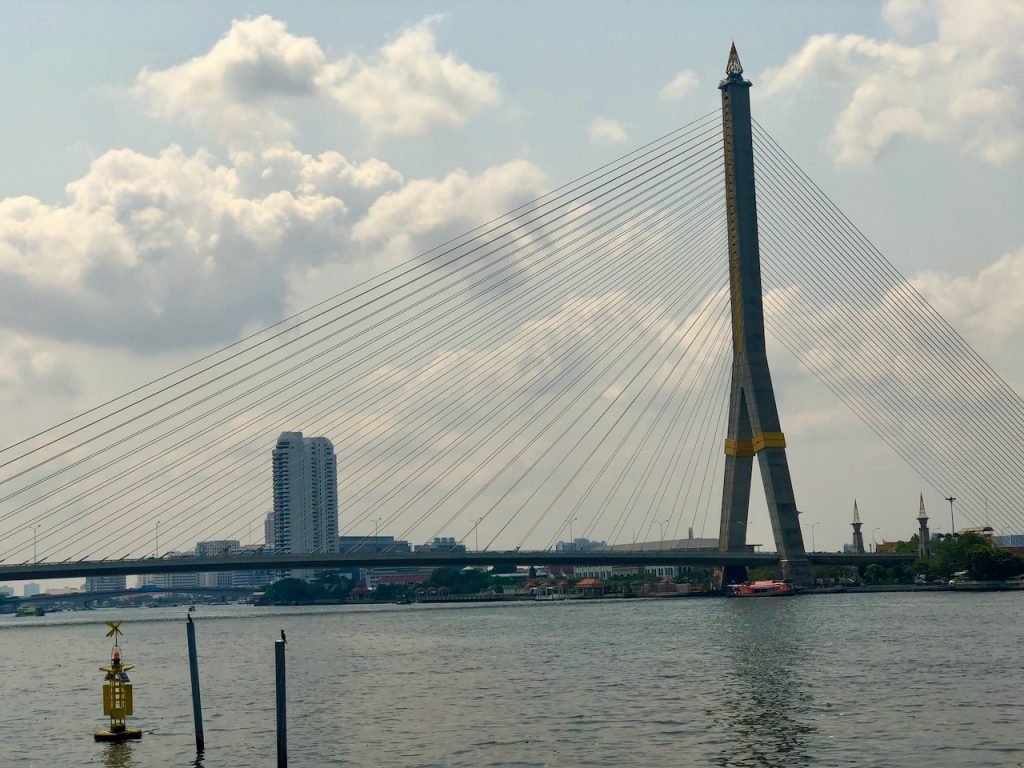 From your hotel, walk along the canal to the pier. You will pass through authentic Thai neighborhoods crisscrossed by narrow alleys lined by traditional shophouses. You will see craftsmen and traders busy with their daily business.
The residents of Bangkok are amiable and social. Some locals might ask you where are you from and chat with you for a while, which is a great way to make friends!
Thewet Market, situated right next to the namesake intersection, sells everything you might imagine – from fresh fish to fruits and vegetables, to shoes and clothes, to some second-hand knick-knacks. Hungry? There are plenty of street food stalls and tiny cafés lining the streets.
You will walk through a large religious complex; a stunning white temple along with many historical buildings. One of them is the Golden Teak Museum. Rarely you will see a teak mansion of this size. Furthermore, it was built in Phrae province famous for fine teak wood and relocated to its present premises a decade ago.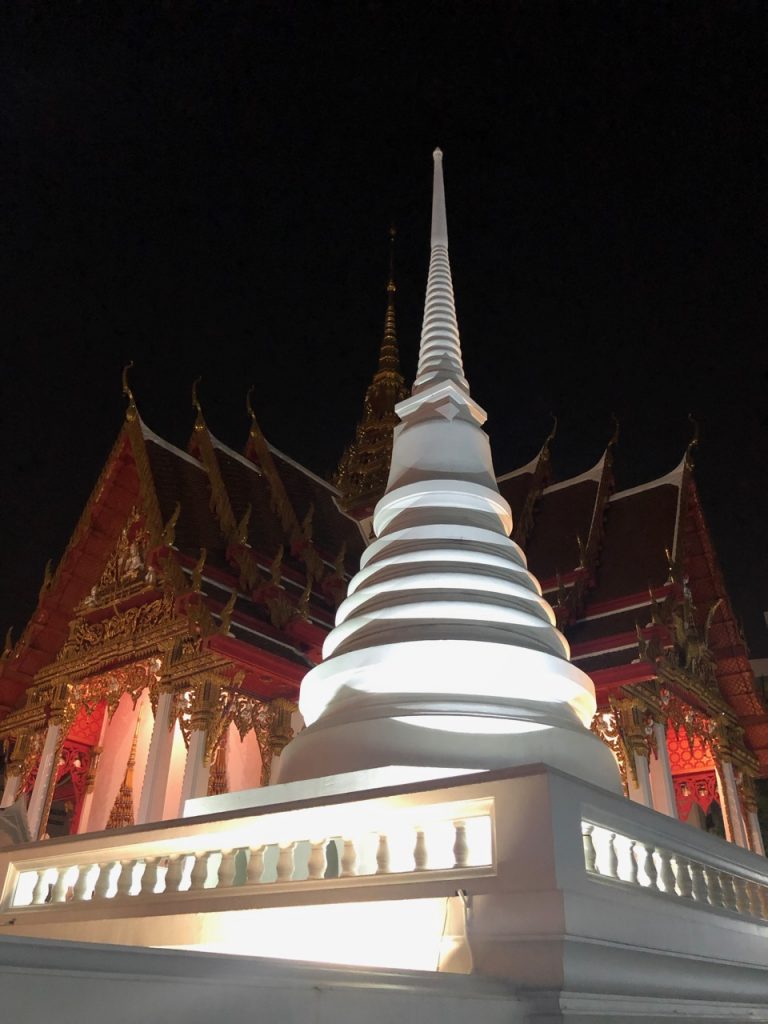 You can actually spend a whole day just exploring this area if you so desire.
The ferry terminal is right across from Steve Café and Cuisine (more on this later.) While waiting for a ferry, take a few pictures of the old historic neighborhood with a backdrop of the awe-inspiring bridge.
Get on a Ferry and Off You Go – A Good Itinerary if you Want One
Hop off whenever you want to see some interesting landmarks. Ultimately, your goal is to get to Chinatown.
There are a lot of stops with some exciting sites along the way. Pace yourself! Remember, less is more – you can't expect to see everything, so enjoy your walk and take a few breaks for a coffee or a beer. Do not forget to drink plenty of water, it's easy to get dehydrated on your adventure in this climate.
Speaking of places to visit in Bangkok, there are some notables along the way.
Right before the bridge, you will see Bang Khun Phrom Palace, a gem of the European architecture in Bangkok.
A bit further, you will spot Phra Sumen Fort, a fantastic white tower-like fort. Actually, we left the ferry there and walked around for a while. There is a lovely park around the fort overlooking Chao Phraya river.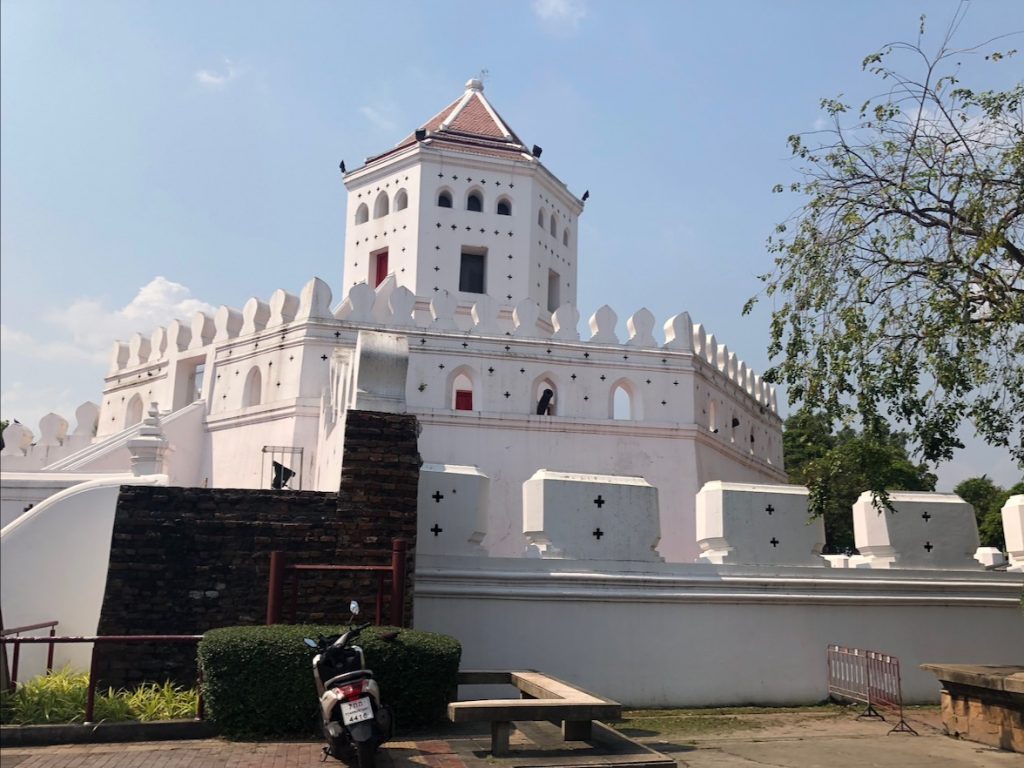 From there, a picturesque walk along the canal is good. There are restored colonial shophouses worth taking pictures of.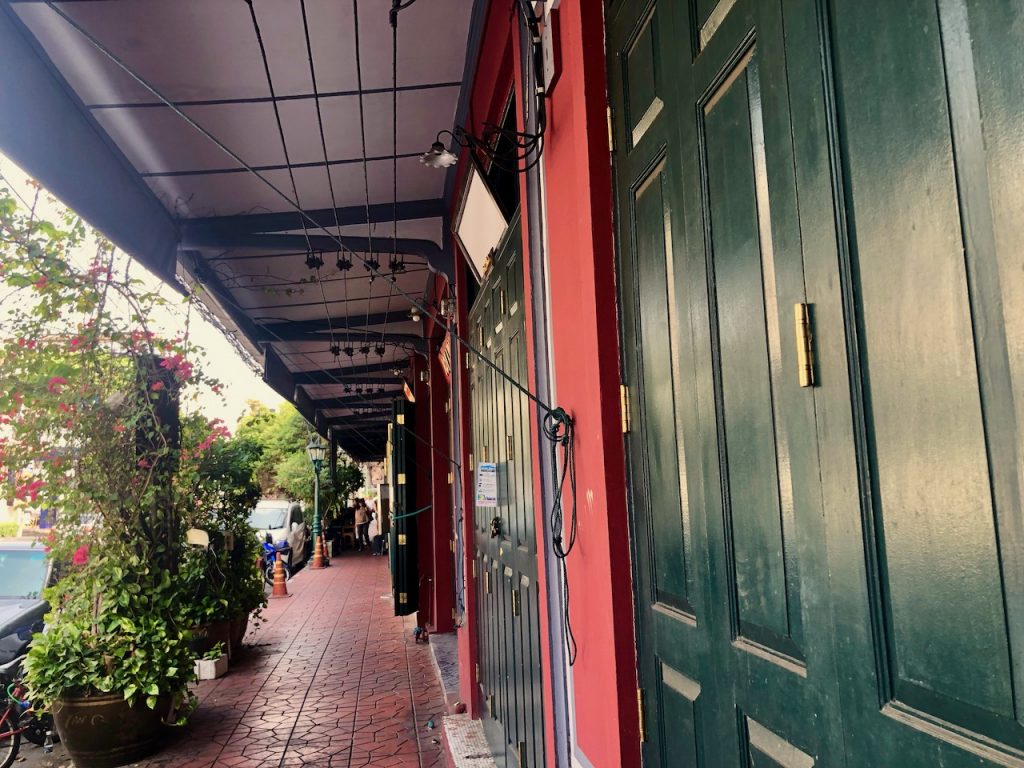 If you are interested in the arts – the National Gallery is nearby. Otherwise, for some exercise, walk along the river.
Chao Phraya river itself is quite interesting – there are lots of boats of all shapes and sizes zooming in both directions, which is fascinating to watch.
Mainstream Bangkok
If you want a bit of touristy sightseeing, The Grand Palace complex is almost in front of you. It is an enormous complex that would require a day on its own, so it's better to plan ahead for a visit there. Probably the biggest draw here is the Emerald Buddha, considered to be the most important image of Buddha in Thailand. The Grand Palace is mainstream Bangkok at its best, so expect big crowds there.
Walk through the lovely University grounds. Once you pass it, take a late lunch break at the restaurant of Navy Club. They have excellent food (as expected in Bangkok, right?) with a view of the river.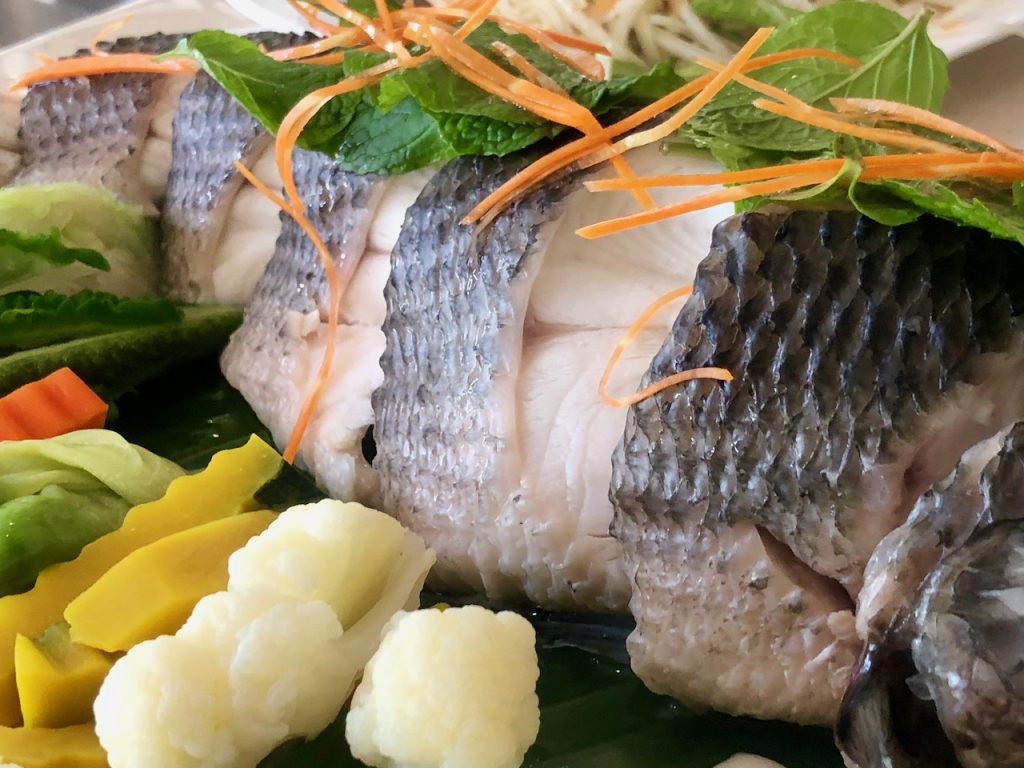 The ferry terminal is right next to the Navy Club.
Wat Arun Ratchawararam, with its iconic spire, is worth getting off the ferry here to explore. A lovely sight during the day, it is even more spectacular during sunrise or sunset.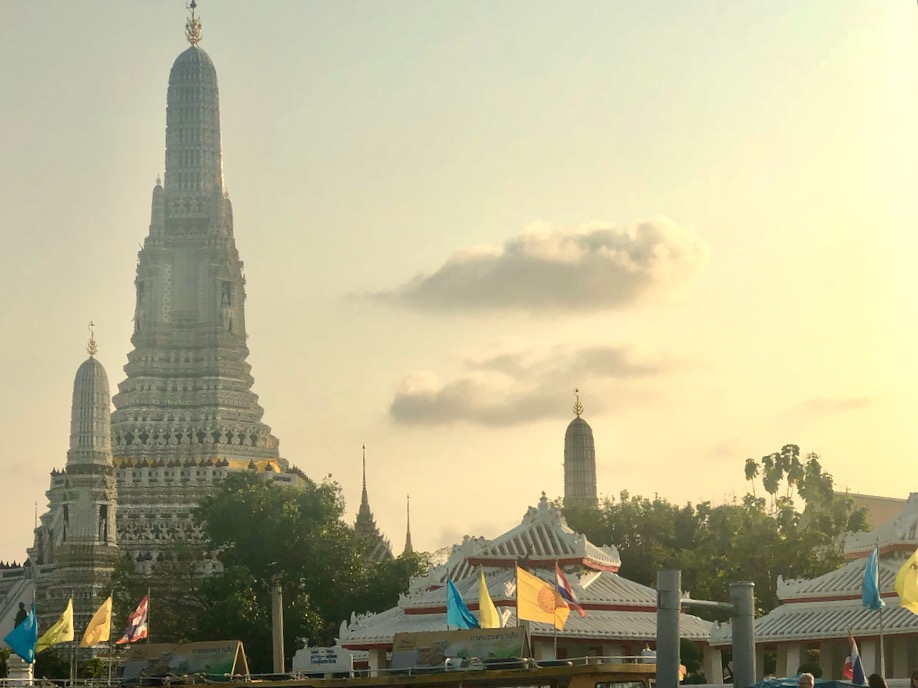 Then get off the ferry for the final time at the Marine Department stop. The neighborhoods here are very colorful and authentic. If you are into photography, you will love walking around, as the photo ops are plentiful!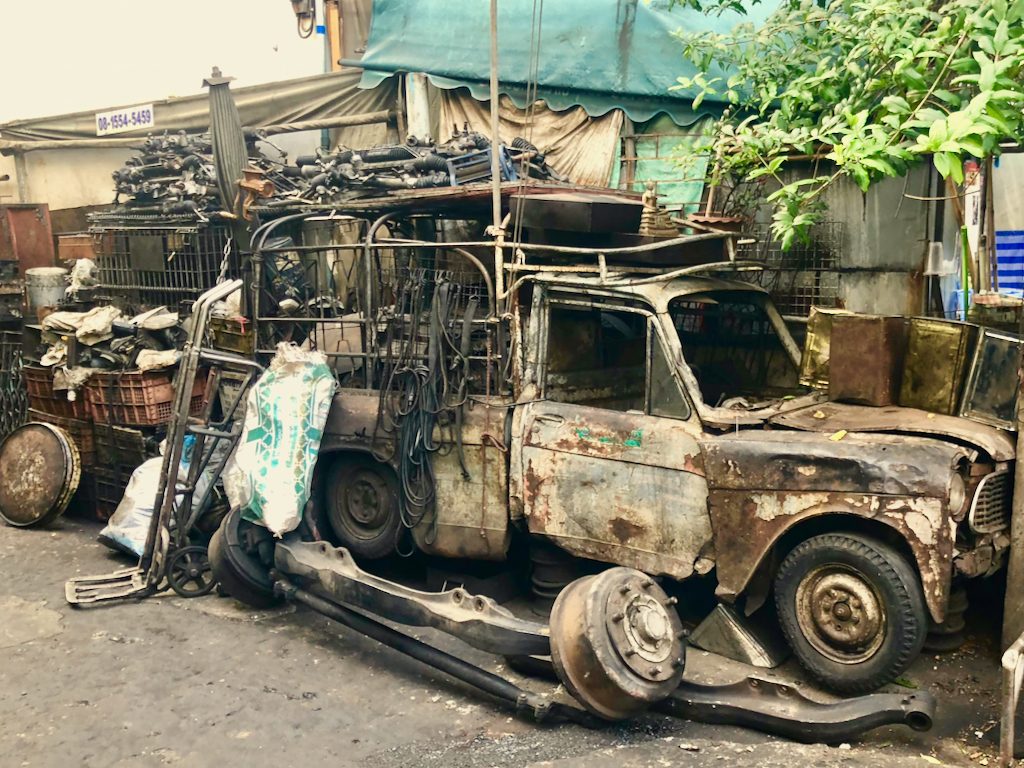 Bangkok Chinatown
The Chinatown Gates. These are nice, but frankly, I've seen better. Do not get me wrong, they are impressive, but they don't have that WOW factor.
From Odean circle (where the gates reside) be sure to spend some time in Chinatown itself – again the best way to do this is just to wander and follow your nose. Closer to sunset, merchants and street food vendors begin setting up their stalls along the street.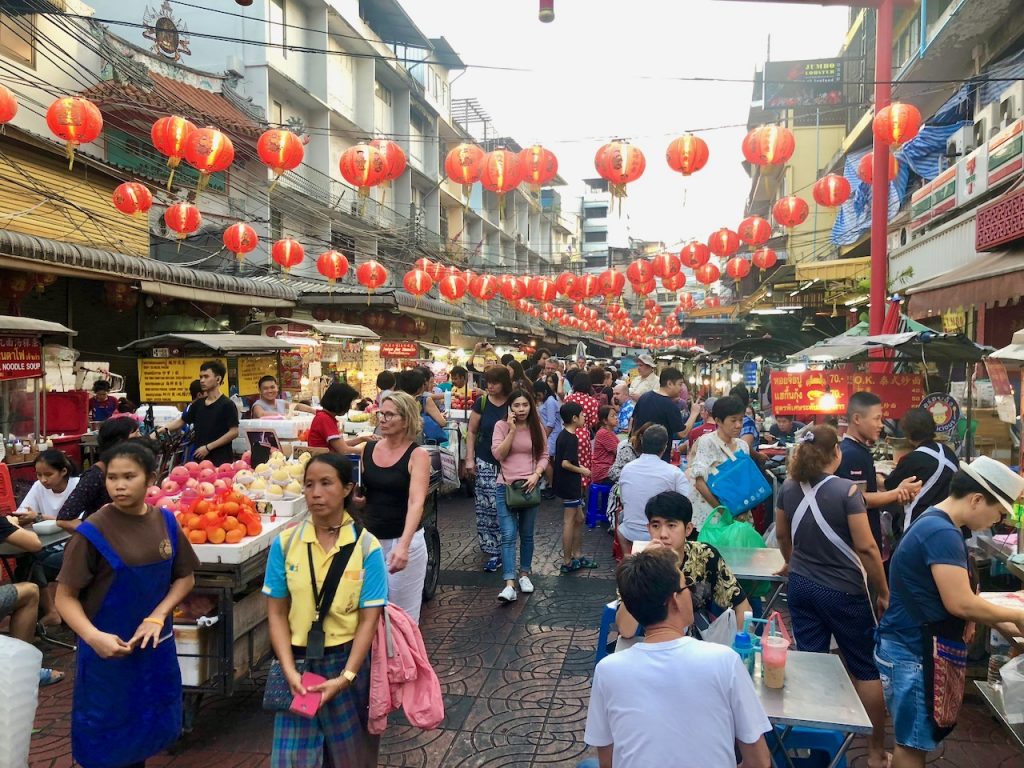 Walk along Thanon Yaowarat road in Chinatown. There is plenty of sightseeing here. You will want to try a shark fin soup in one of many places serving it. Check out some exotic-looking spices. Try some street food at the night market. Depending on what suits your fancy in the way of eating, you may want to come back and try different food vendors during your stay.
This is also a great place to shop for that perfect souvenir. Gold gleams from every other shop, it seems. You can buy anything from teapot sets, to elaborate garments. In fact, this is the best place in the city to buy gold.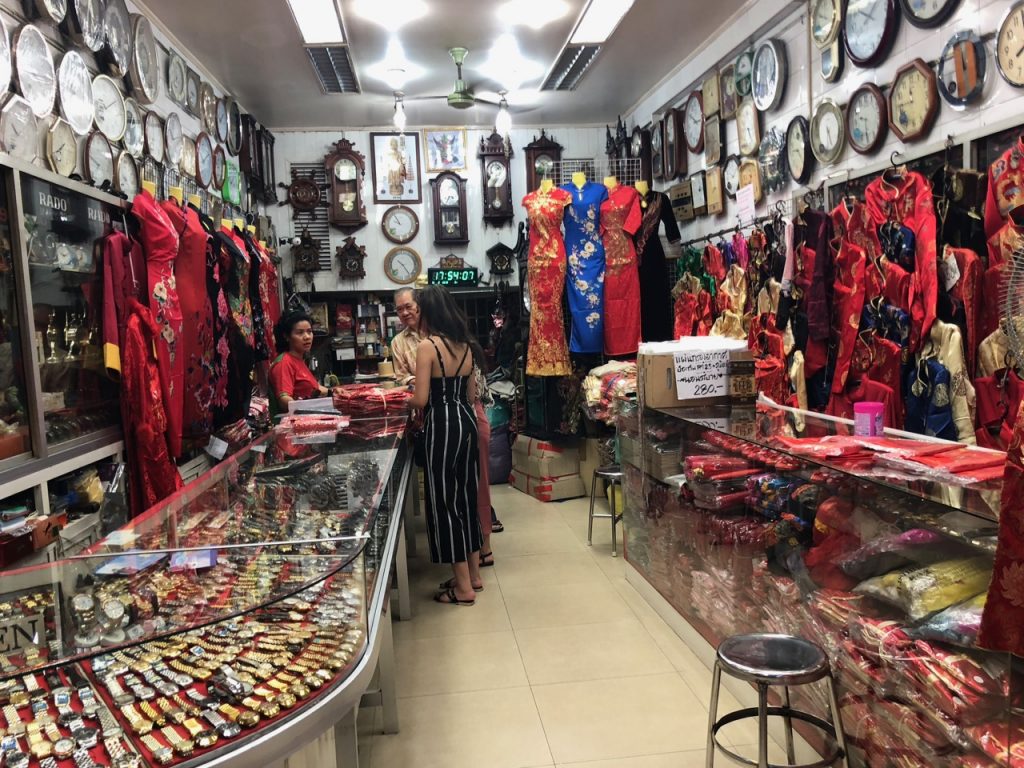 The Golden Buddha Temple across from the gates looks impressive but too crowded with tourists, so I skipped it. It is located in the temple of Wat Traimit and is reported to weigh 5.5 tonnes, so it is worth a look-see if you don't mind the crowds.
Finally, grab a taxi or a Grab and get back to your hotel. In fact, I would recommend using Grab in Bangkok whenever you need a quick lift. It's convenient since you do not need to communicate with the driver, as not all of them speak English.
Fun things to do in Bangkok – a taste of Bangkok Nightlife
For dinner, walk along the canal (i.e., the Old City Moat) towards the river and enjoy the wonders of Thai cuisine at Steve Café & Cuisine.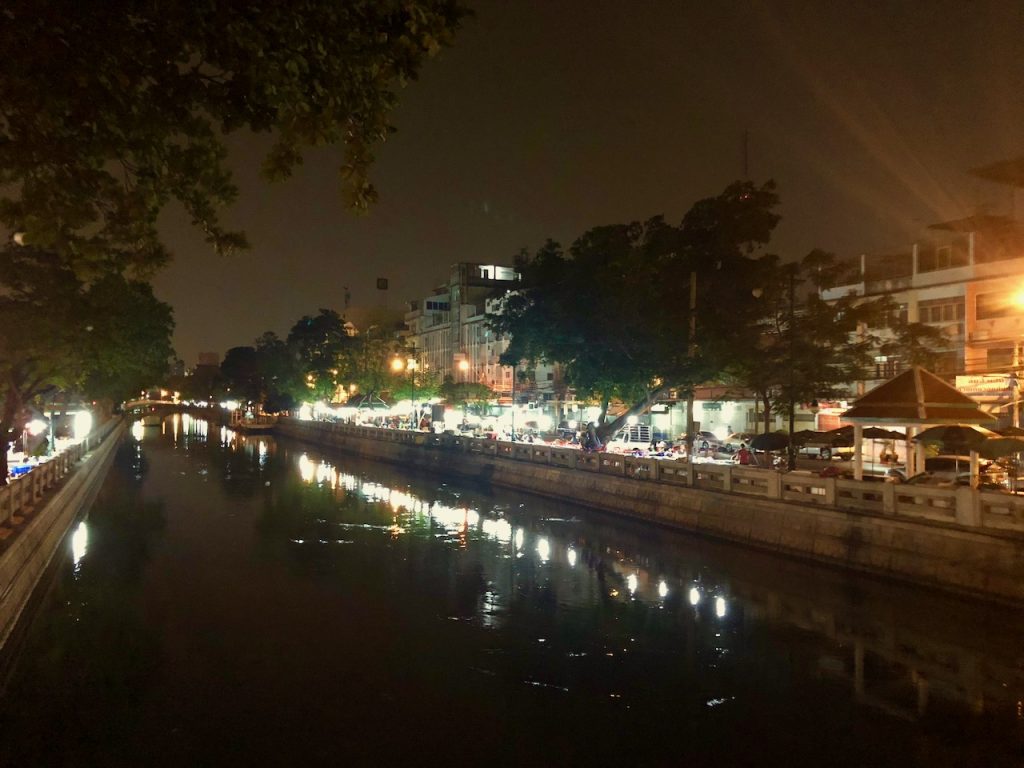 The name might be a bit misleading. It was for me, at least! It's a full-service restaurant with a gorgeous view of the river. It serves what I would call Thai Fusion – with traditional flavors and ingredients skillfully modernized. Pair your meal with French wine – with the sunset overlooking the water and a fresh breeze cooling the air. Perfection!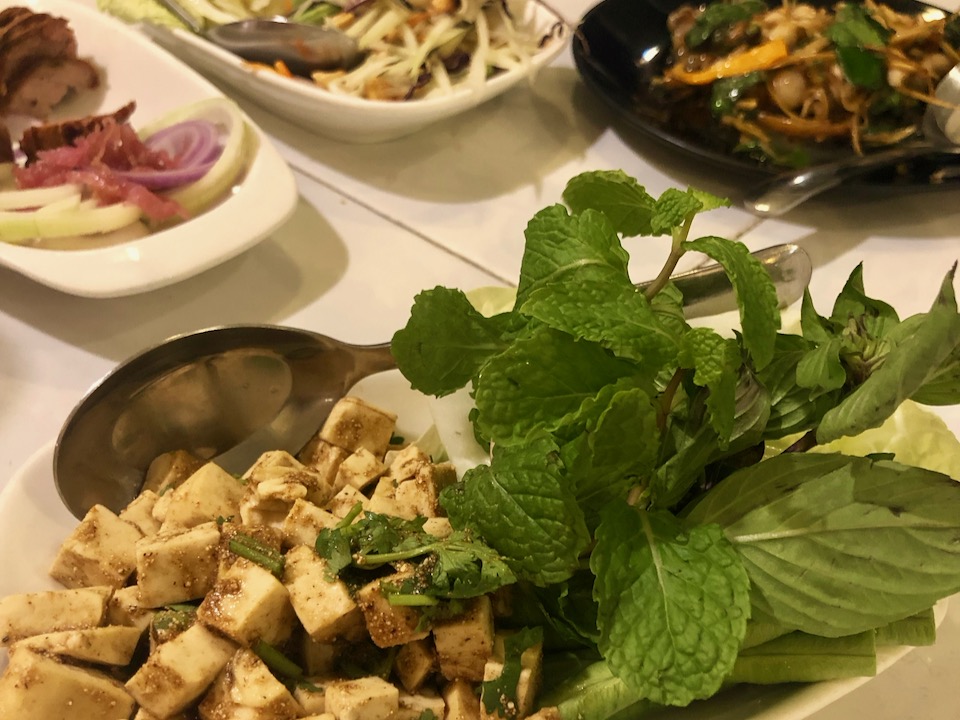 You will want to make reservations at this restaurant. Oh, and also, you will have to take off your shoes outside. The staff speaks a little English (some more, some less) and the menu is in English. The restaurant is a bit tricky to find. The entrance path is narrow, so watch for the sign and immediately turn left.
If you prefer a night of music, walking in the opposite direction would bring you to Brown Sugar: The Jazz Boutique.
Technically, you can take a Grab to get there, but why do that? It's a short walk, and you will be there in less than 20 minutes.
The food is good, but the music is even better. Performances are every day except Monday – check the schedule online. If you are into Jazz, this is THE place to be. The Jazz Boutique is frequented by talented young and upcoming artists.
Do not stay in the front – walk toward the back room, that's where the action is! And arrive closer to 10 pm – that's when things really start hopping.
Your own Bangkok memories your way
The Oriental city of Bangkok is many things. It's hectic, it's laid-back. It's gritty, it's beautiful. Bangkok is meant to be savored slowly. To try to experience the city fully in just a few days is to only scratch the surface. At first glance, you will either adore it or hate it, but if you spend enough time here, you will surely love it.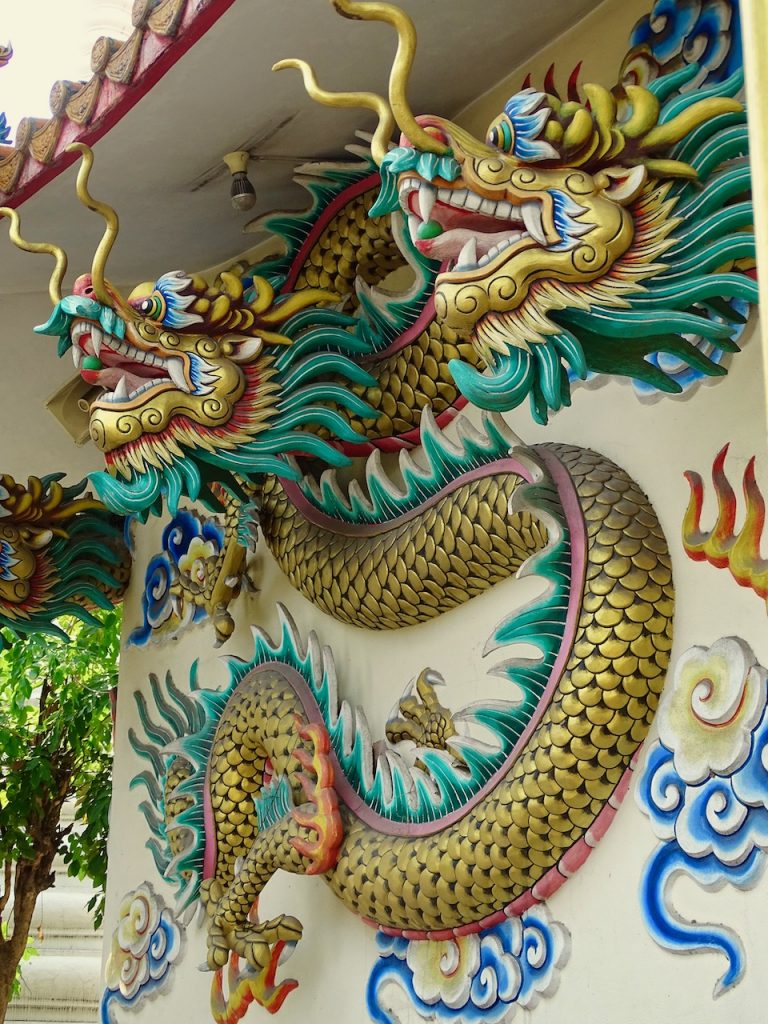 These feisty dragons reminded me of their numerous siblings in Tainan, the first capital of Taiwan.
Practical Advice and Useful Tips for Bangkok weekend trip
During the dry season (November to February) it is warm, with little rainfall. This is the high tourist season. Temperatures rise during March-May, and it is still dry.
Always carry a bottle of water with you. Stay hydrated, and your body will thank you.
Sunscreen is a must, even on a cloudy day. You might get a sunburn, especially if you have sensitive skin (like me.)
The rainy season is from May to November. It is better to wear comfortable sandals rather than sneakers during this time, as sneakers get soaked in no time.
Check our Thailand Travel Resources to make your trip even more enjoyable.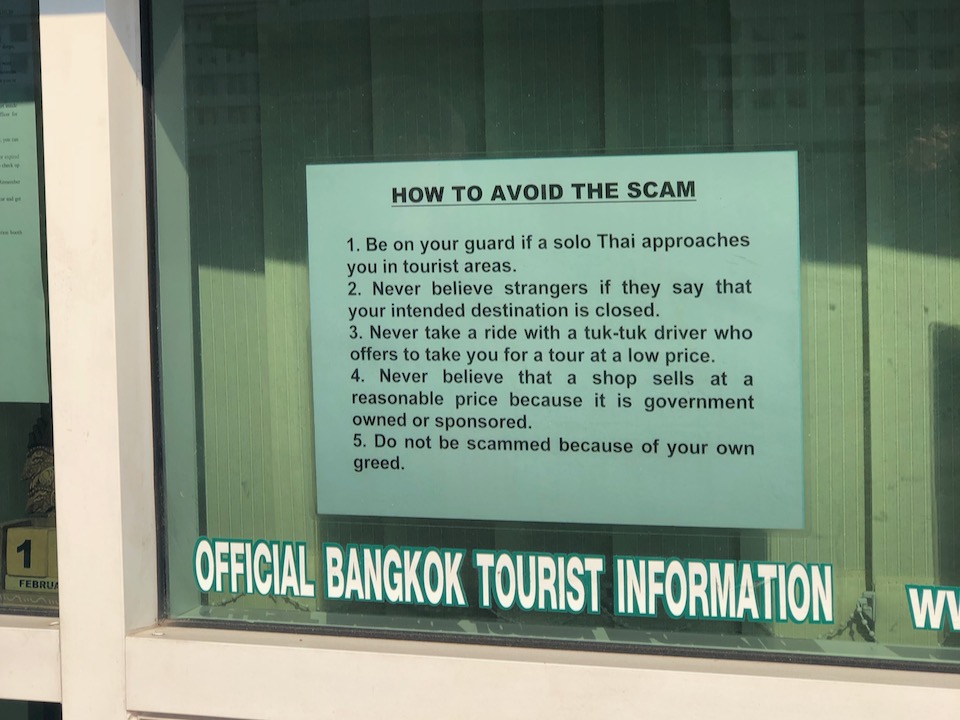 If you are interested in off the beaten path travel, you may also like:
About the writer:
Susan Stephens is an authority on everything about the incredible Pacific Northwest (PNW), a vast region in western North America bounded by the Pacific Ocean to the west and by the Cascade Mountain Range on the east. Her blog,
Explorer Sue
, is dedicated to helping people discover the beauty of the PNW.
Share this article on Pinterest by clicking Save button