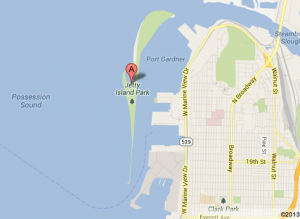 Summer is in full swing in Seattle. Sun is ferocious, so spending a day on the water looks very appealing. Since we've been in the Emerald City for a while, we exhausted all close-by choices of been on a water. Visiting the same place for a second time is boring, and, with plenty of sounds, straights and passages around, we hoped to find a new destination that is accessible by public transportation. Actually, this is not a small task remembering that generally the US public transportation is not up to par. With a very few exceptions (New York comes to mind immediately, but then… well…, Americans do love their cars and even bigger cities do not have adequate alternatives), it is difficult to live without a car in the US. Luckily, public transportation system in Seattle is fairly good and affordable. Buses, light train, trolleys and trams in collaboration with your own 2 legs can get you almost everywhere.
Aided by Google Maps, we found a place that looked promising: Jetty Island. It is a tiny sliver of land accessible by a small ferry.We chose a sunny hot Sunday to go there, which instantly made it even more interesting since scores of locals thought that the island's beaches would be a perfect escape from a summer heat.
We got to the ferry slip without any major problems to discover that we have to get a ferry pass. The next available pass to the island was just a mere hour away, but to get back one would have to spend at least 4 hours under the blazing sun. Obviously, it would be crazy, right? Well, the temptation to discover what this island is about been too great, so, of course, we went for it. The ferry ride was literally 3 minutes and; finally, we were there.
As usual, beachgoers stayed close to the ferry, so in about 100 yards it was just us and… kitesurfers.
I am not sure if they come to the island every weekend, but on this particular day we were treated with a spectacular show. It started with less experienced crowd just trying to keep balance and move fairly slowly. With more people getting into the water, it was becoming more and more interesting. One guy was moving back and forth across the sound like a big bird.
We still had the whole island in front of us, so we had to leave kitesurfers behind. Now we had a stretch of a beach completely for ourselves. It was a chunk of wilderness in a stone throw from civilization. The tide was low, water was shallow and warm, and there were plenty objects for a good photo session.
We slowly waded to the northern tip of the island to discover that we can not get through: water began to rise and there were too many dead trees on the beach. By the time we got back to the kitesurfers, water rose more than a foot, so a shallow muddy lagoon became filled with water. The most experienced surfers moved there. We could hear the swoosh of air when they were zipping along the water.
More Jetty Island photos on Flickr.