In this post: the Valley of the Giants, what is Tingle, the Tingle Treetop Walk, the Ancient Empires Walk, practical tips on how to plan a trip to the Valley of the Giants.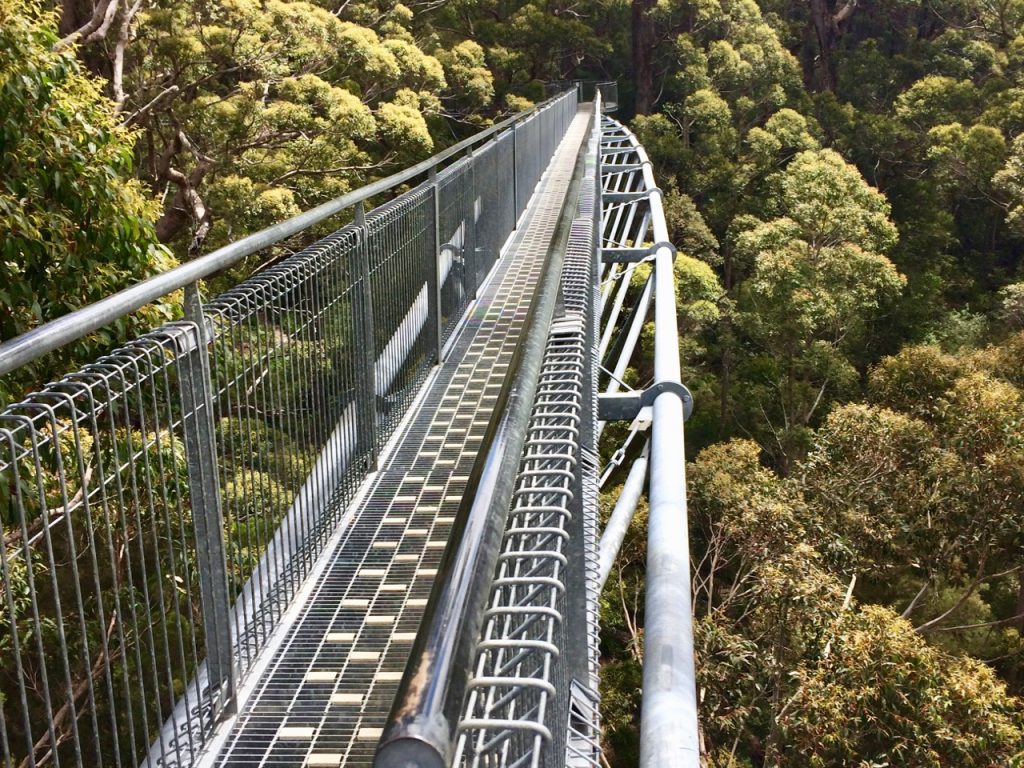 From daydreams to reality
As a kid, I was convinced that you can see the world from the top of a tree. You just need to find the right one. In that pursuit, I spent a good portion of summer vacations above the ground which had an unintended educational side effect of learning laws of gravity first-hand.
Years passed. Paraphrasing Eddie Izzard's quote, running, jumping, climbing trees, got replaced with eminently less romantic scaling stairs of office buildings. Then, I discovered hanging bridges: almost like being at the top of a tree but in a more user-friendly way.
Hanging bridges
Arenal hanging bridges in Costa Rica was the first time I tried this kind of adventure. Needless to say, I got hooked right away. Ever since I've been looking for them all around the world. Mind you, the modern hanging bridges should be appreciated not only for stunning scenery but also as amazing engineering achievements.
Western Australia is known for its spectacular landscapes and stunning nature. Architectural gems? Not so much. More out of habit I run a search. Voilà! Meet the walk through the canopies of magnificent tingle forest.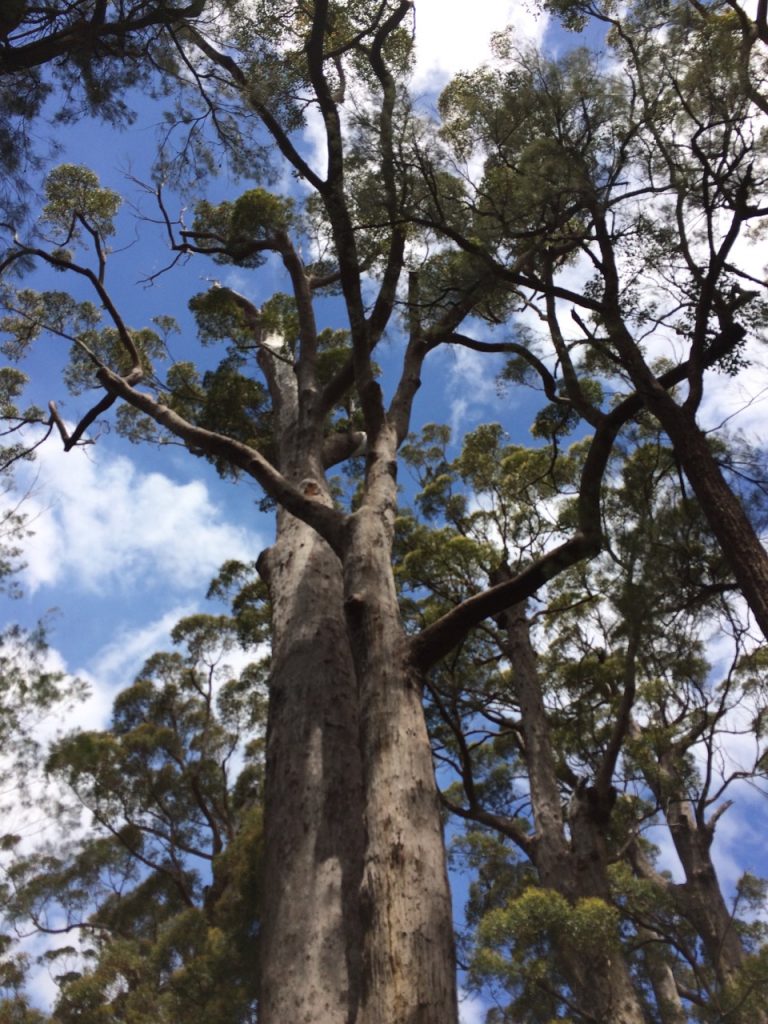 Have you ever heard about Tingle tree? Before visiting Australia, I didn't.
What is Tingle?
The Tingle tree, a species of eucalyptus, is one of the tallest trees in the world. It can measure up to twenty meters around the base, grow to a height of seventy-five meters and can live up to four hundred years old. They often have shallow root systems and grow a distinct large buttressed base.
Climate change over millions of years has caused their distribution to shrink. Now they are unique to the south-west of Western Australia. Moreover, they exist in an area of just a few hundred square kilometers.
Valley of the Giants
About five hours drive south from Perth, there is a place called the Valley of the Giants. Behind this grand name is the ancient Red Tingle Forest. Some trees there are more than four hundred years old. They are magnificent examples of natural wonders with trunks up to fifteen meters in circumference and heights above forty meters.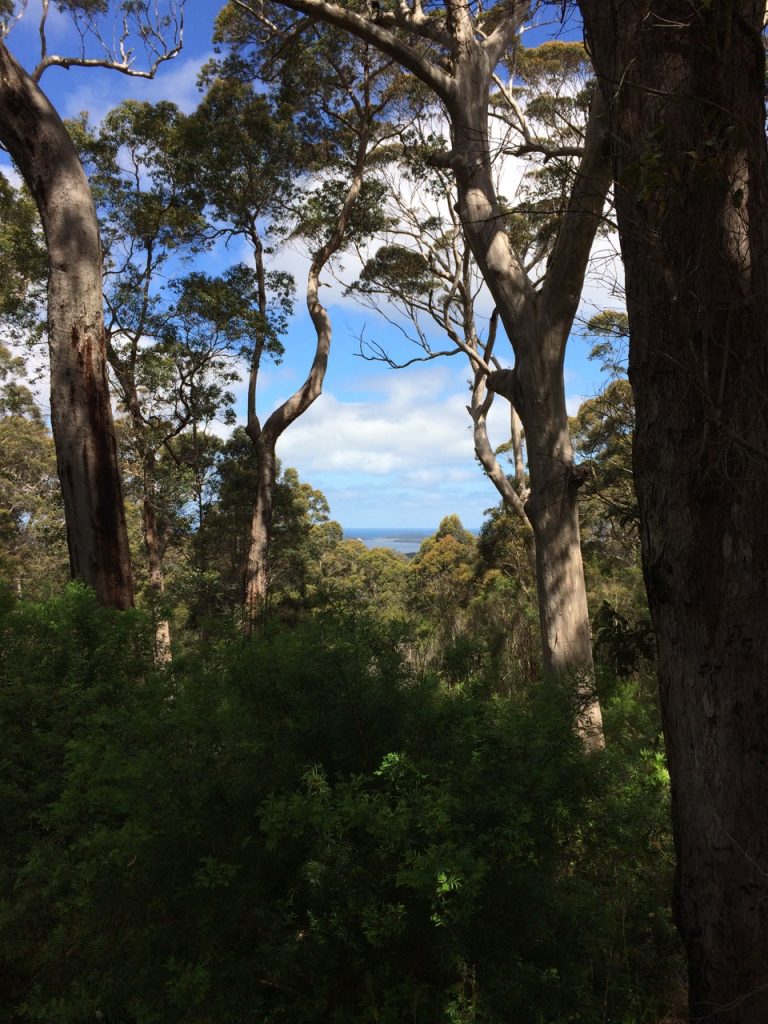 Tingle treetop walk
Weaving between the giant red tingle trees is a treetop walk. This is a fantastic example of modern engineering in a remote, unspoiled corner of the world. The treetop walk is actually a series of lightweight steel trusses built on steel pylons to form a four-hundred-twenty meters long path. Gently rising to about forty meters to the level of red tingle canopy, it offers a rare opportunity to observe trees from top to bottom.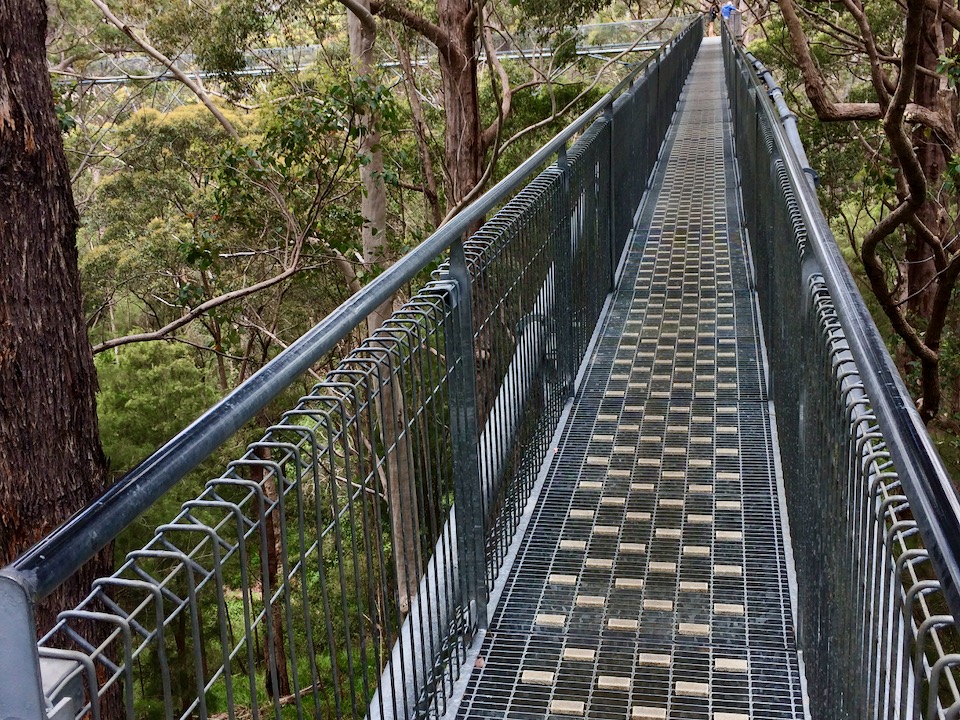 Though not a hanging bridge, the treetop walk does gently sway under your feet courtesy of constant winds. Looking down while standing on a shaky see-through sliver of a surface is quite an experience. Looking above treetops is entirely different. The former is a bit unsettling; the latter is calming and soothing.
The design of the walk is so unobtrusive and light that it does not affect a general impression about the forest. It blends with the trees creating a seamless visual presentation.
Ancient Empires Walk
If the treetop walk provides a bird's-eye view of the forest, the Ancient Empires Walk is exactly opposite experience. It is a continuation of the journey through the Valley of the Giants.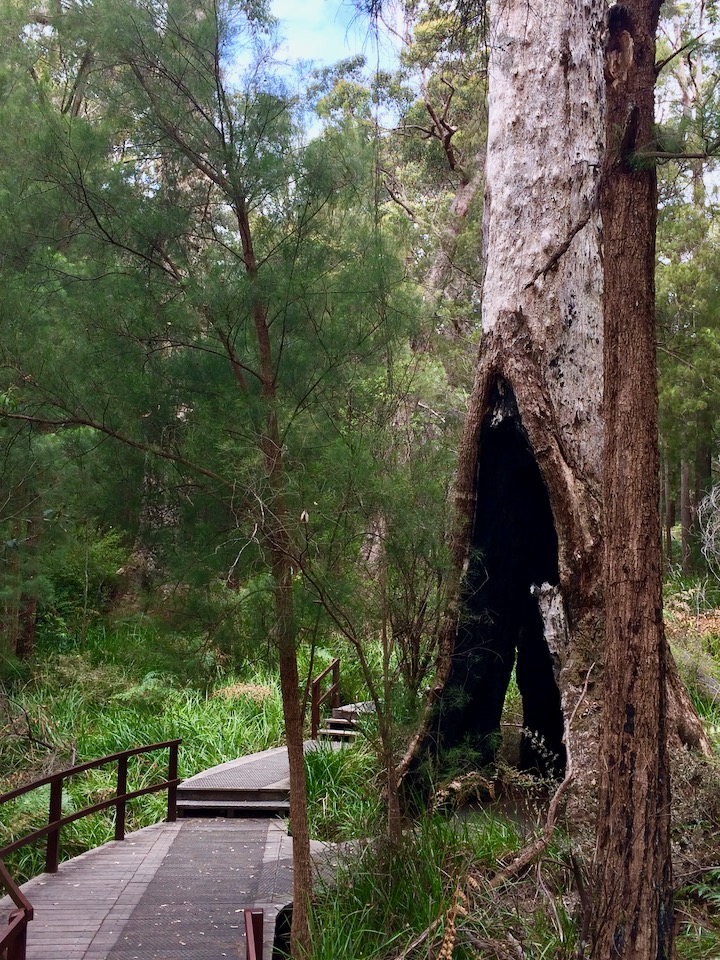 The transition from the marvel of modern design to an ancient wilderness is swift and takes just a few steps. A wooden boardwalk replaces steel mesh. The giant red tingle trees which are only found in this particular area of Australia overlook the path. Sometimes, it literally goes through the trees' enormous trunks.
Unique giants
Some of the trees are estimated to be more than four hundred years old with over fifteen meters round at the base. Age and forest fires created hollow shells out of the bottoms of some trees. Amazingly, the tree could be still alive. The best way to describe this phenomenon is to compare it to some sort of gates or arches. They are wide enough to fit two or three persons standing next to each other.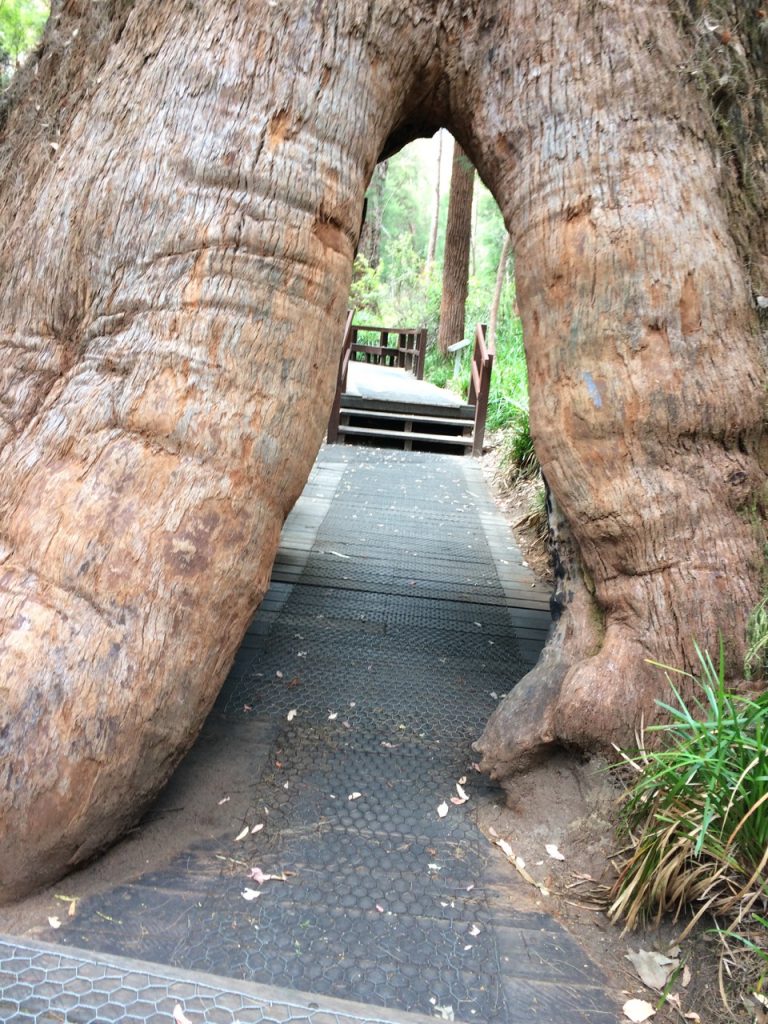 The Treetop and the Ancient Empires walks are stunning. The only slight letdown is a distance between the Valley of the Giants and Perth. 10 hours of driving there and back are too much for a trip exclusively dedicated to tingle trees activities. I would recommend to combine it with visiting some other places along the road.
What else to see
Travel guides suggest some activities within an immediate area around the Valley of the Giants. As much as I liked the ancient tingle trees and the treetop walk, it was enough of botanical experience. Thus, we combined this trip with a visit to Margaret River area. On the way between these destinations, we stopped to admire and hike through the famous Karri trees.
What is Karri?
The Karri Tree is a eucalyptus native to the wetter regions of southwestern Western Australia. It is the third tallest tree in the world, reaching heights of 100 meters when first recorded. The tallest known trees today are about 90 meters. From the 1930s to the 1960s, some of the tallest trees in the karri forests were used as fire lookouts.
Karri is one of the largest living things in the world. One tree can live for more than 400 years, weigh over 200 tonnes, use 170 liters of water per day, produce 1 kg of honey per season, take nine people holding hands to span its girth.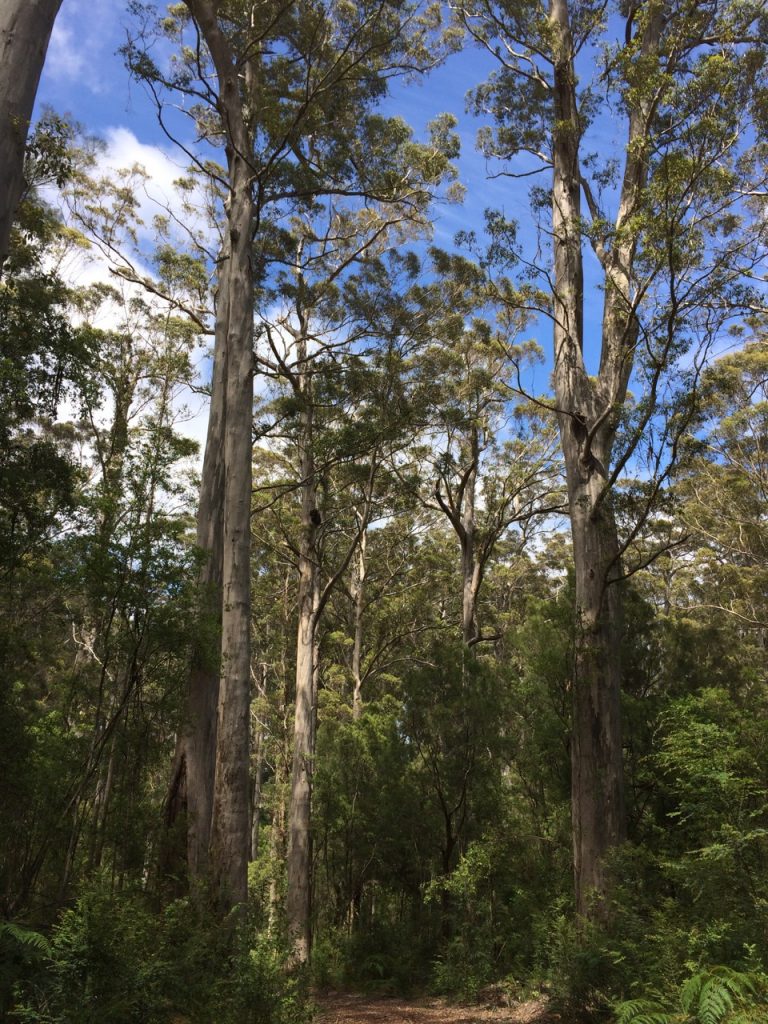 Practical Tips
to get to the Tingle Treetop Walk, you would need to rent a car. Make sure you have enough gas since there will be very few gas stations along the way;
make sure you searched for hotels and booked your accommodation in advance, especially during holidays;
do not forget water and sun lotion;
pack enough food for a day. The south-west part of Western Australia is not heavily populated, and there are long stretches of deserted road.
Surely, you came here because you are interested in outdoors. Therefore, you might want to check other stunning destinations:
Margaret River Caves: Great Escape From Heat Wave
Cedar Valley, An Emerald Heart Of The Paphos Forest (Cyprus)
Aphrodite vs. Goats (Cyprus)
The Northwest Getaway: Columbia River Gorge (USA)
Share this article on Pinterest by clicking Save button