Paris Offbeat: beyond the most photographed places
For decades, perhaps even for centuries, the French capital has been a mecca for travelers and a juicy subject for travel writers. Borrowing from Hollywood terminology, Paris is an A-list celebrity among tourist destinations.
It goes without saying that every more or less significant landmark already appeared in some travel guide.
Is there anything else left to say about Paris?
As it turned out, yes!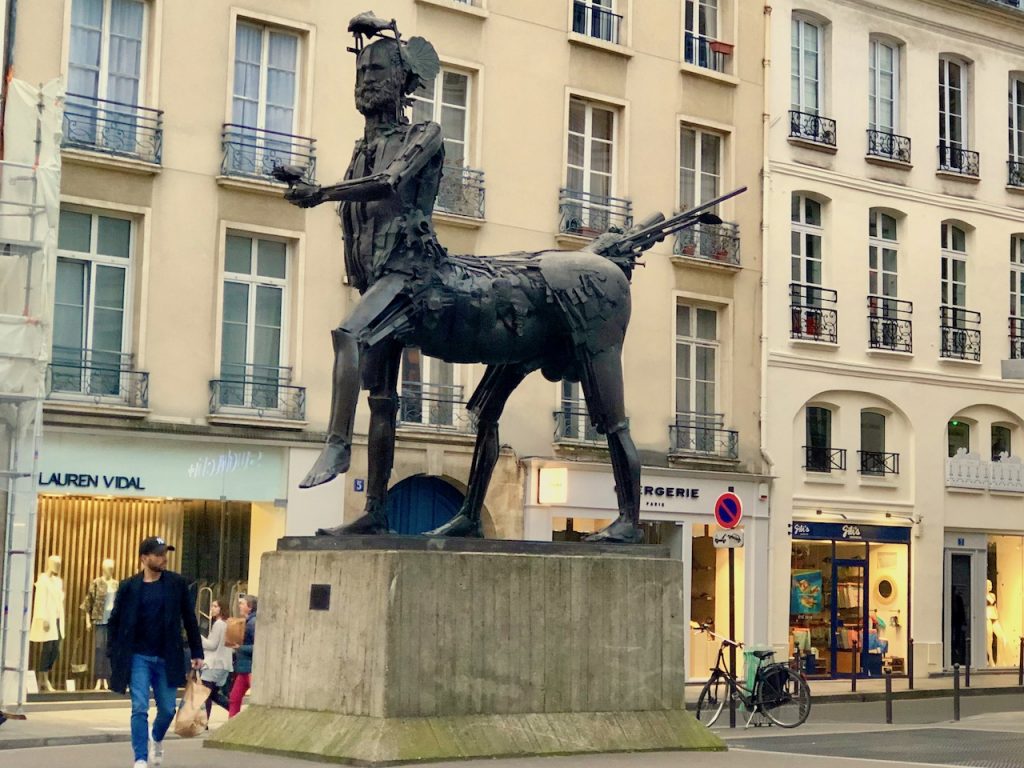 Indeed, Le Centaure de Cesar is an unusual example of public art. Mundane objects smartly put together to create a mythological half-man, half-horse. It's worth to spend a few minutes to look closely and try to identify as many as you can.
An alternative way to discover Paris
Carefree wondering the streets and watching Parisians immersed in their daily life is the way of befriending the City of Light. Locals have a particular name for this activity: flâner à Paris. It literally means to stroll in Paris.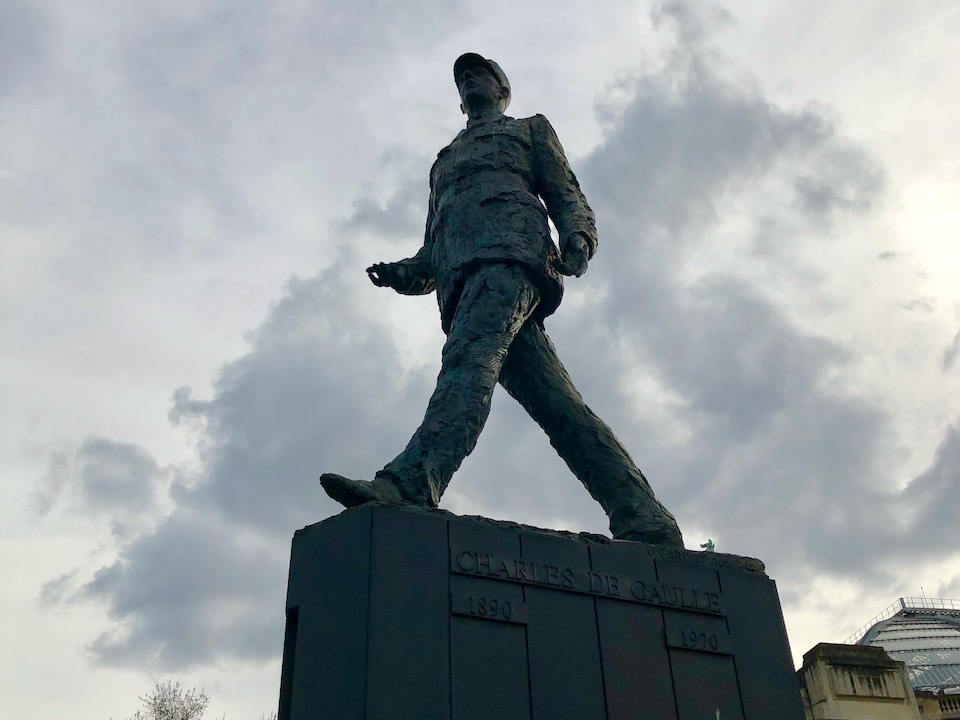 Charles de Gaulle, the French general and President, confidently strides in the middle of Paris. Let's take a more leisurely approach and slow down to enjoy the city.
One day I found myself excitedly strolling around the streets of the City of Light. Curiosity, professional disease of a slow traveler, kicked in. In no time, I scrapped all carefully laid plans and let my intuition rule the day. Unwittingly, I became a part of a vibrant and constantly-changing fabric of Paris everyday life. It was awesome!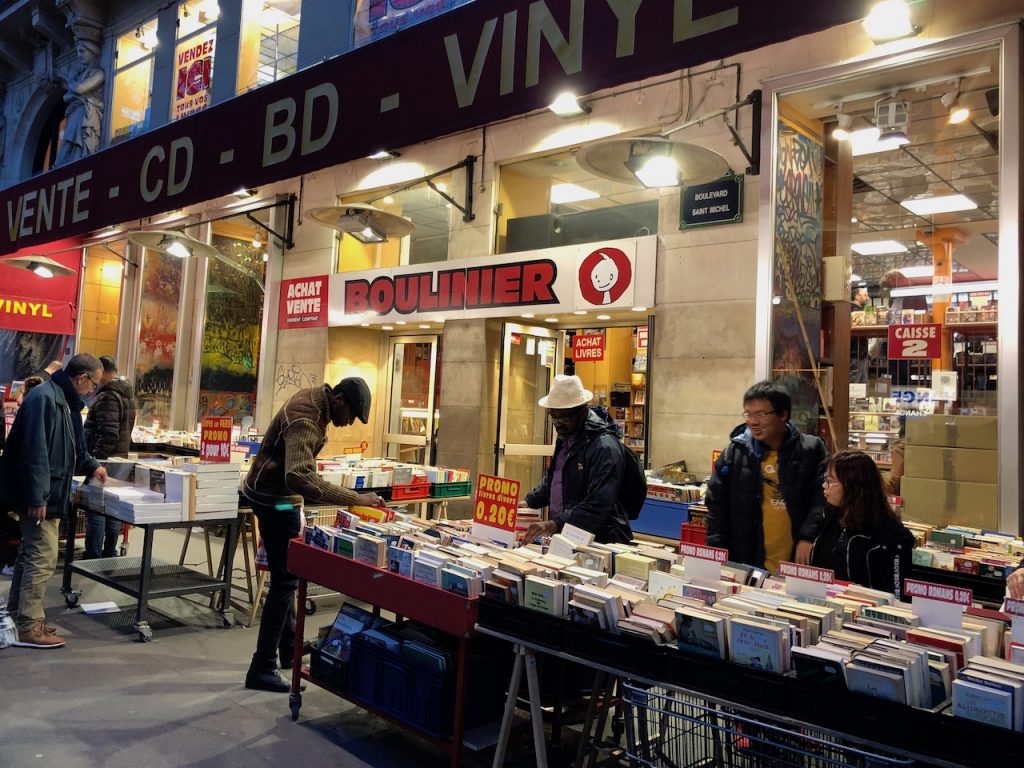 I went to Paris and came back with tons of pictures. Sounds so familiar. But there is a catch. They were spur-of-the-moment sketches of street life. This is how I remember the capital of France.
"Hey, these photos do not look like Paris," some say. True. Yet, they are the City of Light in a way that escapes most tourists. Shall we call it an uncommon Paris? Or a Paris offbeat?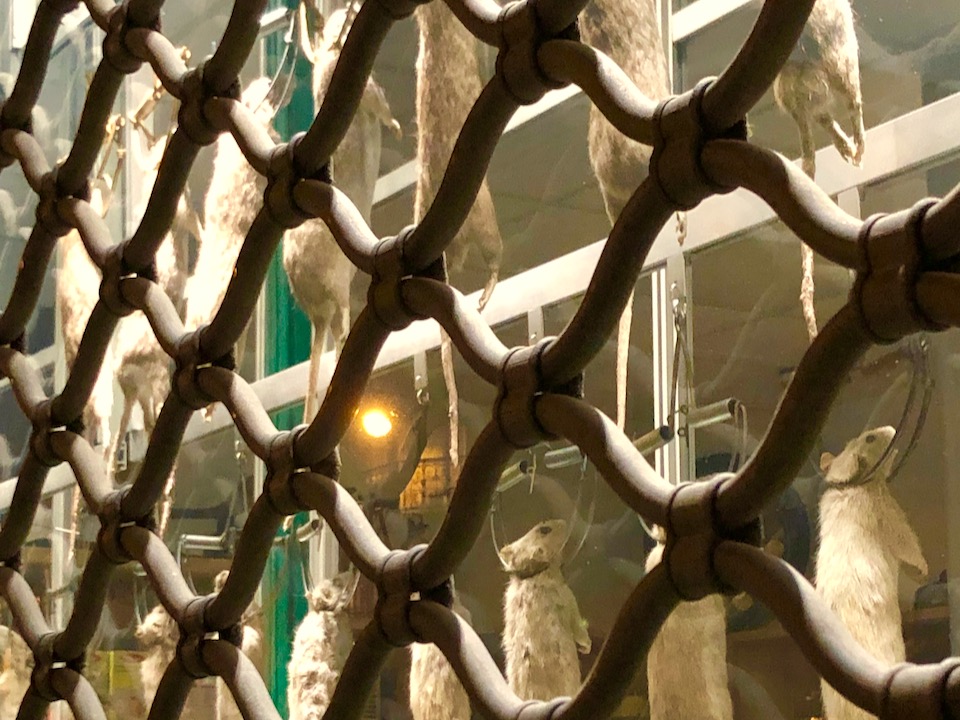 Moreover, there is an additional bonus of searching for an unusual Paris. Just a mere block away from a tourist trap, the streets are quiet, and passersby mind their own business without incessantly posing for an elusive Instagram-worthy picture.
Sketches of Paris
You might argue that it is a tourist destiny to hit all the most popular places in Paris. Sure, for a fraction of modern-day travelers, to snap a picture at the top photographed spots is the coveted prize. If you fall into this category, I am sorry, but this post is not for you.
However, if you are not an Instagram influencer wannabe, you may consider adding a hunt for an unusual Paris to your plans. Years later, you won't regret it. After all, every picture has a story.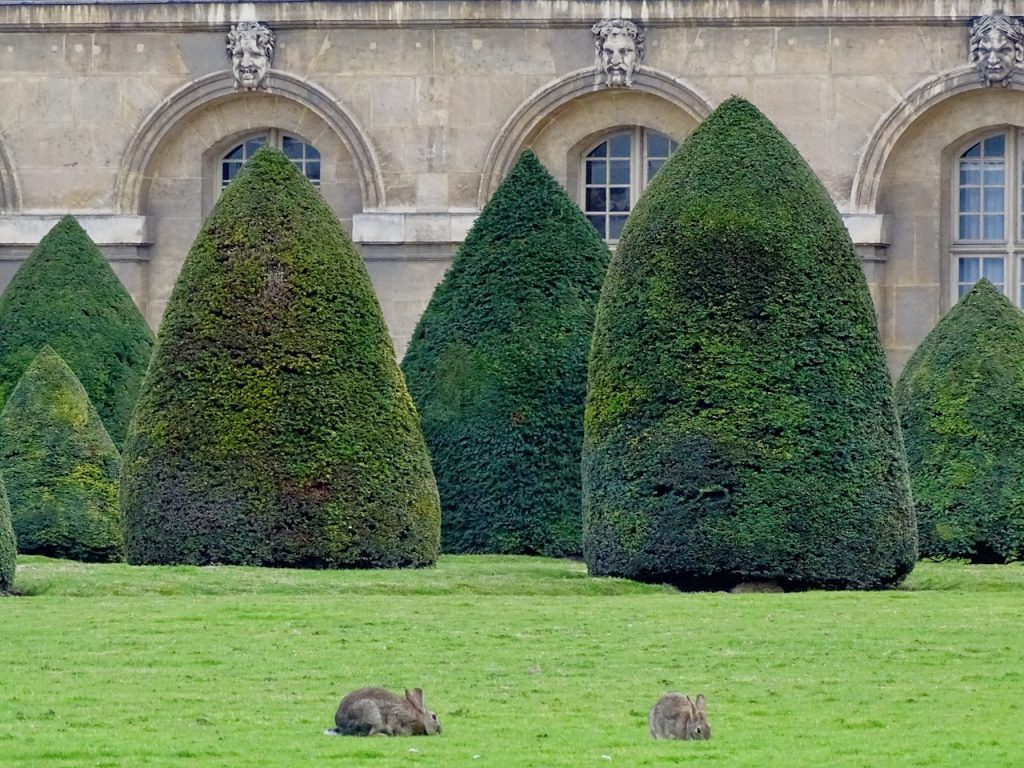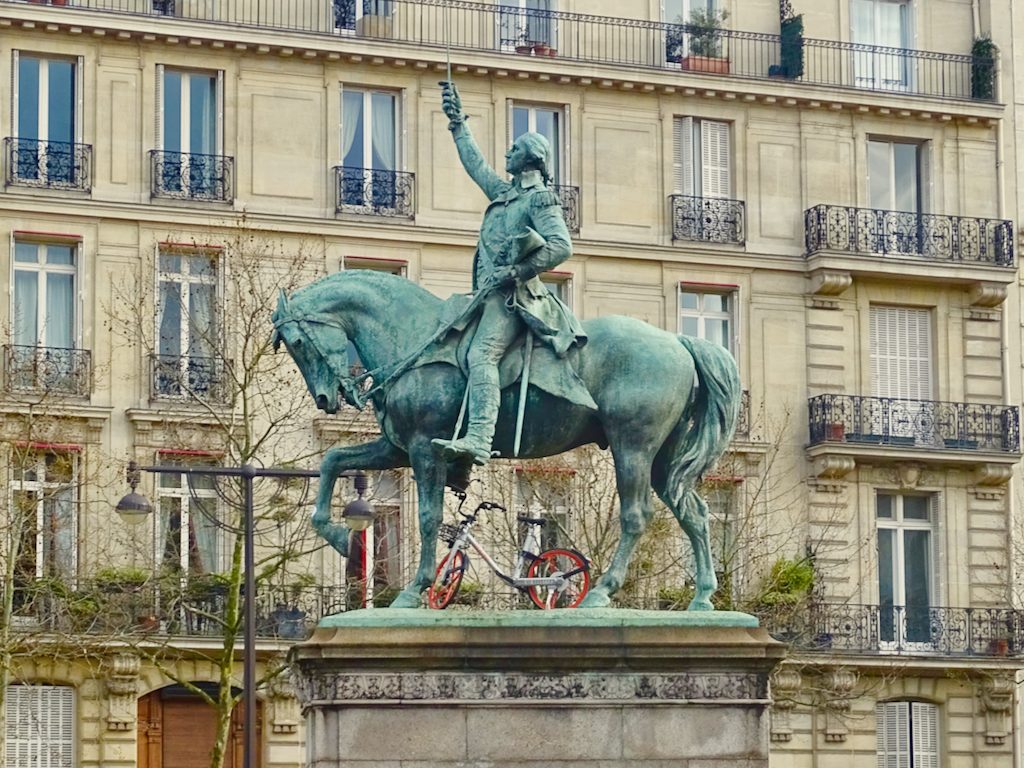 Sadly, this impromptu "art installation" is a testament to an ambitious-cum-troubled attempt to make Paris Europe's most cyclist-friendly city by 2020. The municipal bike-sharing network got cursed with delays due to technical issues, and introduction of foreign competitors ended up with bikes dumped into the river or, like seen here, taking a break between horse's legs.
A one-of-a-kind street performance, plump rabbits, frolicking in the Gardens of Les Invalides, or book lovers patiently searching for the hidden literary treasure are fleeting moments of the city life made immortal by traveler's curiosity.
To illustrate, let's check some offbeat treasures of the French capital.
Getting to know Paris away from the tourist madness
Getting off Les Halles metro station, I took an exit by accident (just to get up to the ground level) and found myself in front of a parkour gym. Looking through enormous floor-to-ceiling window felt like watching a silent movie. Early in the morning, kids and teens were training and having fun there.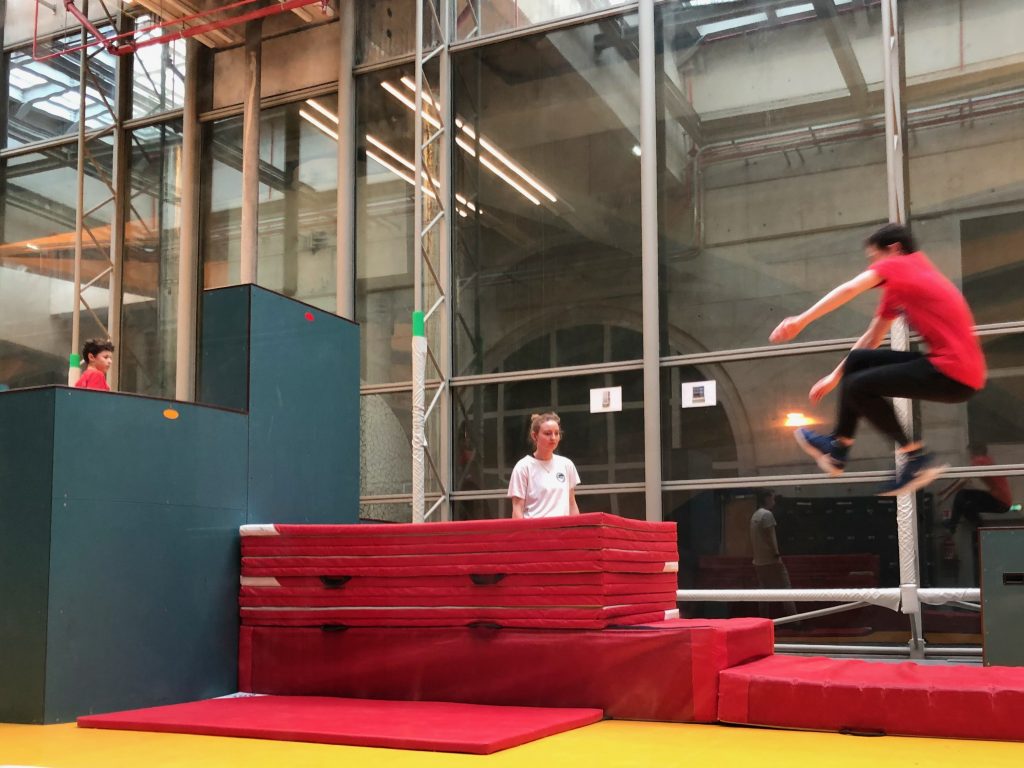 The French capital is a relatively compact city. Crossing Paris north to south takes about 2 hours. For this reason, Parisians walk a lot. Do as the locals do. Nevertheless, nothing prevents to admire a mechanical expat.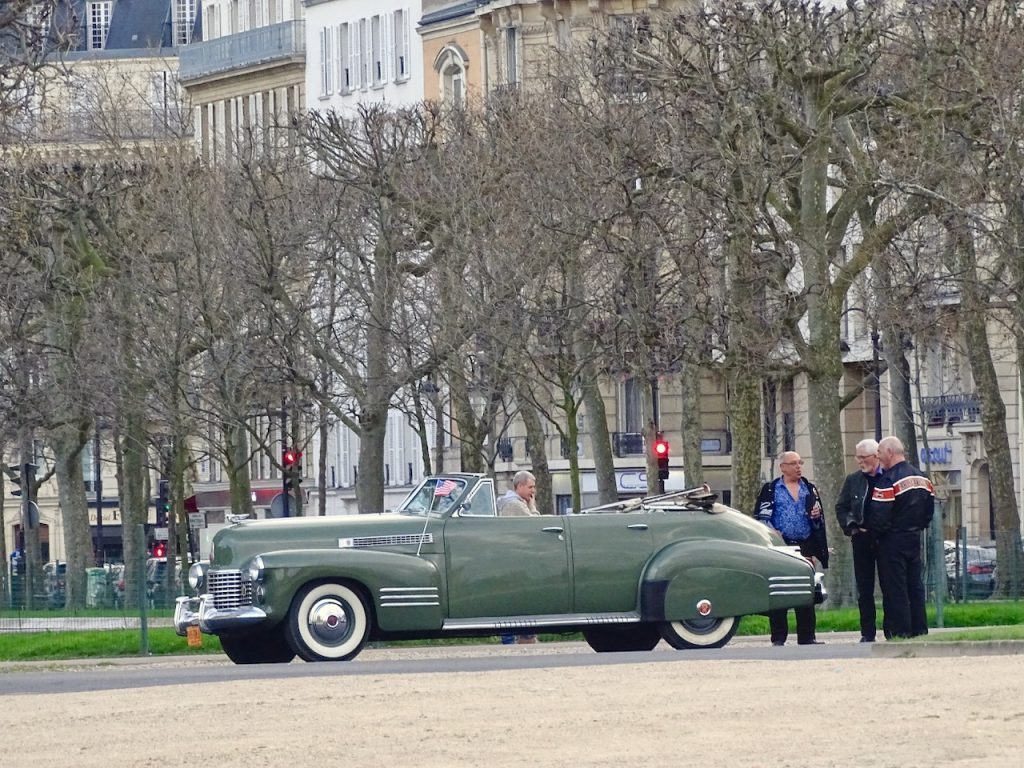 The sculpture of the bull and the deer by Paul Jouve in front of the Palais de Chaillot was made for the Universal Exhibition of 1937 in the Gardens of the Trocadero. Yet, unintentionally, an accidental passerby diverted all attention to himself courtesy to his intense stare.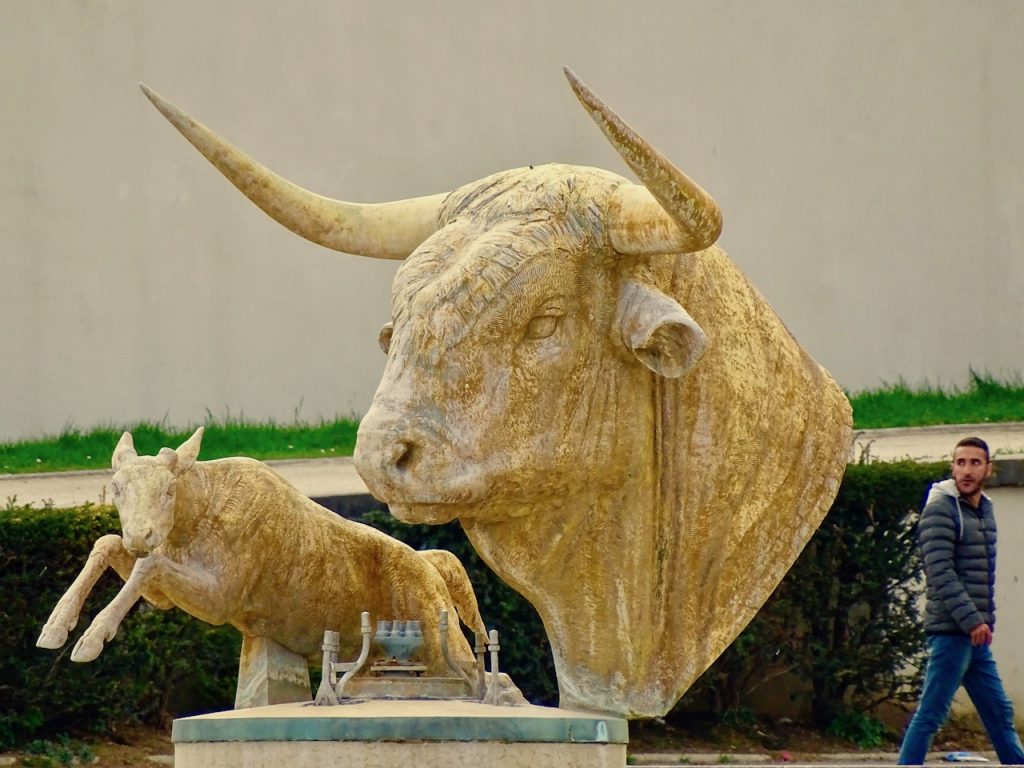 Le Pagode, an integral part of French cultural history
Peeking through boarded gates into an oriental garden surrounding a forlorn dilapidated mansion, uncovered an illustrious slice of French cinematic history.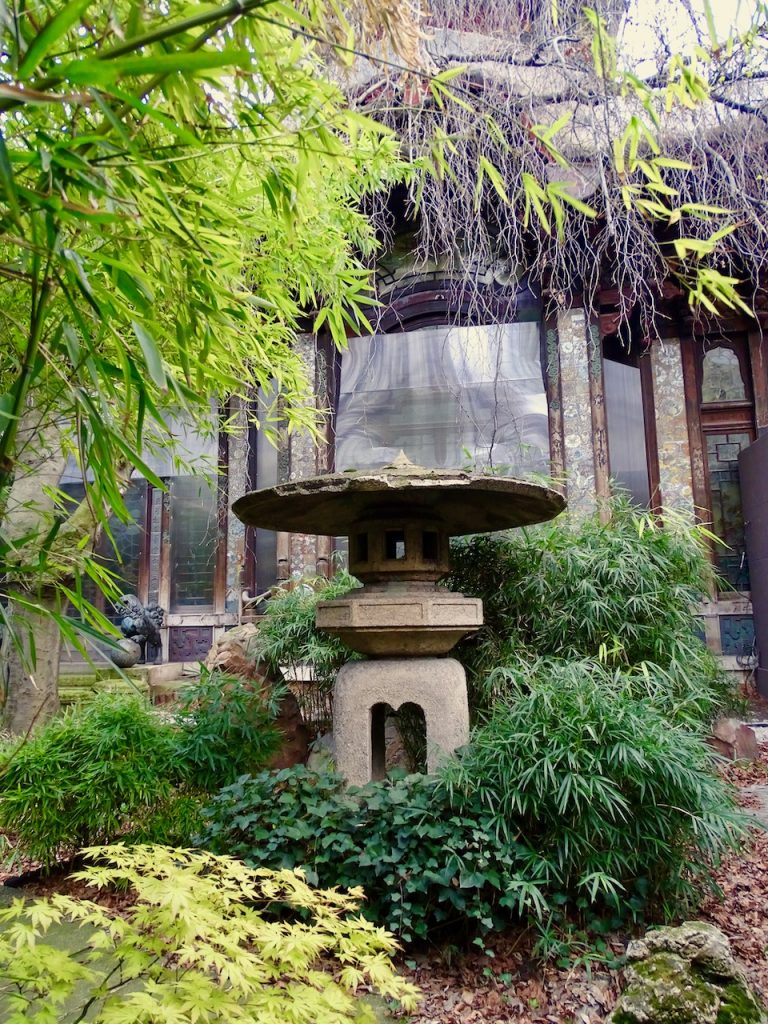 The story behind the Le Pagode should be made into a movie itself. What could be a better acknowledgment for a Paris cine temple that hosted Ingmar Bergman, Sergey Eisenstein, Louis Malle, and Francois Truffaut, to name a few.
Built in 1896, at the height of La Belle Époque era, the vivid vision of a Japanese pagoda was a somewhat extravagant wedding gift.
From a token of love to a ballroom, later reinventing itself into the art-house cinema to an abandoned relic, Le Pagode is, perhaps, one of the remarkable examples of the offbeat Paris.
Fun facts from an illustrious history of Le Pagode
» Jackie Kennedy watched a matinee movie there.
» In 1927, Le Pagode almost became a Chinese Embassy. What went wrong? The frescos the architect had ordered from Japan portrayed battle scenes of the Sino-Japanese War of 1894-95 where the Japanese were the courageous victors.
» Jean Cocteau held the premiere of his last film, Testament d'Orphée, at the cinema in 1960.
» In the 90s, the American fast food chain with the golden arches was eyeing La Pagode as a place to set up a business. Due to public outcry, the Minister of Culture pushed to have the delicate architectural gem classified as a historic monument.
Street performers in Paris
The level of Paris' street performers skills is astonishing. The consummate professionalism is the best way to describe their acts. Inevitably, you may stumble upon a performance you do not like, but that's the beauty of walking about – you can always wander off.
Look at this legwork! This is the performance in a class of its own.
Protip
Do not stress out about hitting all well-known street performance spots. There are plenty of entertainers in Paris. You are bound to see a few just by strolling around.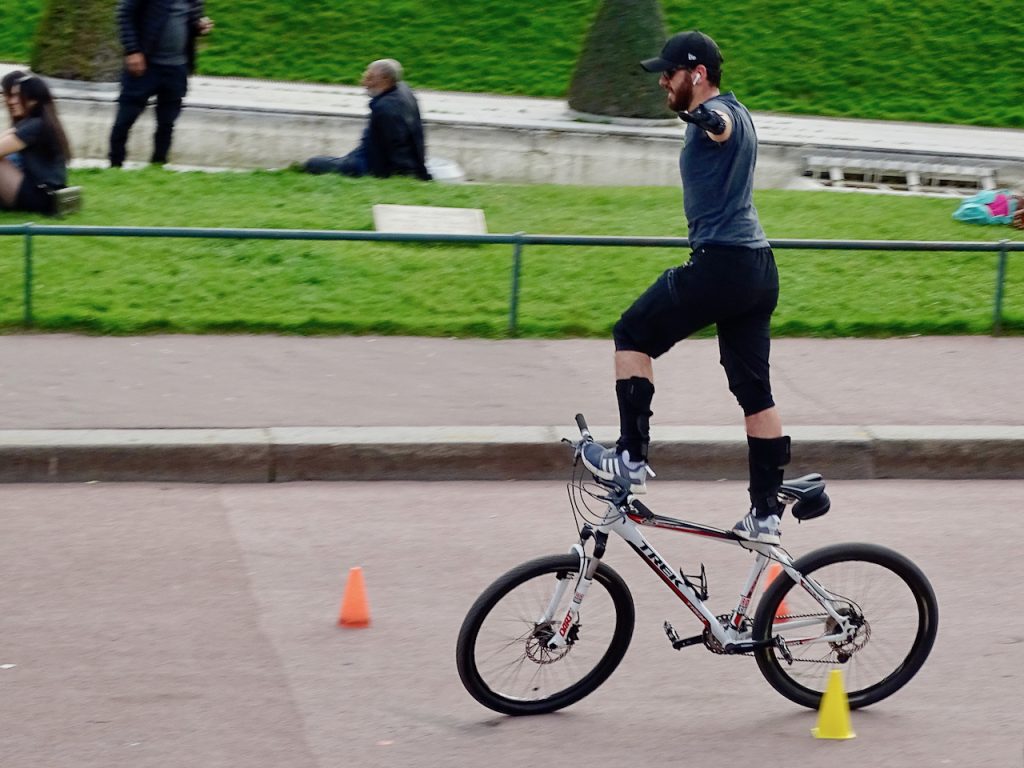 The Paris Opera and Olympia Hall are famous Paris venues and bring in millions of visitors year after year. However, art in the City of Light doesn't always require an elaborate site or an exclusive ticket. The streets of Paris are the perfect stage when it comes to finding and watching art around the city. The best part? It's free!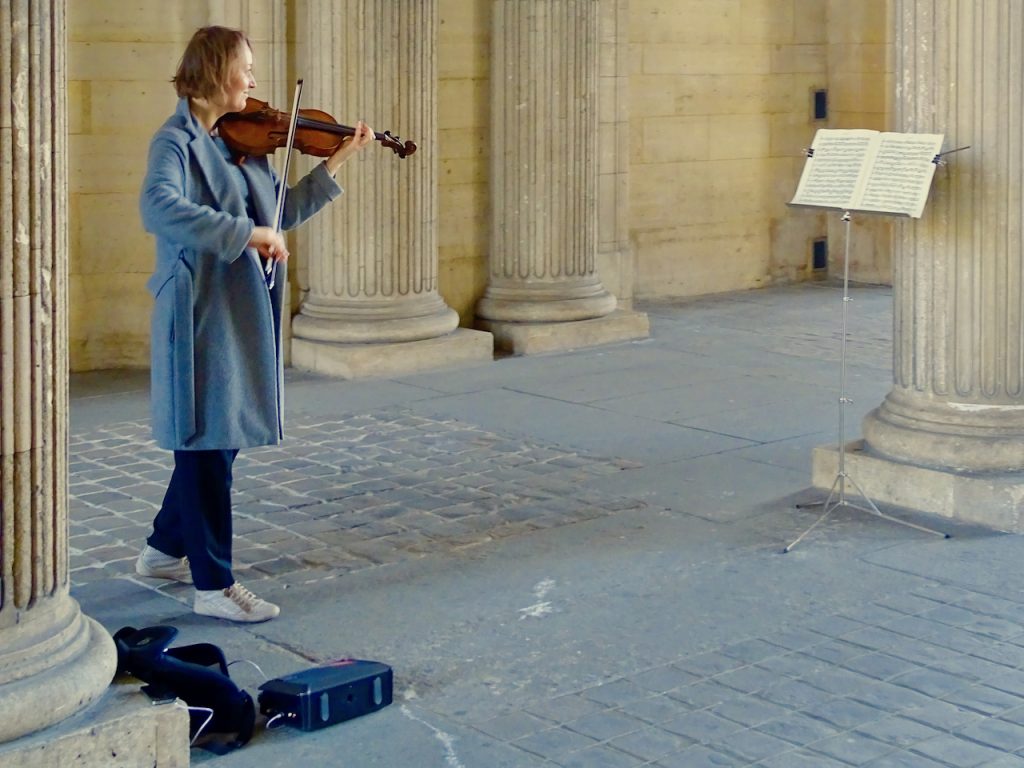 Paris Street Art
On a side street across from the Notre Dame, a different kind of Gargoyle sits on a wall. Street artist Ardif left one of his trademark works there.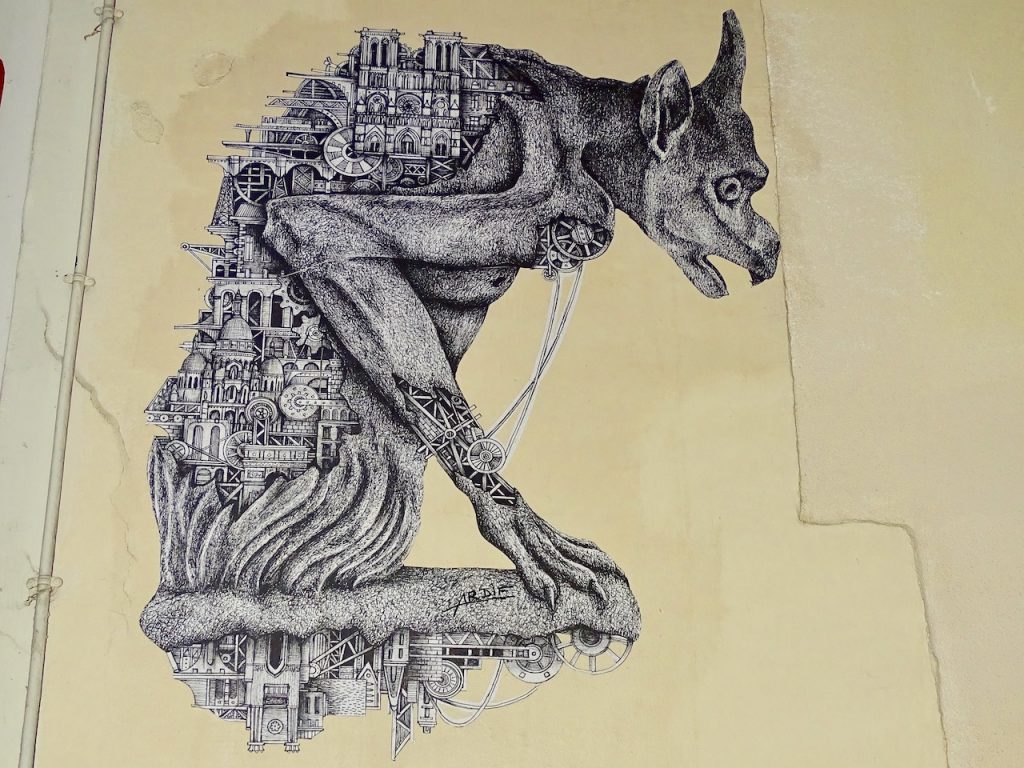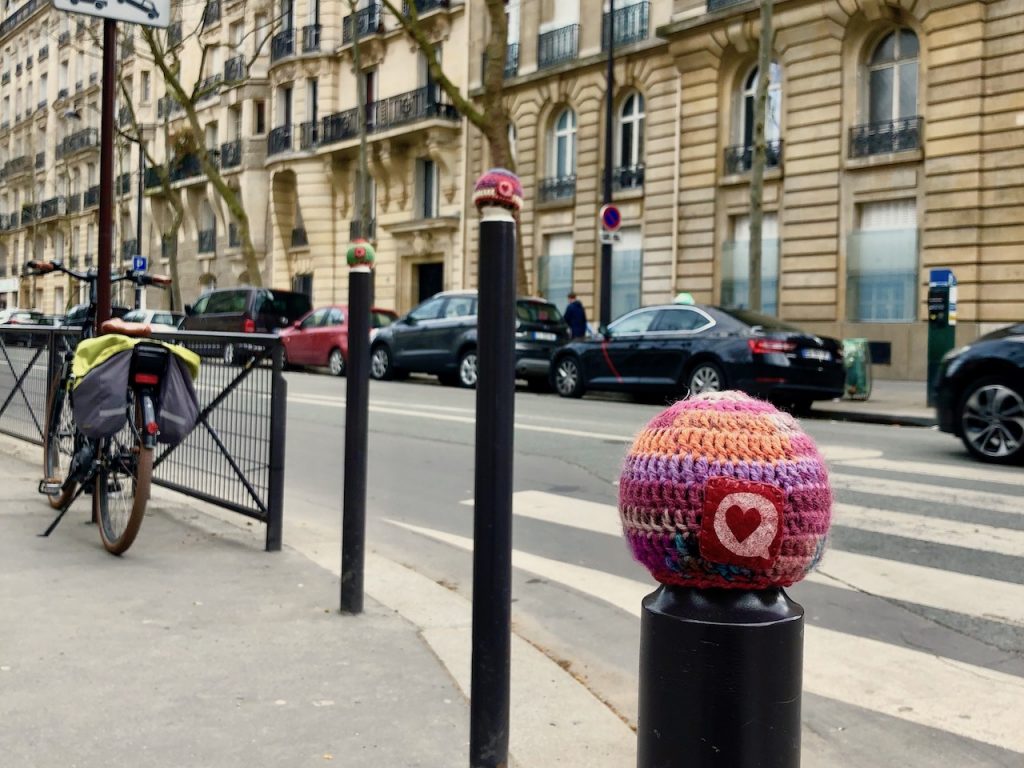 The guerilla knitting phenomenon is a response to the male-dominated world of street art and graffiti. But it also holds another historical connotation — it is generally associated with "woman's work," and the idea of woman as housewife.
Guerilla knitters use this craft as a tool to make a feminist statement by bringing it into the streets. The conflicting origins of crafting vs. street art work together to create a new message and art form.
The symbol of Paris
I can't say that I avoided the most photographed places in Paris on purpose. It just happened. In truth, I do not like crowded spaces and really can't stand when somebody steps on my foot or push me around.
Surely, every rule has an exception. The Eiffel Tower, the beautiful giraffe in lace as the poet Jean Cocteau called it, is one of them.
Indeed, one can never have enough pictures of the Eiffel Tower. At least, I can spend days walking around the neighborhood in search of different angles. Funny thing, I never got inside the tower. I prefer to admire its stunning beauty and perfect proportions from a distance. After all, it is a supermodel of all towers, right?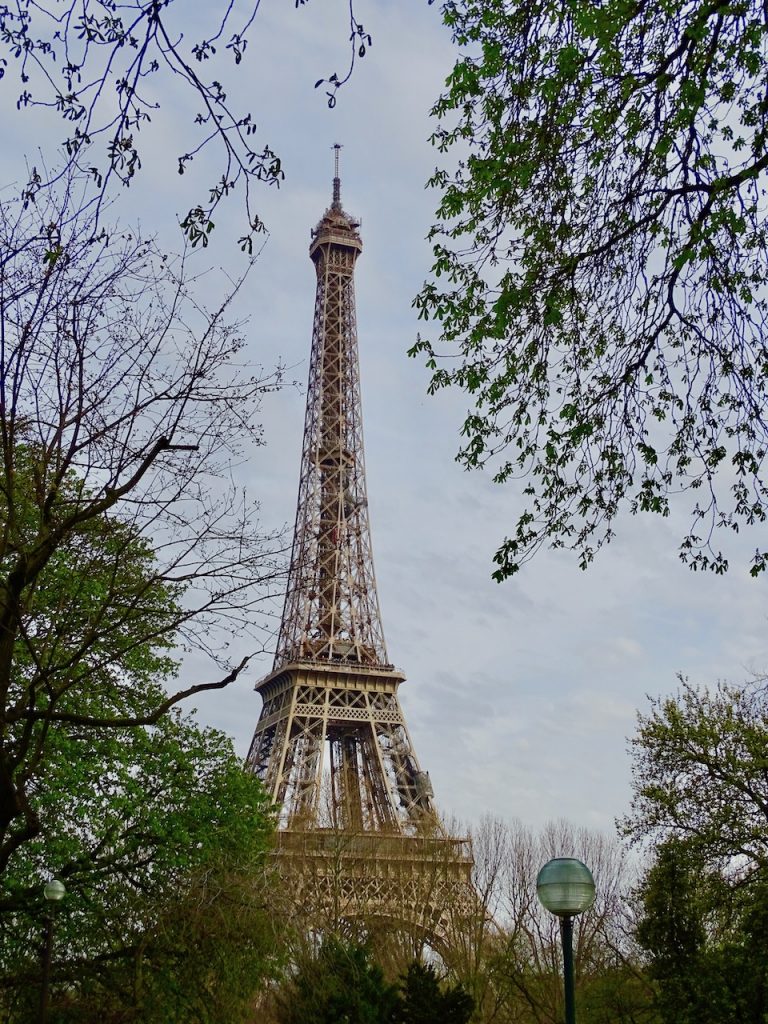 Fun fact
Most Parisians never went to the top of the Eiffel Tower. Sure, they enjoy it, but only as something to admire from a distance.
Why you should avoid the most instagrammable places in Paris
Recently, I started avoiding these ubiquitous the most photographed spots in [enter the destination name here].
Too often, we resort to conventional means of exploring new destinations. Paris is no exception.
A dressed-to-the-nines girl strikes a well-practiced pose in front of an oh-so-familiar landmark. An impractically high hills, a perfectly done makeup. Her boyfriend snaps a rapid series of pictures. Inquisitively, she checks results, adjusts her posture, and here we go again. Finally satisfied, the "masterpiece" popups on Instagram. Welcome to the world of social media influencers.
As soon as they are gone, a couple armed with a selfie stick takes the spot. Then, a group of tourists. This time, this is the face of modern tourism.
The same scene repeats over and over again, regardless of how far down you go on the list of the most Instagrammable spots in Paris.
The Eiffel Tower, the Louvre Pyramid or the Jardin du Luxembourg are just a backdrop for a picture that, in turn, is just a tiny morsel fed to a hungry social media monster.
Let's bit stereotypes and enjoy Paris offbeat instead.
If you liked this post you might also like:
Share this article on Pinterest by clicking Save button