A Chef's Tour concept is awesome: food experience good enough for a chef. I like the clarity and simplicity of this message. If you deal with the food for a living, for sure, you won't compromise your own meal. Who can resist that? Certainly, not me.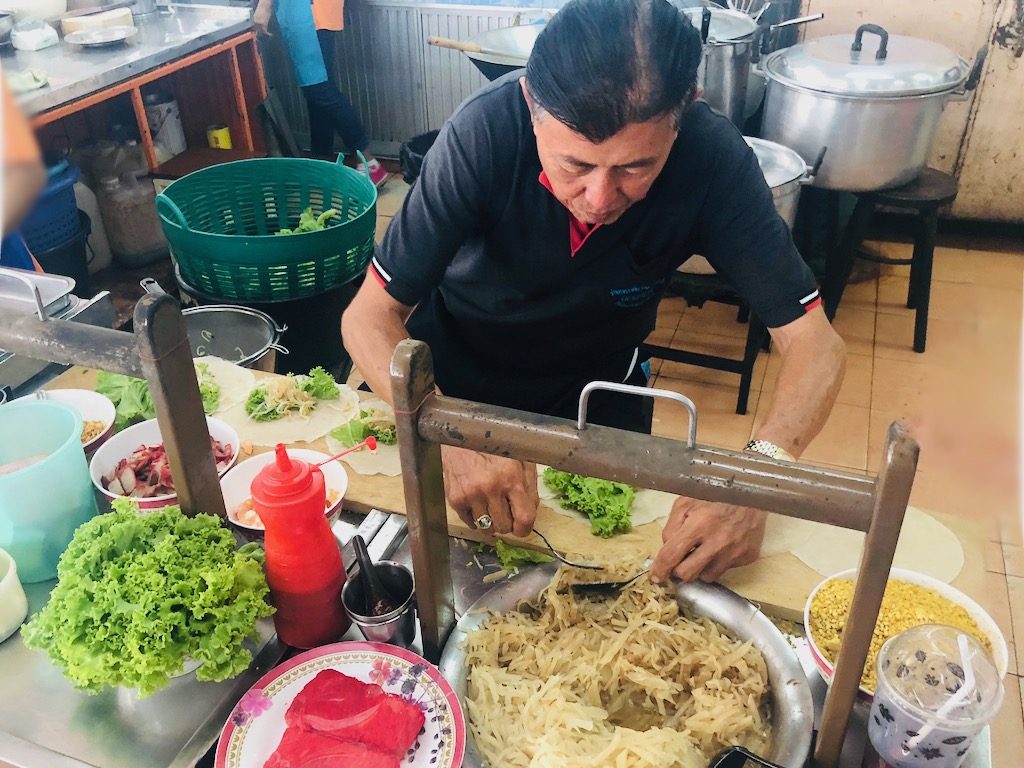 Food tourism and the timely appearance of A Chef's Tour
According to the Tripadvisor 2018 Travel Trends Report, culinary is a clear trend. Food tours and cooking classes bookings snowballed in the past few years.
I bet that looking for a food tour is one of the top topics on your travel planning agenda. Rightly so since travelers tend to develop long-lasting and affectionate memories based on their experiences with distinctive local food and culinary history.
It goes without saying that food tours are in high demand, especially in popular tourist destinations. On the other hand, there is an endless supply of companies advertising food tours of all flavors to hungry audiences.
Today, every popular travel guide feels compelled to publish a list of the best local food tours. The competition for those coveted spots is fierce. For one reason or another, the real gem might never get noticed.
Indeed, not all food tours are equal. But how to find the one?
That's where A Chef's Tour shines.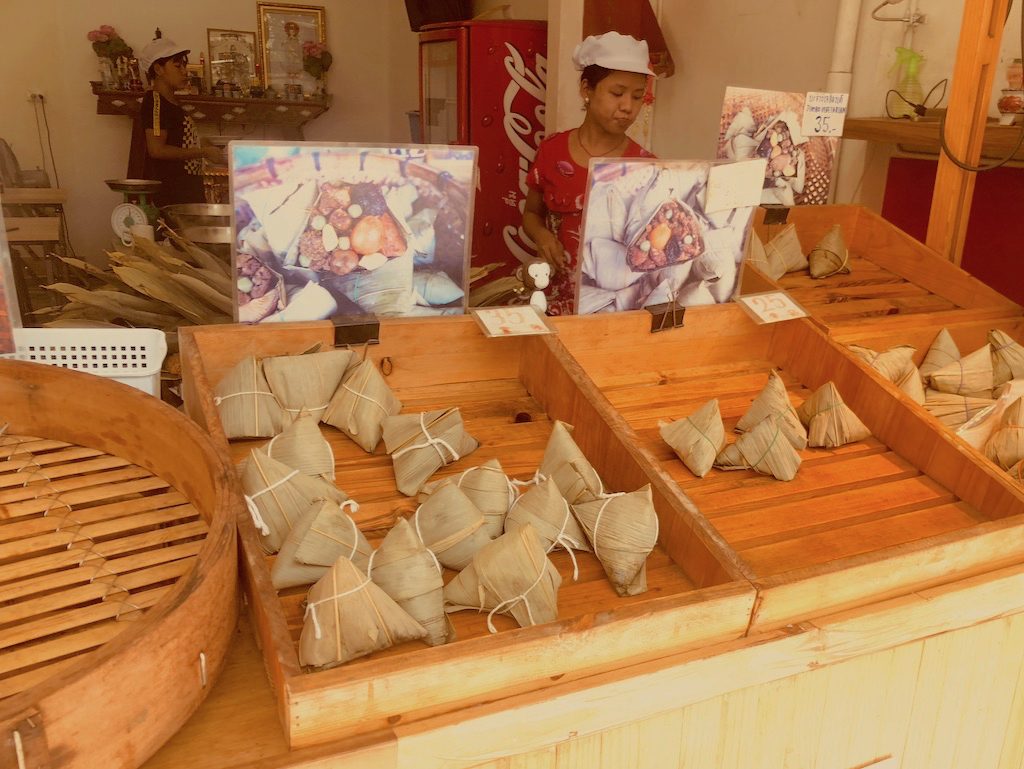 A Chef's Tour story or how to stand out in a crowded field of the food travel industry
I have to admit that local food is one of the main priorities on my travel agenda. Thus, I had been on a few food tours since I became a full-time long-term traveler.
In my opinion, a worthy food tour experience is difficult to come by. The magic combination of a knowledgable yet entertaining guide along with his/her ability to adapt and adjust a narration depending on the audience is a rare commodity. Sadly, there are too many cookie-cutter tours, one-size-fits-all one-size-fits-nobody enterprises.
This sentiment hasn't got lost on the founders of A Chef's Tour. In fact, I was impressed that they echoed my observations that too often tour organizers appease to their customers' palate instead of broadening culinary horizons.
Not satisfied, they decided to take matters into their own hands. Just like that, A Chef's Tour was born.
Meet A Chef's Tour (a brief introduction)
We started A Chef's Tour with one simple aim: to create and curate food experiences good enough for chefs.
After traveling the world over, we became bored with the same mediocre food tours. We wanted a tour which helped us truly understand regional food, its history, and ingredients. A tour which pushed our limits and didn't pander to western palates.
Our story started with a single chef in Bangkok who designed a street food tour which has since become the highest rated in the city. Since its inception, we've expanded to offer unique culinary experiences across Asia and Latin America.
~ from A Chef's Tour website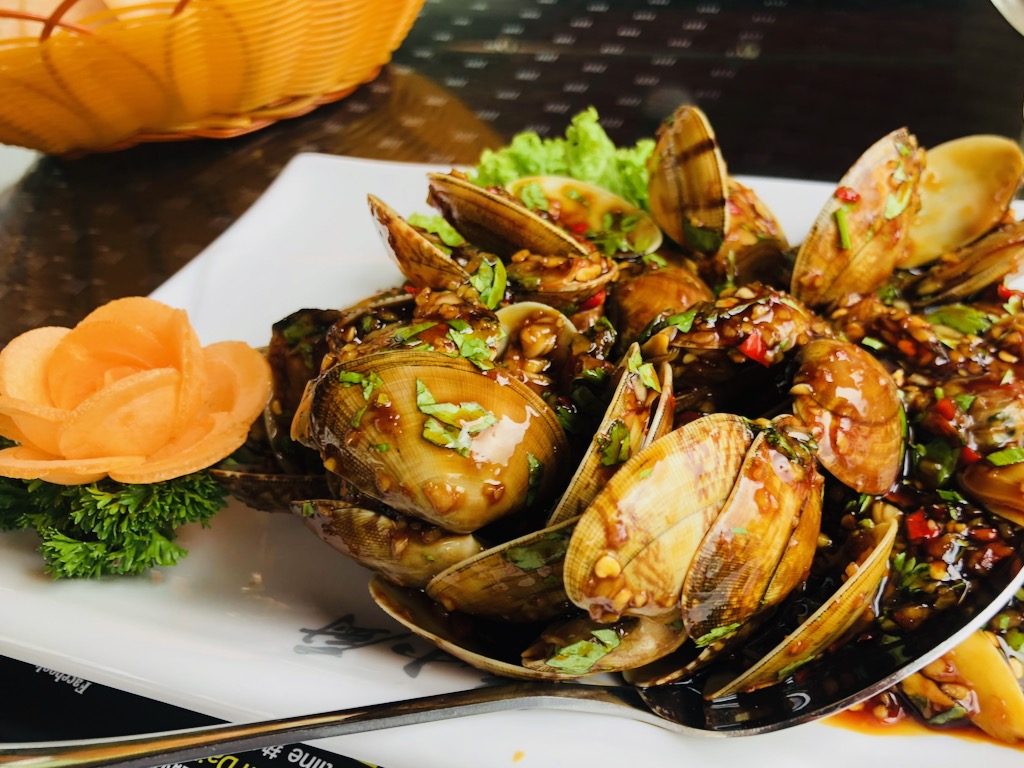 A Chef's Tour Q&A with Jamie Green
Luckily, you can learn the story from the source. You see, Jamie Green, one of A Chef's Tour's co-founders, kindly agreed to satisfy my curiosity and answered my questions.
A Chef's Tour philosophy and how is it different from other food tours
There are a few main ways that we are different from other food tour companies.
Firstly we pay our guides extremely well, usually quite a lot above average. This means we can attract and retain some really fantastic people. We want our guides to feel like it is their business, and we are supporting them as they build it up.
We also tend to be quite a bit more in-depth than other tours, with something like 14 different tastings on our Phuket tour, and more on our Bangkok tour. So, when you go on one of our tours, you will be getting a LOT of food!
Our guides also go into more depth, giving details about the history of the food, the ingredients, etc.
Finally, we generally plan our tours to a greater degree than you may find elsewhere, so we know what guests are going to try each time, we know each stop, and we know the route they take. This means we can offer a more consistent experience and also build up relationships with some of the vendors.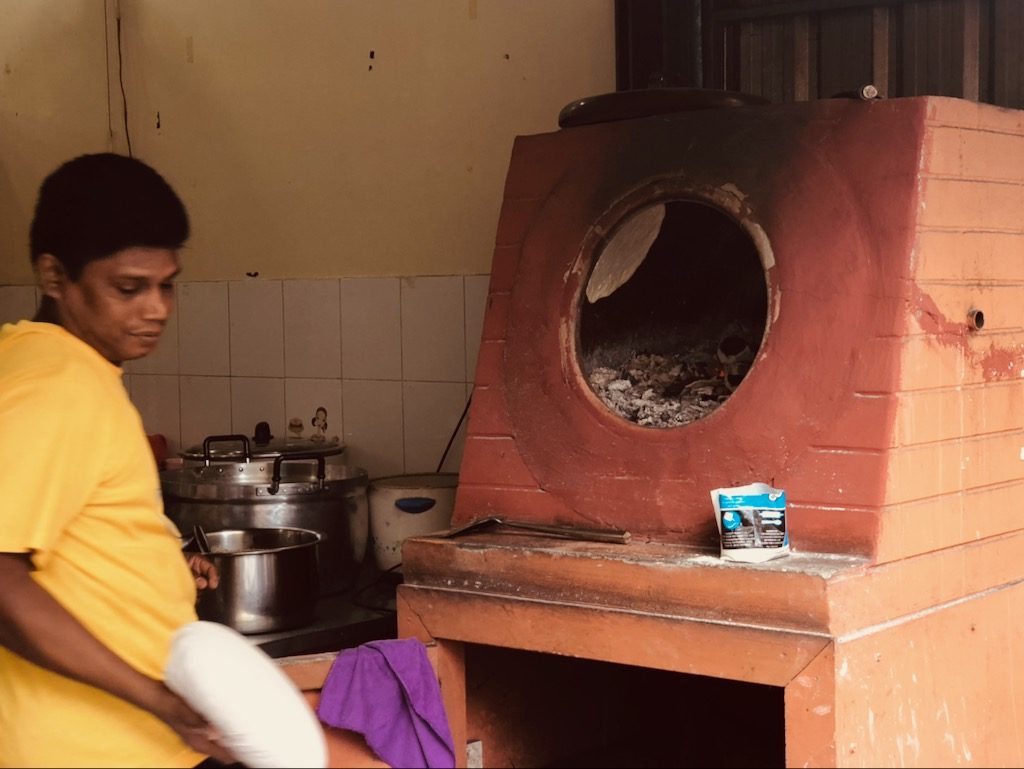 Who are A Chef's Tour guides? How did you find them, and why did you choose them?
All our tour guides can be found here.
We choose them because of their love and knowledge first and foremost, whether they are chef's, home cooks, or master mezcaliers.
A Chef's Tour current locations and any expansion plans?
We are currently in 9 countries, and we have 16 tours.
We are expanding cautiously, as maintaining a very high standard is our no. 1 priority. We would rather take our time and expand a bit slower in order to ensure that we are able to keep the same quality that our customers have come to expect.
What lies ahead?
We currently plan to continue to open new experiences in more and more countries. We also want to continue to grow and improve our existing tours, so we are definitely not taking our eye off the ball on those experiences either.
Meet A Chef's Tour founders
We have two founders Jamie Green and Luke Charny.
Jamie has previously started a technology company and worked for the United Nations as a New Ventures Consultant.
Luke has worked as a travel consultant for over a decade, including with STA Travel and others. He previously founded Yettio, a travel magazine that he sold a couple of years ago.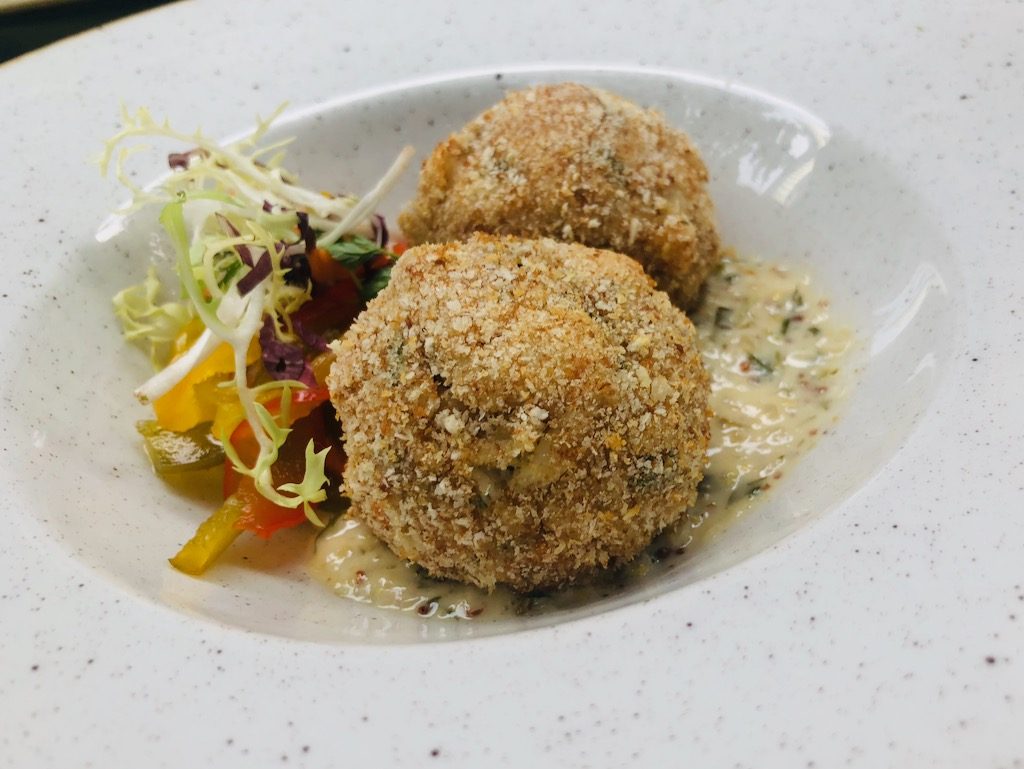 The interview with Jamie was a fantastic way to learn about the concept and the future of A Chef's Tour.
But how does it feel to actually participate in a food tour of this kind? I couldn't wait to find out.
Follow me to Phuket where I got a chance to experience A Chef's Tour in action.
Phuket Old Town Food Tour with A Chef's Tour guide
In short, A Chef's Tour in Phuket was the best cultural experience I ever had in SE Asia.
After years on the road, I overcame the desire to enthusiastically produce optimistic reviews just because it is an unwritten rule of the travel industry. Thus, this is an honest opinion not influenced by any third parties.
Moreover, I want to emphasize that the Phuket Old Town Food Tour turned out to be much more than what is considered a conventional food tour experience.
Along with first bites came an animated narrative of local history. Every new stop transformed an obscure food stall or a simple eatery into a scene with a colorful past.
Undoubtedly, the success of any food tour greatly depends on its guide. A Chef's Tour in Phuket has a phenomenal one.
Meet Pema, our extraordinary guide
At first sight, she is quiet and almost shy. However, behind this decidedly downplayed facade hides a magnetic personality.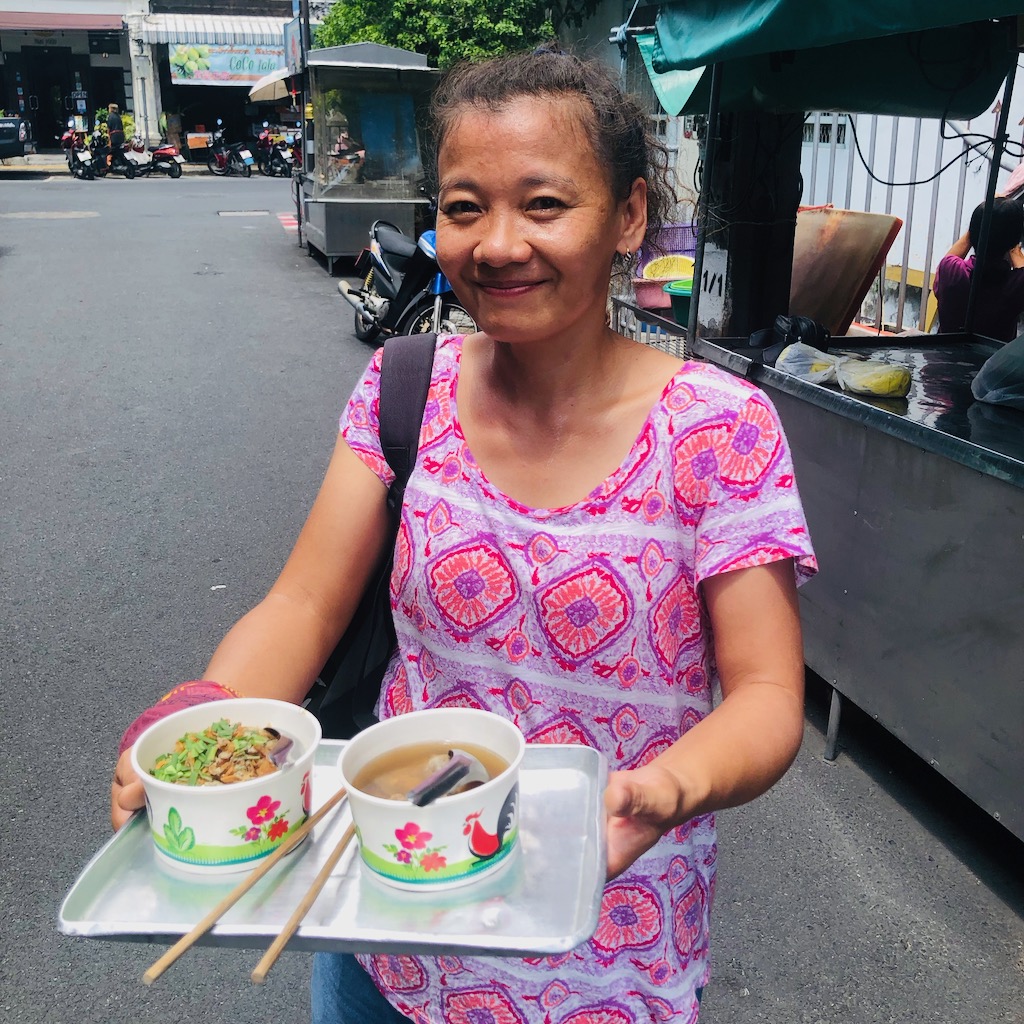 Pema is a Phuket Island native with a big smile and deep love of Southern Thai food and culture. She loves meeting new people and showing them the best places to eat in Phuket, especially the hidden little eateries tourists overlook. Join her on a Phuket food tour that'll whet your appetite for all things Thai.
~ A Chef's Tour Phuket Old Town Food Tour
Walking the streets of Phuket with her was an amazing experience. Seemingly, she knew every inhabitant of the old town. From shop owners to market vendors, everybody warmly greeted her along the way. Inevitably, these waves of friendship extended to you too.
Whether witnessing a stately proprietor of a coffee shop making the most flamboyant coffee in Phuket or tasting a soup prepared by an adorable old lady according to her family's secret recipe, Pema put together an unforgettable excursion into the hidden treasures of the old town.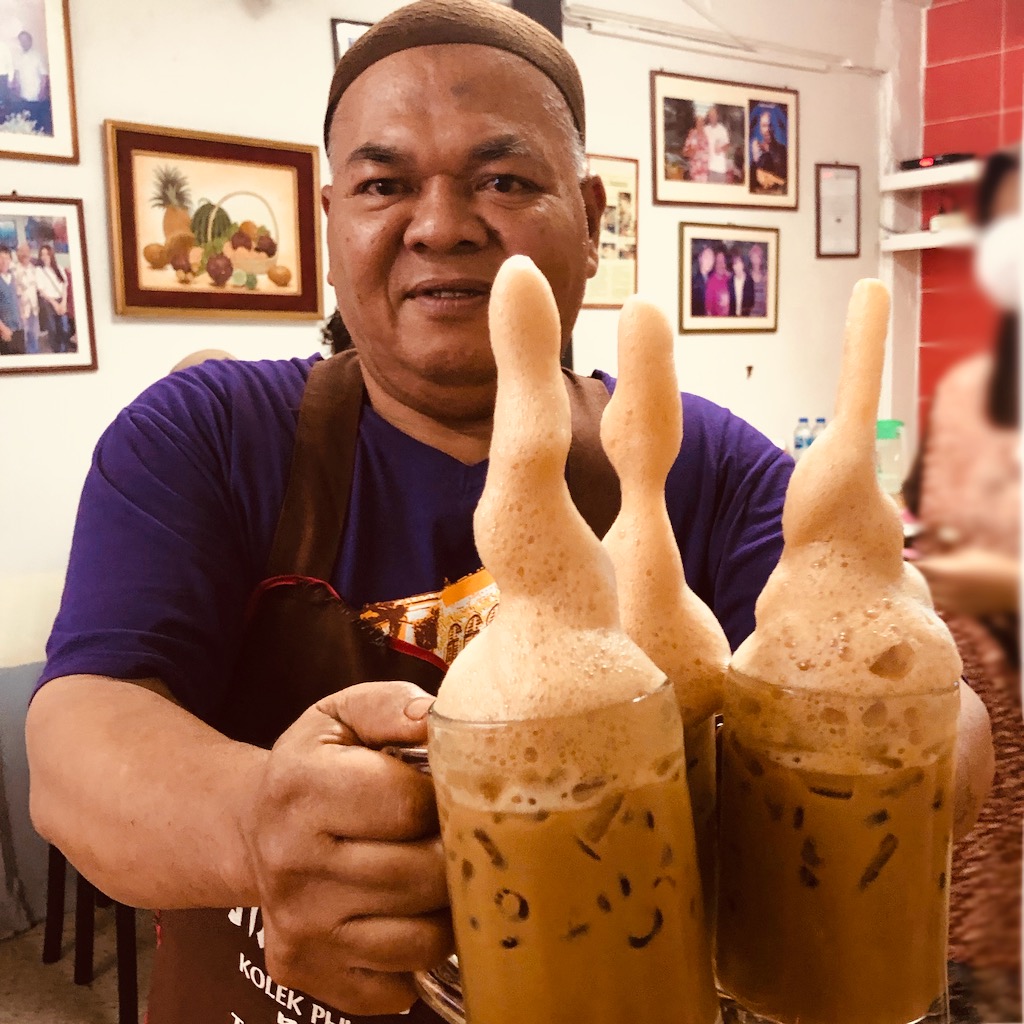 But it's not only food she cares about. All along, there were stories about Phuket's past that she seamlessly weaved into the food tour. This is what sets A Chef's Tour in Phuket apart from others.
Indeed, Phuket island is known for its beaches, bars and nightlife, hot weather, and lots of tasty food. Yet, most visitors, especially Westerners, are unaware of Phuket's history and local culture.
More than just a food tour
Pema, as an A Chef's Tour Phuket guide, made it her goal to go beyond stereotypes and show the island's past. Unsurprisingly, food plays a major role in this narration.
For centuries, Phuket attracted the attention of traders and explorers from near and far. It was an important trading post for merchants from India to the west and China to the east. In fact, the name is derived from the Malay word "Bukit" meaning hill.
The tin mining boom during the 19th century brought prosperity to the old town. Restored lavish shophouses and remnants of mansions built by wealthy mining businessmen are reminders of that time.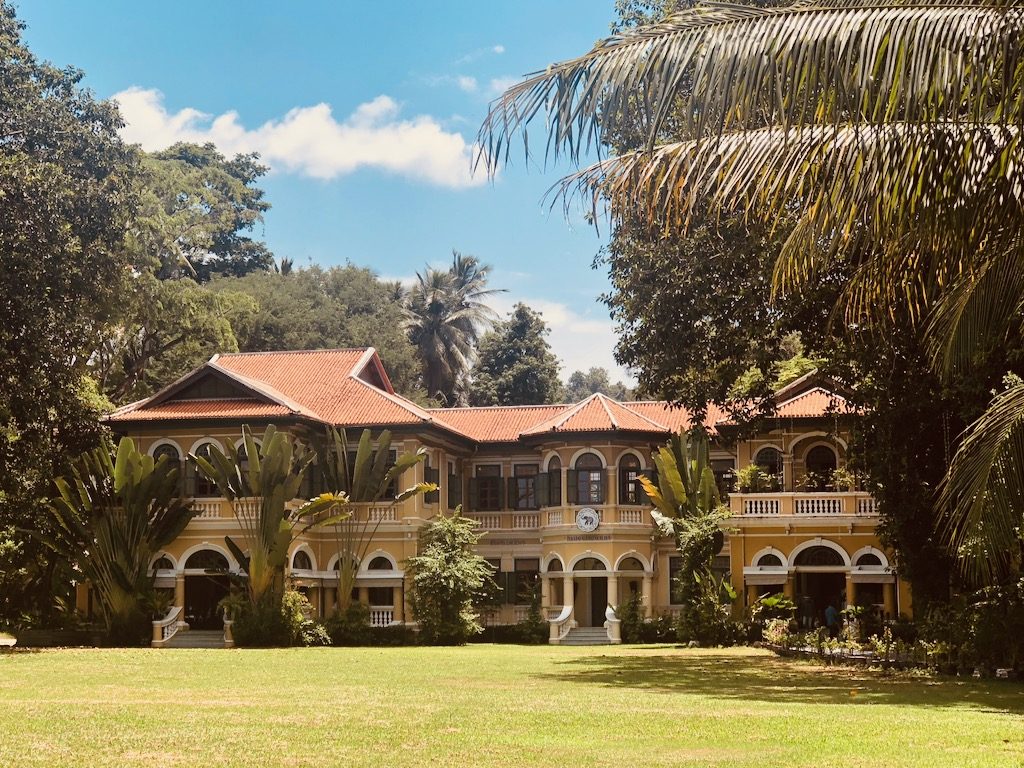 Often, Peranakan culture is associated with Singapore, Penang, and Malacca. In Malay, Peranakan means "a person born here and descended from elsewhere." Phuket island has its own Peranakan community. They are descendants of Chinese men who came to the island and married local Malay women. In Phuket, they are also known as Babas.
I can go on and on about everything I learned and tasted on A Chef's Tour in the old town. Four hours with Pema went like a few minutes.
However, I am not going to divulge any more details. You should experience it on your own. Trust me, you won't regret it.
You can book Phuket Old Town Food Tour for a lunchtime adventure with Pema.
Not in Phuket? A Chef's Tour offers food tours in Asia and South America. Click here to check locations, prices, and availability.
Special thanks to A Chef's Tour for providing our Phuket Old Town Food Tour. As always, the opinions expressed in this article are my own.
If you liked this article you may also like: