Cyprus Happy Eats is a part of Happy Eats Around The World series where we are sharing our favorite local hangouts.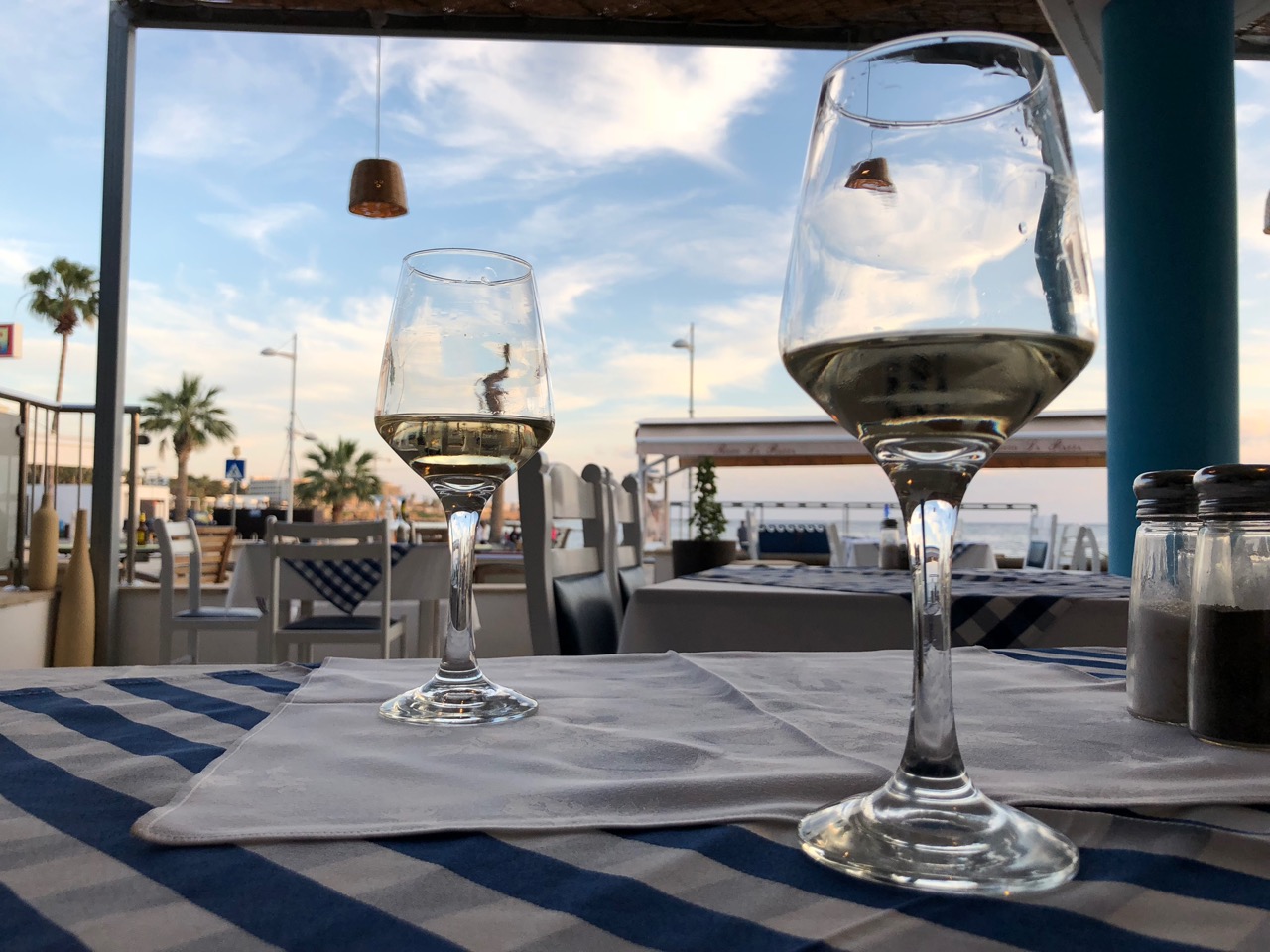 From a hole-in-the-wall to a picturesque establishment overlooking the water, they are a diverse bunch. The dedication to the craft of cooking, the delicious dishes, the quality of food, the creativity are the traits they have in common. They all discovered the magical power of making you come back again and again.
Finding a quick meal in Cyprus is easy. You can do it the old-fashioned way by looking where flocks of locals eat. You can do it the 21st century way by using TripAdvisor.
The latter though should be taken with a grain of salt. It is a good starting point, but the majority of reviewers base their opinions on a single visit. Too many times our second meal at the same place was different and not necessarily in a good way. I call it the "second-time phenomenon." Let's say you had a satisfying meal on a first try. Inadvertently, you upgrade your expectations after initial success. Boom! The second visit is a flop thanks to unattainable expectations. As for the former, it might save from food poisoning but not necessarily would be a place for a relaxed night out.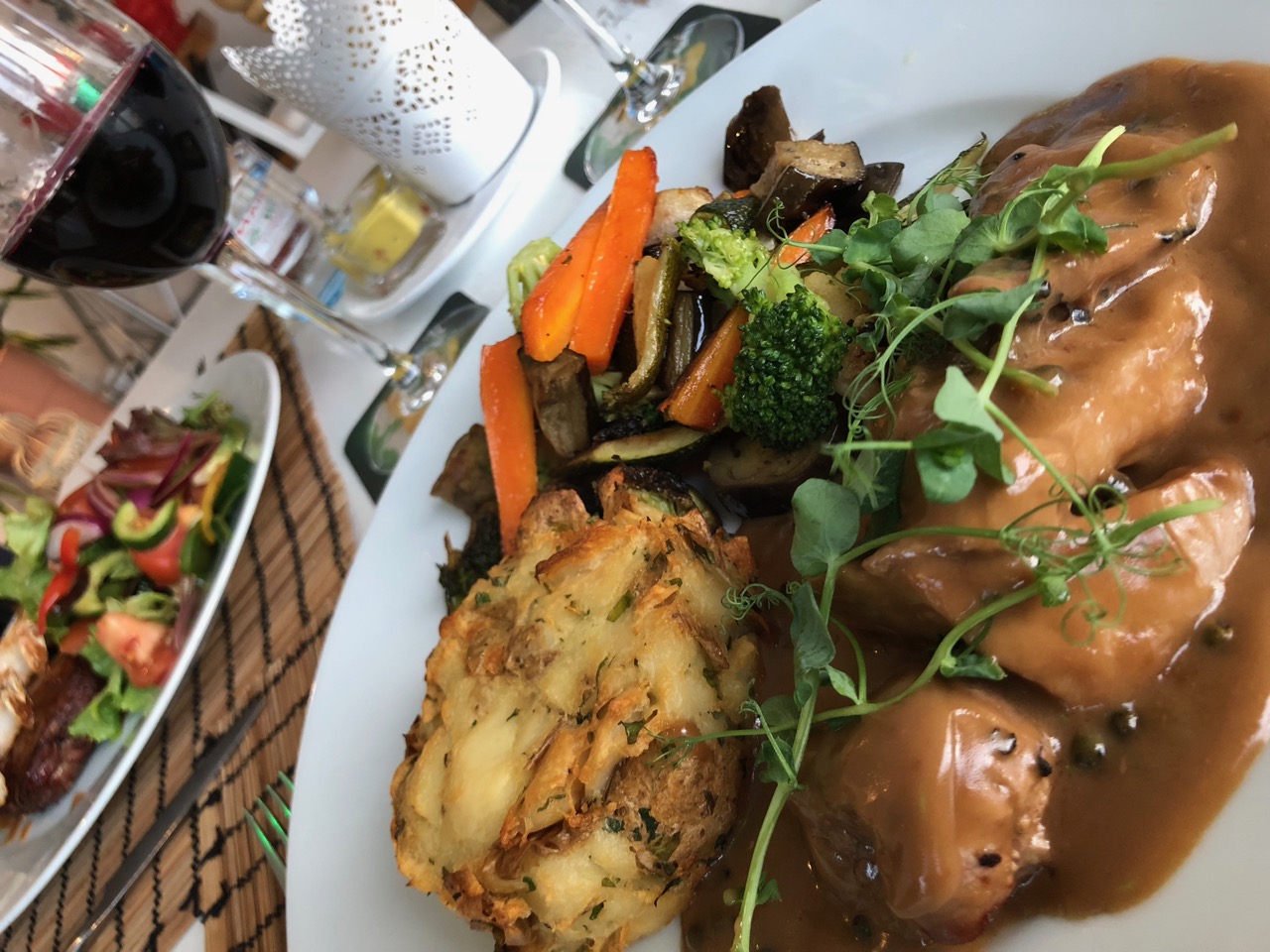 Back to Cyprus. There is a plethora of eating establishments around the island. If you are looking for a place to taste Cypriot dishes, here is an extensive list of tavernas and restaurants hidden away in mountain villages or on quiet back streets. Since we haven't checked all of them, try on your own risk.
Now, something different. If you happen to stay in Cyprus a bit longer than just a fleeting holiday or come there for a business trip, I want to share our favorites. Those are the places that we frequented. Neither the top choice on TripAdvisor, nor traditional old-fashioned taverns, they all share that special "something" that made them irresistible and, like a magnet, draw us back again and again (and free wifi didn't hurt either).
Maqam Al-Sultan Restaurant, Larnaca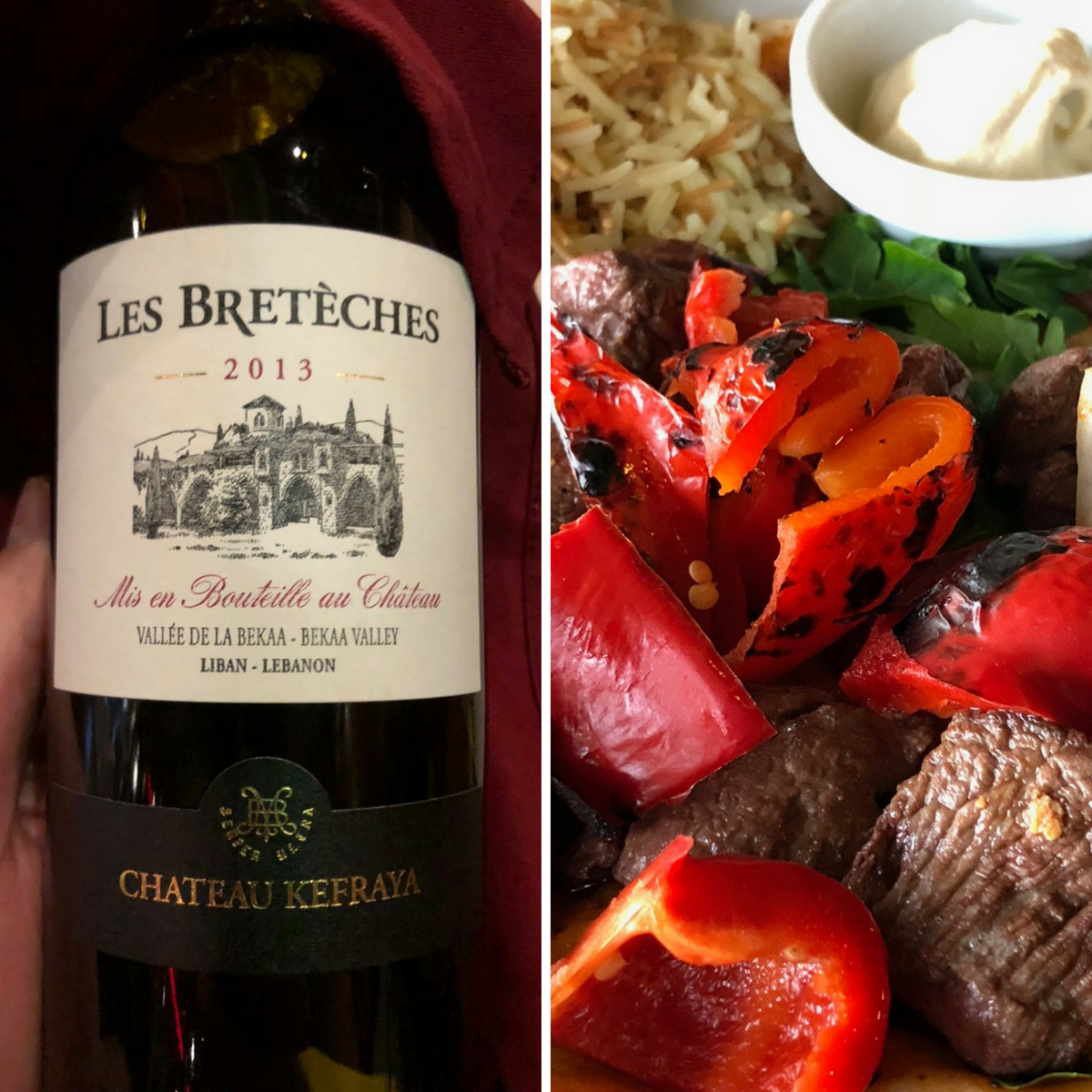 Lebanese wines are fantastic. We discovered them during a trip to Beirut years ago. Unfortunately, they are almost completely unknown outside the country. Maqam Al-Sultan is one of a few places serving them.
Maqam Al-Sultan impressed us even before we had an opportunity to try any dish. After a long walk, we were ready to order the whole menu. The waitress suggested that it would be unwise and we should reconsider. She was polite but firm. Ultimately, she convinced us that an empty stomach shouldn't influence the amount of food to order. Oh boy, was she right! The dishes were delicious, but, as with any mezze, they kept coming and coming. We greatly appreciated this unusual display of honesty. The dinner was delicious. It was not long until we came back. Then again, and again.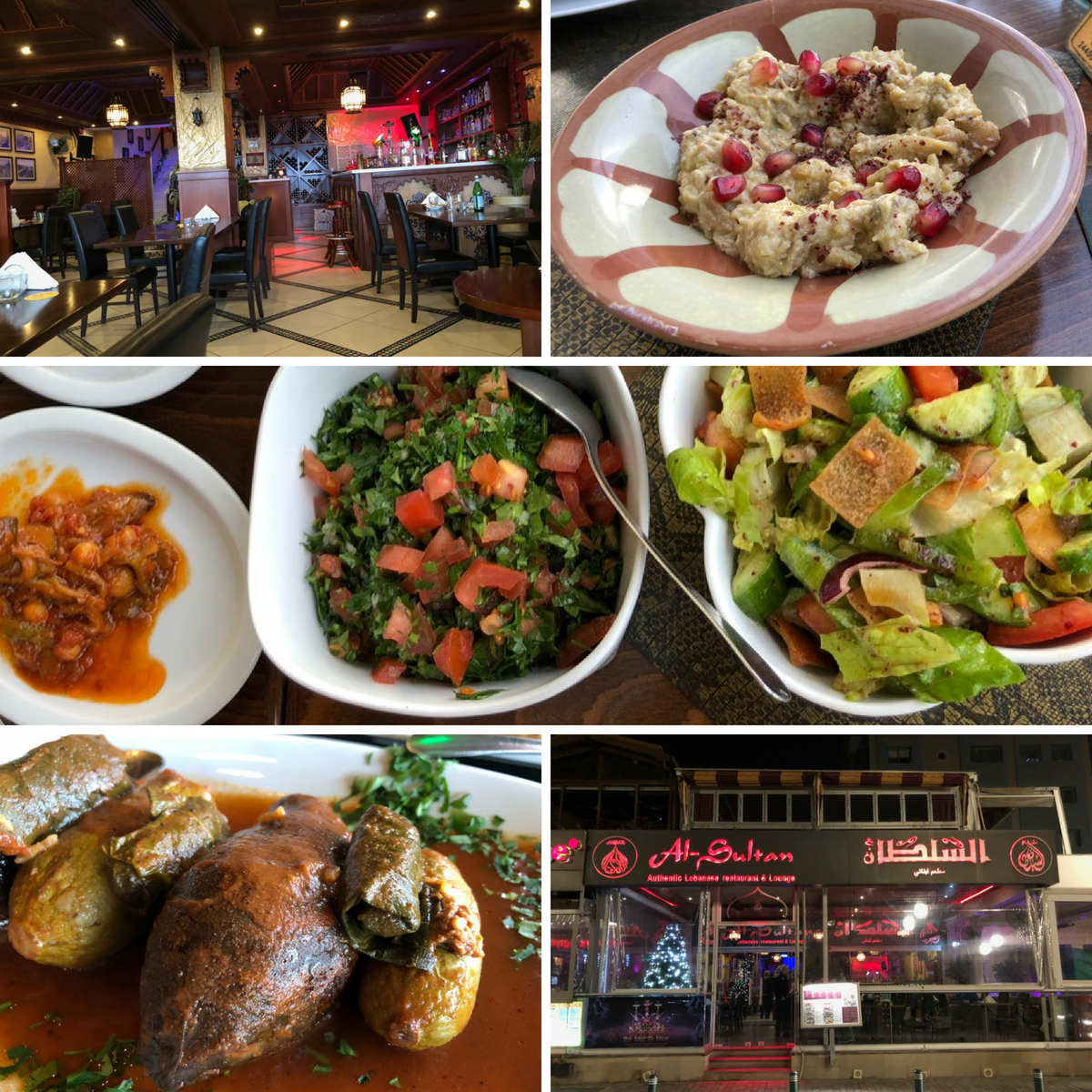 The colorful, full of flavors feast is what we got every time. From mezze to mahashi (baby aubergine and courgette stuffed with rice and minced lamb) to daoud basha (traditional Lebanese meatballs) to any other dish that appeared in front of us, the taste was heavenly. Paired with amazing wine, it was an unforgettable experience.
We love Lebanese cuisine. During our first trip to Cyprus, we patronized the Cleopatra restaurant in Limassol that specializes in this type of food. Comparing to Maqam Al-Sultan, Cleopatra's interpretation of Lebanese fare lacked some flavors. It felt like they were intentionally toned down to cater to those who prefer less spicy dishes.
Puesta Oyster Bar, Limassol
Lazy morning with a cup of coffee, a beach stroll concluded with a brunch overlooking the Mediterranean sea. Never giving it a second thought, this is how I imagined an ideal weekend. Just a dream. Who knew that it would become a reality in Cyprus.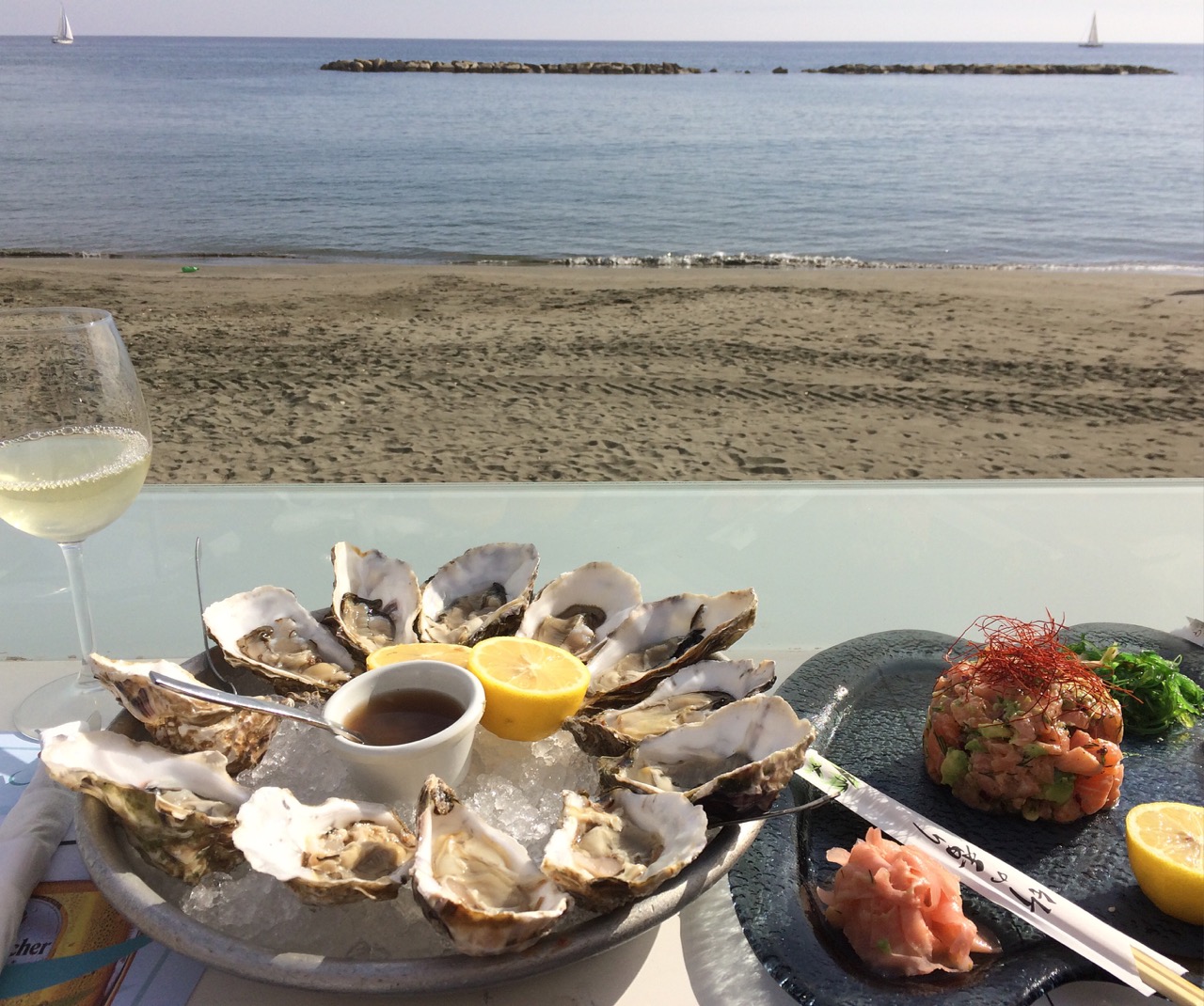 Puesta Oyster Bar & Grill is a hidden gem that managed to gain loyal patrons from the local crowd. Imagine the ultimate beach bar concept where drinking, dining, and entertainment were skillfully brought together in a beautiful setting with a breathtaking view. As the name implies, oysters are the specialty. There are more than a dozen different types of them on the menu. But do not stop there.
This haute cuisine restaurant excels in shellfish and seafood and boasts a comprehensive thoughtfully put together wine list. Oh, and let's not forget about perfect cocktails. Overlooking the sparkling Mediterranean, Puesta Oyster Bar & Grill opens in the early afternoon for a scrumptious lunch slowly leading to a stunning dining experience under the stars.
Faros Fish Tavern, Latsi
I love watching fishing boats. If you're patient, you will witness a millennia-old pattern of fisherman life. Sometime after noon, colorful small ships scattered around marina come to life. They perk up, sneeze and sniff like adorable mutts after a good sleep, and off they go to the open sea. In a while, they return bringing their catch.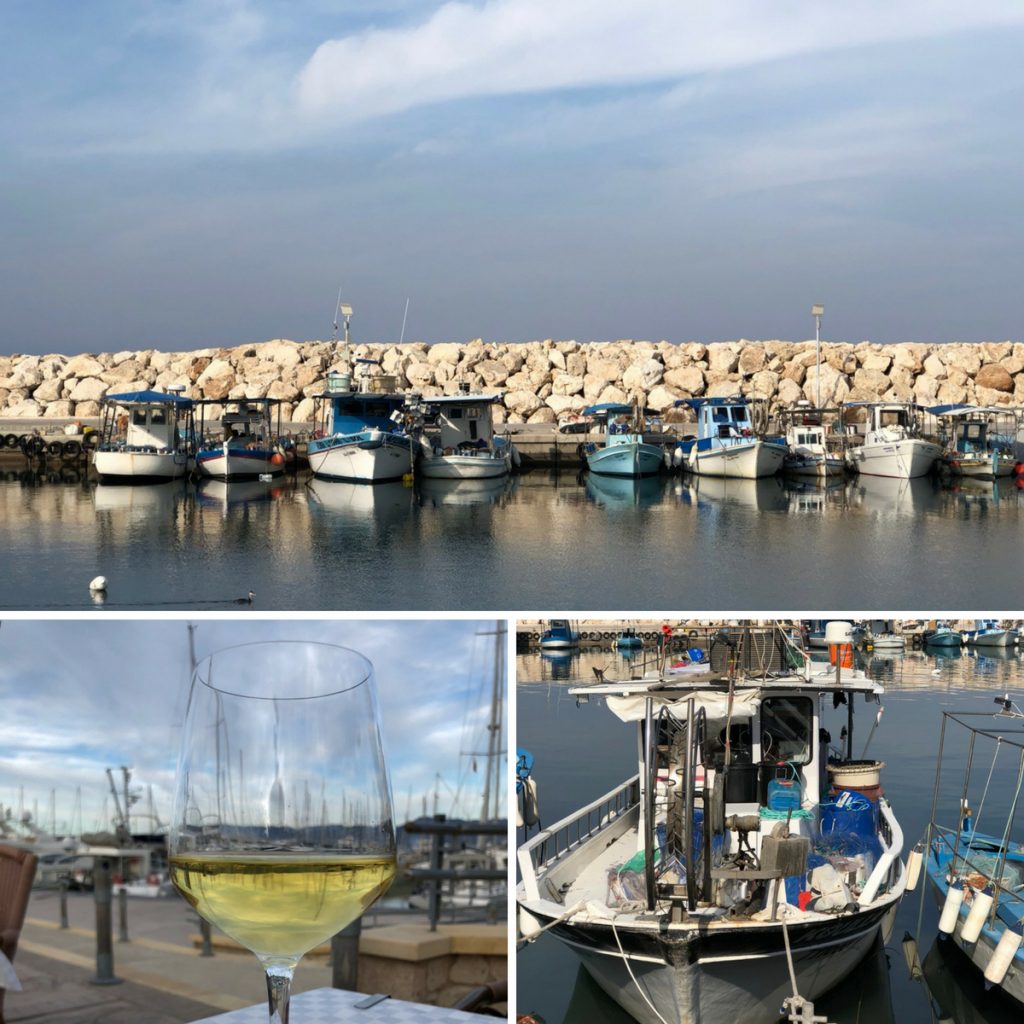 Faros Fish Tavern is ideally positioned for a lazy observer. A front row table is close to the action to take photos while simultaneously munching on results of the fishing expedition. Add a bottle of crispy Xynisteri from a nearby winery and you are set for an immensely enjoyable afternoon.
The island is not that big, so we visited the tavern at least once a week. I came mostly for the view which only improved with a generous portion of octopus saganaki. AT quickly expanded our menu choices into the meat category. The verdict – no carnivore would starve there. Seriously though, the setting, the view, polite and efficient staff, fresh ingredients, yummy food – it might not aspire to become a Michelin star but here is my rating ⭐️⭐️⭐️⭐️⭐️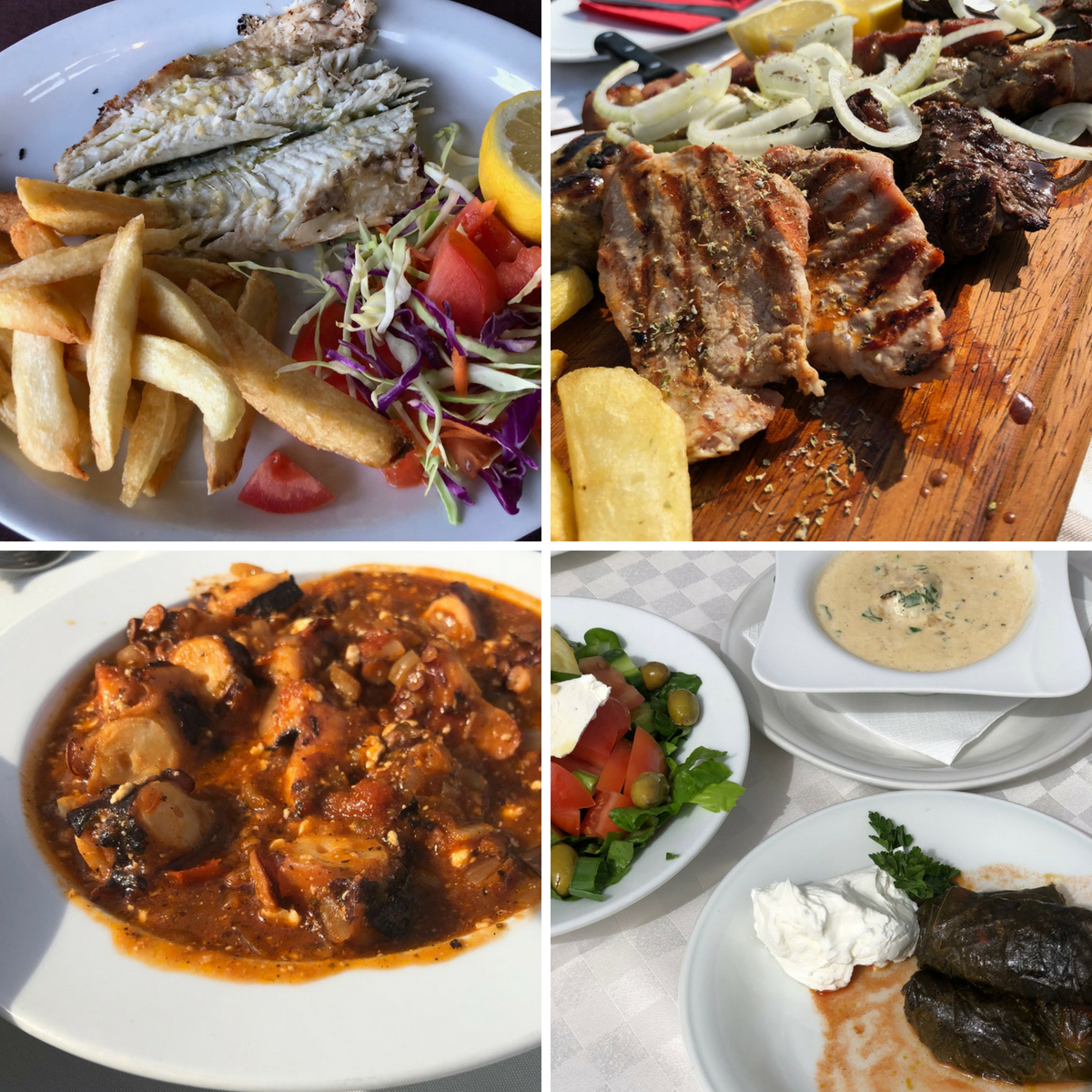 Bon appétit!