What you can get for lunch in Stockholm for 100Kr or about $12USD?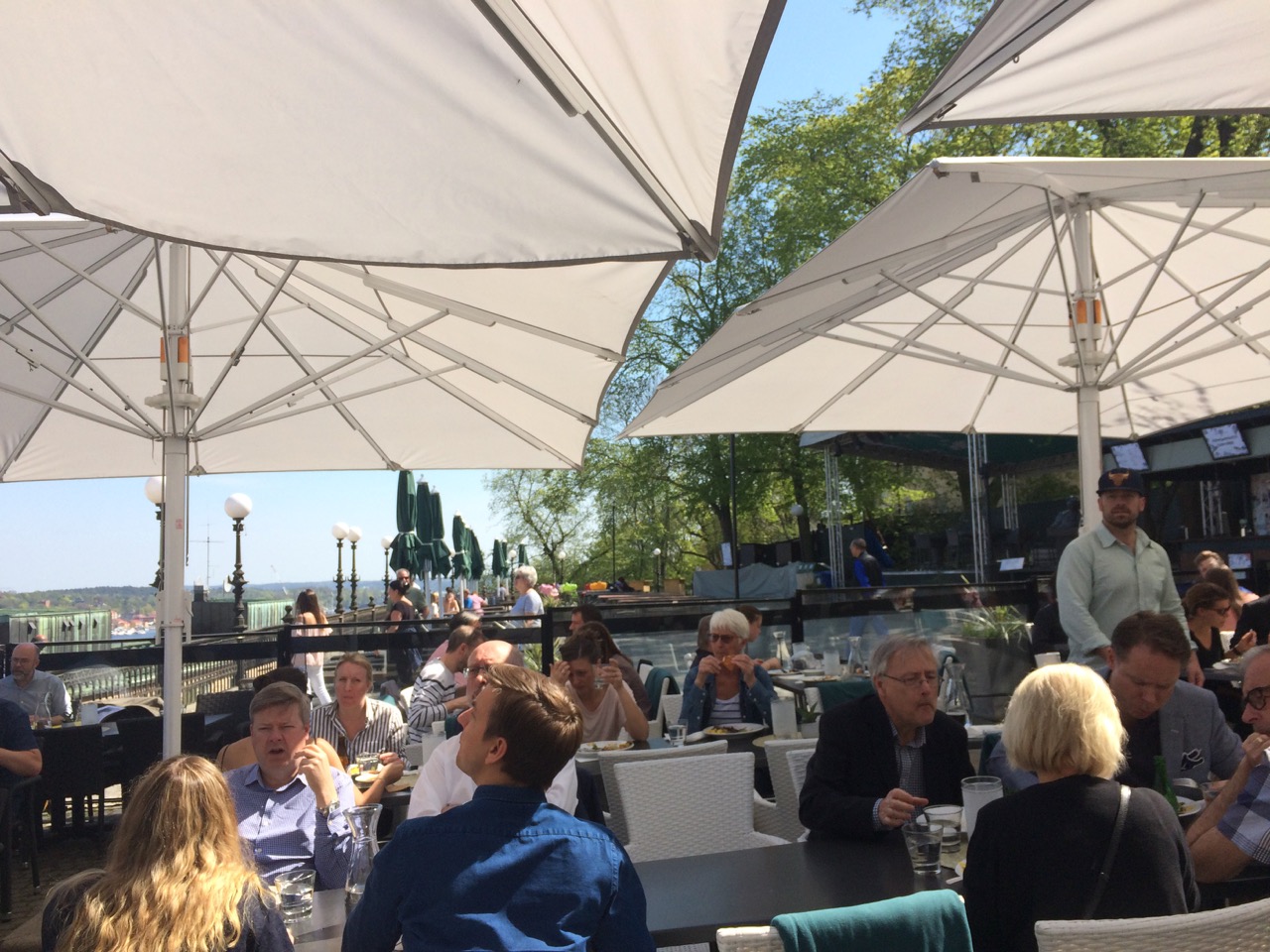 Interesting fact: the krona has been the currency of Sweden since 1875. The plural form of krona is kronor. In English, the currency is sometimes referred to as the Swedish crown, as krona literally means crown in Swedish.
Stockholm is expensive, and that's a fact. Satisfying your appetite without going broke might require some research and planning. I can't vouch for the entire city, but, based on personal experience, in Gamla Stan restaurants have a special lunch menu. Usually, it's around 100Kr for which you get one dish and self-serving salad bar. It is a substantial meal that would easily sustain you through a business day. Naturally, you do not need to work in the Old Town – restaurants would gladly serve it to hungry tourists or anybody who happened to wander on their premises around noon.
The only negative thing is that most of the times the dish would be a variation of meat and potatoes. Usually, it is tasty but not super exciting. After couple weeks you will be longing for anything maybe even broccoli. Hence, if you are not going to stay for more than half a month, you would be fine. Otherwise, you will need a plan B or just curb your expectations about lunch: the only thing you will get is a full stomach.
Since a picture is worth a thousand words, let me show you what you can expect.
Slingerbulten
According to their website, Slingerbulten is a small and charming place in the Old Town of Stockholm. The kitchen focuses on traditional Swedish dishes that are well prepared and reasonably priced. The decor is simple and elegant, which guarantees a relaxed environment. Here you will not have unnecessary frills or extravagant, unnecessary things. Come in, eat and drink, and enjoy.
According to my experience, you will not have any frills at all, necessary or unnecessary. The lunch would fill your stomach, but wouldn't provide any excitement for your taste buds. Solid cooking, very traditional. Good choice for 100Kr.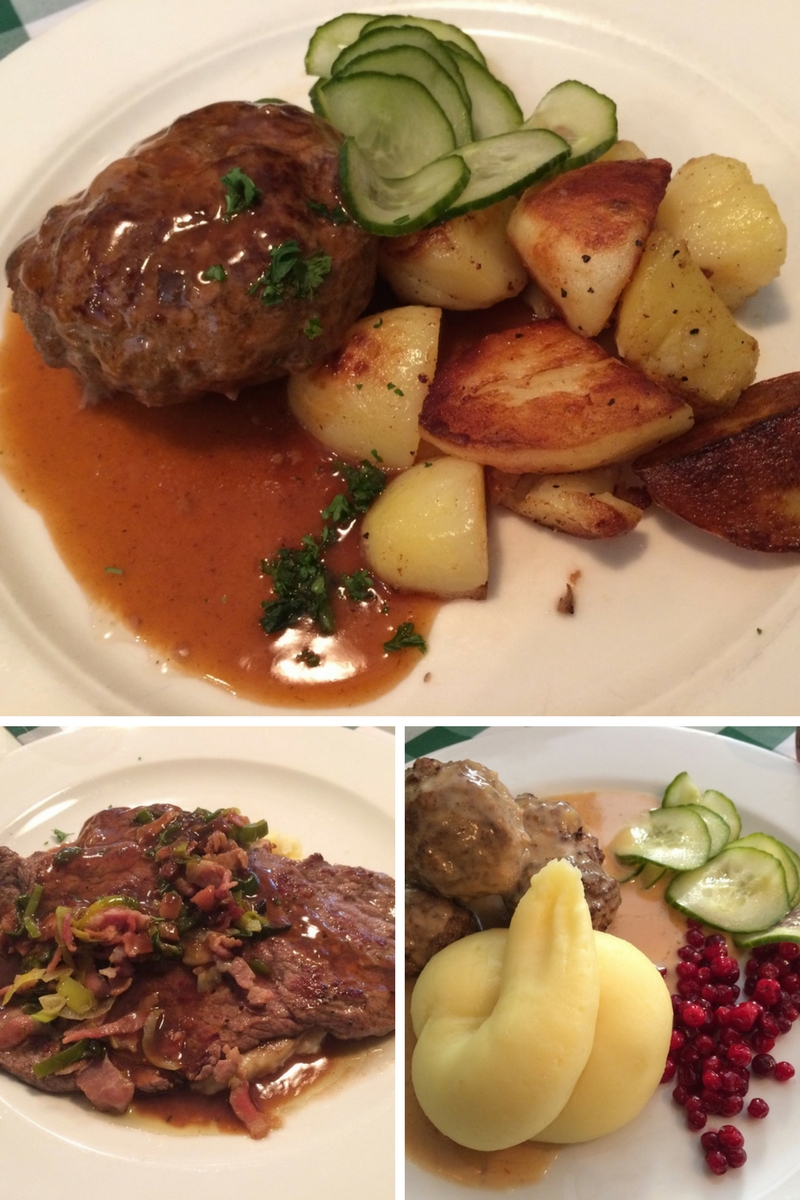 Borgmästar'n Bistro & Bar
Borgmästar'n menu offers something for all tastes and occasions. Food, drinks, ambiance, and music is what you find inside. The interior is a fusion of old and modern.
According to my experience, Borgmästar'n has an extensive selection of drinks (after all, it's a proper bar). Most of the time, it also has a choice of seafood and vegetarian dishes on their menu.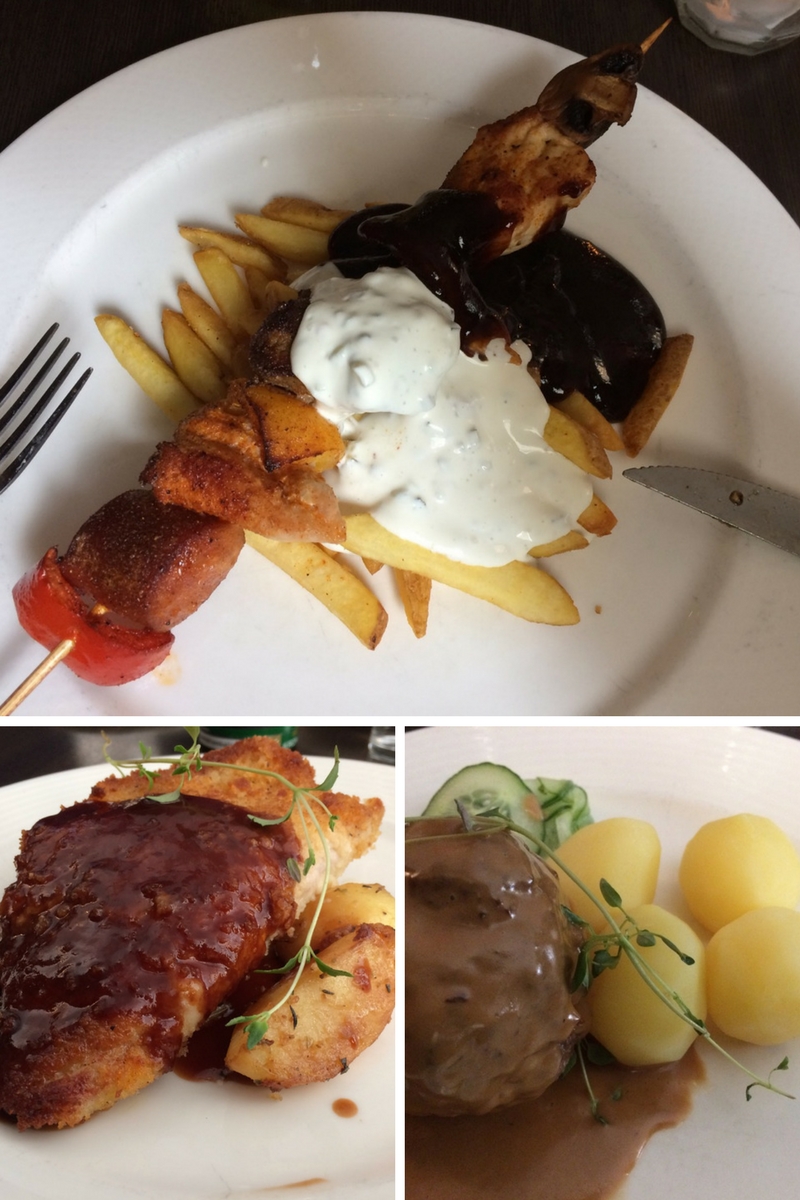 S:ta Clara Restauran Bierhaus
The Food. The Beers. The Music. – their motto says it all
According to my experience, this place is different. It offers a lunch menu just once a week on Fridays (dinner-only for the rest of the week). The crown jewel of the menu is schnitzel. It was the best meat+potato dish I found in Gamla Stan for lunch. BTW, there is no music during lunch.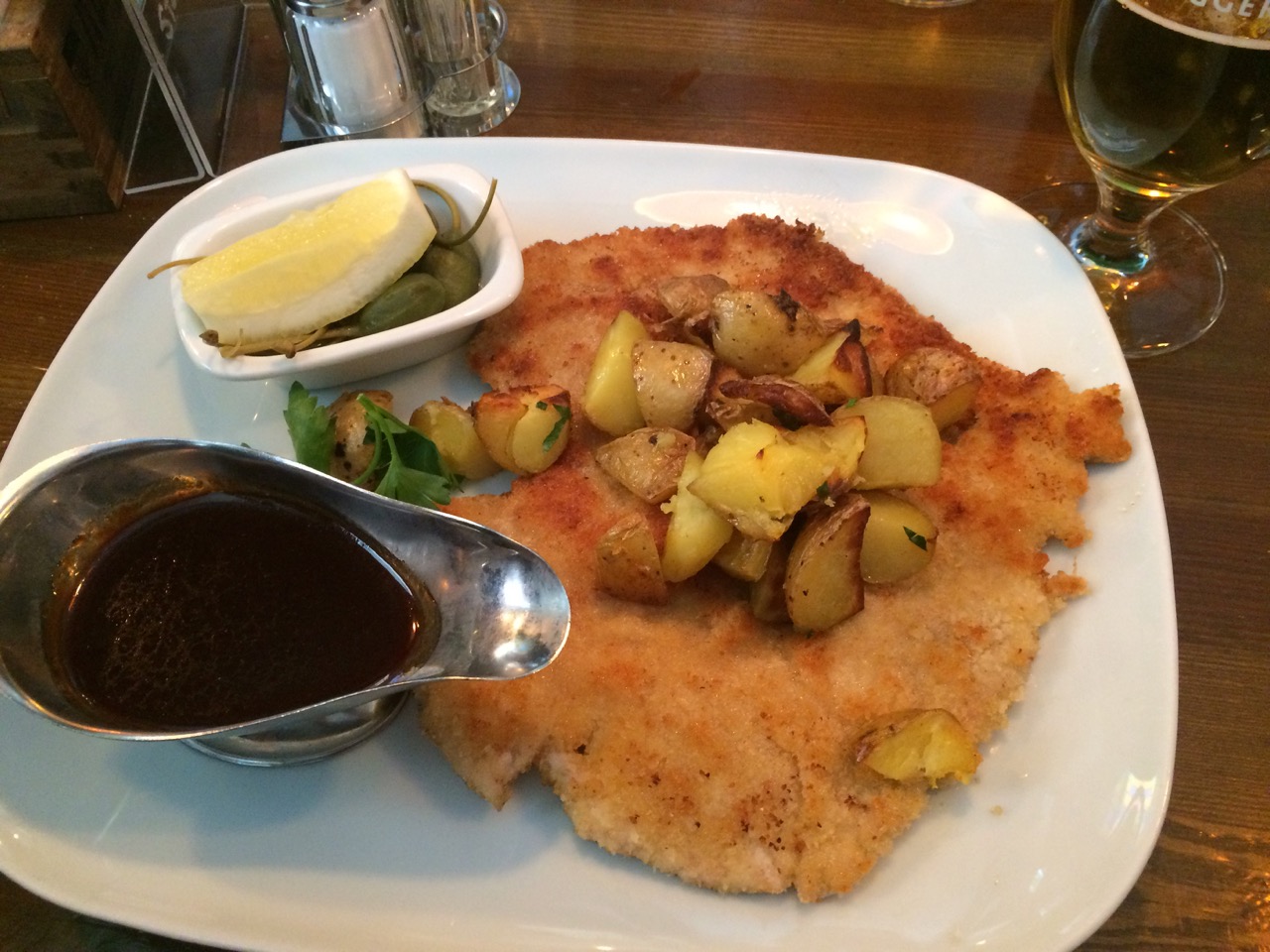 Mosebacketerrassen
Technically, outside of Gamla Stan, but views justify short uphill walk. This is the perfect spot for lunch during warm clear days.
According to my experience, you go there on a beautiful spring sunny day to taste a typical Swedish Smörgåsbord and enjoy the view of the city.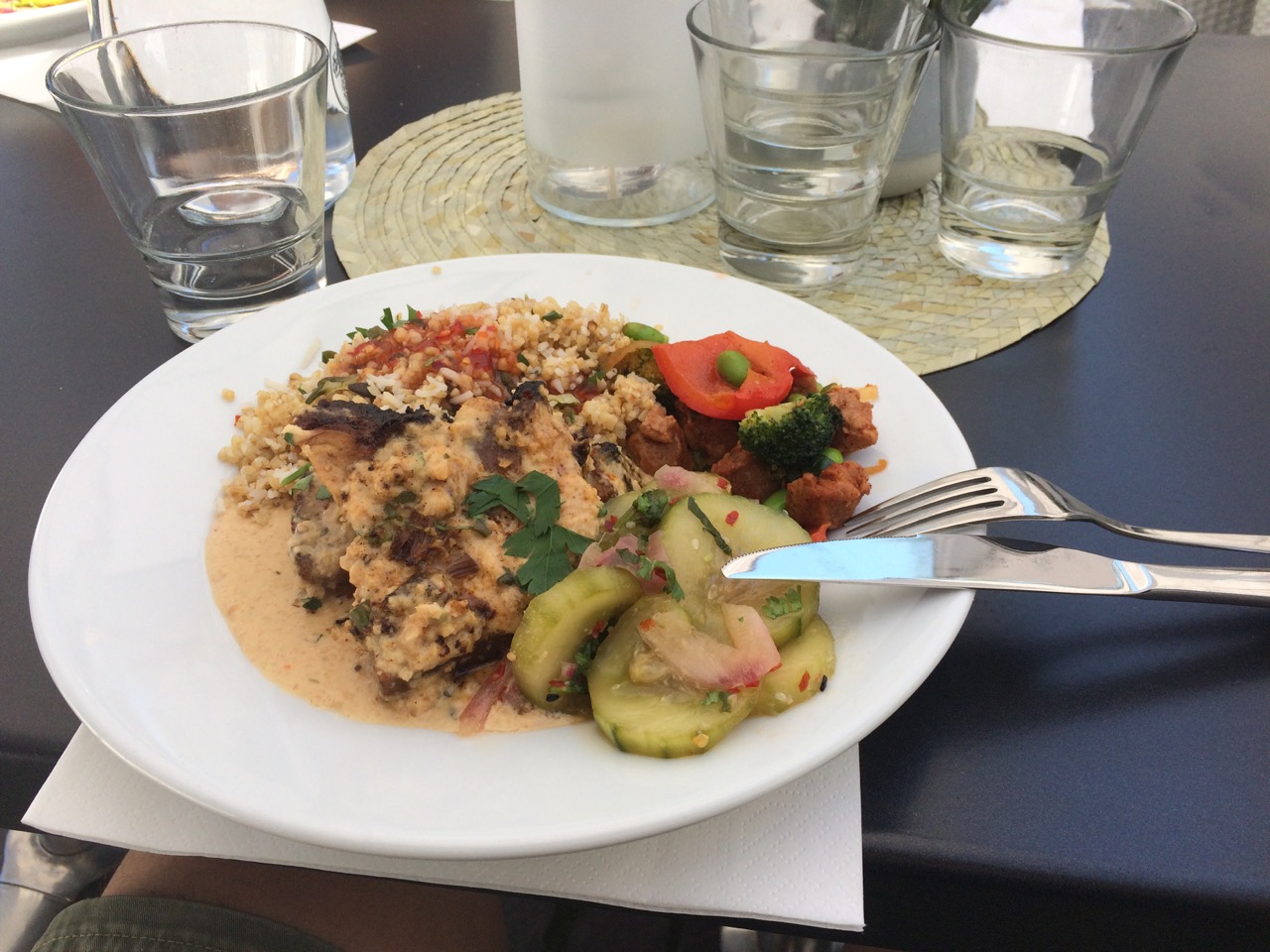 Paganini
According to their website, Ristorante Paganini is an Italian restaurant right in the heart of Old Town. Lunch menu combines Swedish and Italian home cooking. Dinner menu focuses on Emilia-Romagna region cuisine.
According to my experience, one Friday, the schnitzel place was closed. My Swedish colleagues were craving schnitzel, so we ended up in Paganini. They serve schnitzel on risotto which was a refreshing difference from usual lunch fare.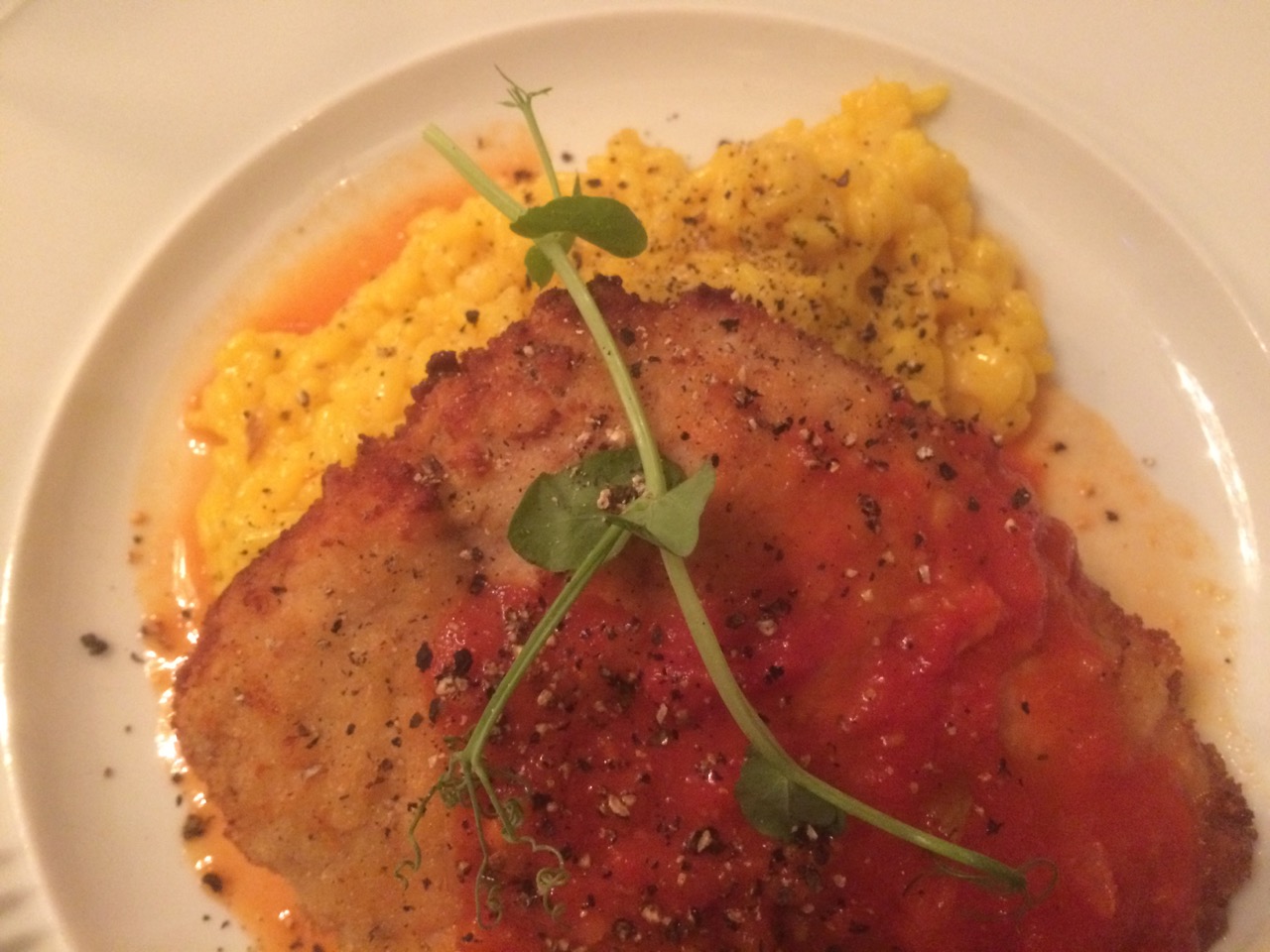 Of course, there are plenty of other restaurants serving lunch in Gamla Stan. My experience was limited by the fact that I was on a business trip and always followed the lead of my Swedish co-workers who over the years developed quite strong opinions about the best lunch choices in Gamla Stan.
Bon appétit or, as Swedes would say, Smaklig måltid!
Share this article on Pinterest by clicking Save button