"This is THE place to watch sunsets" was the advice I got as soon as Tamsui was mentioned. Even though the sun was not on the agenda, we decided to check the place anyway.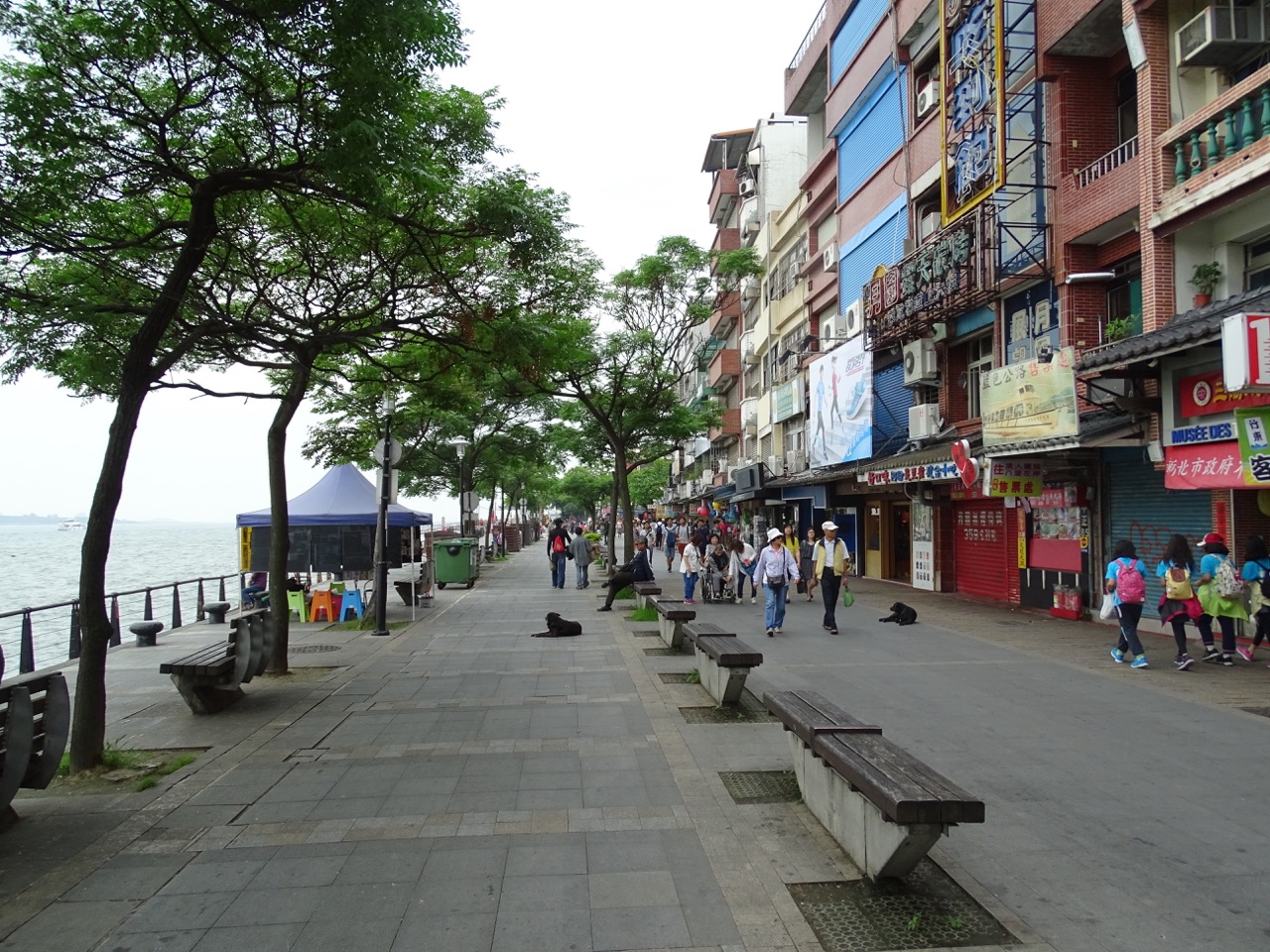 One thing that we learned after the first month in Taiwan is that blue skies are in short supply on the island. My skin definitely appreciates it even though the rest of my body yearning for some sun rays.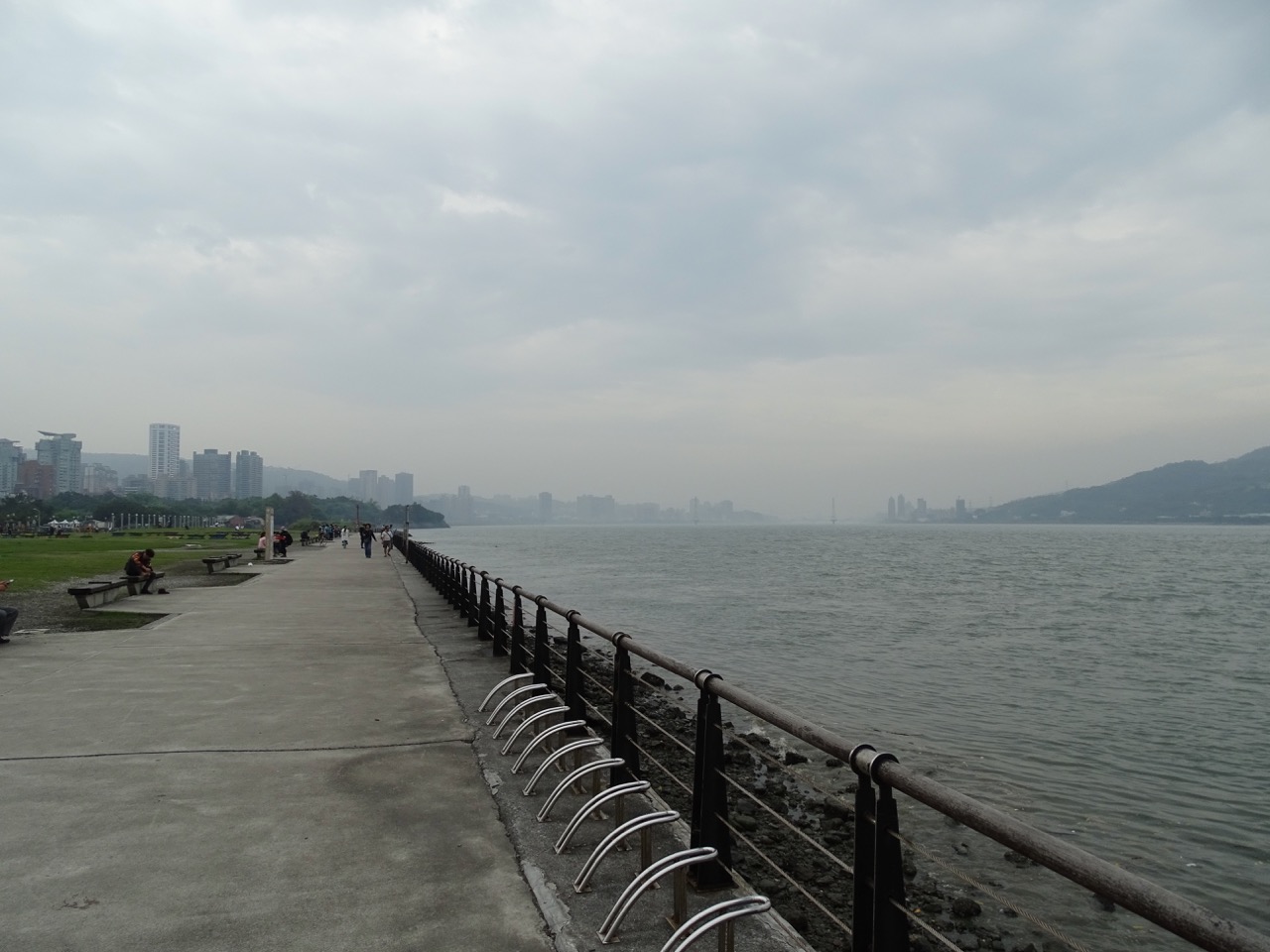 Tamsui (sometimes referred as Danshui) is a charming seaside town located at the northern tip of Taiwan. Metro line provides easy access from Taipei making it a popular destination for locals and island visitors.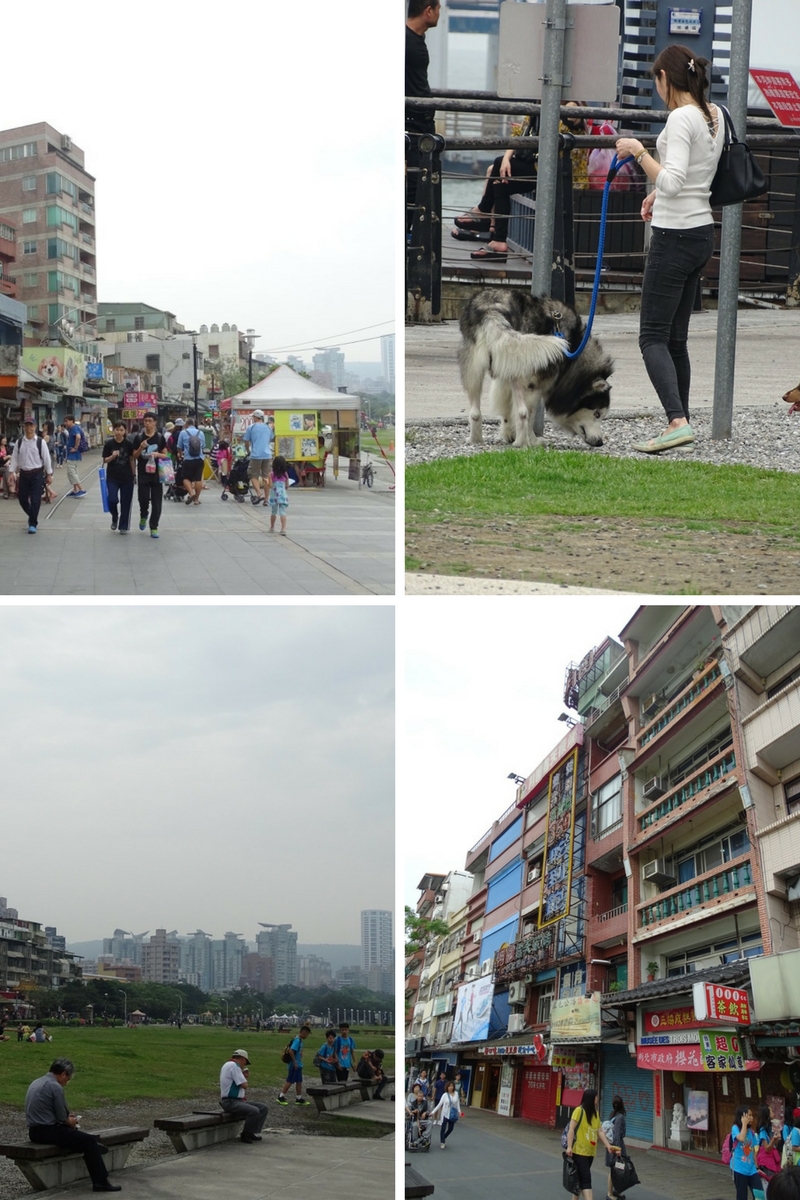 Somewhat unexpectedly, Tamsui reminded me of Portuguese Paço de Arcos. If you ever been to Lisbon, you probably passed it on the way to Cascais.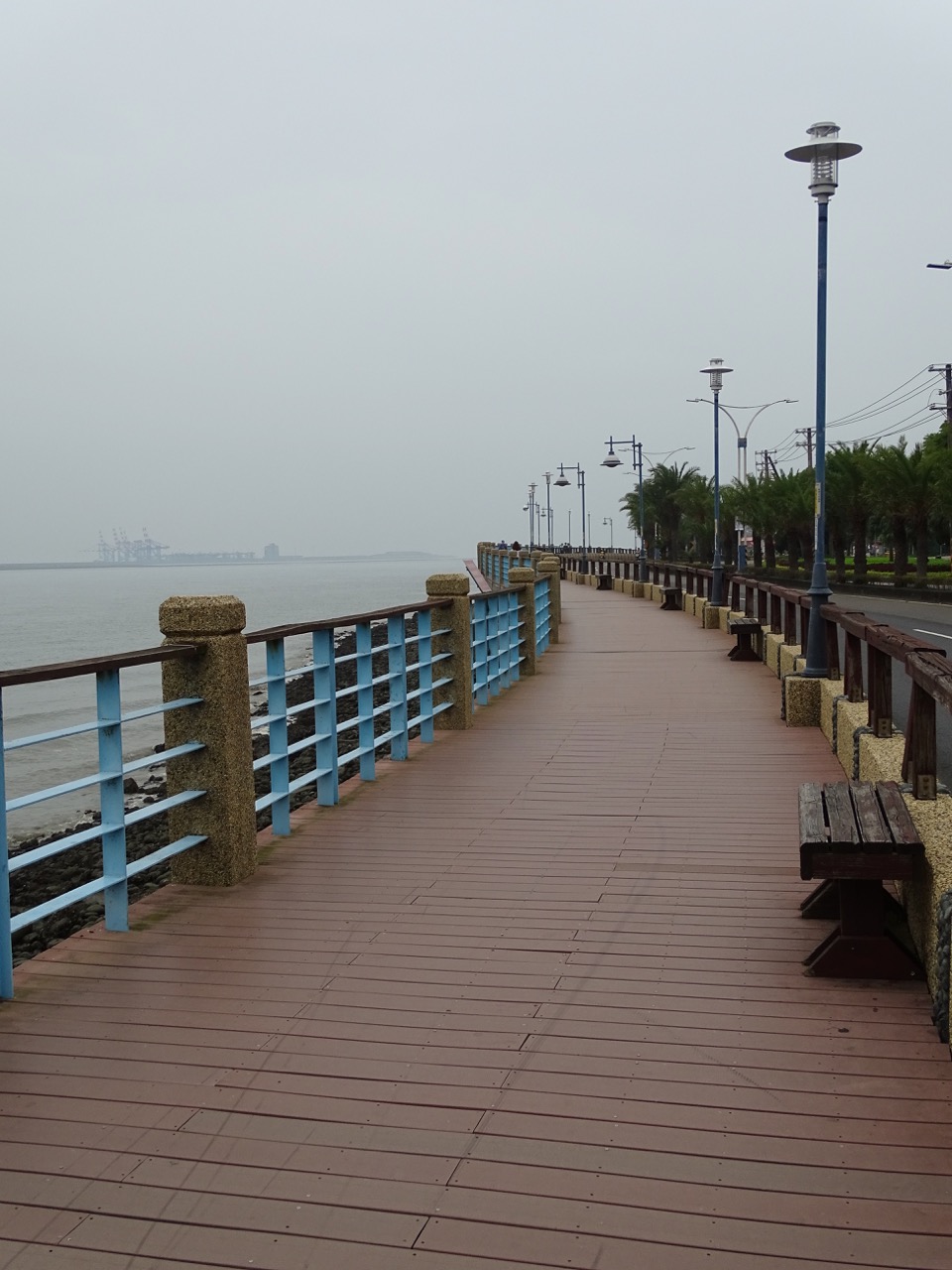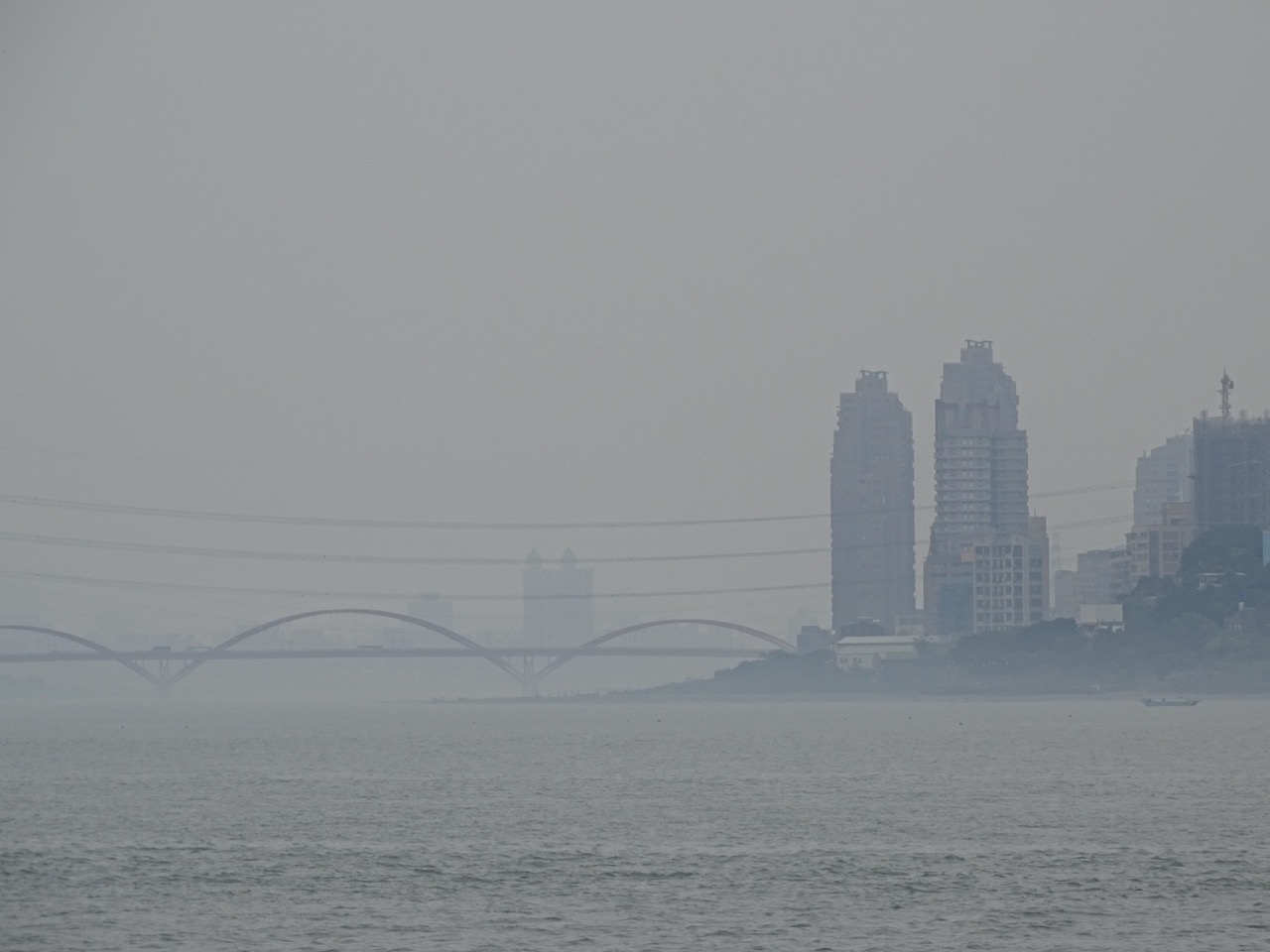 Just a dot on a map now, it had some days of glory in the past reminders of which still pop up here and there. As it turned out, Tamsui has a similar pedigree and proudly carries memories from generation to generation.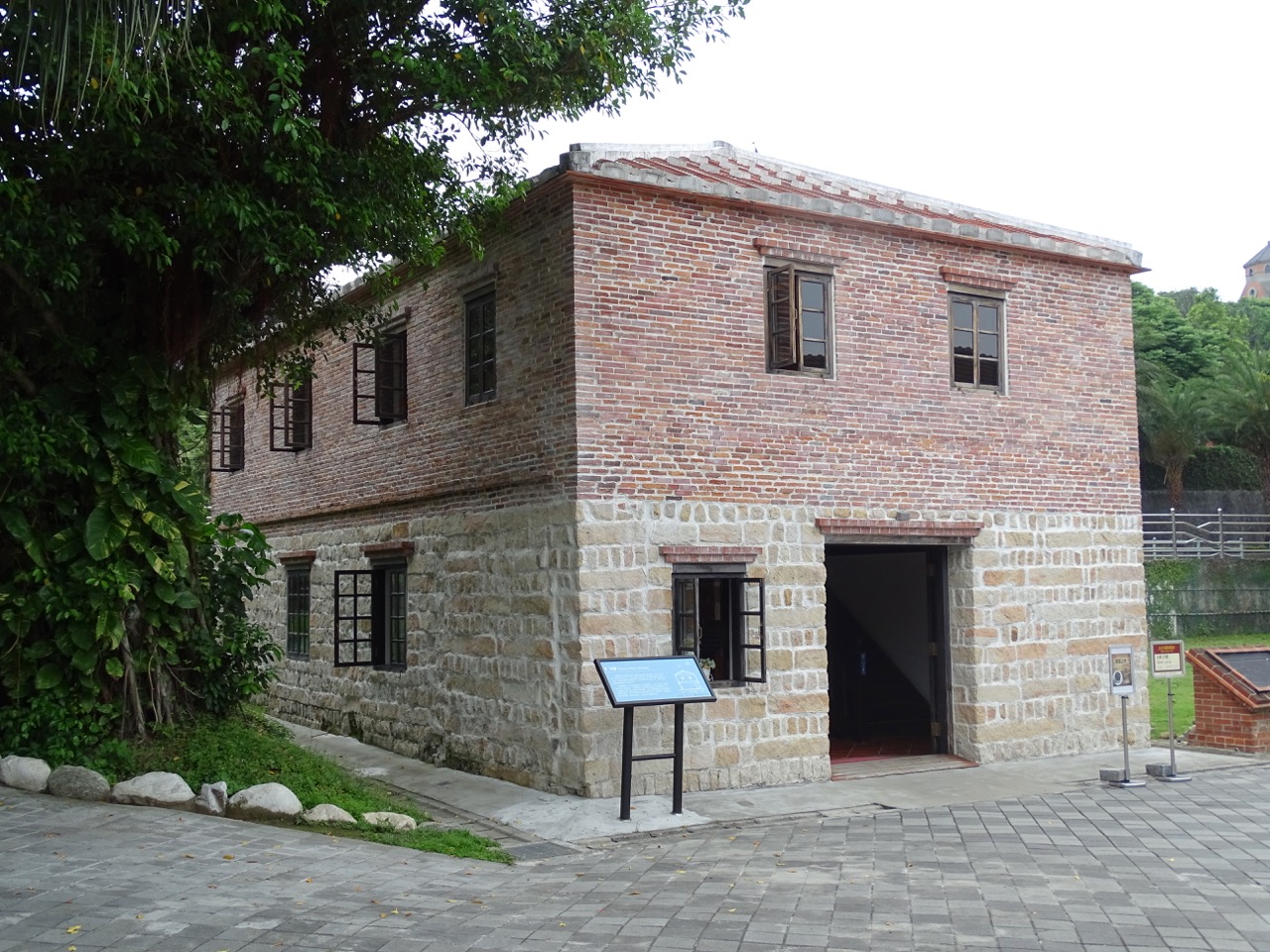 What's in the name
Taiwanese aborigines originally settled at the estuary of Tamsui River and called their village Hoba which means "stream's mouth." Later, when Europeans came to the area, the river was used to replenish drinking water supplies on their boats. Tamsui literally means "fresh water." For this reason, western historical documents named this location simply Tamsui and emphasized its importance as a vital transit point on the commercial route to East Asia.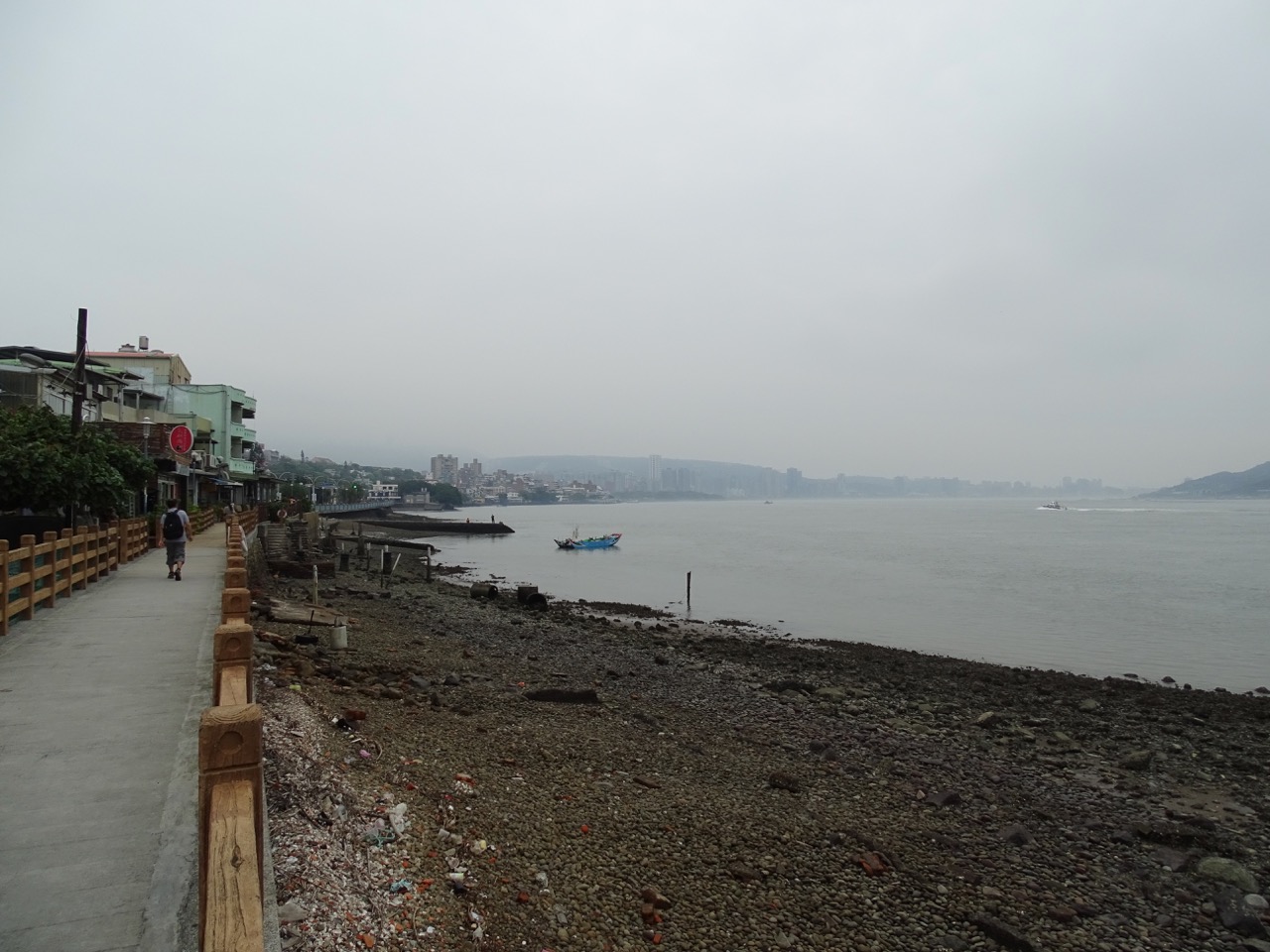 Brief history of Tamsui
The Spanish were first westerners settled in Tamsui in the 17th century. In 1629, they built a fort there. Eventually, the Dutch took it over and then Chinese Qing Dynasty Government. Over the years, the fortification was known as Fort San Domingo, Fort Antonio, and finally Hongmao Castle which literally translated as " Red Hair Castle" (as locals referred to the Dutch as "red-haired people"). The British took over the fort in 1868 and used it as a trade consulate. In 1980, the land was returned from the British government to the Republic of China. Hongmao Castle had been renovated and since 2005 is open to the public. Now, it is one of the most popular landmarks in Tamsui.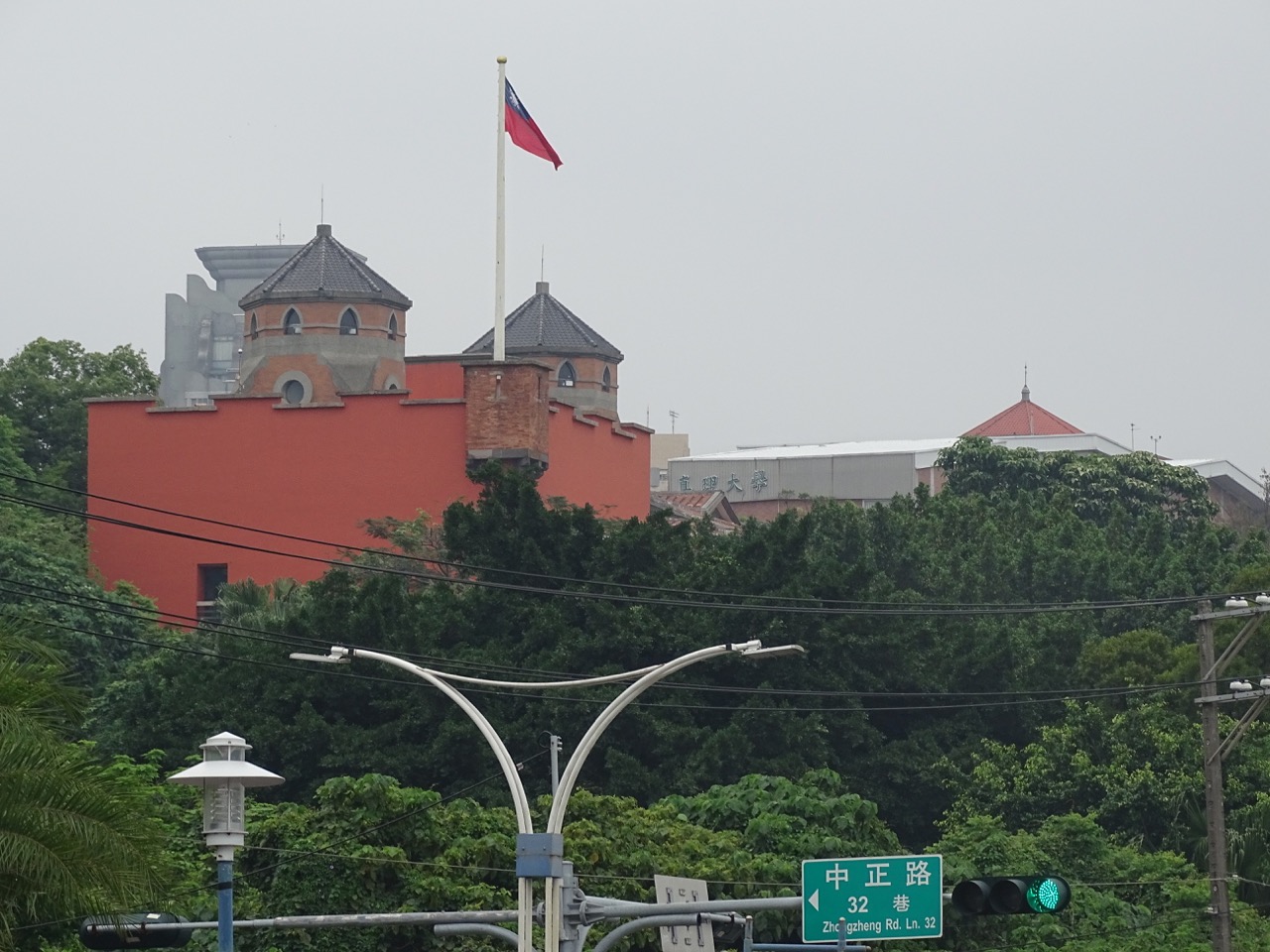 Meanwhile, Tamsui quickly developed into a major fishing and trade port. By the mid-19th century, Tamsui had become the largest port in Taiwan with a sizable foreign population and a British consulate at Hongmao Castle.
In 1872, Canadian medical doctor and missionary George Mackay arrived in Tamsui. He established Taiwan's first hospital in Western medicine and formal educational facilities, including Oxford College (now part of Aletheia University), the oldest European-style higher-education institution in Taiwan.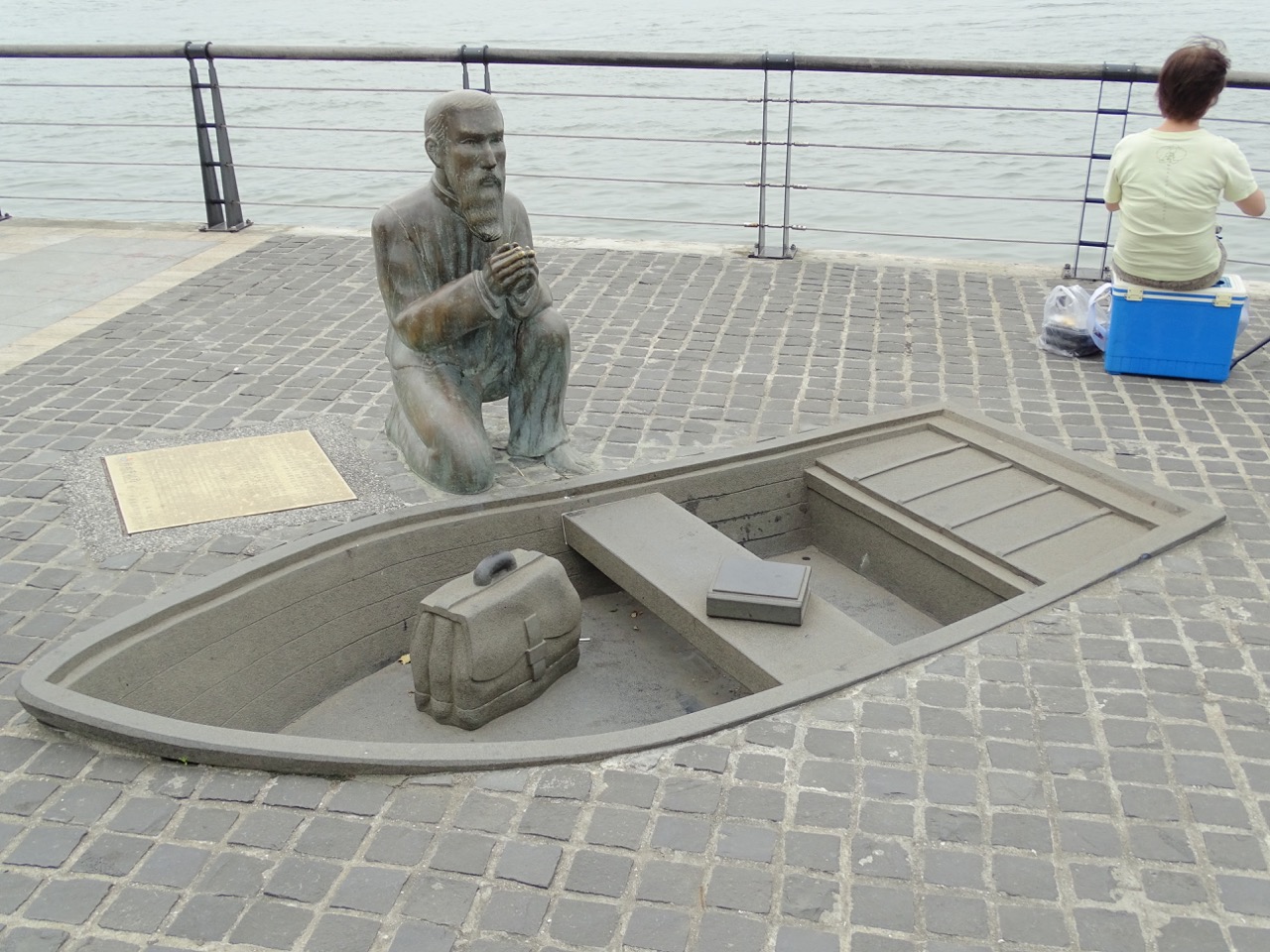 Unfortunately, in 1890s Tamsui's position as a seaport was beginning to wane due to the accumulation of sediments in the river. By the 20th century, the river became too shallow, and the most of Tamsui's port operations had moved out. By the end of World War II, Tamsui transformed into a small fishing town.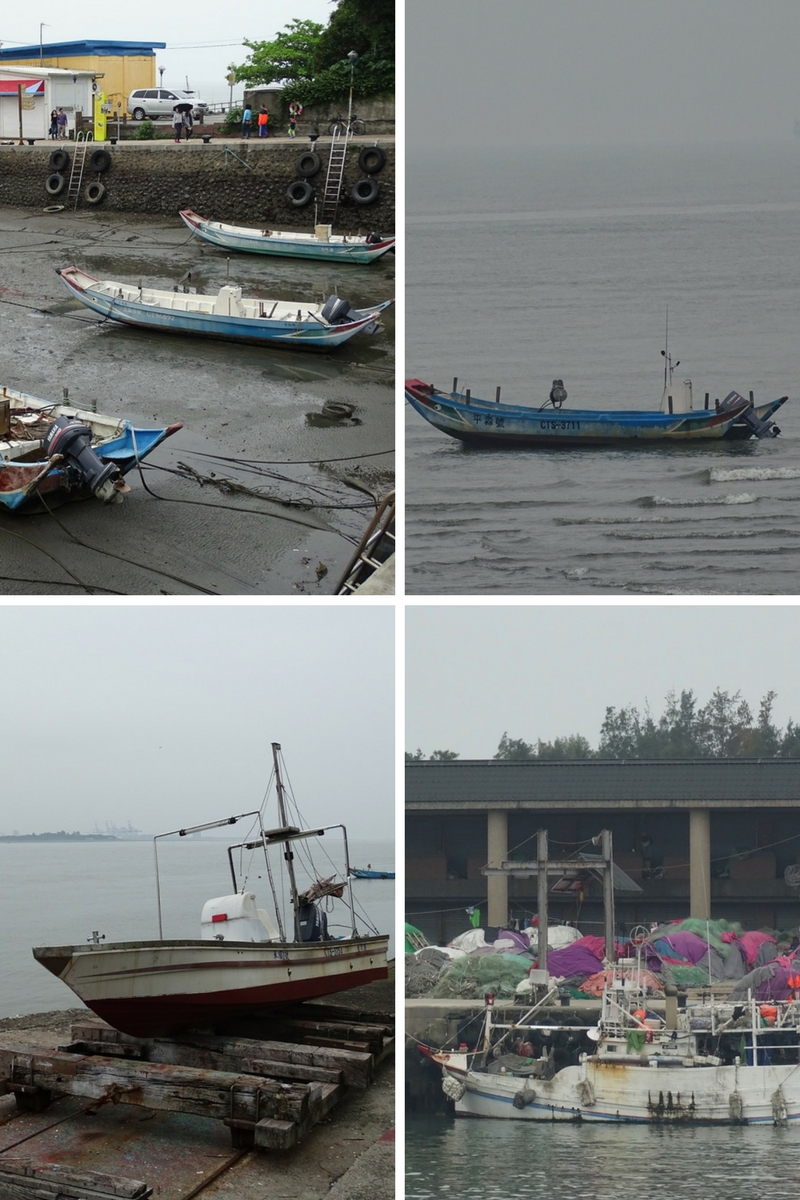 More recently, with the expansion of nearby Taipei City, Tamsui slowly became a tourist destination along Taiwan's northwest coast.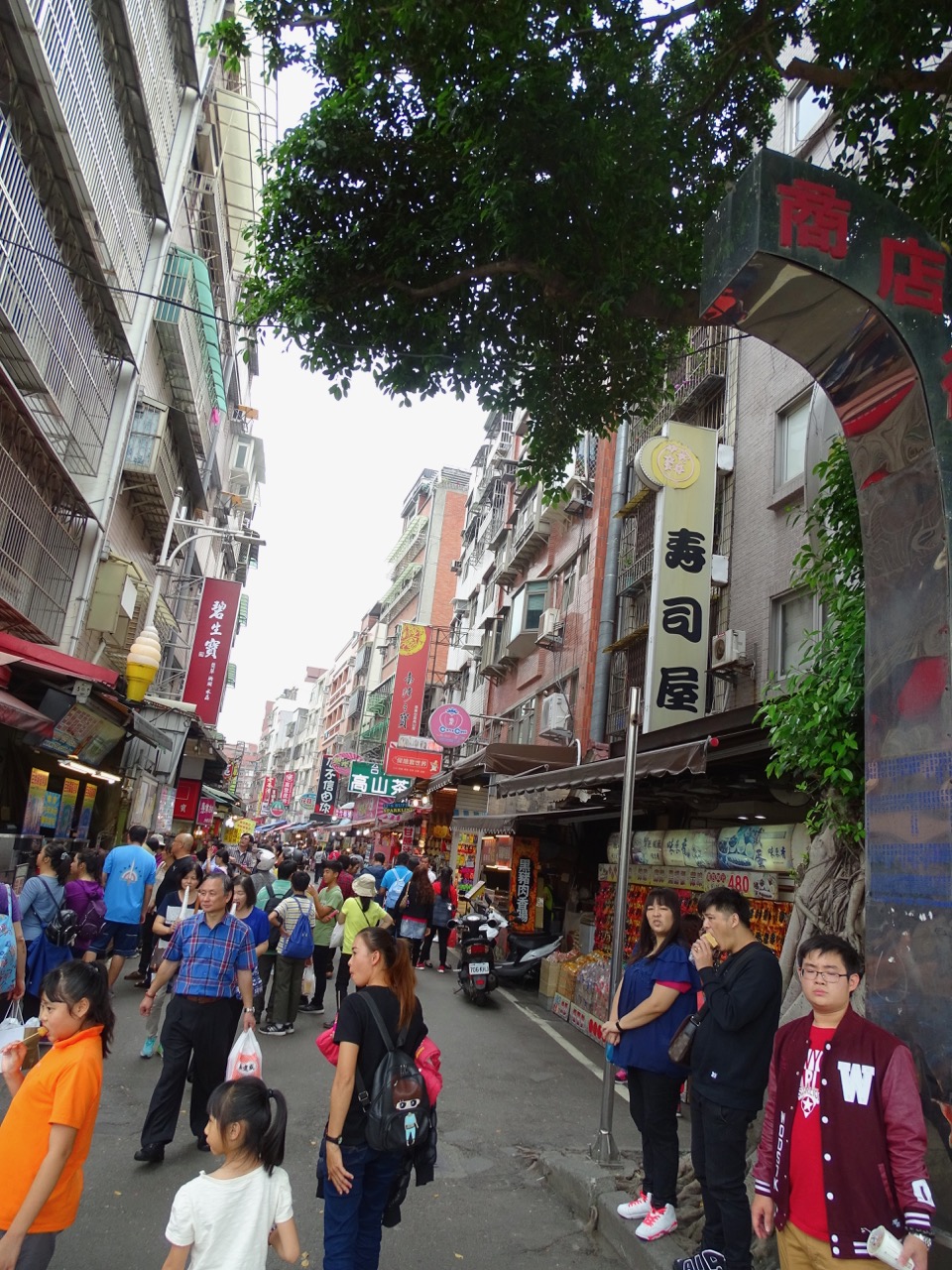 Following the completion of the Tamsui Metro Line in 1997, the town experienced a sharp increase in visitors traffic leading to creation of several riverside parks, the growth of open-air markets specializing in traditional arts and crafts and street food, the construction of Fisherman's Wharf, and the increase in passenger ferries traversing across and along the river.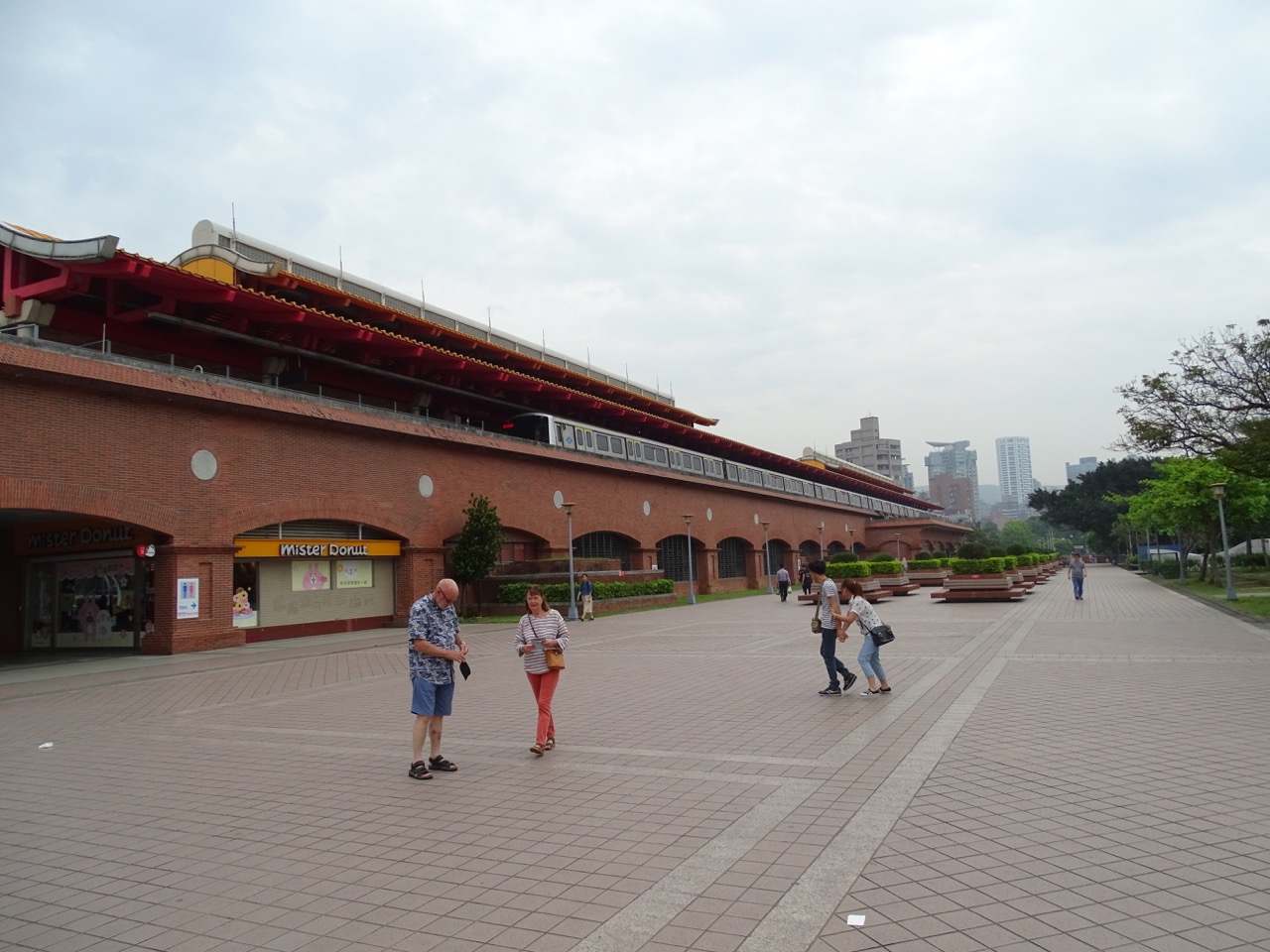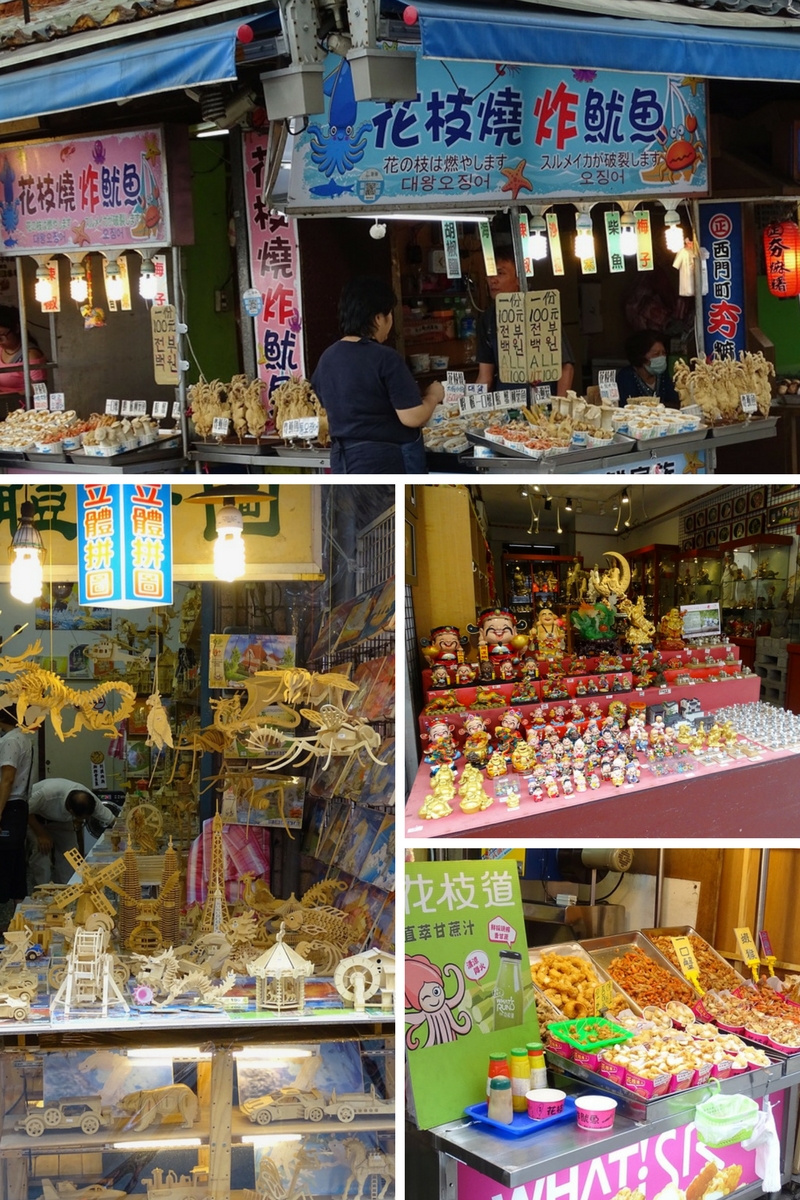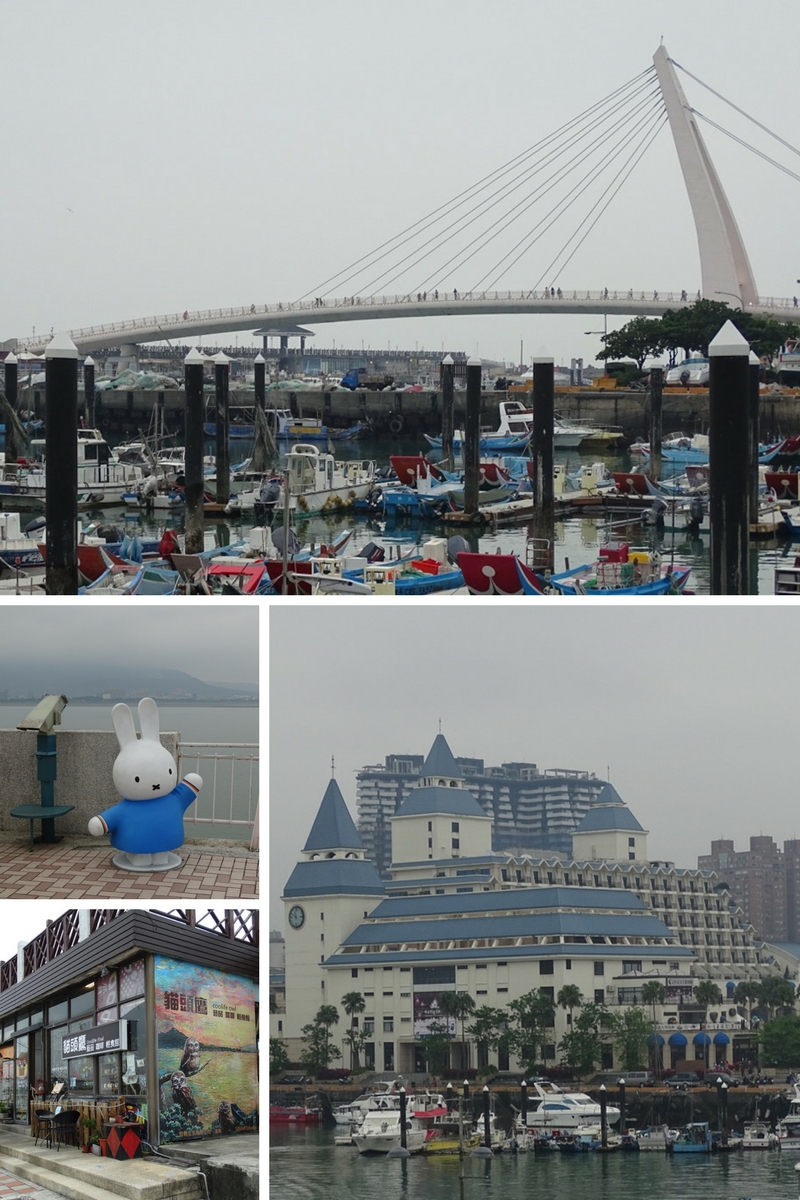 Guilt-free luxury lunch
All travel guides and tourist brochures unanimously recommend checking Tamsui Old Street for street food and gift shopping, visit Hongmao Castle and a few remaining historic buildings from the colonial era, take a ferry to Fisherman's Warf, and, well, come back to eat more.
After 4 years on the road, street food lost its novelty and attraction. Or, perhaps, we were never that much into it. Certainly, in every new place, we spend a day or two sniffing around (literally 😉 ) absorbing all new varieties of food with their distinct smells and tastes. Then, unfailingly, we settle with one or two favorite places. Every once in a while, we make a conscious decision to broaden our foodie horizons and try something new. Well, half an hour excursion inevitably brings us back to our favorite joint. Of course, we break this pattern on weekend jaunts when a week-long research of where and what to eat during our mini-vacations comes to fruition.
In Tamsui, we found the perfect combination of delicious lunch followed by 12 km walk to offset our calories intake.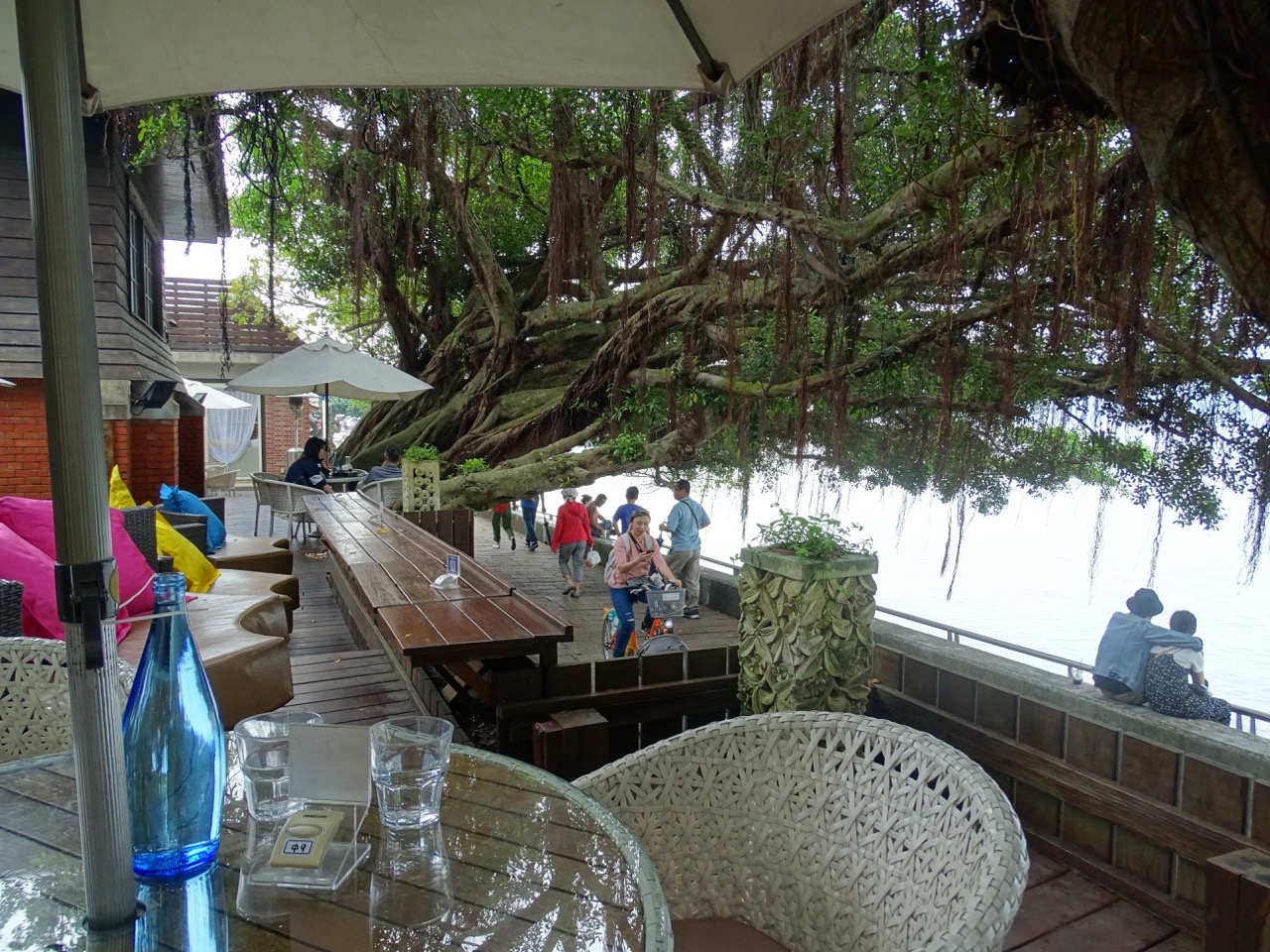 Before I begin my accolade, I want to mention that we genuinely liked our experience without been incentivized in any shape, way or form by this establishment.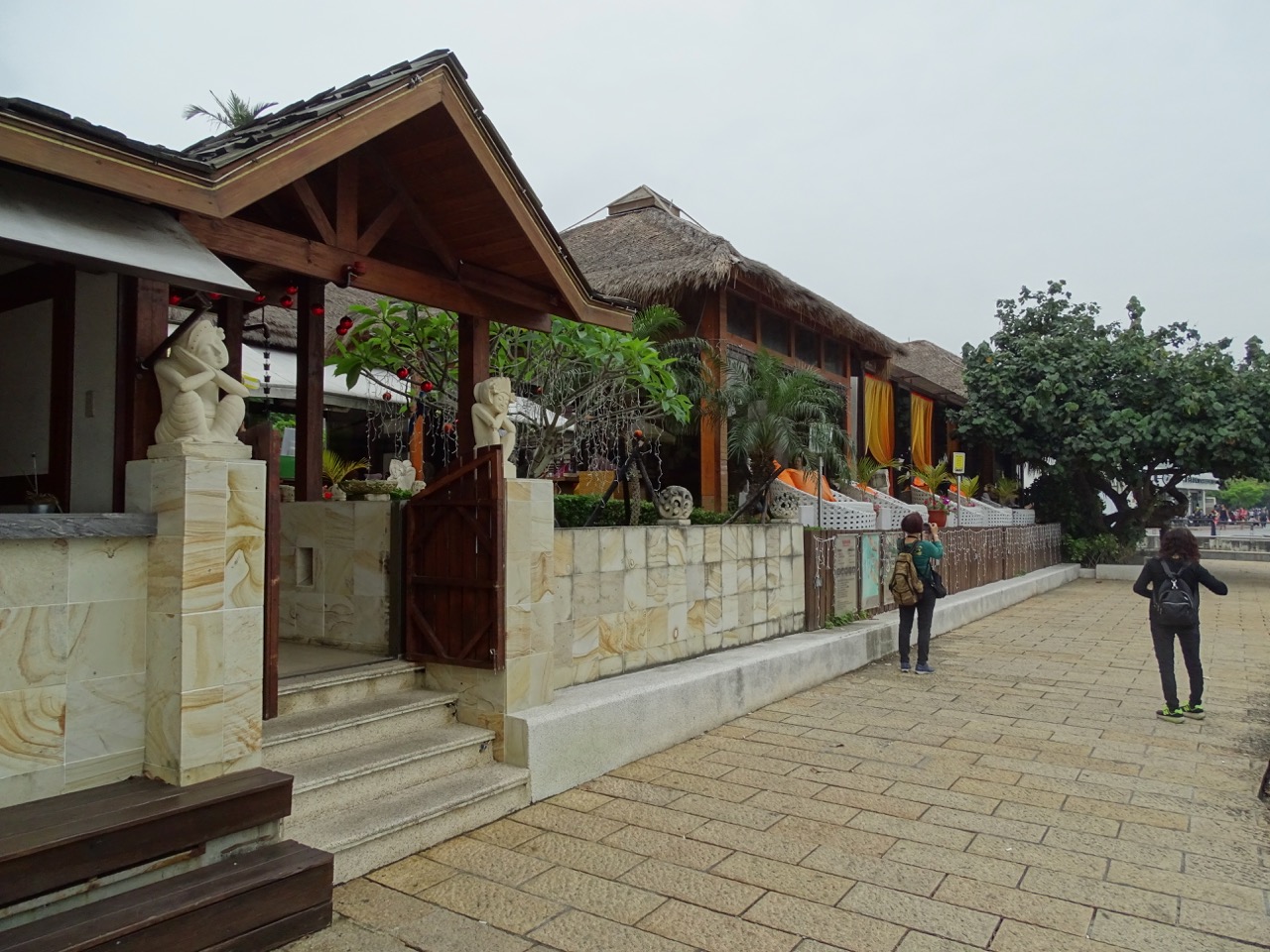 The place we patronized is called Water Front Restaurant. As simple as that. One would think that lack of imagination in the name might reflect what's happening in the kitchen. That can't be farther from the truth. This is not really local cuisine. In fact, it's not any particular one at all. Imagine a fusion of best influences from around the world combined with high-quality ingredients and flawless execution. The chef implemented this winning formula at Water Front Restaurant.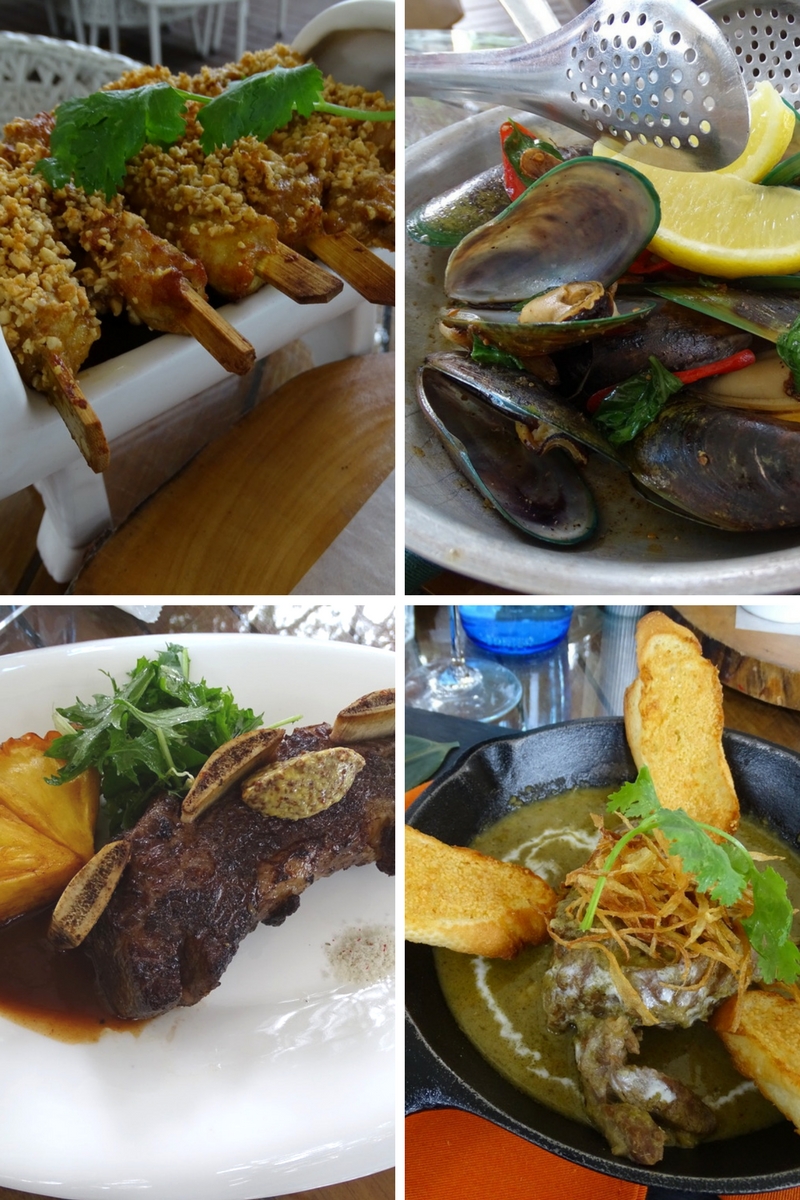 A bottle of excellent French wine and couple glasses of iced black currant tea complimented our lunch experience. Frankly, I planned to taste one of their desserts (pictures on the menu looked so tempting) but, ultimately, a glass of aforementioned tea was all I could consume after our meal.
It would be a lie to say that it was easy to keep up with our original plan and walk to Fisherman's Warf. Ferries were zooming up and down the river. It was so tempting to jump on one of them. I am proud to say that we soldiered on.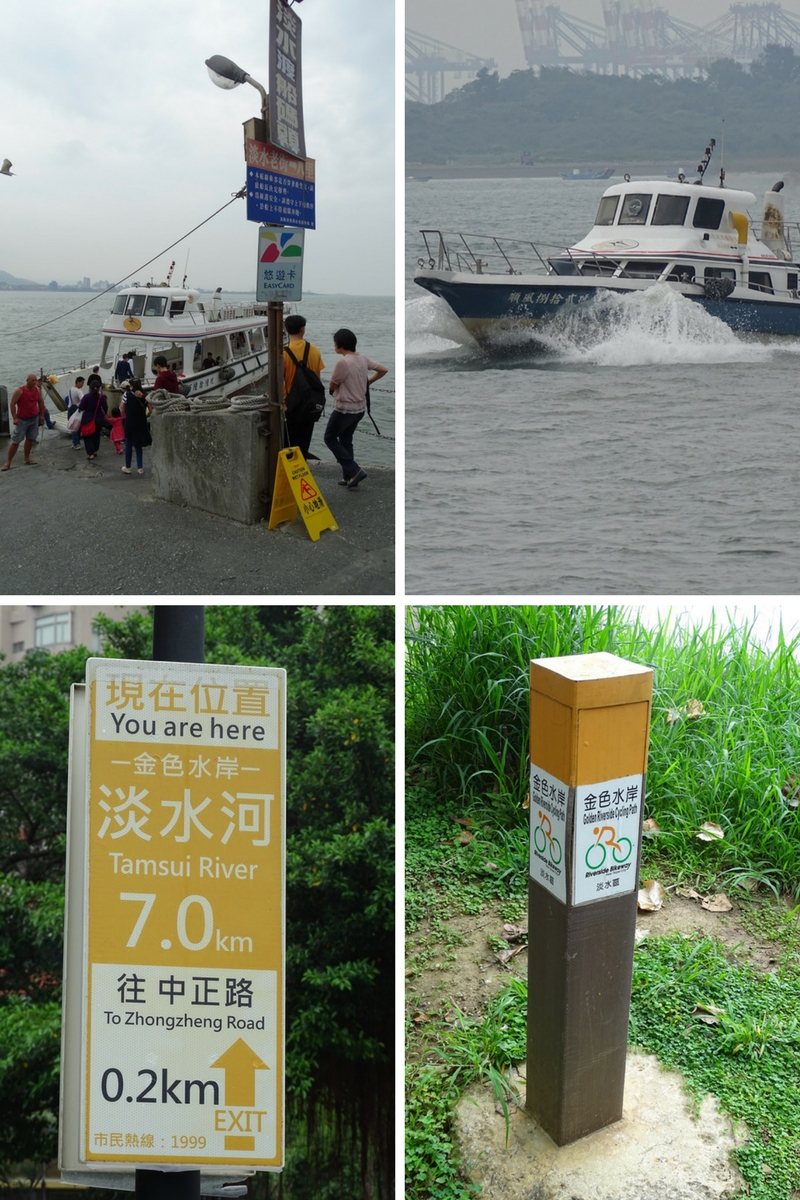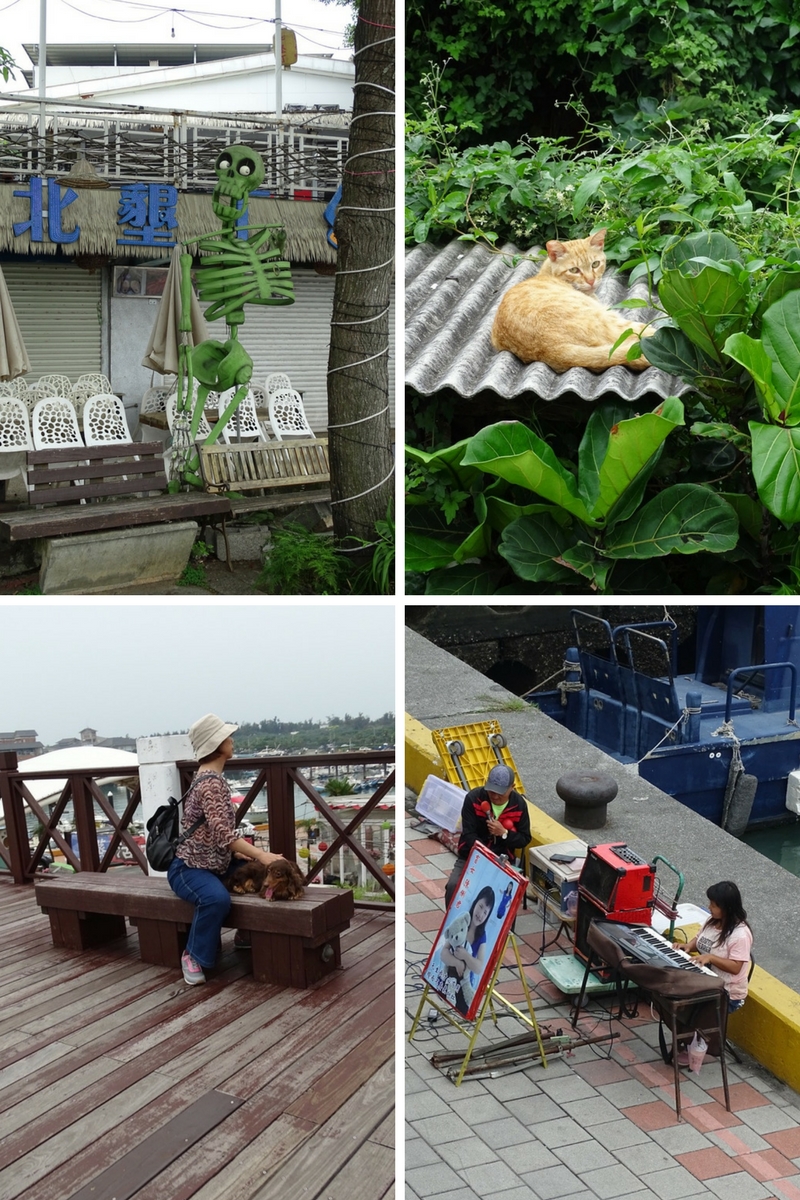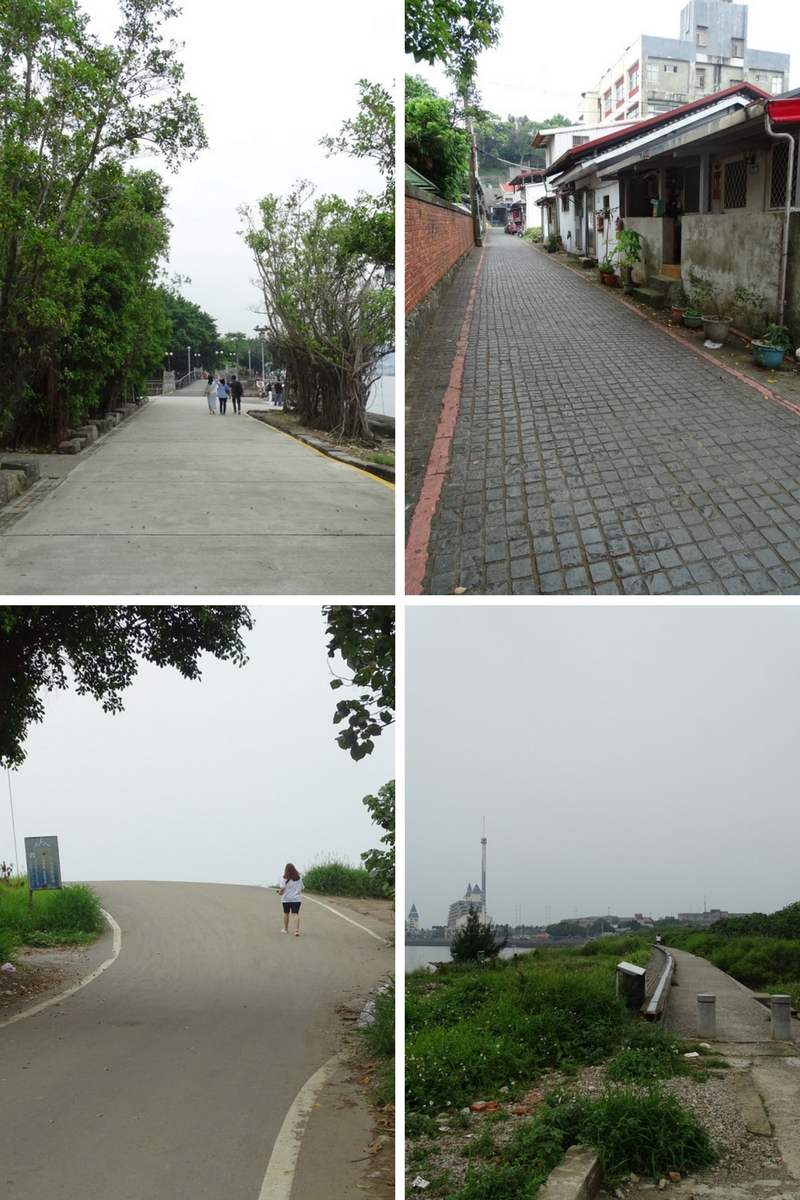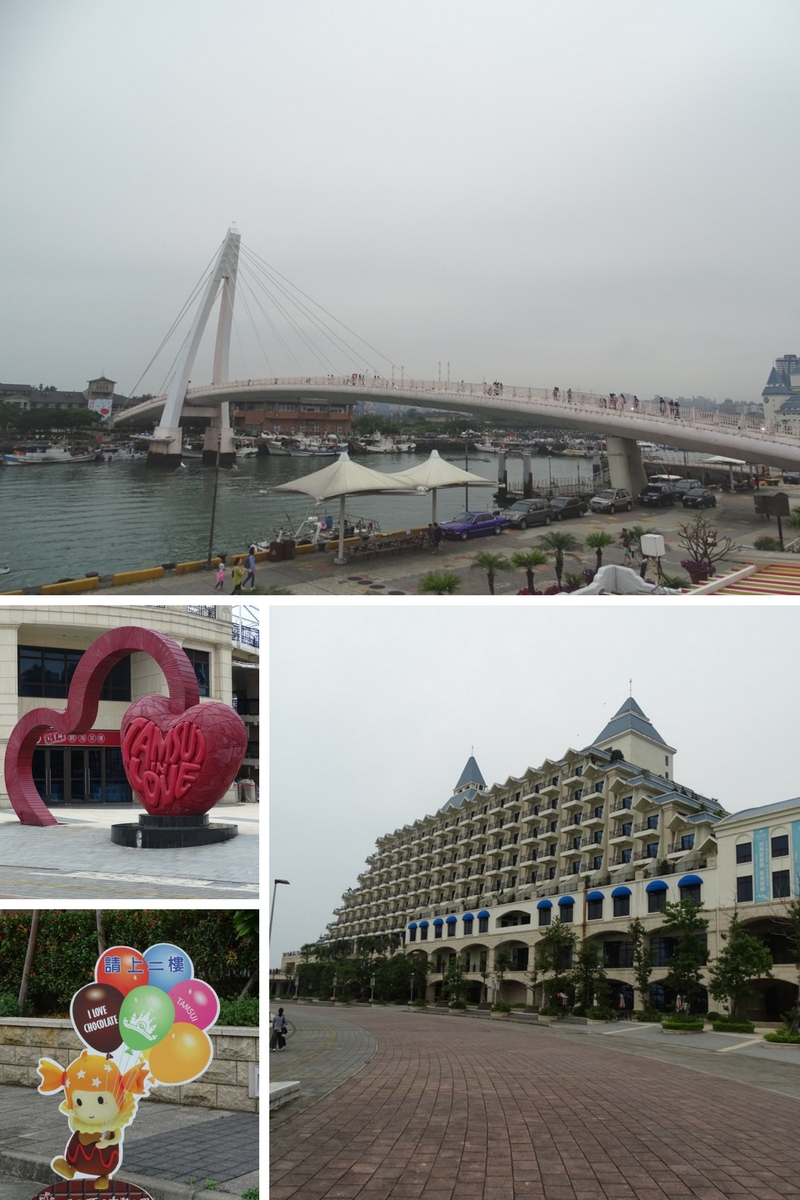 Fisherman's Wharf was anticlimactic. I guess it was a classic case of unfounded expectations from reading too many reviews. "A scenic spot," "one of the most famous locations in Taiwan, the Tamsui Fisherman's Wharf is well known for its beautiful sunsets and seafood…" Do not take me wrong – there is nothing bad with Fisherman's Wharf. It's just… not my cup of tea. Too commercial, perhaps? We walked around a bit, took some pictures and quickly turned back.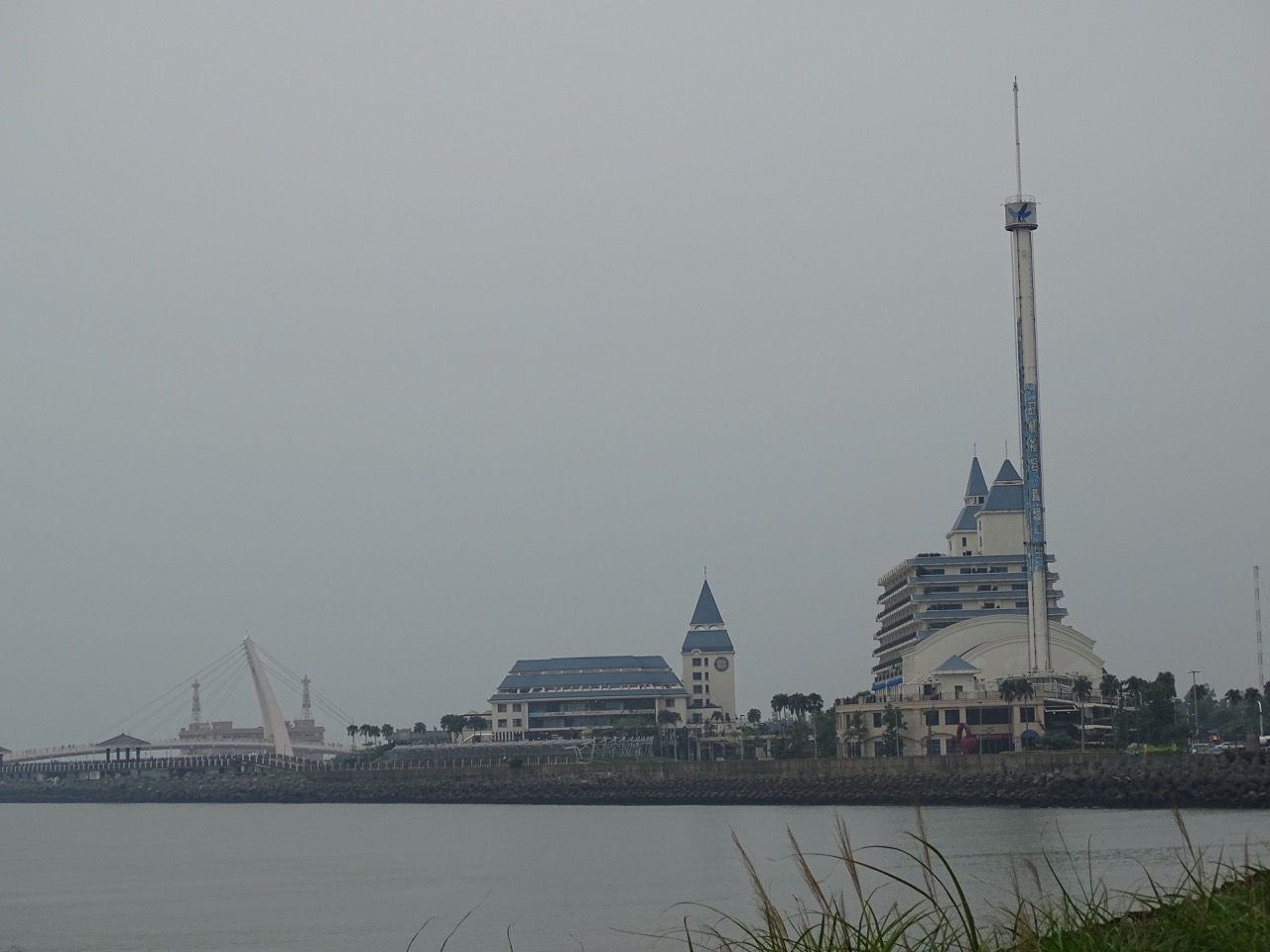 Useful Tips:
Tamsui is a popular place. If you are coming on a weekend, it's better to call a restaurant make a reservation.
Ferries accept EasyCard payments. Get one and use it to avoid waiting in line to buy a ticket.
Share this article on Pinterest by clicking Save button