Surprise! Hanoi has winter
Winter in Hanoi is a time of great change, when grey clouds fill the sky and rain coats are replaced with layers of warm clothing in the markets.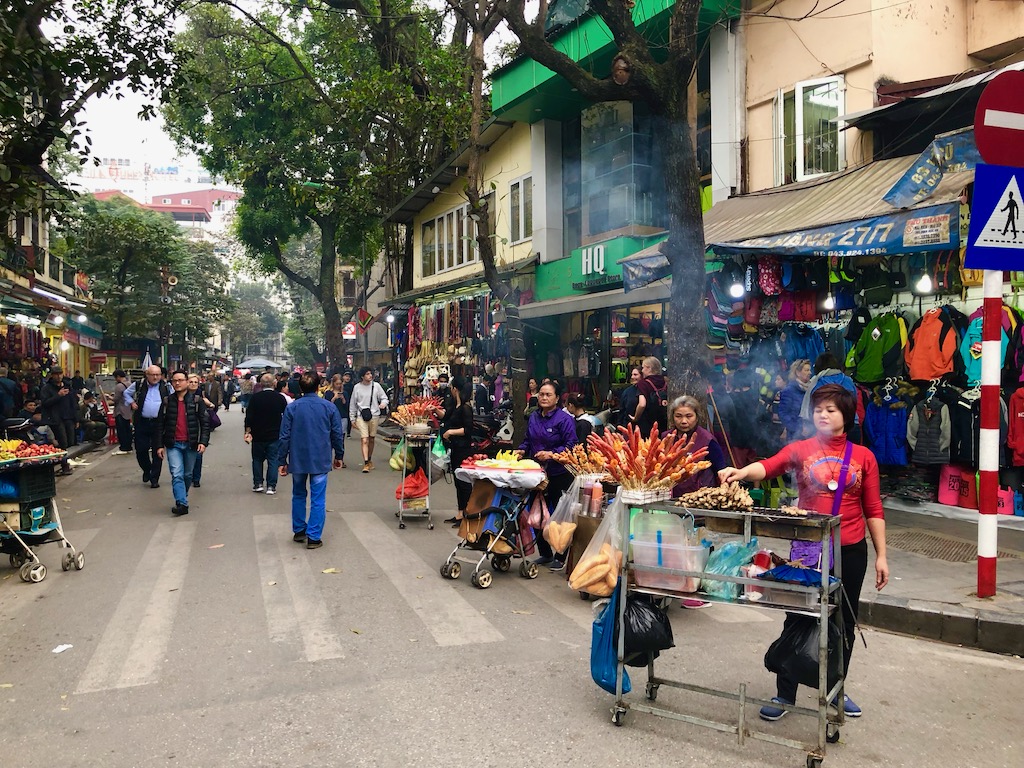 It's true the Hanoi winter brings a certain chill and most first-time visitors seem rather surprised with the clouded or misty appearance of this vibrant city in northern Vietnam.
At the same time, there is little to no rain during the winter months and plenty of reasons to ignore the cold, while the cozy cafes and sizzling street food can seem even more enticing than any other time of year. With this in mind, let's take a look at what to expect and how to prepare for the Hanoi winter:
What to expect during the Hanoi winter
In case you might be asking yourself, the Hanoi winter takes place between the end of December and late March. For this reason, many visitors choose to arrive before or after this particular period.
However, temperatures start to drop at the end of November and begin rising again by mid-February. Although these temperatures rarely drop below 10-12C, the high humidity can also make the Hanoi winter seem a lot colder than you might expect. At the same time, there are still warm spells in both December and January, and it's not uncommon for temperatures to reach 30C.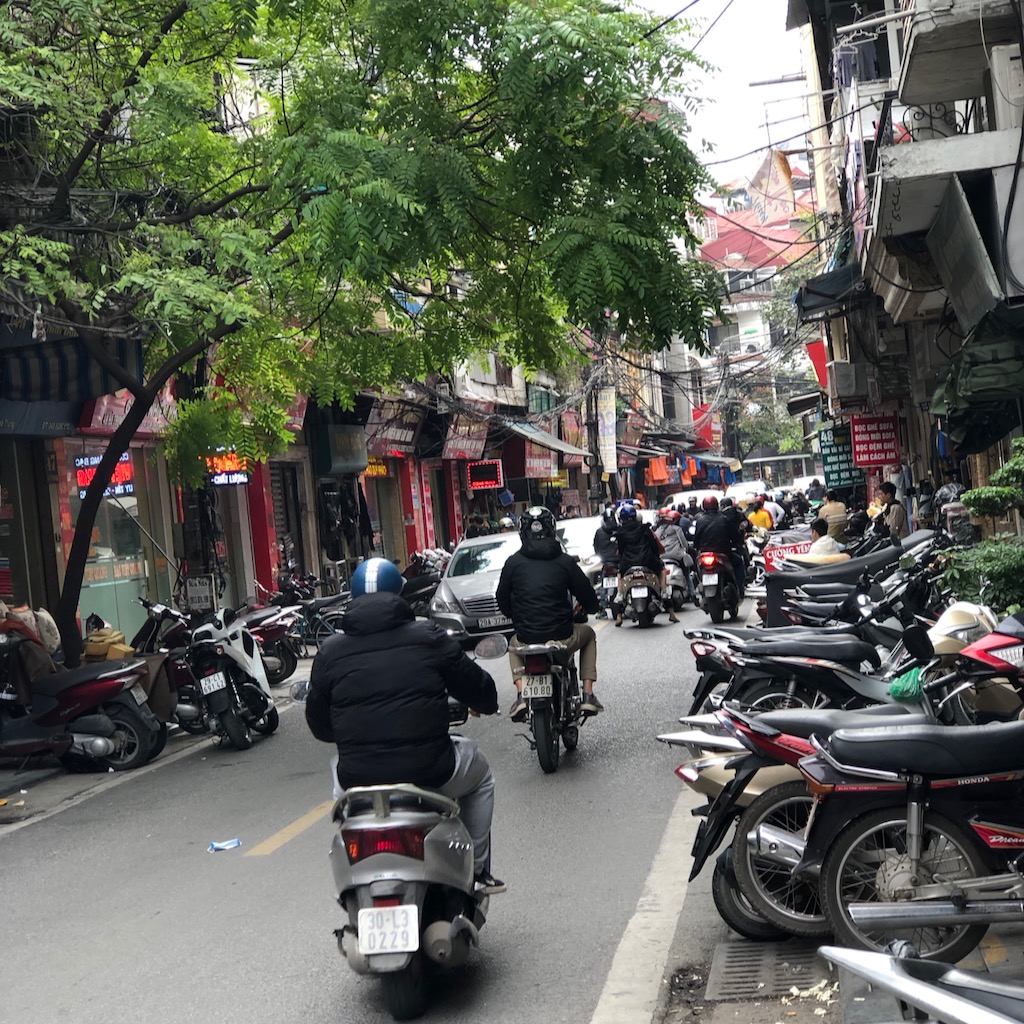 Personally, I experienced all of the above. Moreover, once Hanoi winter weather decided to surprise me with even more extreme albeit a brief and rare foray into subzero night temperatures.
Winter in Hanoi is a welcome change of seasons
On the other hand, most people are happy to escape the sticky summer heat in Southeast Asia. Additionally, there is literally no rain during the Hanoi winter. For this reason, winter is still a great time to visit Hanoi and the advantages or benefits most definitely outweigh whatever concerns you might have about the weather.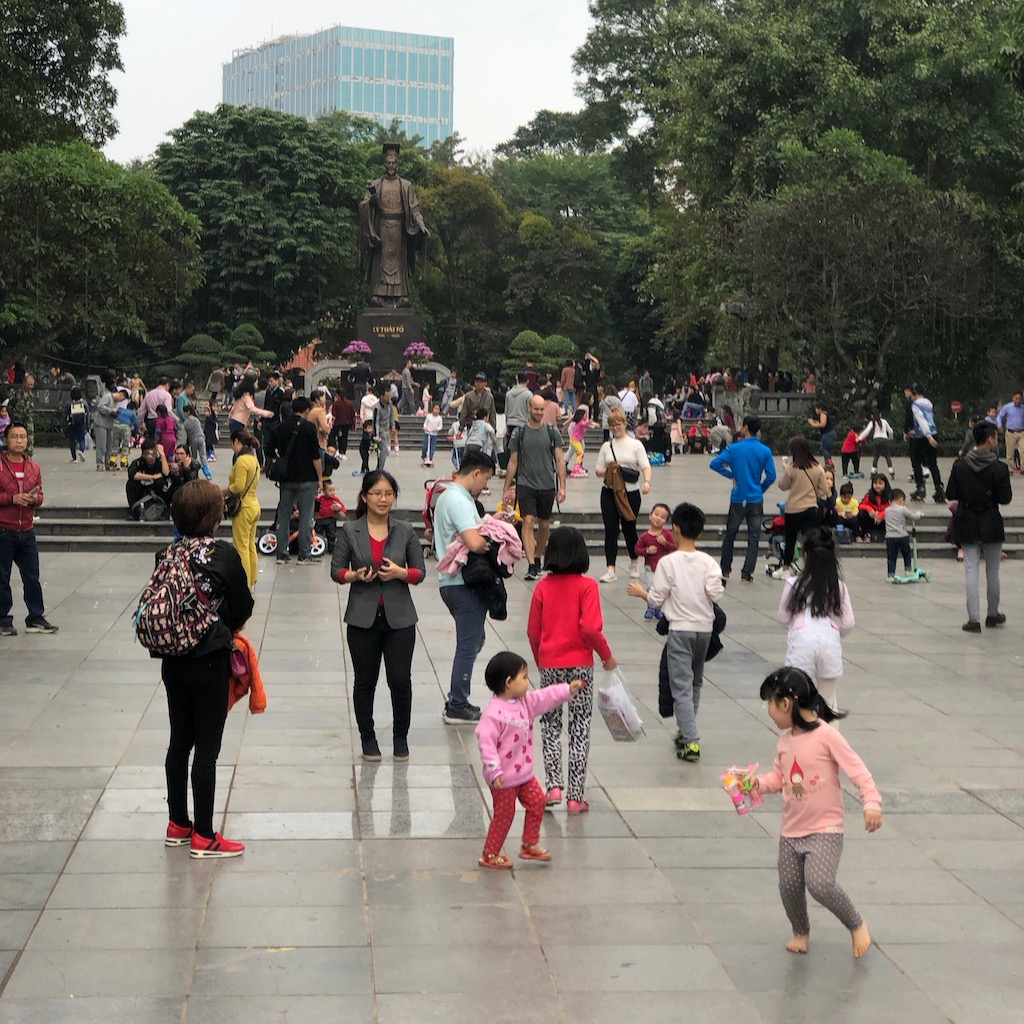 "As a European, I had the feeling that everywhere in South East Asia is a never ending summer. So weather in Northern Vietnam came as a surprise when I did a brief research before heading to Hanoi.
Still, we were lucky during our stay! Around 20 degrees during the day and a bit of sunshine too is not bad for winter, right? We could walk around wearing a light hoodie or even just a T-shirt.
But on our last day in Hanoi, as we were heading to the train station, it started to rain quite badly. Cloudy and a bit windy too, definitely not the type of weather you want while exploring a crowded city.
I think for this type of days there are so many North Face stores all around Hanoi Old Quarter. They have great prices too, so don't carry too much stuff for bad weather when traveling to Hanoi. In case temperatures drop, you can easily do some shopping here!"
~ Alina, The Happy Kid
Why air pollution is such a problem in Hanoi
As you may know, the Hanoi winter is accompanied by some especially dull and miserable looking skies. For this reason, the atmosphere can feel quite heavy and depression is increasingly common when the mood is so gloomy and unforgiving.
Believe it or not, while many visitors assume this mist-like appearance as being the result of winter itself, air pollution is the actual cause of this "grayness".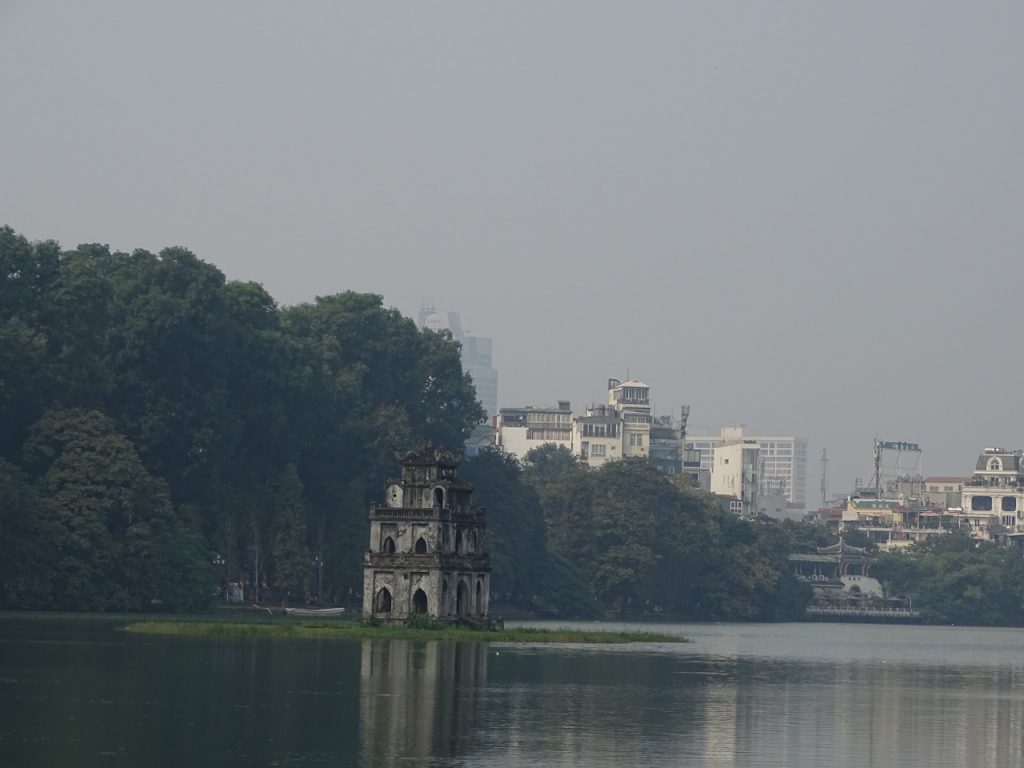 According to recent studies by a non-profit in Vietnam, mass construction and heavy industries such as cement and coal are largely to blame for polluting the air. What's more, agriculture burning and the increased number of vehicles on the road have only added to growing concerns.
But why is pollution so bad in Hanoi compared to other cities in Vietnam?
Good question…
Environmental challenges of Hanoi
Hanoi is known for having poor air quality and some of the worst environmental problems in Vietnam. Now, that's not to say you should avoid the city but rather to give you full transparency and a better idea of what to expect during the Hanoi winter.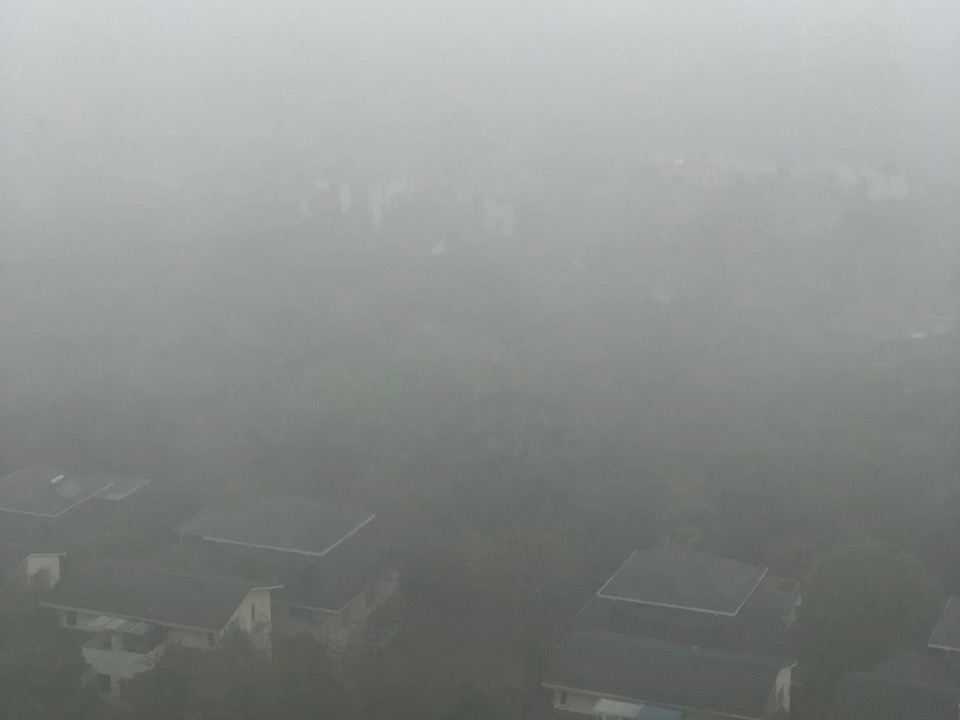 You see, China sits right on the shoulder of North Vietnam and along with the largest population, this country is home to the worst pollution on the planet. In fact, the smog over China is visible from space and studies show that a percentage of this atmospheric pollution even ends up in the United States. It's no wonder Hanoi can seem forever clouded in plumes of smoke and mist!
From sweating to freezing in one day
"Winter in Hanoi wasn't anything like I expected it to be.
When we arrived in early December we were greeted by warm weather, warm enough to make you sweat in shorts and a t-shirt. But then, 2 weeks later, it would be as cold as 7 degrees outside, and those shorts and a t-shirt would not cut it anymore.
Weather was changing on a daily basis, from sunny and warm, to monsoon like rain, to being able to see your own breath being so cold, all in one week.
So if you are planning on visiting Hanoi in winter, be sure to pack layers. T-shirts combined with a sweater and a rain jacket should be enough to prepare you for the ever changing conditions of Hanoi's winter.
But don't worry if you don't have a warm jacket or rain coat with you, it gives you the perfect excuse to go shopping in Hanoi's beautiful old quarter!"
~ Odette, Omni Vagant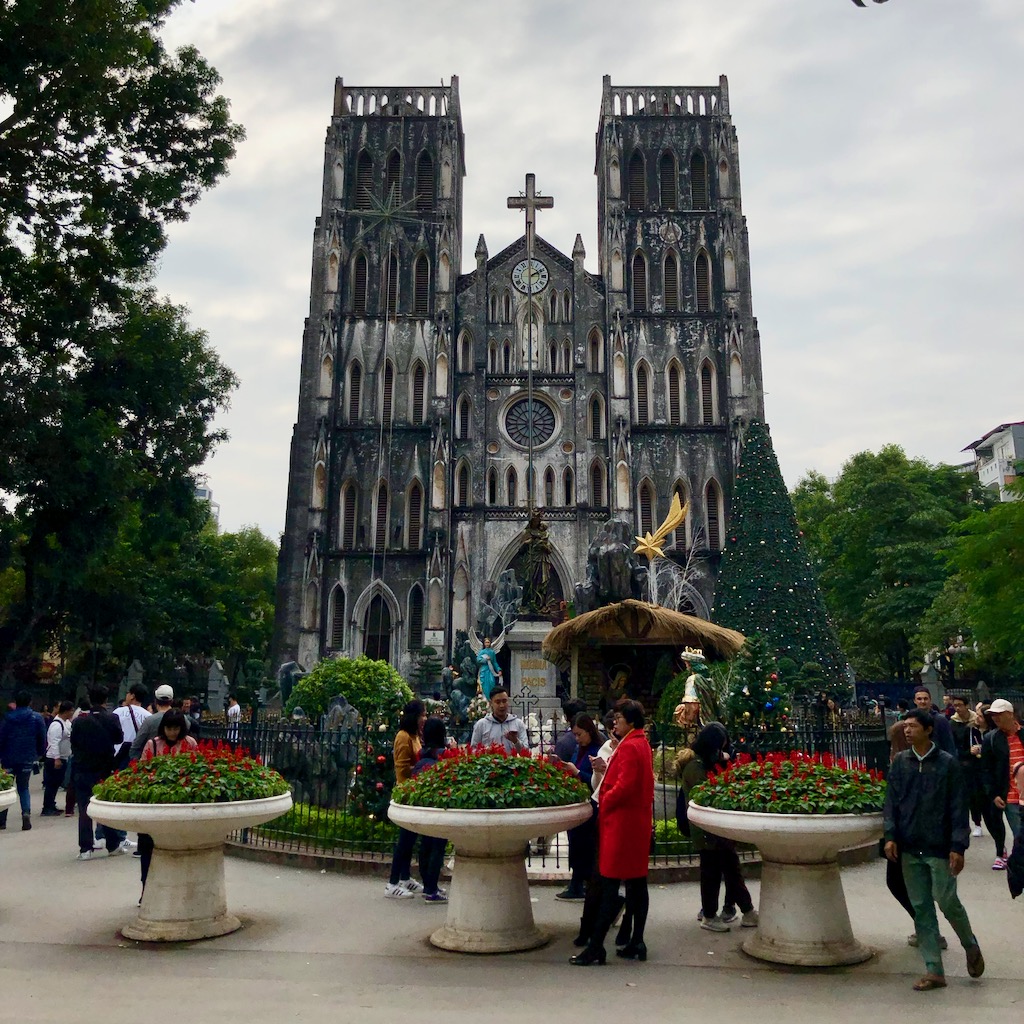 How the winter months can impact life in Hanoi
At the same time, I should also point out that Hanoi winter challenges are even more relevant or inconvenient for locals and those who might choose to live here for an extended period.
In other words, a tourist might not be too bothered by Hanoi's pollution during a weekend or week-long stay but this greyness can become quite relentless and even frustrating over time.
It's true, now and then a sunny day interrupts the Hanoi winter and locals take to exercising and picnicking in the parks. However, these days are very rare, so even expats, volunteers and visitors can find this gloomy weather quite taxing on the mind and body.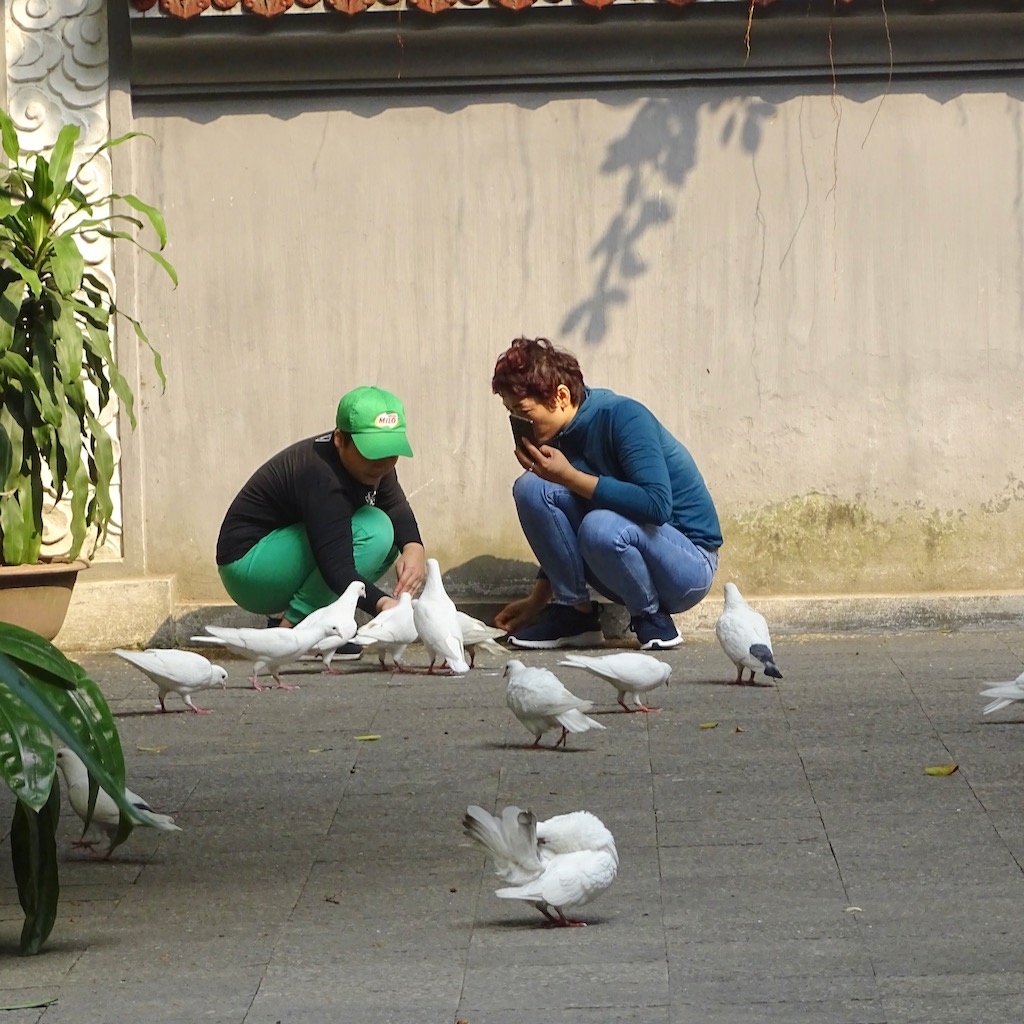 The difference a few months made
"Winter in Hanoi caught me by surprise.
I moved to Vietnam to live for a year and when I arrived in August, it was the height of summer. I couldn't believe the difference a few months made and just how bleak winter got.
The temperatures weren't all that low relatively speaking, but the difference for me was the moisture in the air. Because of the high humidity, it always felt damp, which made it that much more difficult to get warm.
I loved cozying up in Hanoi's cafes during winter. But the worst thing about winter in Hanoi for me was the elevated air pollution. Having a filtration mask is almost essential if you plan to spend a lot of time outdoors or travel around by motorbike.
When I had to buy a few extra layers to keep warm, I went to one of Hanoi's many second-hand shops. Later, I wanted to donate a few items to free up some room in my suitcase. If you find yourself needing to do the same, Peace Shop at Tay Ho accepts donations and re-sells clothing to raise funds for their women's shelter.
Just be glad you're not in Hanoi for the notorious 'Moldy March', when elevated humidity combines with warming temperatures to create the perfect conditions for mold."
~ Emily, Wander Lush
Good point, Emily. In my experience, Moldy March should be renamed into perennial Moldiness. Maybe I got unlucky, but this stubborn icky furry growth was lurking around regardless of season.
What to wear for the Hanoi winter
If you plan on sticking around Hanoi during winter, you will need more than just the right clothing.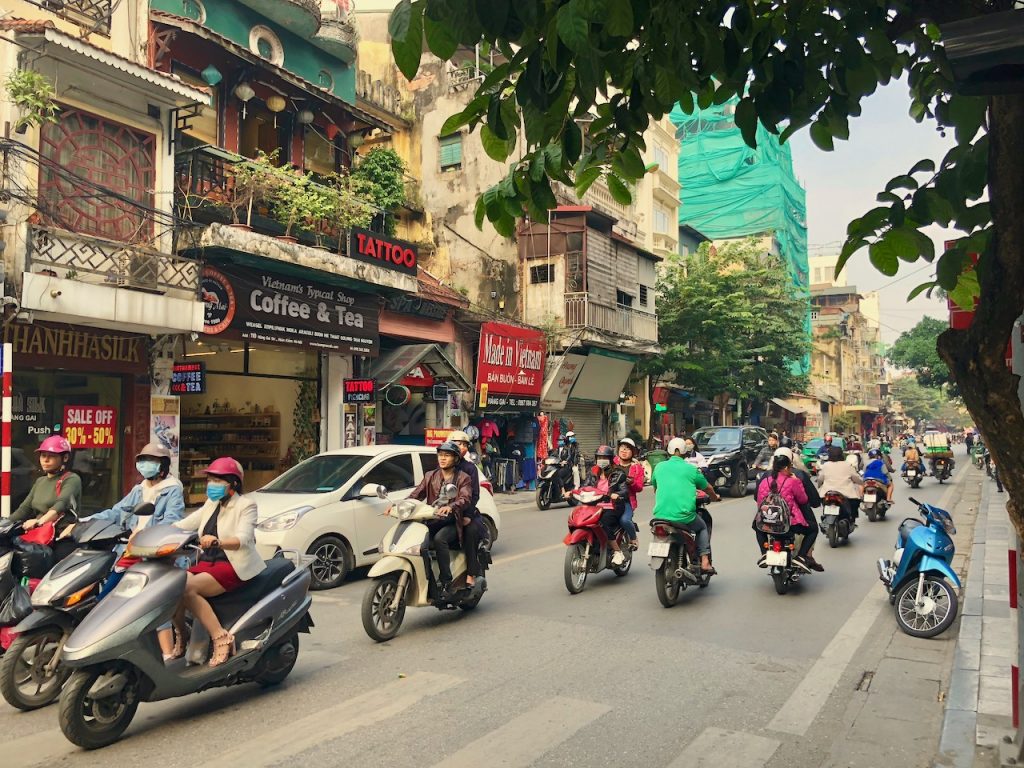 Namely, investing in an air purifier and a high-quality face mask will make things a lot easier on your respiratory system. In reality, the standard cloth masks you see on locals in Hanoi offer little to no protection and a respirator-like face mask Is much more effective. Look around for 3M mask.
On the other hand, if you experience any kind of respiratory problems, the Hanoi winter is something to avoid.
That being said, wearing the right clothing is essential for the Hanoi winter and taking layers is a must. Long pants and long sleeve tops are also necessary, while a warm sweater will always come in handy.
Most locals also wear hats and gloves but depending on your preference, a decent jacket and scarf is often enough to stay warm in especially cold snaps.
Needless to say, you should also have t-shirt and shorts at the ready and a layer system is certainly the best way to regulate temperatures.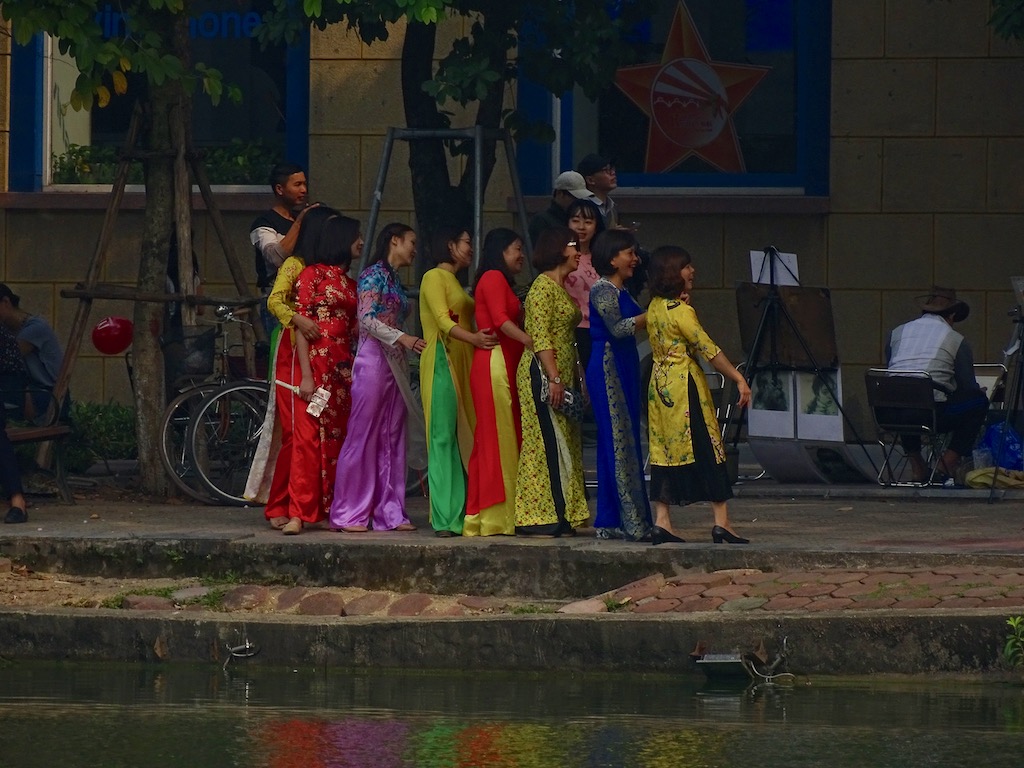 Overcoming winter in Hanoi with layers
"I went to Hanoi in February 2018 for Tết and, knowing it had a more mild winter, I packed clothing that could be layered. I brought things like jeans, long sleeved shirts, T-shirts, a dress, jacket, tennis shoes and nice sandals.
Hanoi was experiencing cooler-than-normal weather when I visited with sunny days & temperatures hanging out around 70 ° F (21 ° C) and cooler evenings, with temps hovering around 60 ° F (15 ° C). Layers really become your best friend since you'll be spending a lot of time outside visiting markets, monuments, biking or riding a motorbike, and just generally checking out points of interest.
Vietnam is also a Buddhist country. If you plan to visit the temples you will need to wear long pants and shirt that covers your shoulders; dresses and shorts are forbidden.
Have fun checking out the markets in Hanoi as stalls will carry outrageous clothing items, like banana patterned shirts and dresses! While these are 100% touristy, it's fun to wear out for a night of celebration and definitely a conversation starter."
~ Andy, 1k Mile Boots
As for where you should buy these items, it's best to pick them up before traveling to Vietnam.
Just so you know, western-sized clothing is rather difficult to find in Hanoi so even though the old quarter might stock replica clothing for North Face or Patagonia, buying on location is not a reliable option.
Similarly, online clothing is subject to steep taxes and fines, while the local websites in Vietnam are without English or any means of translation.
Final Thoughts
Winter is a great time to visit Hanoi and the absence of rain is most certainly a bonus.
While air pollution is clearly a problem, the conditions are still comfortable and you can at least avoid the hot and sticky weather down south.
Most importantly, Hanoi is just as interesting to explore during winter and the cold snap can bring a new or different perspective to the experience.
After all, "different" is good and eating a delicious bowl of pho is like a warm hug on a cold day!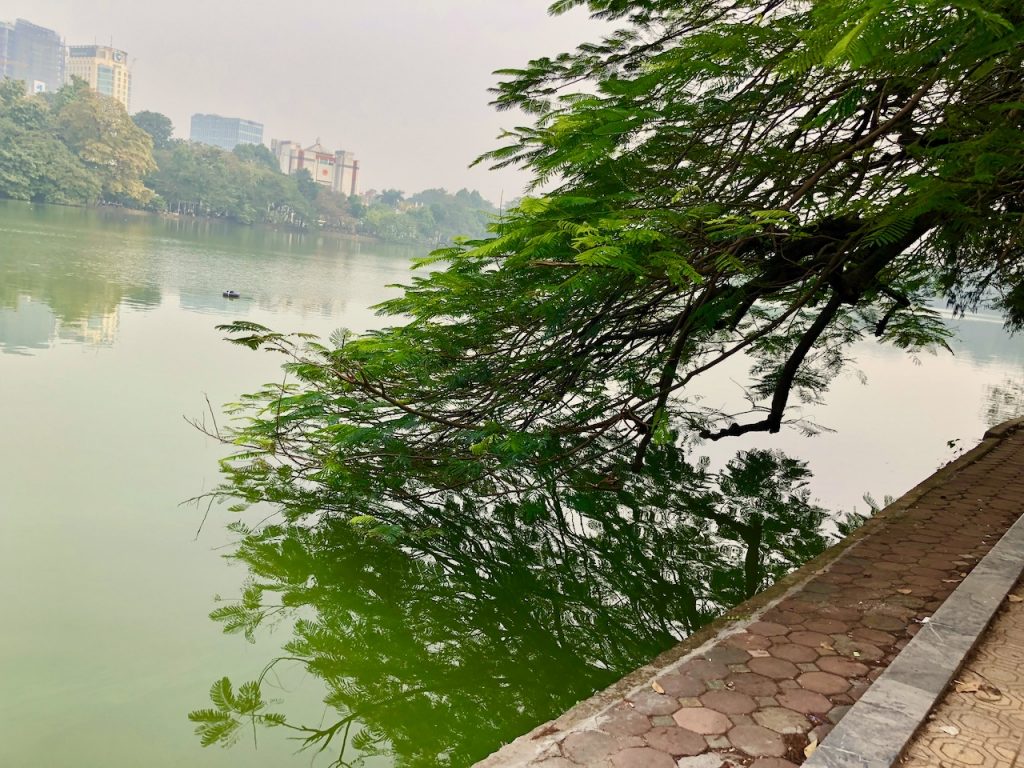 If you liked this article you might also like: