Chiang Mai was the first destination of our newly found nomadic lifestyle. The year was 2013.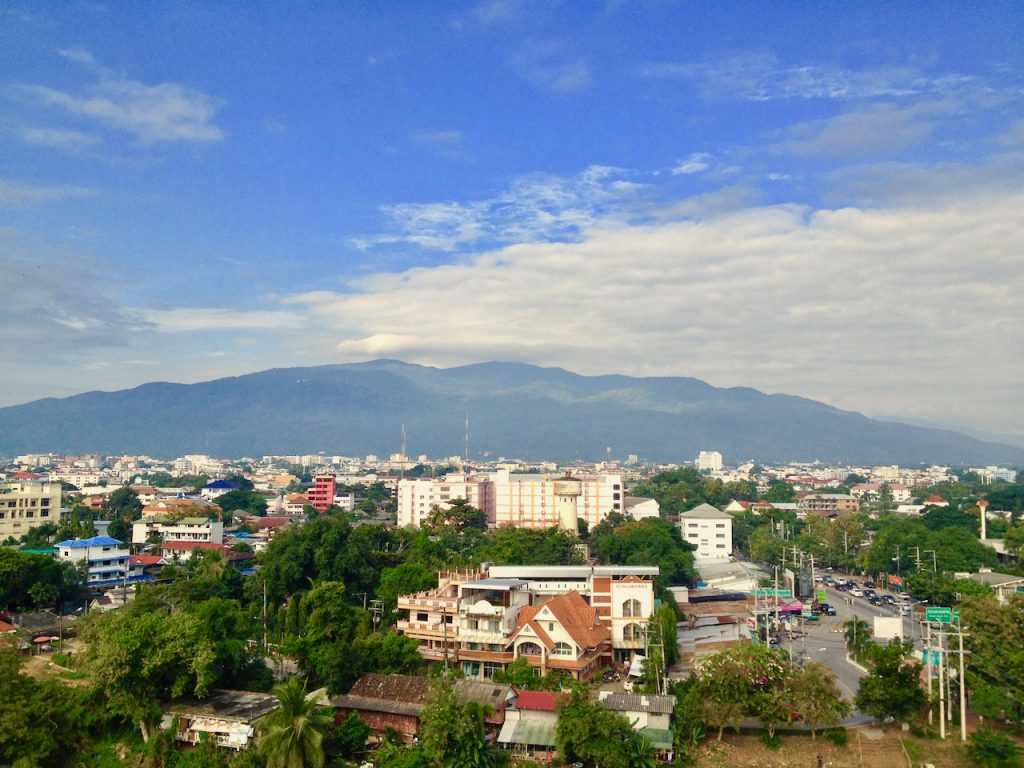 Since then, we embraced long-term slow travel as a location independent (i.e., digital nomad) couple.
I may laugh at my fears and insecurities circa the beginning of this journey, but this first impression of Chiang Mai is so sweet and innocent. I may become a seasoned full-time traveler, yet I still cherish this early memory.
Care to read how does it feel to dive into the unknown? Here we go.
Chiang Mai 2013 – Return To Innocence
At last, after months of preparations, reading and researching, we are in Chiang Mai. We've been here for about one week: enough time to compare reality with expectations, dispel some myths and get first sunburn.
It's hard to believe nowadays, but I almost enjoyed our flight to Chiang Mai. Our 3 leg trip (Seattle —> Vancouver —> Hong Kong —> Chiang Mai) with Cathay Pacific went amazingly smooth, and we even had an opportunity to explore Hong Kong.
Chiang Mai greeted us with warm cloudiness as a welcomed change from late fall grayness of the Pacific Northwest.
However, we managed to arrive during Yi Peng Festival (Lantern Festival) when Chiang Mai population swells with revelers.
The city was on the last stretch of preparations to culmination of all festivities with some streets closures, vendors setting their tents and crowds going toward the center.
Our taxi driver was doing some really impressive maneuvers that left me speechless: at one point, we were riding on the opposite side of the road, and later the passage between vendors was so close that side mirrors of our car were literally touching stalls on both sides.
Couple days later, one of our Chiang Mai acquaintances remarked that for some local drivers it's not that they do not know traffic laws, but they are not aware that traffic laws exist to begin with.
Our drive from the airport was so adventurous that I decided never driving in Chiang Mai. I am perfectly fine with walking, thank you very much.
Who needs an alarm clock when there are dogs and roosters around
There is no need for an alarm clock. Every day starts with roosters crowing. Frankly, last time I was woken up like that was in a village where I spent summer vacations as a child.
Nights belong to barking dogs. They do it very purposefully to the point of annoyance.
Traffic is crazy on main thoroughfares, and markets and tourist traps are buzzing with visitors.
However, if you turn on any side road the city changes drastically: it transforms into quite a bucolic setting that I haven't expected from a fairly sizable city (for statistics lovers, Chiang Mai population was slightly above 170,000 back then.)
Chiang Mai is not a hidden gem anymore. Looks like the word got around, and it became the next hot spot not only for bloggers and digital nomads who favorited this place for a while, but for everybody else too.
Growing popularity comes with some problems: traffic and housing (or lack of thereof) probably the most noticeable ones.
That said, I want to praise local drivers for their good vibes and positive attitude. In our travels, we've seen and heard of some pretty nasty road rage examples, but so far in Chiang Mai drivers, motorcyclists and pedestrians tend to resolve their differences more or less peacefully.
Housing is an interesting issue. So much so that it deserves its own story. Since it hasn't happened, here is a worthy replacement.
Thailand Travel Resources
is a comprehensive list of resources that help a long-term slow traveler or a digital nomad to address any issues that may while living in the Land of Smiles.
Falling in love with Chiang Mai
Nevertheless, we fell in love with Chiang Mai. Maybe because of its people?
Generally, locals are extremely polite to the point of shyness. Yes, there are some that fell under the western influence, but they are, thankfully, seldom specimens.
We encountered one right after leaving the airport in a form of a taxi driver whose greediness was appalling and amusing at the same time. Maybe because of the weather?
I know, I know it is the coolest time of the year, but it's fantastic now: even though it's fairly hot under direct sun, but refreshing in the shade and after sunset.
Maybe because of the charm of narrow side streets or grand appearances of its golden temples?
Food is the crowning glory
Oh, and definitely food. I should say the Food. The variety, freshness and tastiness are unbeatable: from Northern Thai dishes to better known southern ones to Indian to Italian and everything in-between. There is something for any palate and budget.
Here is what I said then…
Chiang Mai will be our base for the next six months. From there, we are planning to travel around SE Asia and explore some local destinations too.
… and now
Six years later, we are still happily cruising the world. For more than twelve months now, we've been based in Asia again. First, in Japan; next, in Taiwan. Finally, for an unusually long six months, we settled in Vietnam. The next stop? Thailand. The circle is complete.
If you liked this post you may also like:
Published: December 2013. Last update: May 2019