On the way from Europe to Australia, we flew with China Southern Airlines (aka China Southern). I mentioned it couple times here and there and was going to put it to rest (i.e. not writing about our experience).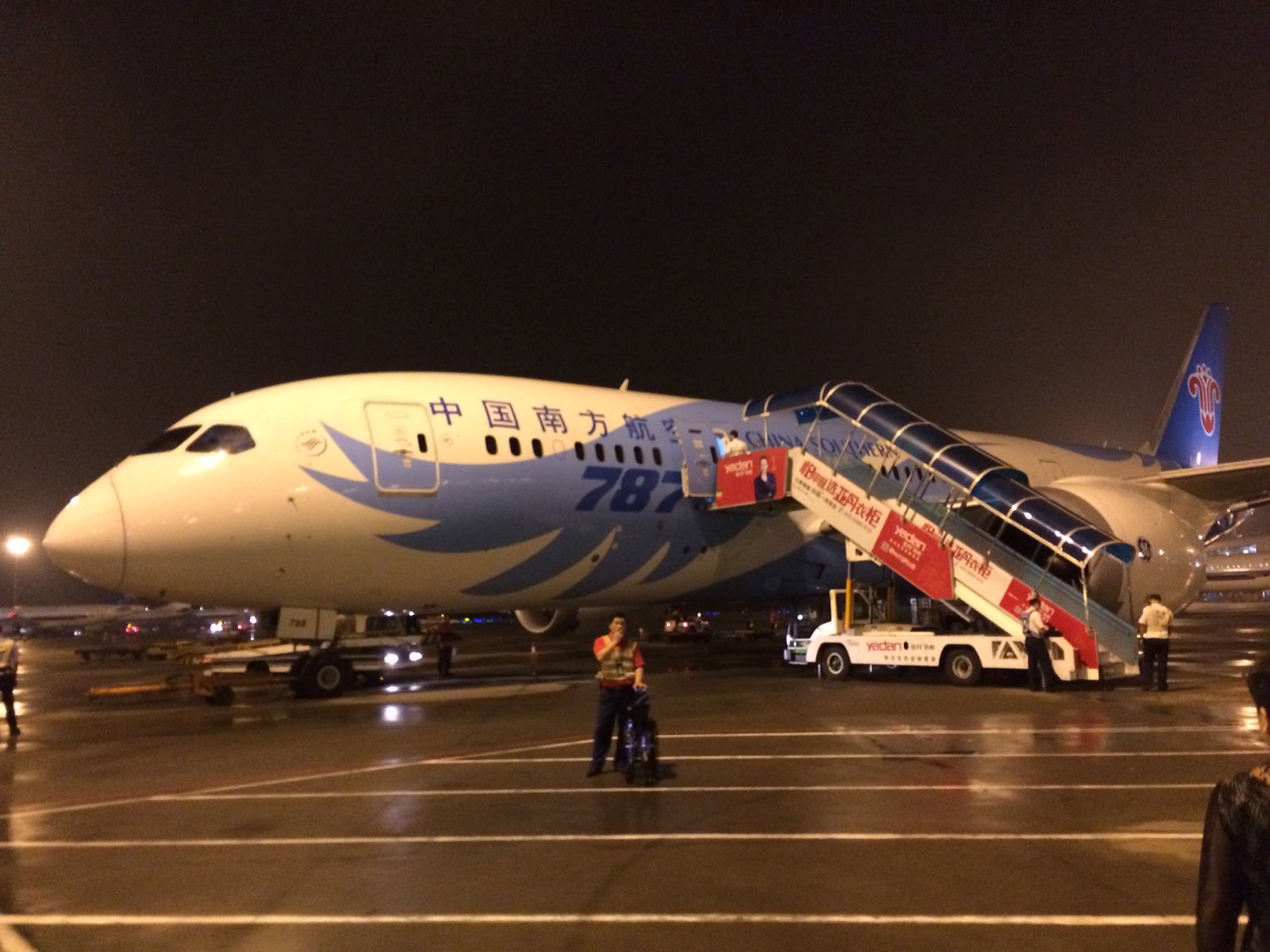 Always learning
Shortly, I got a number of messages asking to share my opinion about this airline. I agreed. However, our trip ended up on a low note. My immediate knee-jerk reaction was to write an "I would never fly with this airline again" variety of review. I even wrote a draft. Almost published it, but caught myself thinking that it was not fair. It took me more than a month to calm down and file the whole experience under "always learning" mental folder. Meanwhile, a promise is a promise, I have to fulfill my obligation.
Here it goes.
Who is China Southern Airlines
According to Wikipedia, China Southern is the world's sixth-largest airline measured by passengers carried and Asia's largest airline in fleet size, revenue and passengers carried. It is the fourth-largest airline in the world in domestic passenger traffic and the sixth-largest in scheduled domestic passenger-kilometers flown. It has a fleet of more than 500 aircrafts. Pretty impressive, isn't it? Yet, I never heard about this airline before.
It popped up on my screen with suspiciously affordable price for business class tickets from Tbilisi to Perth. Flying half the world in relative comfort for $1,600USD?

There must be a catch. Indeed, online reviews of China Southern were quite polarized. People either loved it or hated it. Some negative reviews though were pretty laughable. Complaining about no western-style food on a menu or lack of English speaking people at an airport? Seriously? I like Chinese food. Contrary to popular belief, English is not a universal language. Goodwill, patience, and Google Translate app work reasonably well.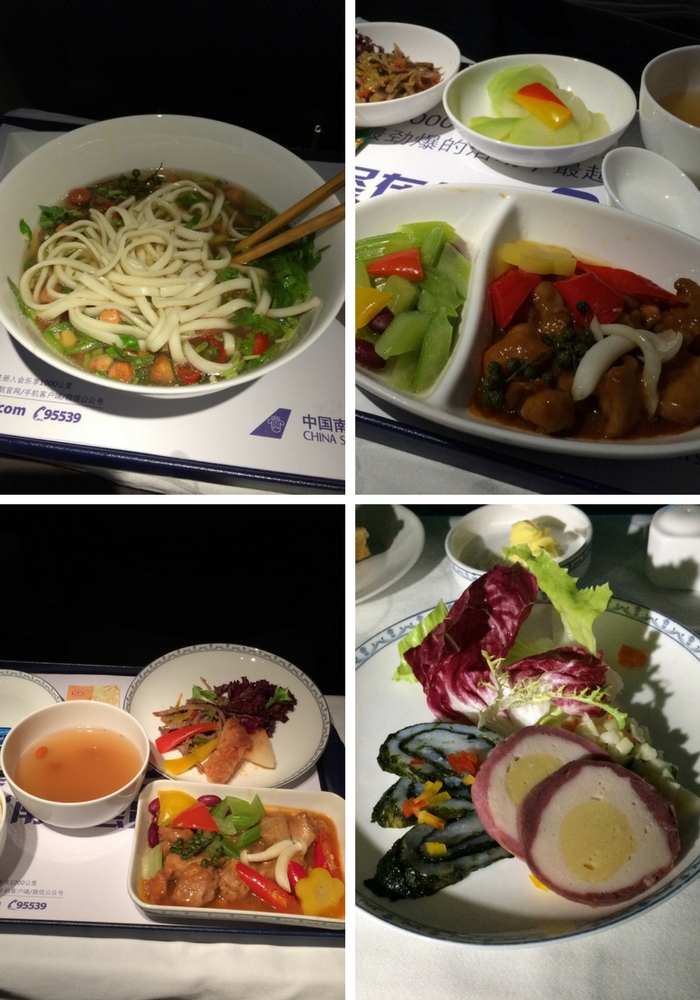 From Tbilisi to Perth with China Southern
Flying from Tbilisi to Perth required two stops in China: Urumqi and Guangzhou. The Transit Visa allows visiting both of these cities during layovers. China Southern cleverly schedules flights in a way that willing passenger can spend a day in Urumqi and almost 24h in Guangzhou. We have never been to China, so it was an offer that we couldn't refuse. On top of that, the airline provides free accommodations (in 5 or 4-star hotels for business class travelers) if a layover is longer than 6 hours. Sweet!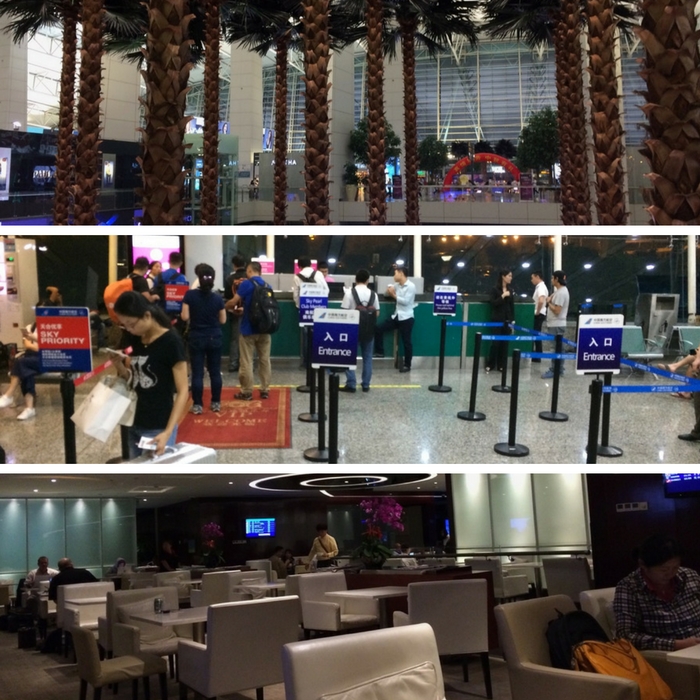 We took a plunge and bought tickets.
It is important to note that it was possible to buy tickets directly from China Southern website or their app. Call me paranoid, but I was reluctant to give my credit card number and other sensitive information to a Chinese website. Better be safe than sorry. I used Expedia instead.
Our itinerary
Tbilisi —> Urumqi —> Guangzhou —> Perth
The total time in transit: 51h.
Flight Tbilisi to Urumqi: 4h 20min.; Boeing 737
Layover in Urumqi: 11hours 30min; Hotel Mabelle. (Read about what to do on a layover in Urumqi)
Flight Urumqi to Guangzhou: 4h 30min; Boeing 737; domestic flight (note: China Southern does not serve alcohol on domestic flights.)
Layover in Guangzhou: 22h; Civil Aviation Hotel. (Read about awesome things to do in Guangzhou)
Flight Guangzhou to Perth: 8h; Boeing 787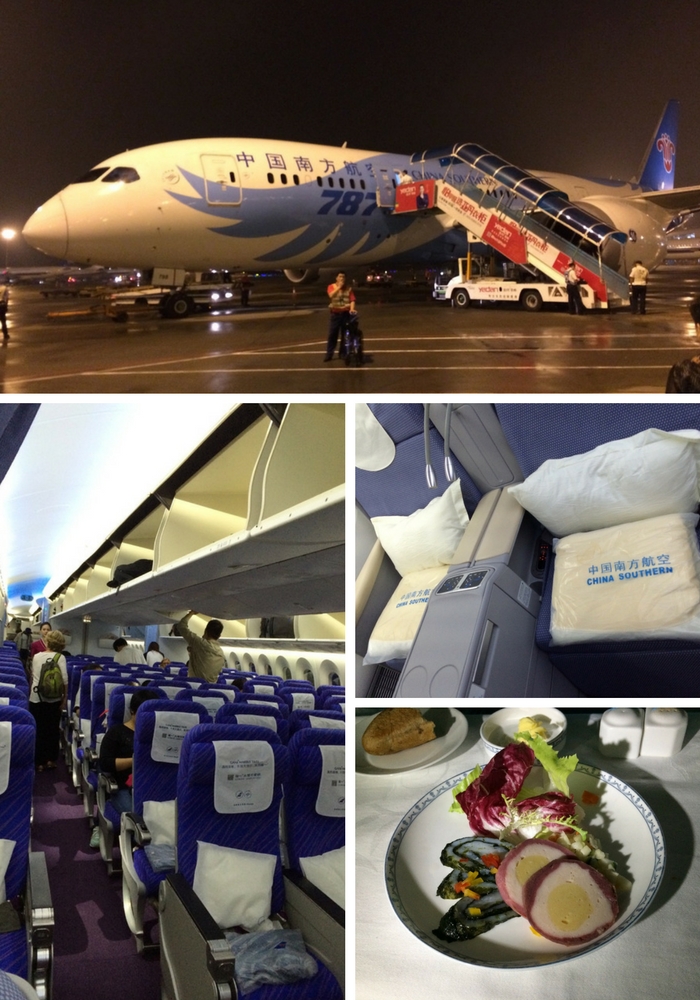 If you are still reading – wow! I admire your patience. However, I do not think you survive a blow-by-blow account of our journey. Let's take a different road.
Looking back, I can see similarities between all flights (in-flight service level, plane conditions, etc…). Unfortunately, there were some wrinkles too. So, it's time for… the good, the bad and the ugly.
The good
Flight Attendants!
I flew with many airlines all over the world. Some had better flight staff, others worse, but I never met more dedicated, helpful and attentive ladies. Curiously, on all 3 flights all flight attendants were women. We saw some male China Southern employees at the airports but not on planes.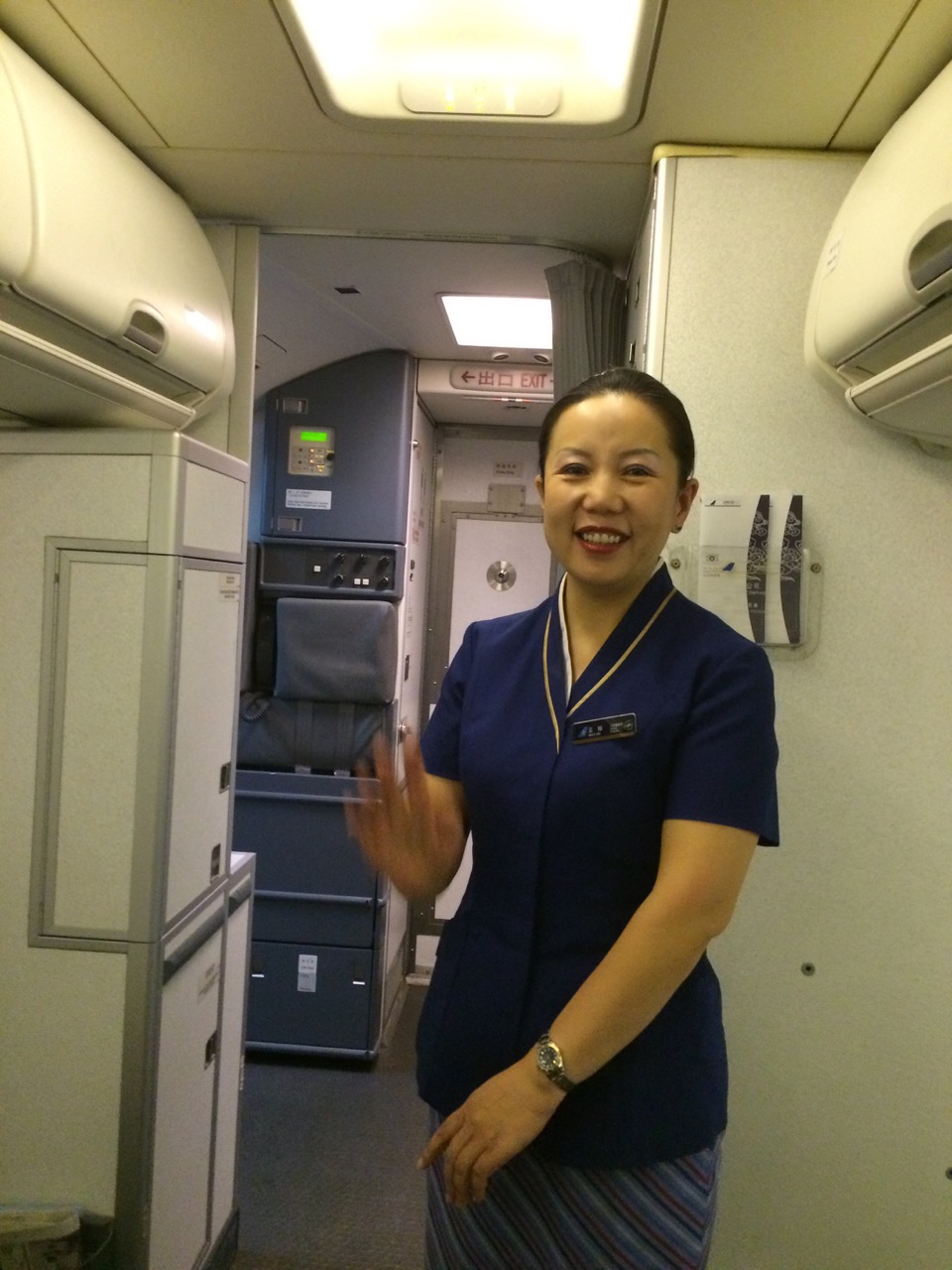 A smile goes a long way. On our flight from Urumqi to Guangzhou, I complimented a stewardess for serving great-tasting green tea. Before landing, she brought me a handful of tea bags as a small gift.
The in-flight level of service
I guess, this closely relates to #1. Water and hot towels were provided roughly every half an hour. By the end of flight, bathrooms were as clean as they were at the beginning.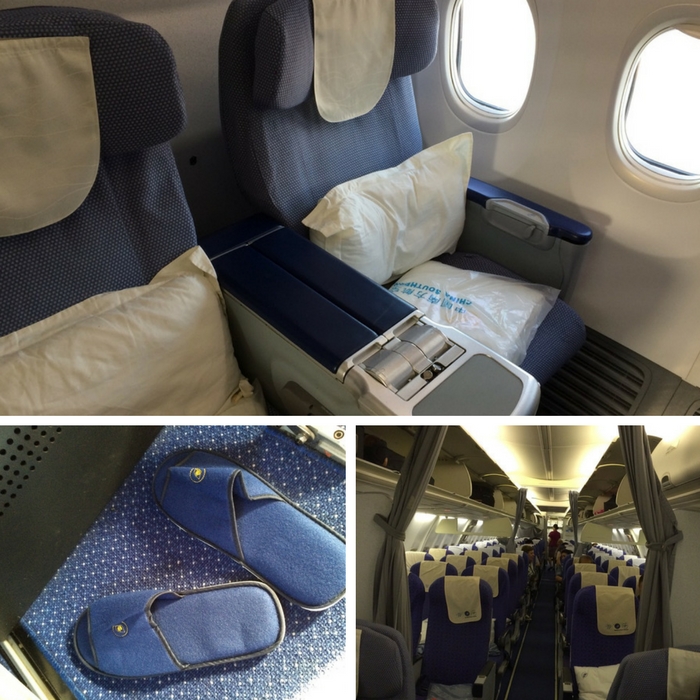 Fleet age
All 3 planes we flew were either brand new or just 2-3 years old. All were clean and well-maintained.
The airline assigns minders at the airports to all business travelers
You might laugh, but trust me navigating both airports, Urumqi and Guangzhou, without a person familiar with how things work would be a great challenge. Going through Immigration, potentially, could be even worse.Here is an example. During check-in in Tbilisi, we were given passes not to the final destination, Perth, but to Guangzhou. A person at the counter was having trouble with issuing passes for the whole journey. We didn't pay too much attention to it – no problem, we will get new boarding passes for the remaining flight in Guangzhou. Little we knew that it would bring a huge issue with Chinese Immigration. The officer noticed that we were flying to Guangzhou, a Chinese city, but we didn't have visas. He asked for proof that we were not planning to stay there indefinitely. To him, the only valid proof was a boarding pass which we didn't have. An itinerary on Expedia website showed on the phone didn't work. That's where our minder became indispensable. They talked in Chinese for couple minutes, and, voilà, we got Transit visas for 72h.
It's small detail that counts
A long-forgotten perk of comfy slippers for business passengers, regardless of the flight length, was a nice touch.
Last but not least. Free 4 or 5-star hotel was a nice perk. After a long flight (or two 😉 ), a quality bed with crisp, clean sheets and a nice shower are lifesavers.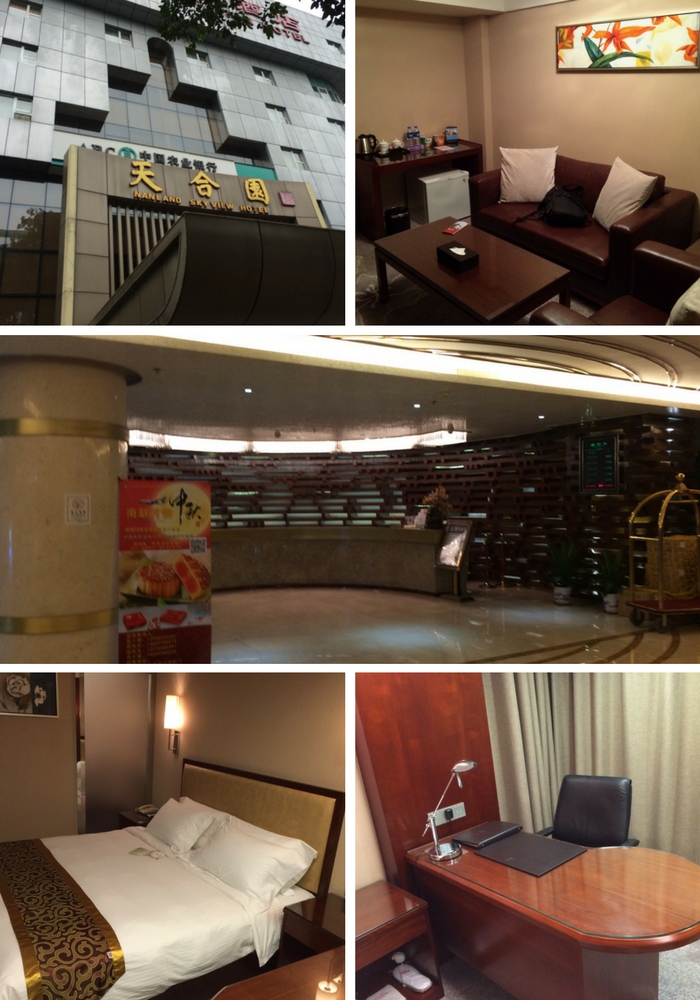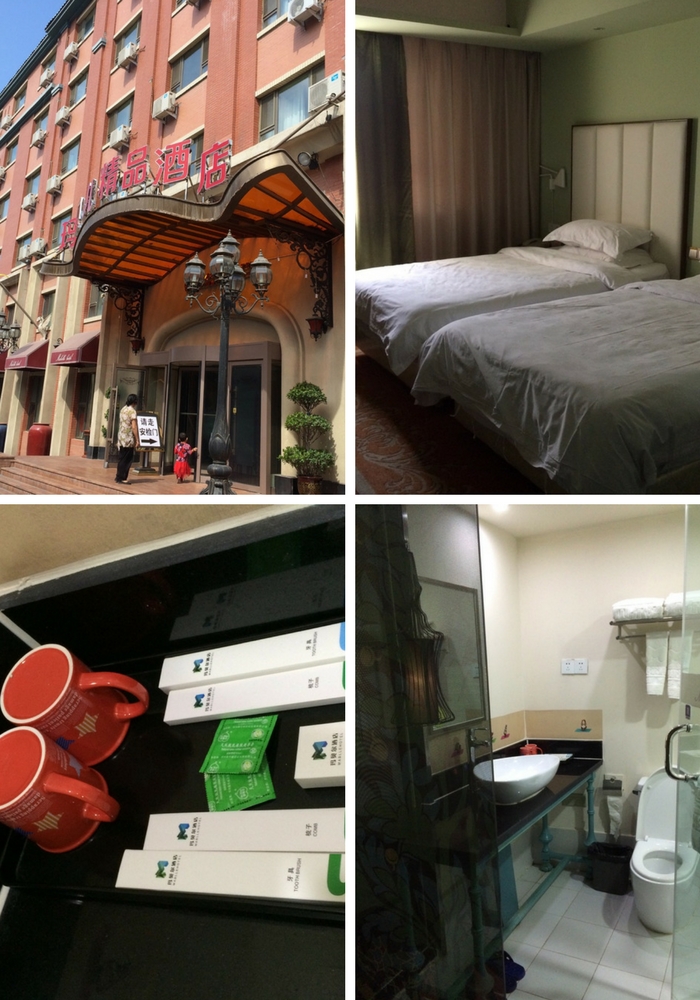 The bad
Flying between lesser known destinations.
Frankly, I was baffled. Come on; your airline flies between two cities – shouldn't you know how to code them into your system? Hilariously, in Guangzhou, the airline staff didn't even know that Perth is in Australia. We couldn't get boarding passes for the whole trip. Check-in counter staff was having permanent problems with Tbilisi and Perth Airport codes: didn't know them, couldn't find them, the boarding computer system was refusing to accept them. At some point, they could print a boarding pass for one person, but couldn't for the other.
Failing to get a boarding pass to the final destination.
As described above (read #4 of The good), having a partial boarding pass that "lands" you in a Chinese city is a potential trouble with Chinese Immigration.
Immigration process in Urumqi.
It was chaos. Shouting crowds of travelers consisting predominantly of small-time merchants from nearby countries with huge empty suitcases. Shouting immigration officers frustrated with an unruly crowd. I was pushed and shoved by people behind me so violently that I had to move aside. I sympathize with the officers: routinely sorting out these disorderly crowds is frustrating.
Intense security checks at Urumqi.
All transit passengers have to claim their luggage at Urumqi. It goes through screening again before departure. Our luggage passed first screening. Apparently, there is another screening after check-in before loading it on a plane. This time, we were asked to open one of our suitcases for a manual check. We had my old laptop and couple hard drives in that suitcase. Airport staff requested to take them out and "inspected" them (i.e. looked at them and inquired about their purpose.)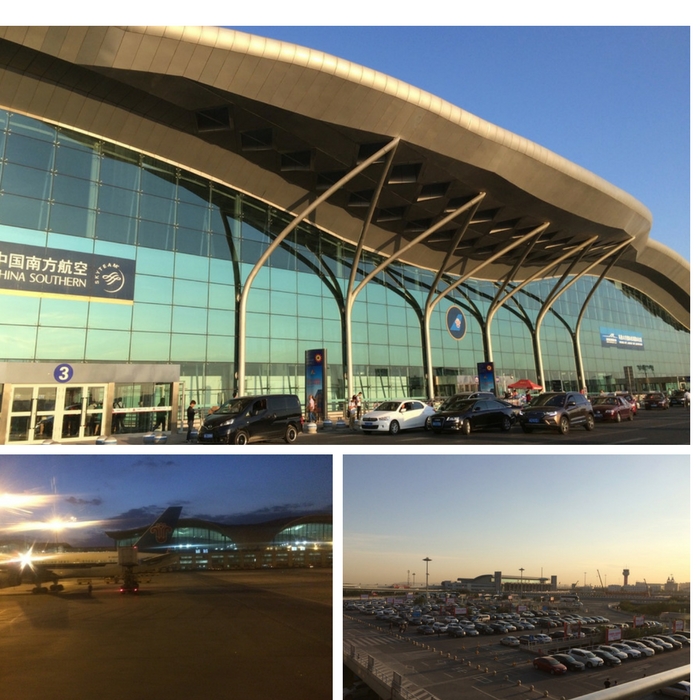 The ugly
We were bringing a special gift to our Australian friend: a bottle of Georgian chacha. Aside from fine spirit quality, the bottle itself was of the unique design that is impossible to find outside of Georgia. Since I couldn't take it with me in a carry-on, I carefully packed it in many protective layers of paper and fabric and put it in a box. To my horror, when I opened a suitcase I found the box squashed and the bottle untidily wrapped. Even worse, a part of the intricate design was broken. Moreover, my spare glasses were out of their protective case. Since tornadoes do not strike inside suitcases, the only logical explanation would be that someone opened our bag and went through it without even bothering to tidy up afterward.
Been a seasoned traveler, I accept some darker reality of flying with commercial airlines. Your bags can be opened, searched, lost. Some items from your luggage may mysteriously disappear. Realizing that somebody's dirty hands went through your belongings without your consent is, frankly, disgusting. You have no control over it. However, the fact that our special gift was destroyed just like that was disheartening.
Would I fly with China Southern again?
And finally, here comes the million-dollar question. Would I fly with China Southern again? The answer is yes, but:
only in business class if traveling through China
with carry-on luggage only
I would avoid long layovers
Cheers, and enjoy your flight.
A few more articles you might like to read:
Budget Airlines And Regional Carriers: Flying Under The Radar
Indie, the Multi-Stop Airfare Search
Flying to Chiang Mai …and loving it
Share this article on Pinterest by clicking Save button