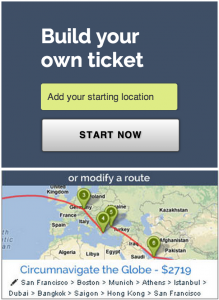 Happy birthday, Indie, and many more to come! You've grown a lot in the past year :).
First time I heard about Indie was exactly one year ago. Well, actually, I got an email from BootsnAll announcing the launch of the first multi-stop airfare search. I've been a member of BootsnAll for quite some time, in an entirely lurking capacity though, to appreciate the quality of information they provide and the value of the indie travel community they've grown. Hence, it was a no-brainer to try this new tool.
As they claimed, and to the best of my knowledge, at the time, it was the only tool for multi-stop search. I tried it and… was not overly impressed. It was a great idea, but, in my opinion, it was more a beta version than a final product. Having tech background, I appreciated the effort and the amount of work spent building the search, but it was lacking some important features, at least important enough for me, to put it in "will check later" pile. Surely you can guess what happened next. I went back to my usual flight searching routine: Hipmunk+Skyscanner+Airlines+LowCostAirlineGuide ad nauseam. It was time consuming, boring and annoying, but I could search flexible dates, change locations, compare prices, etc… – many things that were still missing in Indie.
One year forward, yesterday, I got an email with somewhat puzzling subject "632 Reasons to Save Money on Indie in 2014". Frankly, back to my first attempt last year, "Indie" as the name of the search tool haven't registered in my head – I was referring to it all the time as "Multi-Country Flight Finder". Anyway, 632 looked impressive, so I read the rest of the message. Wow, they've been busy: there were 59 new releases over the past year, 632 new features have been added, and 682 bugs were resolved. Impressive! Obviously, time has come to give it another try.
Incidentally, I am in the middle of planning where we are going to go next for the rest of this year. Tentatively, it looks like this now: Chiang Mai, Thailand (Jan-May) –> Barcelona (or somewhere else closer to the water), Spain (May-July) –> Split, Croatia (July-September) –>Quito, Ecuador (TBD, could be Peru or Colombia instead)(September, November) –> USA (TBD+Chicago)(November) –> Thailand (possibly Chiang Rai)(December). Naturally, I am not eager to begin my customary multihour/multi-website research and try to procrastinate as long as I can. So Indie came to light again just in time.
Note that to save results of your searches you have to have an account with BootsnAll. Since I already had one, all I needed was to dig out my password.
I spent about an hour playing with Indie yesterday: changing locations, dates, even sequence of legs. I ended up with this criteria: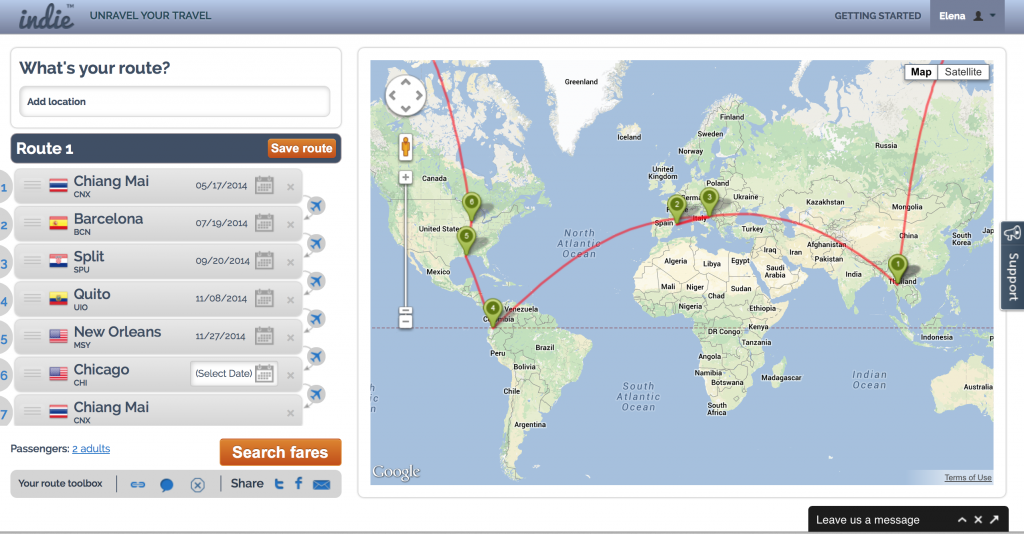 with these search results: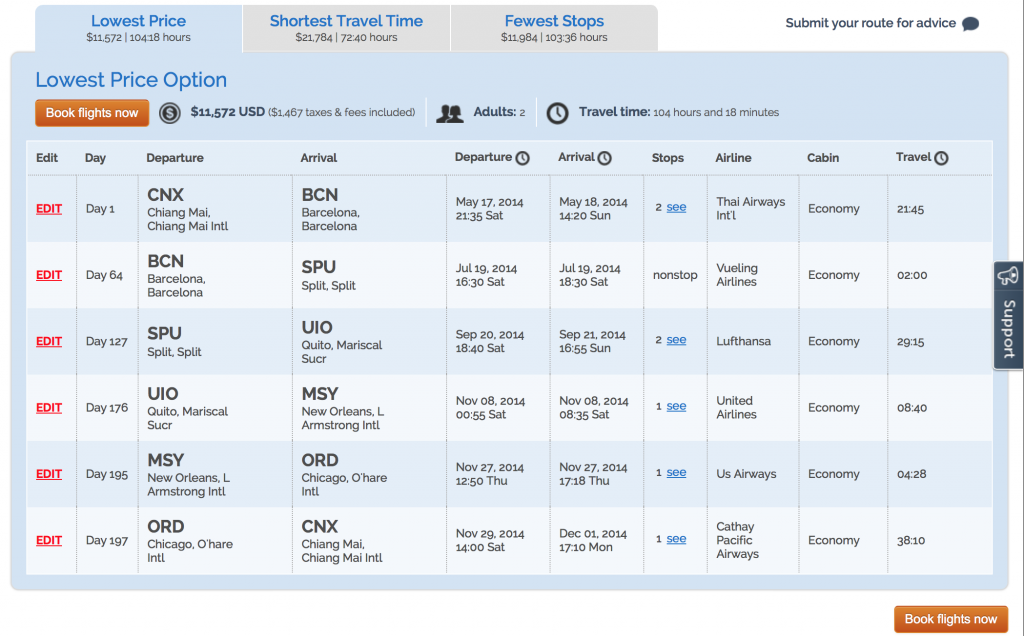 It is important to note that flexible dates are available for routes with 5+ legs only.
I've got 3 different itineraries: "Lowest Price", "Shortest Travel Time" and "Fewest Stops". From there, I can pick the one that suits my needs most and continue refining it: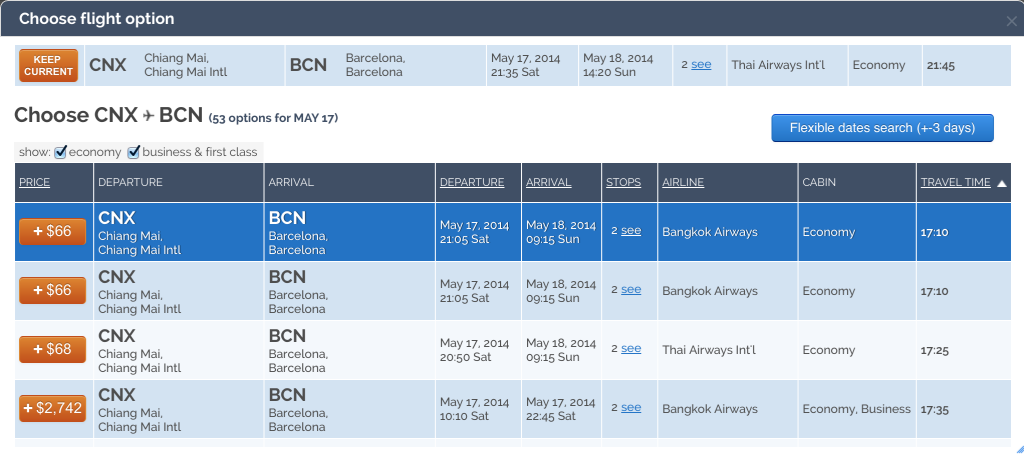 by either choosing a flight on the exact date or go with flexible dates option: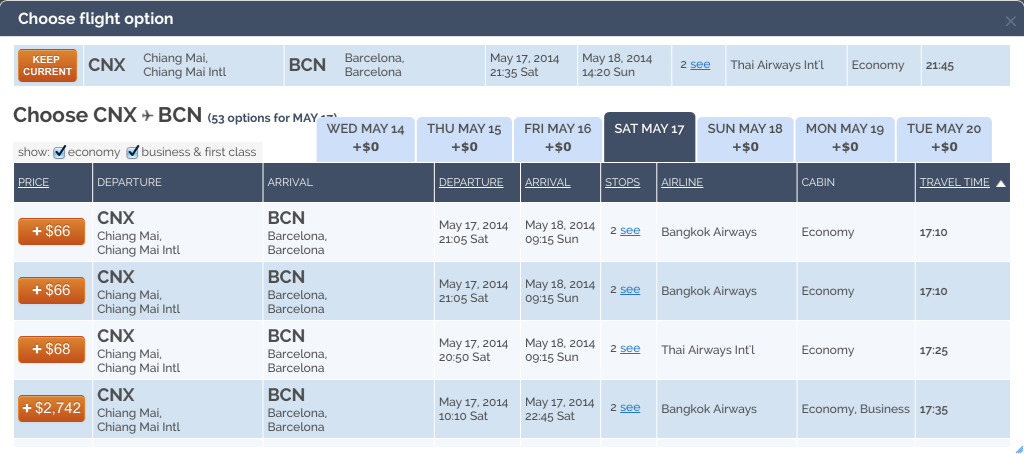 I can also submit my route for advice: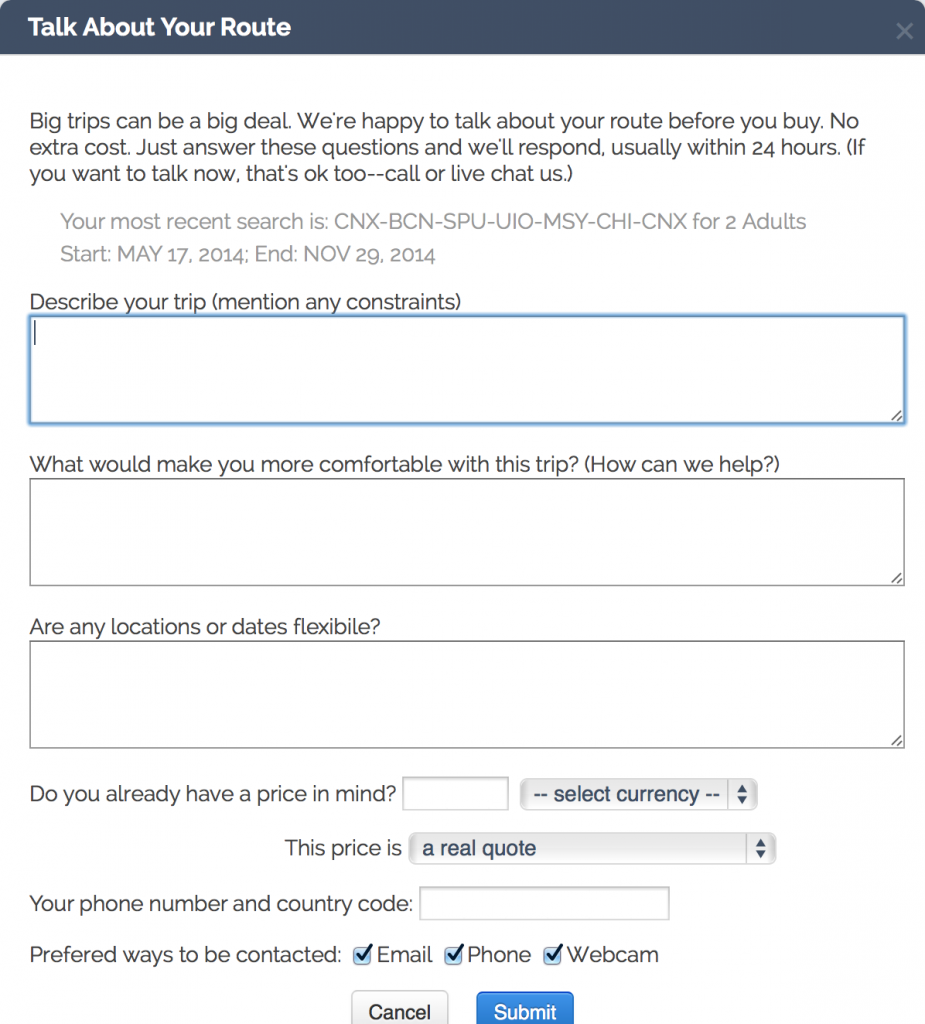 According to Indie support, they will coordinate with the airlines to secure the flights and provide the user with one document with all the flight details.
Since I needed more time to finalize our plans and play more with itineraries, I was not ready to book flights. No problem. Indie allows to save search results for future use.
According to search results, for the routes/dates I chose my price choices for 2 persons ranged from $11,572(lowest price) to $21,784(shortest time).
Being a research junkie, I can not resist the temptation to run my own searches just to compare results. However, to be honest, Indie's search results are very satisfiable and even better than I expected.
I found Indie's user interface to be easy to navigate and pretty intuitive, but there is a presentation available that explains how Indie works.