I suspect that most, if not all, practical tips below would pertain to American travelers, whilst useful links… well… could be useful for anyone visiting Amsterdam. Tips ##2,3,4 have been added exclusively after chatting with some American tourists who recently visited Europe and were somewhat baffled by how things work there.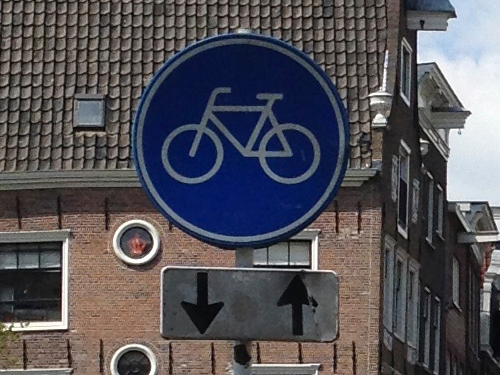 Practical Tips
Pay attention to the markings on sidewalks: one side is for pedestrians, the other side for bicyclists. Trust me, it's better stick where you belong. Shouting is the nicest choice of what could happen to you if you step out of your boundaries.
There is a master switch in a hotel room to reduce power use: insert your keycard into a slot next to the door to turn on the electricity; remove the keycard before leave and the electricity shuts off. The master switch is common in Europe, Asia and elsewhere in the world except in the US.
European toilets are two flush. This means that there are 2 buttons. Simply speaking, one is for #1 and one is for #2. I hope you got the idea. These toilets are common in Europe, Australia and New Zealand, and help to save millions of galling of water.
Like everywhere in Europe, Amsterdam stores by default accept chip and pin credit cards. The US and Canada are still using signature credit cards with some banks offering chip and signature credit cards. You will be able to use chip and signature cards in some stores and restaurants, but clerks would refuse to process signature credit card.
We found excellent fresh and tasty fruits, veggies, meat and fish in local grocery stores. However, grocery stores do not accept foreign credit cards. Make sure that you have cash when you go to the store. Also, majority of grocery stores work till 18:00 (6PM) and closed on Sundays. Albert Heijn is among the most expensive supermarkets in Amsterdam, but selected shops are open late on week-days (until 22:00), usually those who also open on Sunday.
Check these online travel resources that helped us in Amsterdam.