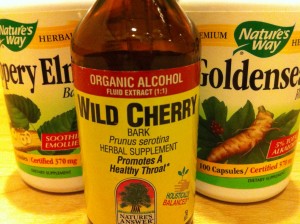 Bronchitis is an inflammation of the bronchial tubes. The bronchial tubes get infected and produce mucus, which causes a person to cough. There are 2 types of bronchitis:
Acute bronchitis (lasts between 1 to 3 weeks, but cough can remain for up to 3 months afterwards). It is usually triggered by the common cold.
Chronic bronchitis (long lasting or recurring, and mostly occurs among smokers). I do not have any experience with chronic bronchitis, so it is not a part of this conversation.
Since acute bronchitis is most often caused by a virus, antibiotics are not helpful. Generally, acute bronchitis will cure itself without any specialized medical treatment. However, I found from personal experience that some herbal supplements can help speed up recovery:

There was one supplement that did not work well for me:
Umckaloabo – Umckaloabo contains an extract from the root of the South African Geranium. It is known for successful treatment of acute bronchitis, upper respiratory tract infections, the common cold, and tonsillopharyngitis. Known to stimulate the immune system, it also helps prevent the spread and growth of infection. For this reason, some people use the herbal remedy as an alternative to traditional antibiotics. Learn more about Umckaloabo research here. However, when I tried it after 2 dosages my stomach got upset, so I stopped using it. I could not find it in stores in US, but you can buy it online.
I found references to some other supplements that may help to treat bronchitis, but I haven't tried them myself: licorice root, turmeric, ginkgo leaf extract, ephedra, cinnamon. If you plan to try them out, please do research first since they may potentially interfere with other medicine.
Last, but not least: take plenty of rest and drink a lot of fluids (my personal choices: chicken broth and green tea).
This information is for educational purposes only and is not intended or implied to be a substitute for professional medical advice. Always seek the advice of your physician or other qualified medical provider for all medical problems prior to starting any new treatment.