If you ask me for one word to describe Volubilis, it would be Wow!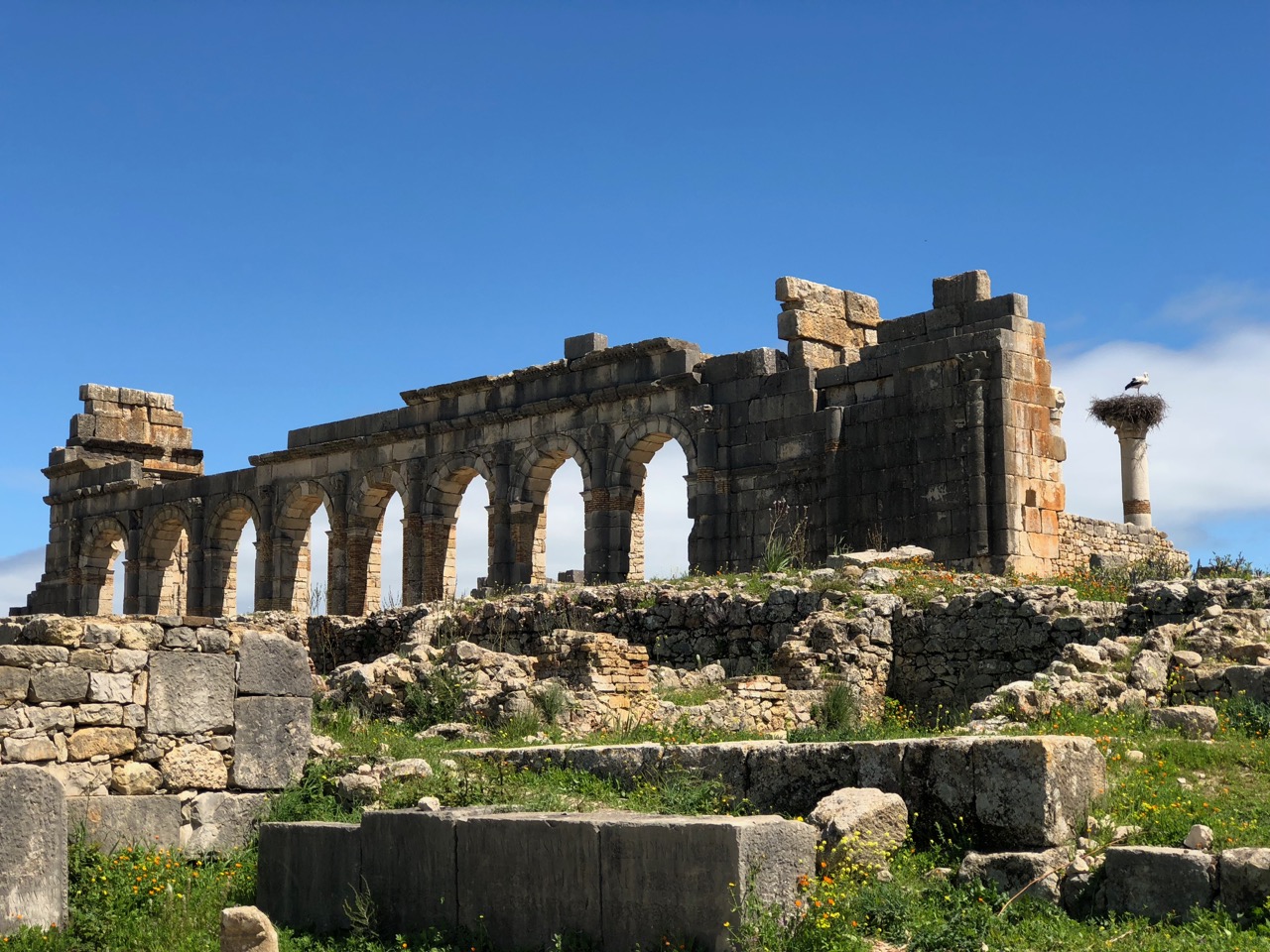 Mind you, I am not crazy about ancient ruins. Modern ones put my imagination into overdrive, whereas visually reconstructing two or three thousand years old buildings out of their mere outlines is not my cup of tea. I admire archeologists for their ability to put together a convincing picture of a house or a temple when all they have is just an elusive footprint buried underground. A bit of science plus a touch of magic and, voilà, here is a Roman household. This is not math and guessing is a part of a game. I love reading signs unabashedly explaining that whatever is in front of you could be either religious or food storage. Volubilis is different.
We would never know how Volubilis looked exactly when it was full of people at the height of its existence. I was surprised not to be concerned about it. Instead, I admired the present setting: picturesque ruins of mighty city embedded into an emerald bowl of the valley adorned by misty hills. What an amazing sight!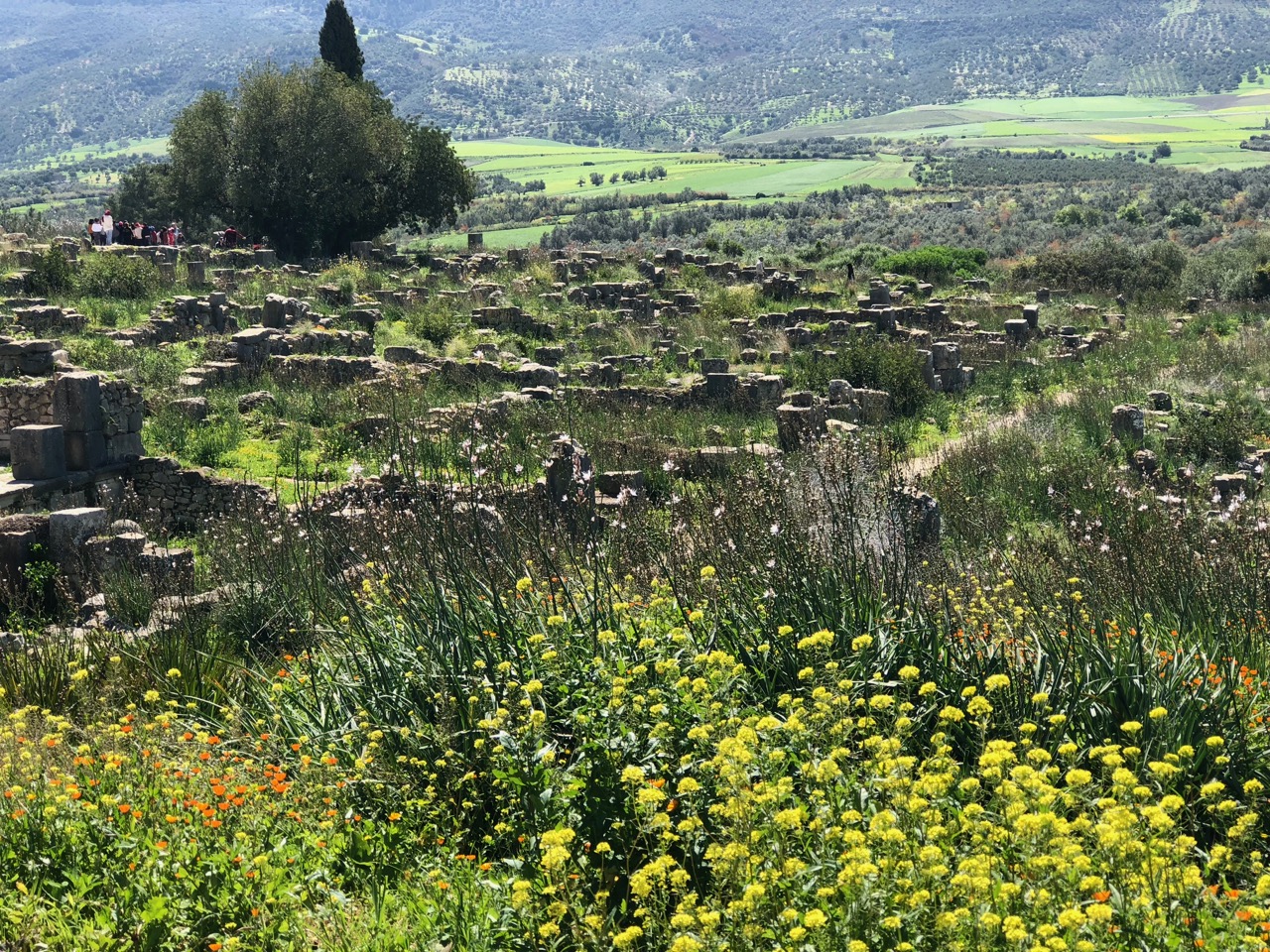 Walking around, I realized that I was not looking at the ruins for their historical value. I could care less about the exact purpose of any building there. Sometimes we just need an emotional recharge.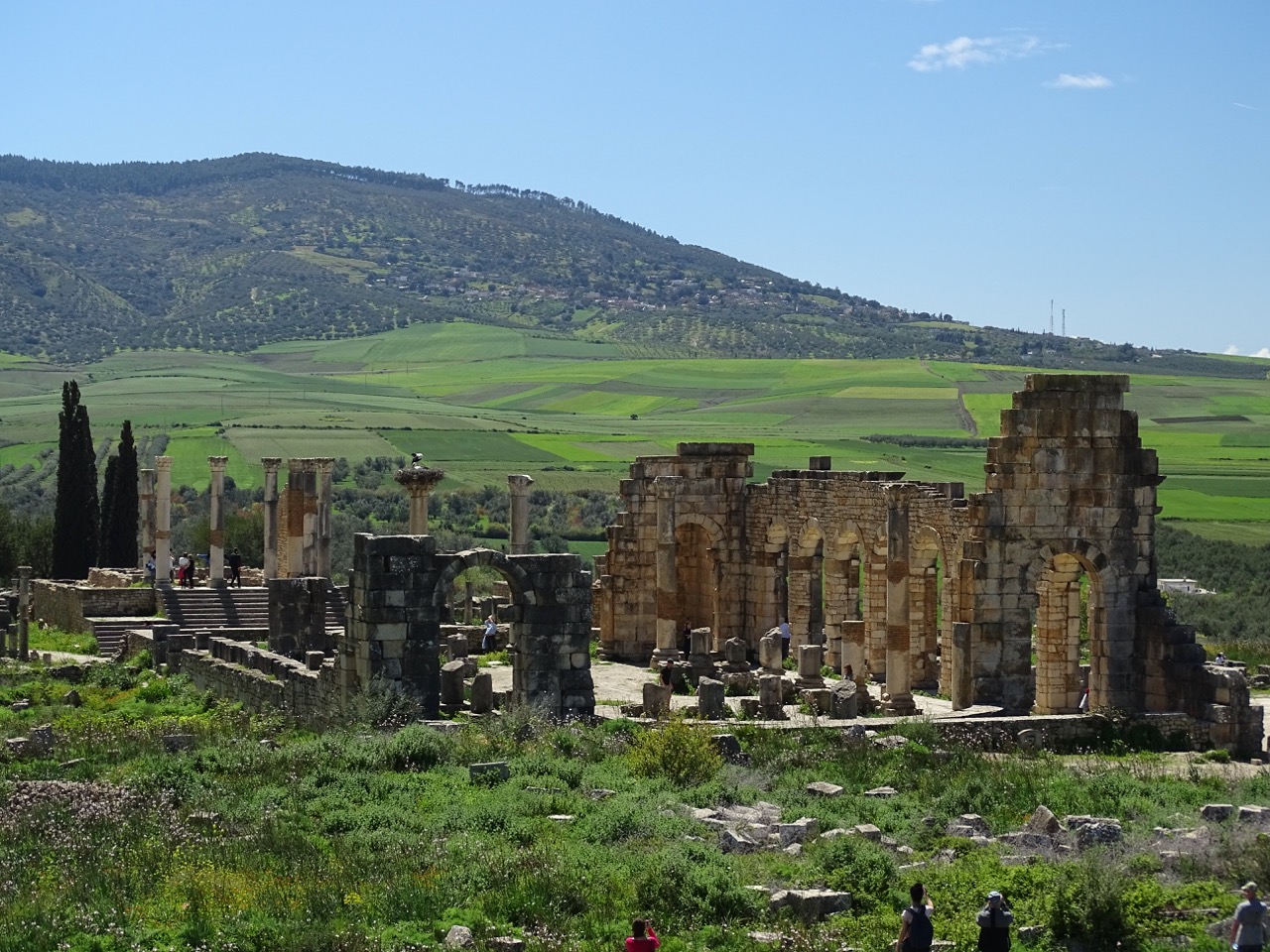 Of course, finding a quiet place for meditation was not easy. The ruins of Volubilis were buzzing with activity.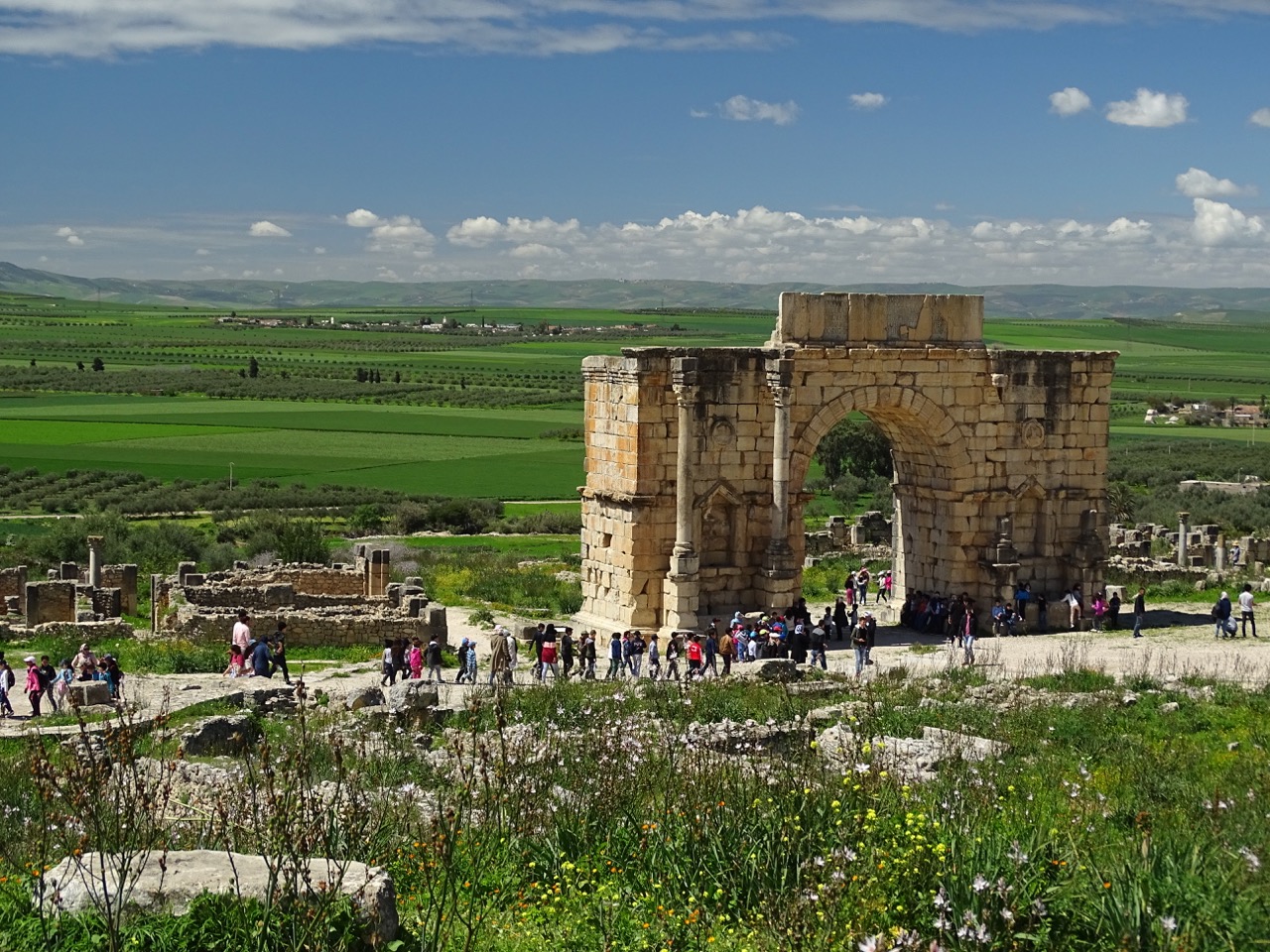 Local schoolchildren on a field trip provided enough noise to scare a couple of storks away from their nest. Charismatic guides were loudly entertaining groups of tourists. Even working donkeys were passing through occasionally uttering a bray or two.
Luckily, Volubilis of today is not as busy as it used to be when it was the capital of the ancient kingdom of Mauritania. Getting off well-trodden major paths and going toward the edge of excavated part of the city would lead to a quieter place with panoramic views of the river and green fields.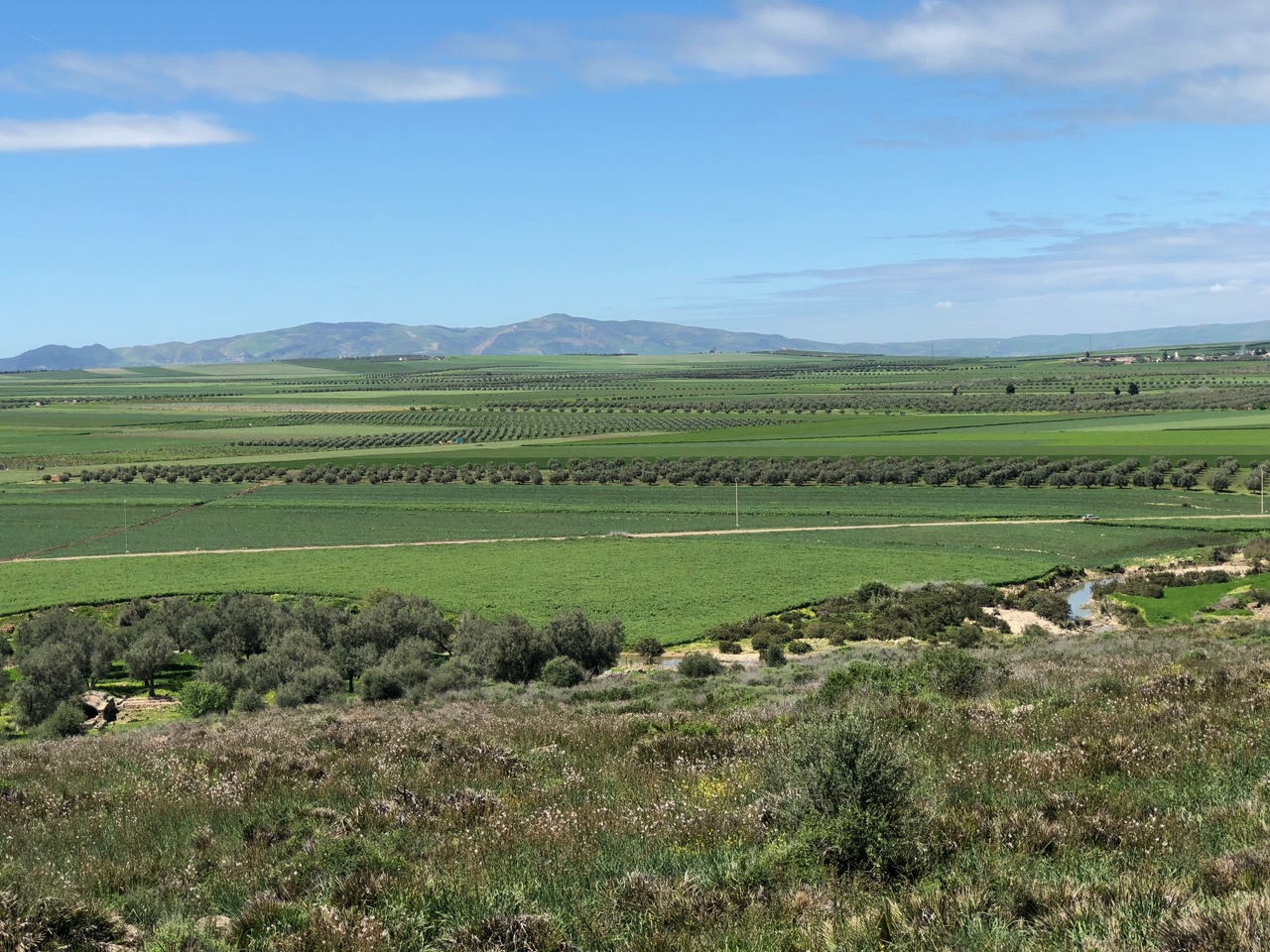 A brief history of Volubilis
Volubilis (Arabic: وليلي , Berber: Walili) was the ancient capital of the Roman-Berber kingdom of Mauritania. It was founded in the 3rd century B.C. and was the Roman Empire's most remote base. The ruins of Volubilis are located about 30 km north of Meknes overlooking a fertile agricultural area at the foot of Zerhoun mountain in northern Morocco.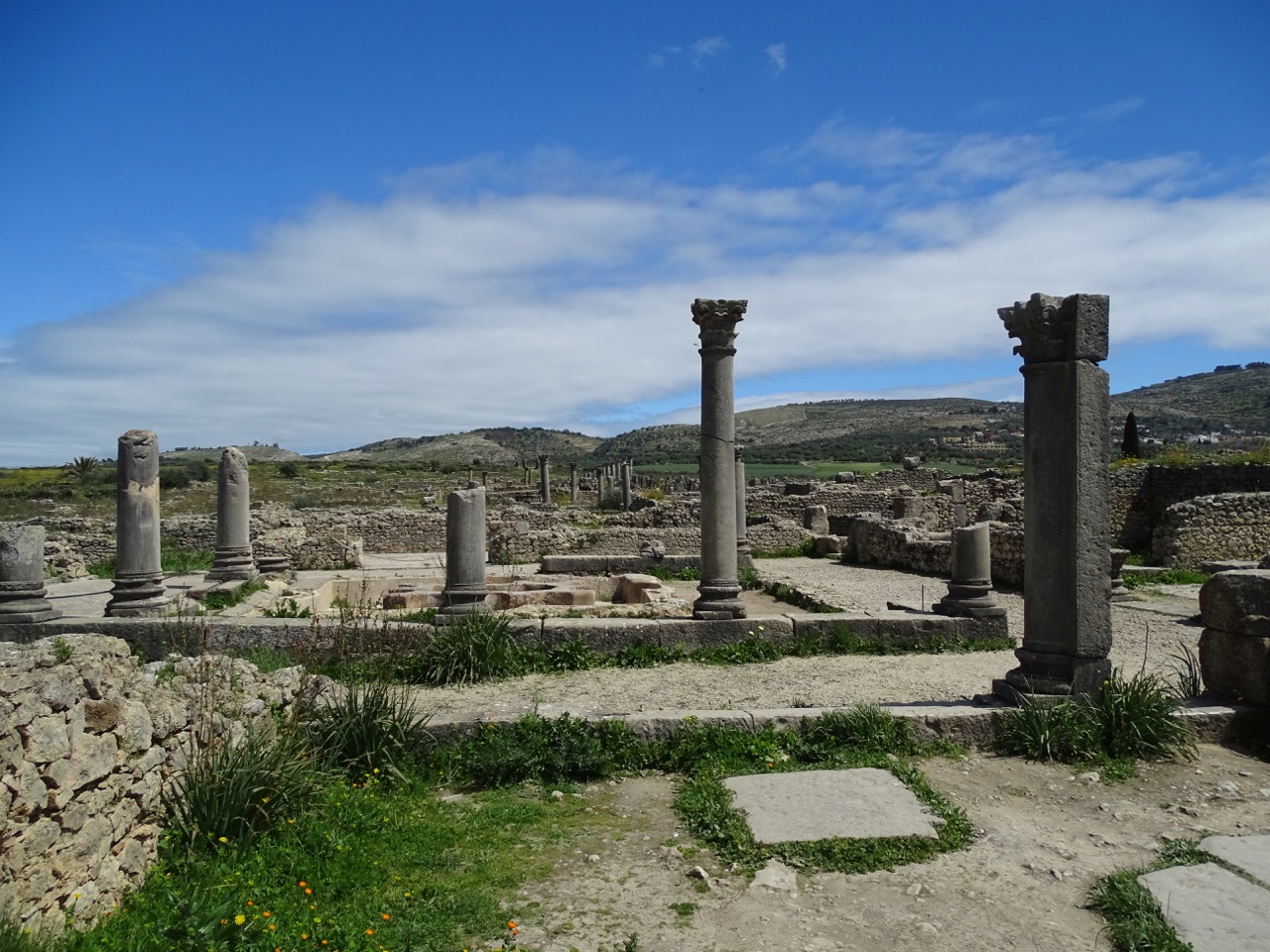 It was a prominent settlement enclosed by a rampart with eight monumental gates.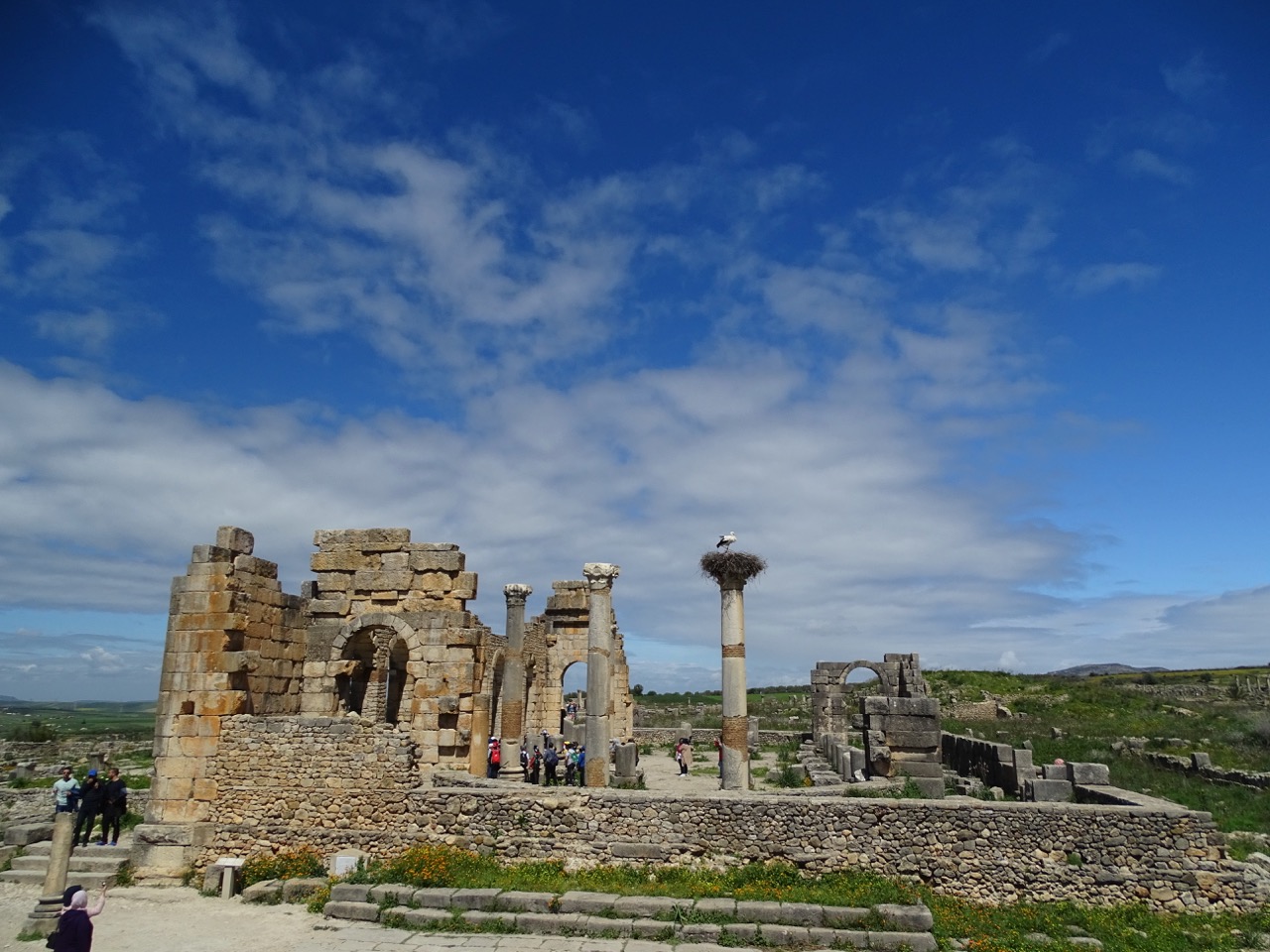 Public buildings included a basilica, capitol, and triumphal arch.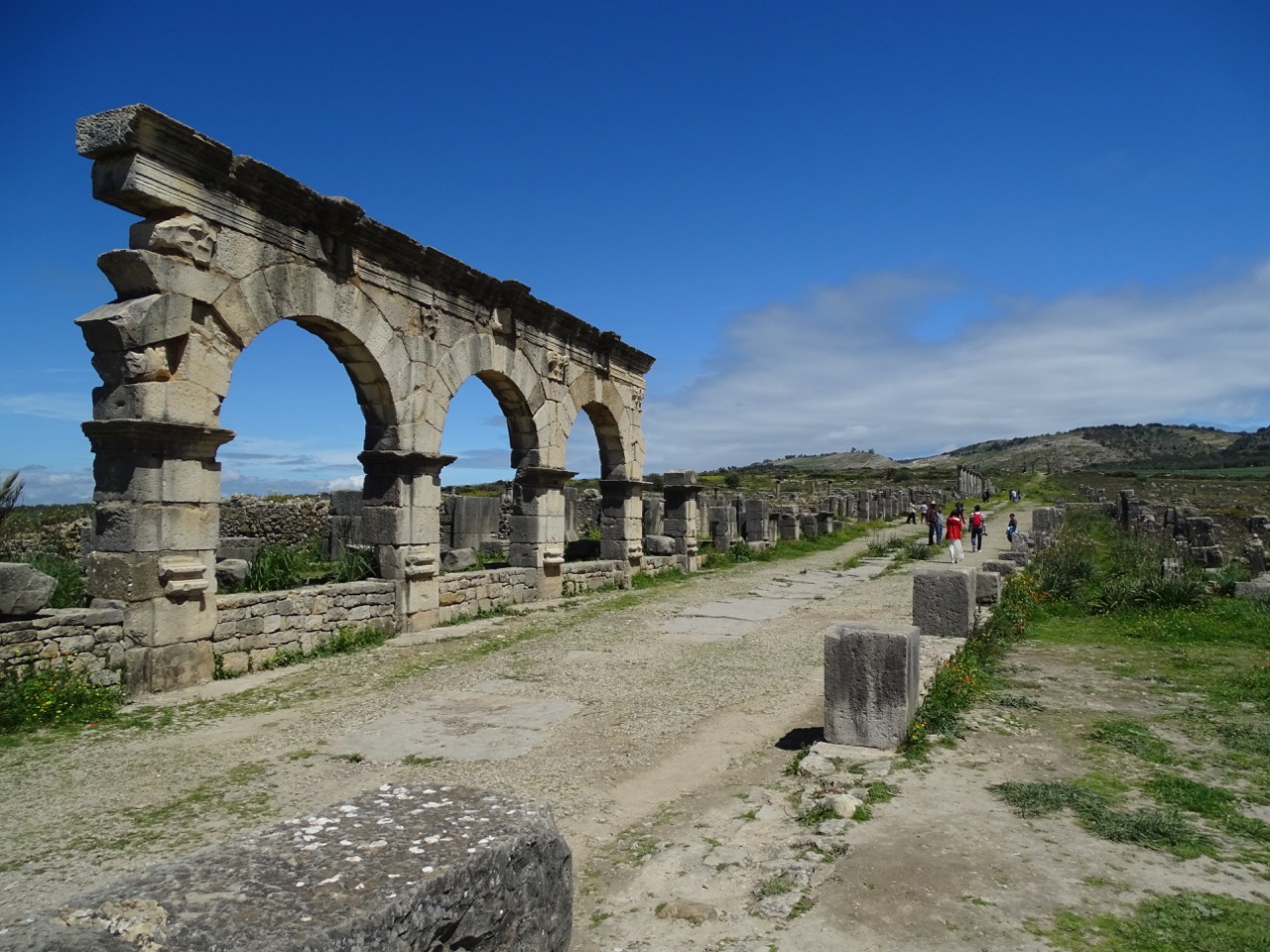 Wealthier classes built luxury courtyard houses with intricate floor mosaics.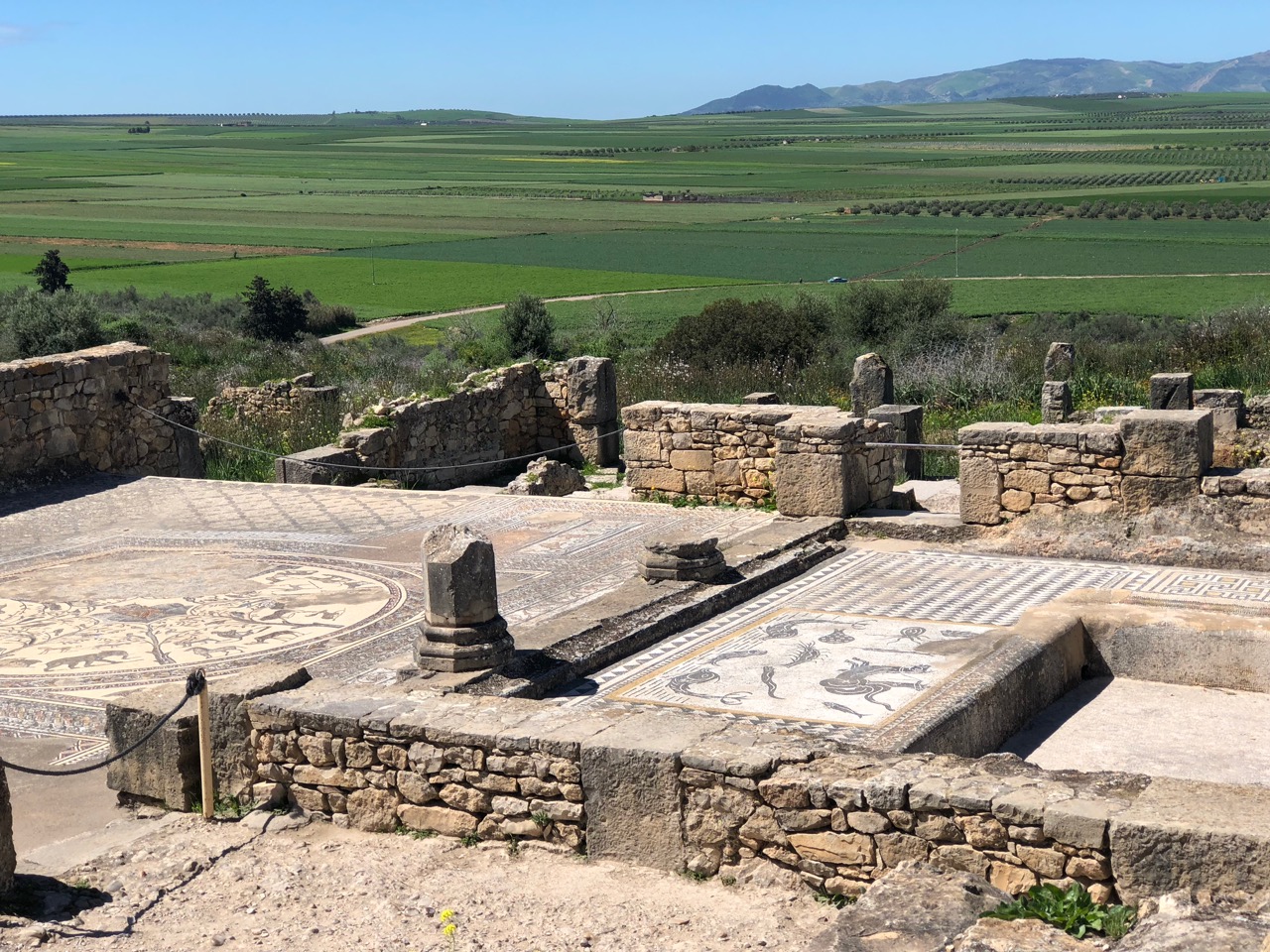 Volubilis was a center of olive oil production. Because of its isolation and the fact that it had not been occupied for nearly a thousand years, Volubilis presents an essential level of authenticity.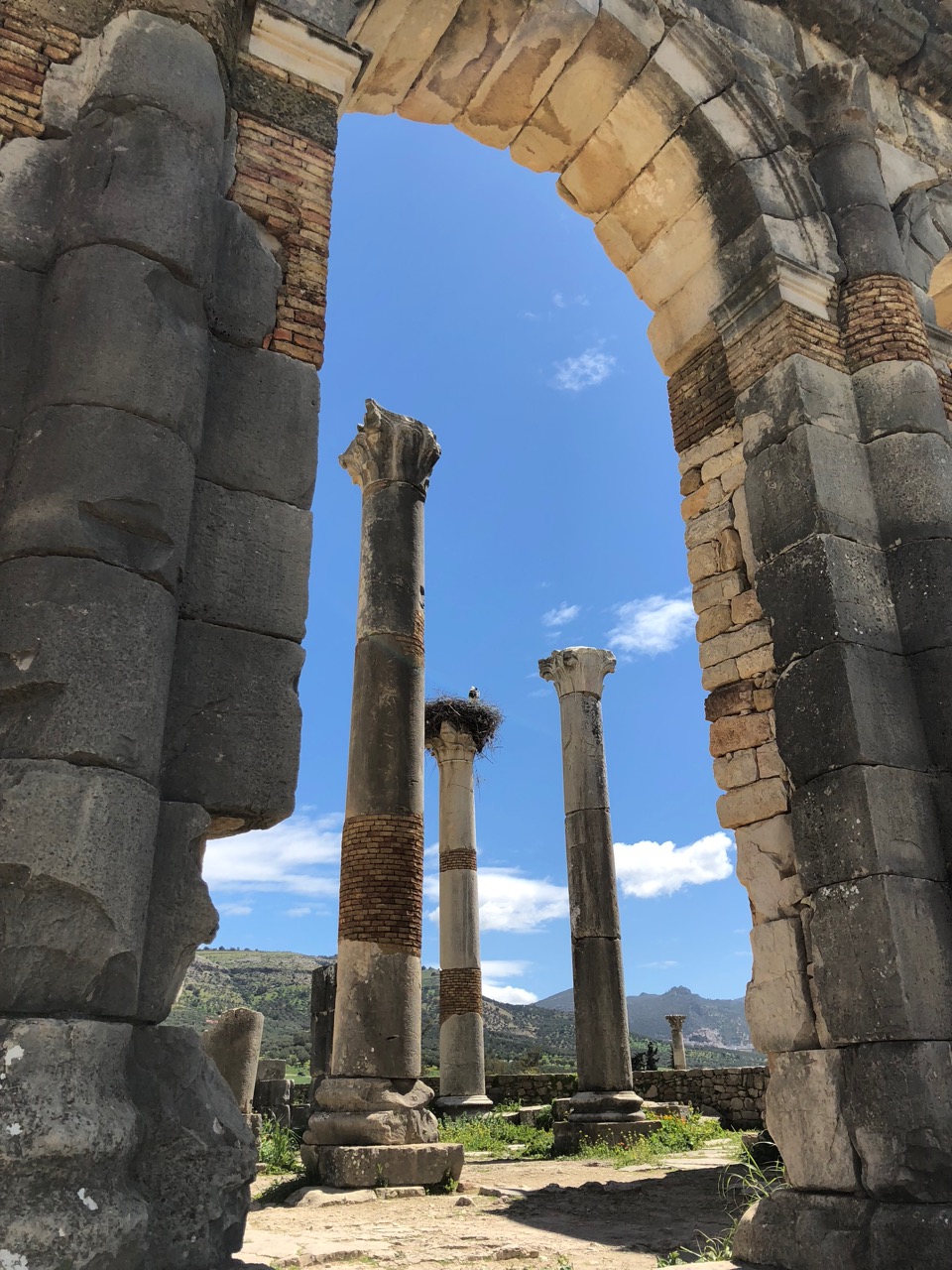 Practical advice
• You will be advised to hire a local guide at the entrance gate. In doing so, you would support the local economy. However, in my personal experience (indeed, we got the guide) and from observing other groups with guides, these gentlemen provide more entertainment than significant historical information.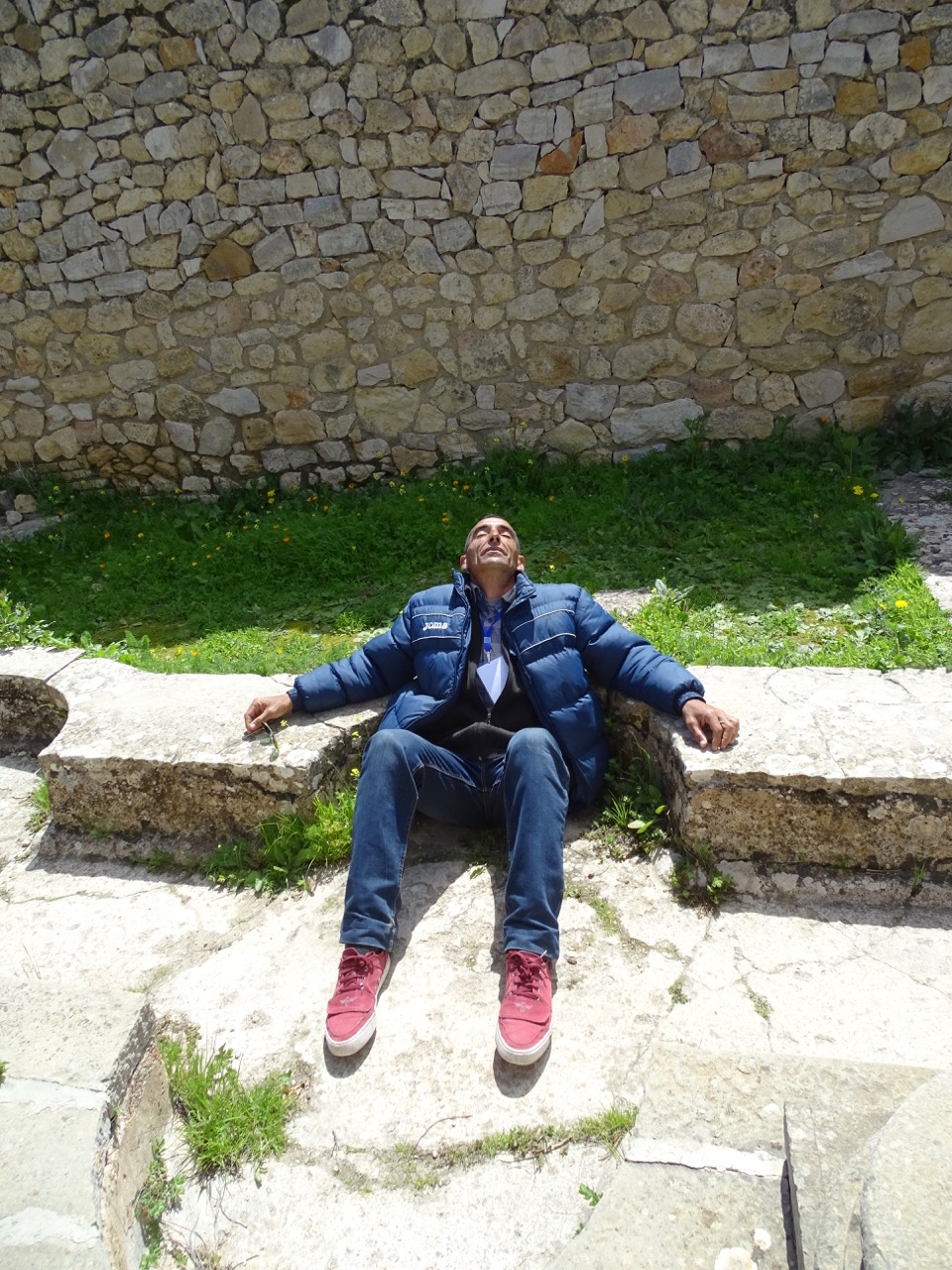 • Do not hurry to leave as soon as your guide finished the tour. Let him go, leave the ruins behind and enjoy the quiet beauty of the setting. Volubilis is surrounded by fantastic nature. It reminded me of Tuscany. It is easy to see why Romans chose that particular place.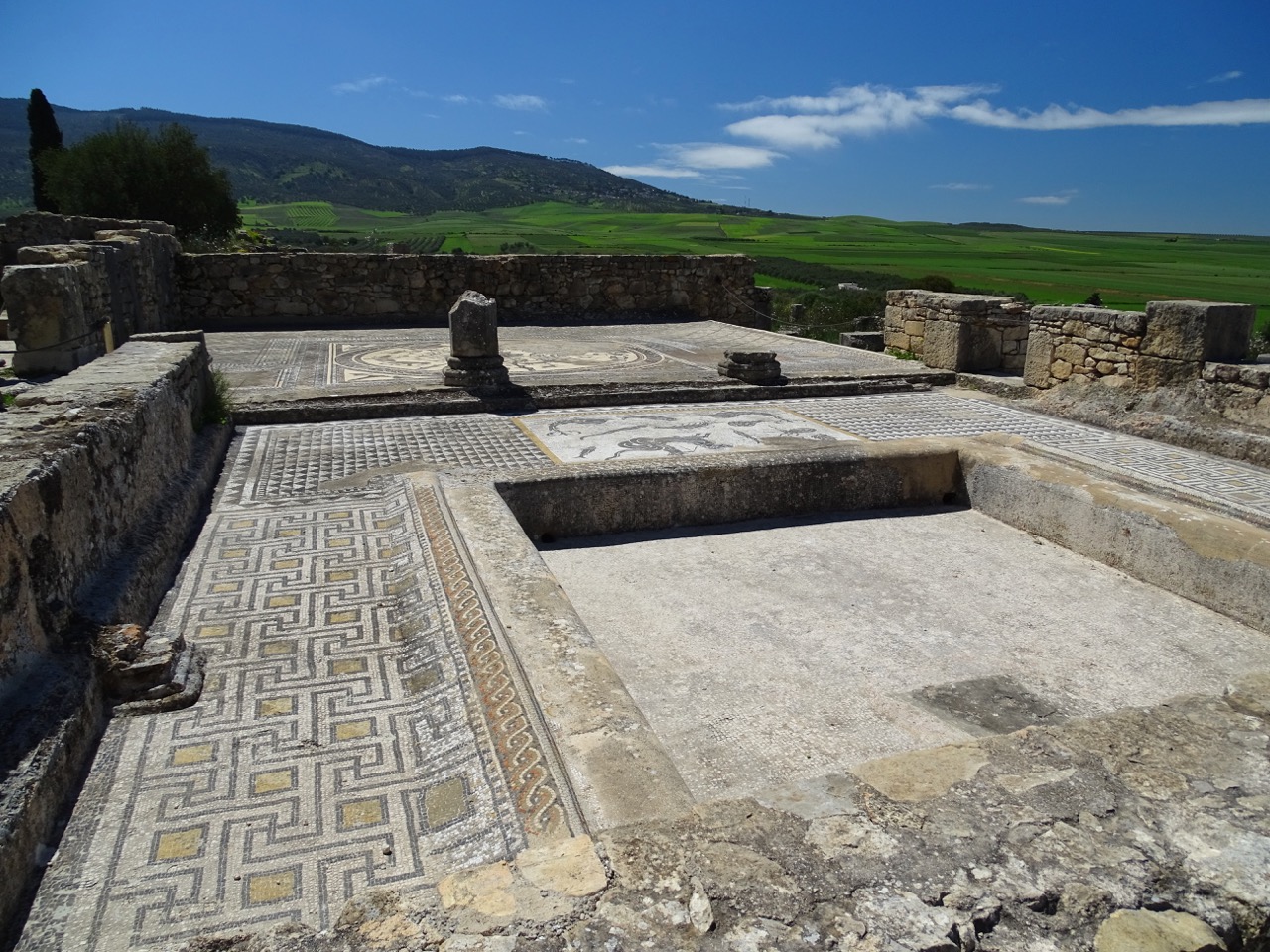 • Do not forget water and sunglasses.
• Naturally, the guide would expect a tip. We were advised that tip can be as high as 300 dirhams depending on your satisfaction with the tour.
Oops, somewhere along the road, 4 more pictures sneaked in, but I kind of like the title 😀
Share this article on Pinterest by clicking Save button