In this post: Foinikas (aka Phoinikas or Finike), an abandoned village near Paphos in Cyprus – the name (a phoenix or a palm tree?); the history (from the Knights Templar to Cyprus conflict); the location (the water has gone); what we saw and how to get there (the hiking map).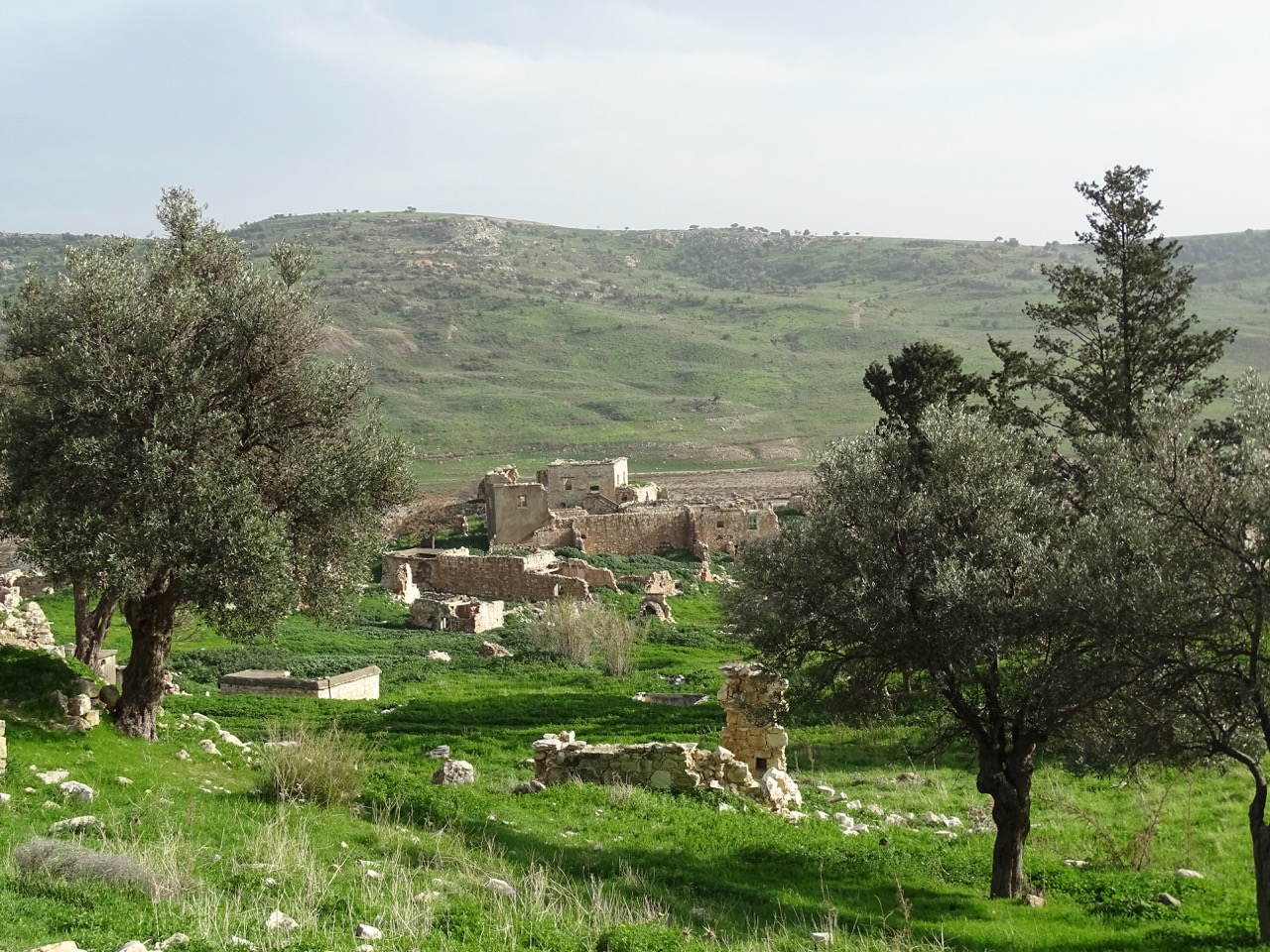 I am a sucker for abandoned places. I guess this fascination roots in my childhood when my mom, who was an avid historian and researcher, dragged me along on her weekend urban expeditions. Oh boy, how bored I was back then pocking through old dilapidated structures that once were grand palaces or first cavernous mass housing of the 19th century. Getting older though, I began to look forward to these adventures. All those forgotten buildings had some stories behind their bruised and torn facades. Some were hiding them so well that you have to imagine everything. Others were giving out hints: a broken mirror, an old carpet or a piece of furniture left behind.
I hadn't thought about my longstanding hobby when we just landed in Cyprus. Of course, Nicosia's airport is one of the most famous abandoned places in the world. Strangely, it's fame is what put me off. Too many pictures, too much information. I mean, I would still definitely want to check it giving a chance, but the veil of mystery is no longer there…
A month or so into our island life, we exhausted the common list of activities. Rented bicycles provided some short-term entertainment, but, as expected, were not the best choice for extended rides. Luckily, the Mediterranean landscapes of Cyprus are perfect for hiking. Forget about marked nature trails, the hills are crisscrossed by a multitude of tracks used by hunters, shepherds, and goats.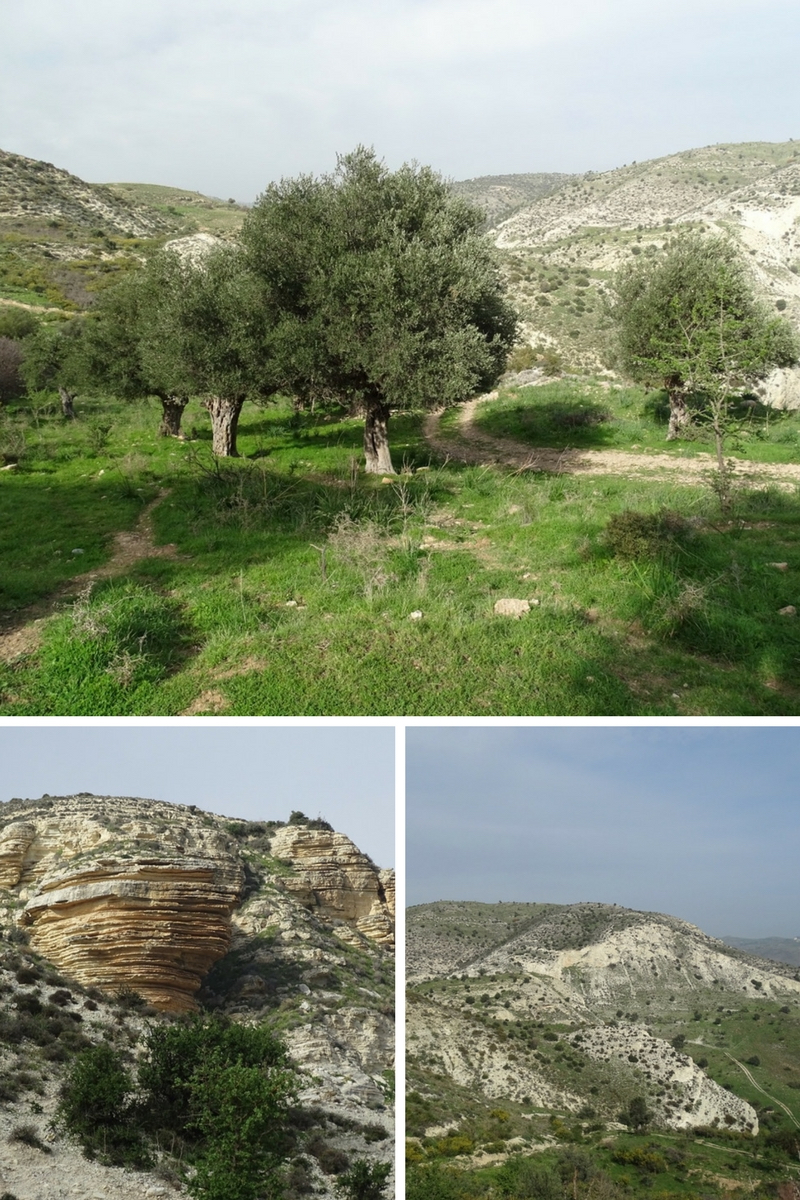 Scouting for picturesque hidden gems, i.e., literally poring through Google and Openstreet maps, led to the discovery that made my skin prickle with excitement. You know how hunting dog suddenly freezes with concentration before charging ahead? That was me looking at some random satellite image. Was I mistaken or was this really an outline of an abandoned site?
Bingo! As it turned out, I stumbled upon Foinikas, one of the most famous abandoned villages of Cyprus.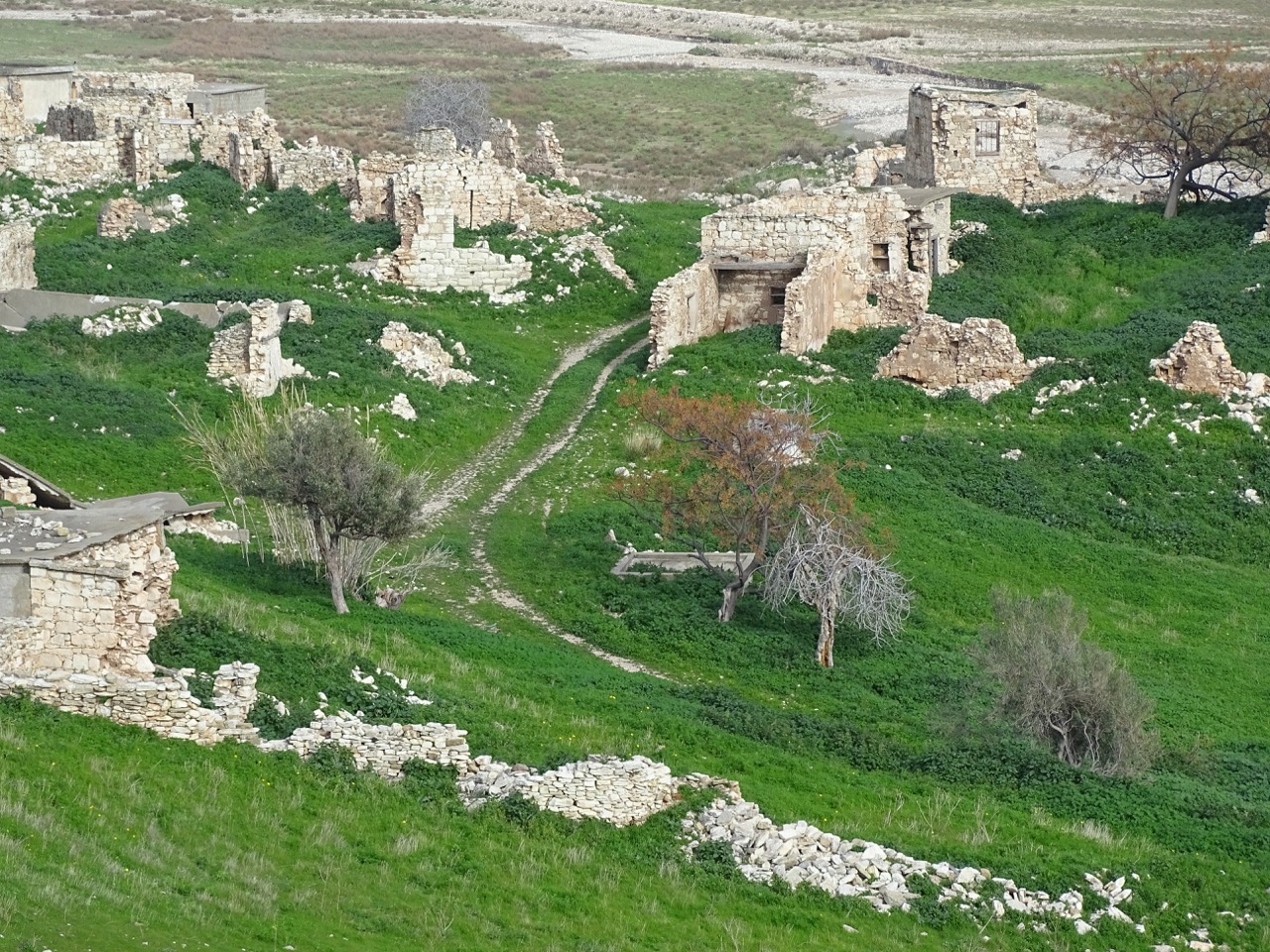 Foinikas or Phoinikas is hiding in the Xeropotamos valley next to the Asprokremmos Reservoir. According to some historical data, it was sitting right on the water just a few years ago. However, with the significant drop in reservoir's water levels, the village is no longer even near the bank.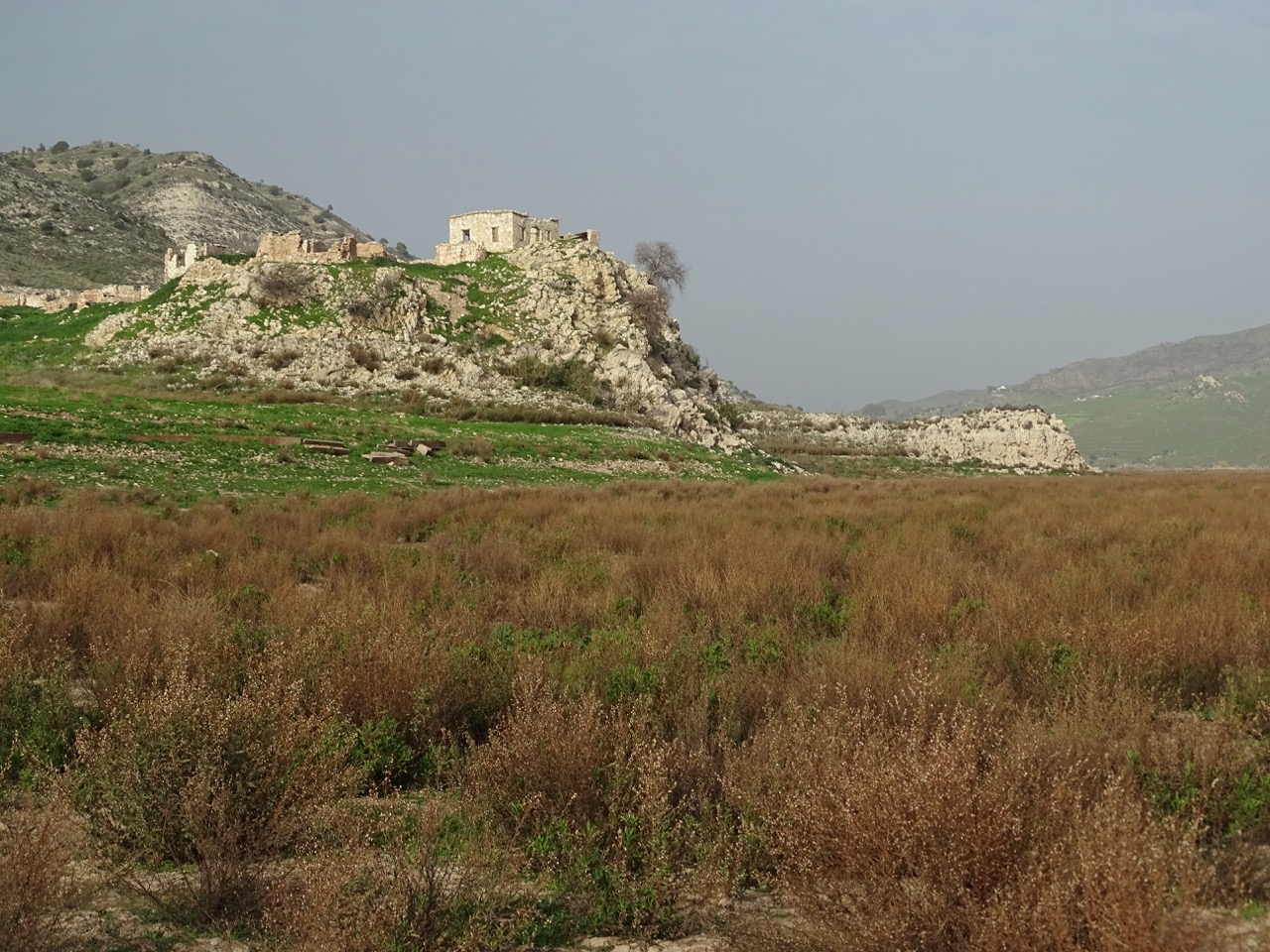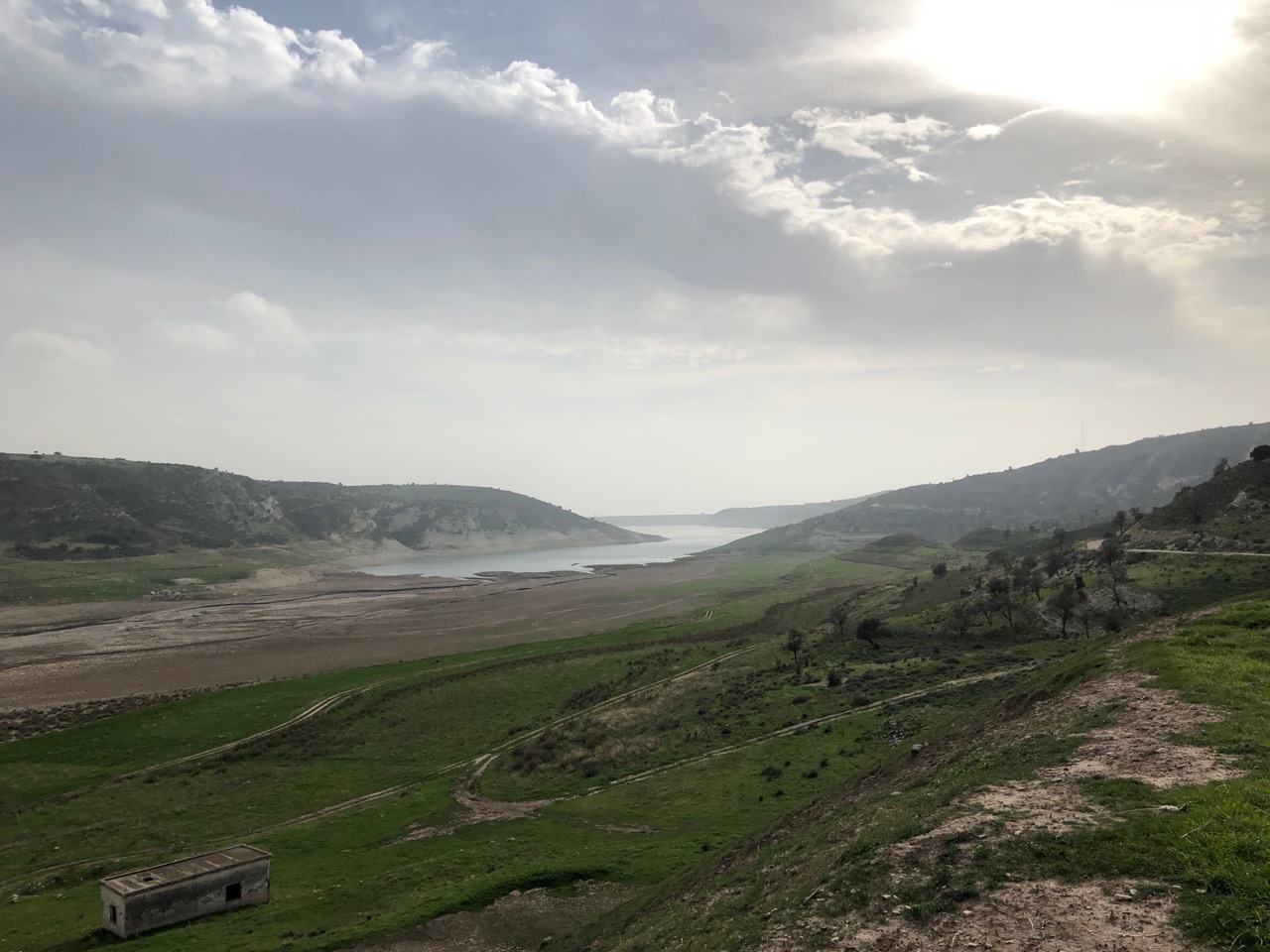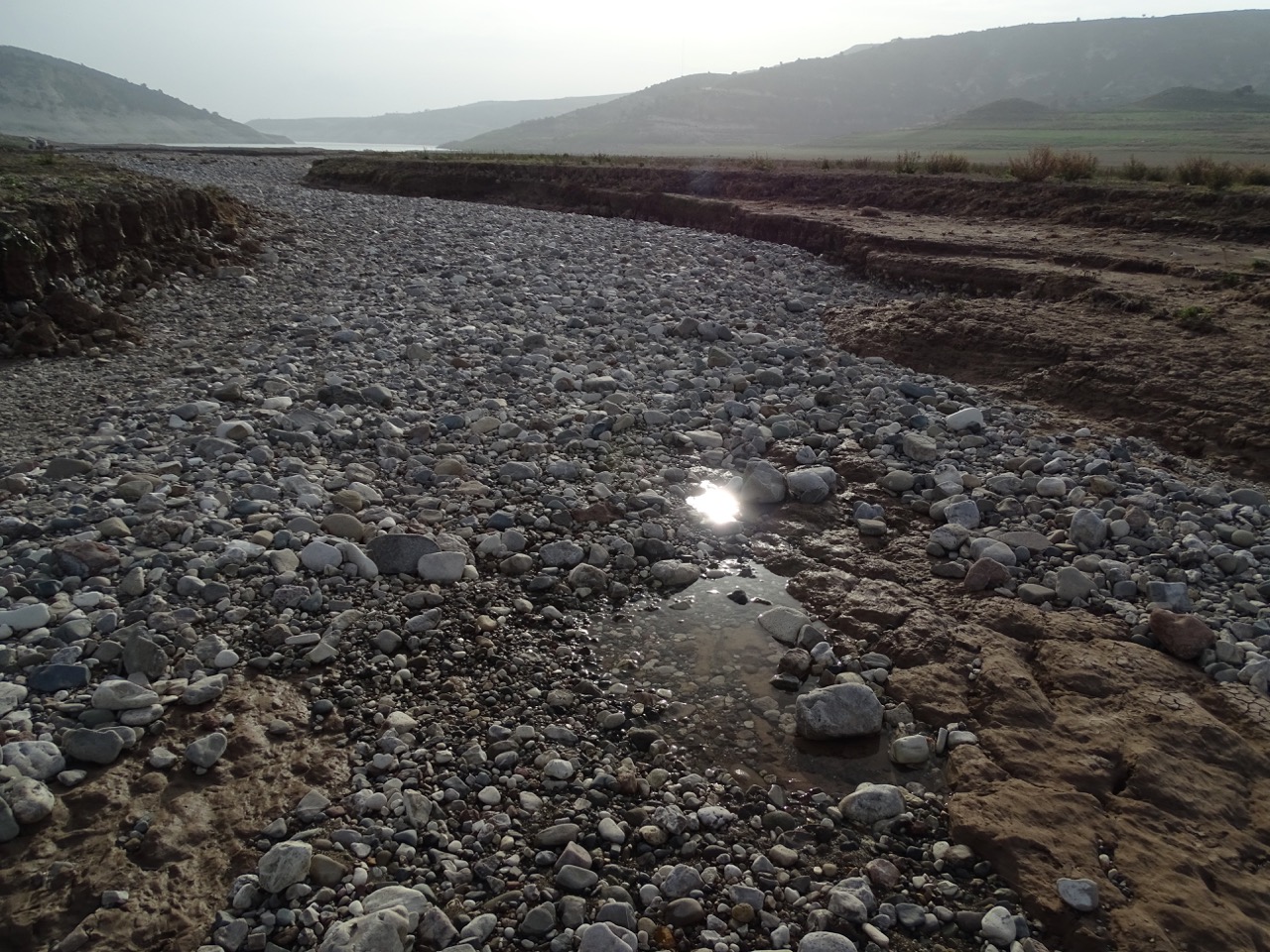 The name
Tracing the origins of the name is an interesting story by itself. Φοίνικας means palm tree in Greek. However, Φοίνικας (Φοίνιξ) also can be translated as Phoenix, a mythological bird reborn from its ashes.
According to Greek myth, the Phoenix lived in Arabia next to a well. At dawn, it bathed in the water of the well, and Apollo stopped his golden chariot carrying the sun to listen to its song. How romantic!
But wait, there is even more. In terms of color, φοίνικας means purple-red or deep red. In ancient Greece and Rome, the word was sometimes associated with the similar-sounding Phoenicia, a civilization famous for its production of purple dye from conch shells. Because this expensive dye was connected with the upper classes in antiquity and, later, with royalty, the Phoenix was considered the royal bird in the past.
Back to the village, Greek Cypriots favored the palm tree version. Turkish Cypriots called it Finike. They believed that it was named after the ancient Phoenicus, a town in southern Turkey. They also claimed that the most of the Turkish inhabitants of Foinikas had initially come from there.
A brief history of Foinikas
After this post was published, I found this beautifully written essay. I took the liberty of adding some new information about Foinikas to the history of the village. If you are curious about the island's past, I would recommend reading the essay and the comments there.
Googling Foinikas abandoned village brought up plenty of results. Topmost were from more or less recent travelers who shared their photos of the place with a short story that was remarkably similar on all accounts. It goes like this:
The village was built in 1192 by the Knights Templar and served as their Administrative Capital during their Rule of Cyprus…
A bit of sleuthing and I found the source. It looked impressive. Like many before me, I was ready to cite it and be done. There was a wrinkle though. The post was slick in a movie script style without citing any historical documents. I couldn't resist digging deeper to find from where the author's inspiration came.
My quest for more information about Foinikas proved to be a thorny one. The Templars archives were destroyed in 1571 when the Ottoman Empire took over the island. The ruins are fascinating, but, honestly, just a tiny dot on a worldwide scale. Nevertheless, my patience paid off. Remarkably, the village left some marks on the canvas of European history.
If modern history of the village serves as a sad illustration of the Cyprus conflict, its ancient past is a surprising homage to a brief Knights Templar rule of the island.
Like a chef, I took various ingredients – a passing mention here, a different spelling there, a part of the oral history, even a part of speculation – and put them together for you to taste. Here it is.
Cyprus with its strategic position, fertile land, and mild Mediterranean climate was always in crosshairs of the powers that be. Ancient Greeks and Romans, the Ottoman Empire and the UK, just to name a few, at some point or other laid an eye on the island. Richard the Lionheart was not an exception. He conquered Cyprus in 1191. However, Richard was far less interested in governing the land than leading his army. No wonder historians call him the absent king, He quickly sold his latest trophy to the Knights Templar. They ruled the island just for a few years. The uprising against them proved too much to handle, so they returned Cyprus back to Richard but were allowed to keep their properties there. Foinikas (spelled as Finike in this article) became one of the three command headquarters during their rule of Cyprus. Along with Agia Irene, Anogyra, Platanissos and Kaloyiannakia villages, it formed the Commandaria della Finicha. It was in Templar's possession until they ceased to exist in 1313. Foinikas location was perfect from a military point. Sitting high above the water with the only access from the riverbed, it looked like an impregnable fortress.
Sugar was Cyprus' the most profitable commodity from the 14th to the early 16th century. During those times, Foinikas became a part of the royal casalia (settlement) of Kouklia, Emba, Lemba, Anogyra, Phoinikas and Akhelia renown for their sugar plantations.
Due to the ideal climate, silk production flourished in the Paphos region from the Byzantine time onward. According to the oral history, Foinikas had a successful silkworm farm. Proceeds from silk trade greatly benefited the village and raised it way above the average wealth level.
Thanks to the Internal Displacement in Cyprus website, there is a bit of information available about the modern history of Foinikas. The census data goes back to Ottoman times. It shows that since 1831 the village had been populated by Turkish Cypriots with just a few Greek Cypriots appearing in records in the first quarter of the 20th century. By 1973 it had 235 inhabitants. Foinikas served as a Turkish Cypriot enclave up until 1975 even though the majority of villagers fled in July 1974 after a Greek Cypriot offensive mounted in response to the Turkish invasion in the north. By September 1975 Foinikas was wholly abandoned. Some Greek Cypriots from the north tried to settle in the village afterward. Construction of the Asprokremmos dam forced them to move elsewhere.
This old picture of Foinikas shows a lot of buildings still standing. It was taken probably in 1970s or 80s.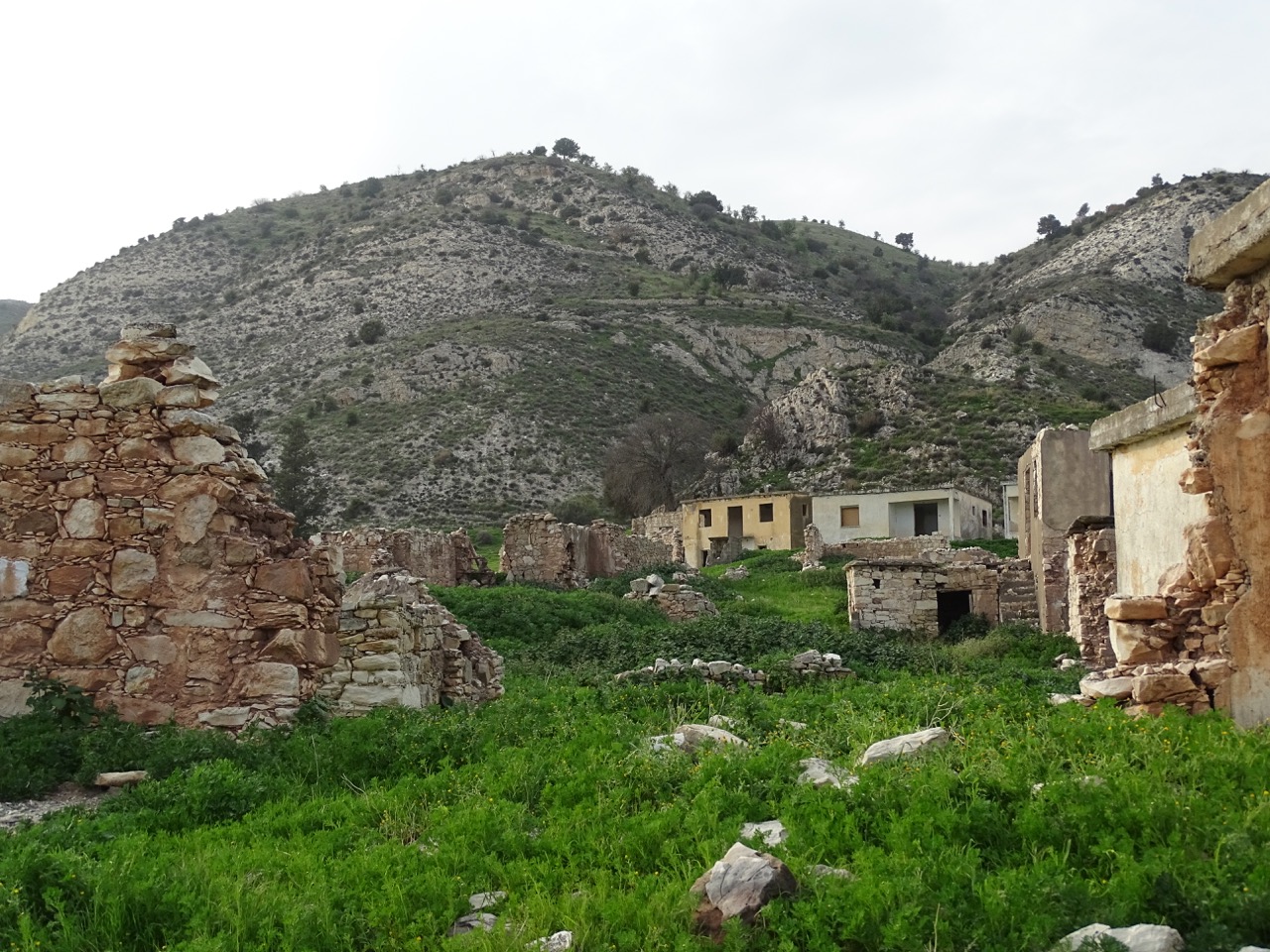 Firsthand experience
Foinikas knows how to make an impression. It is a very photogenic site. No matter from what side you are approaching, the views are stunning.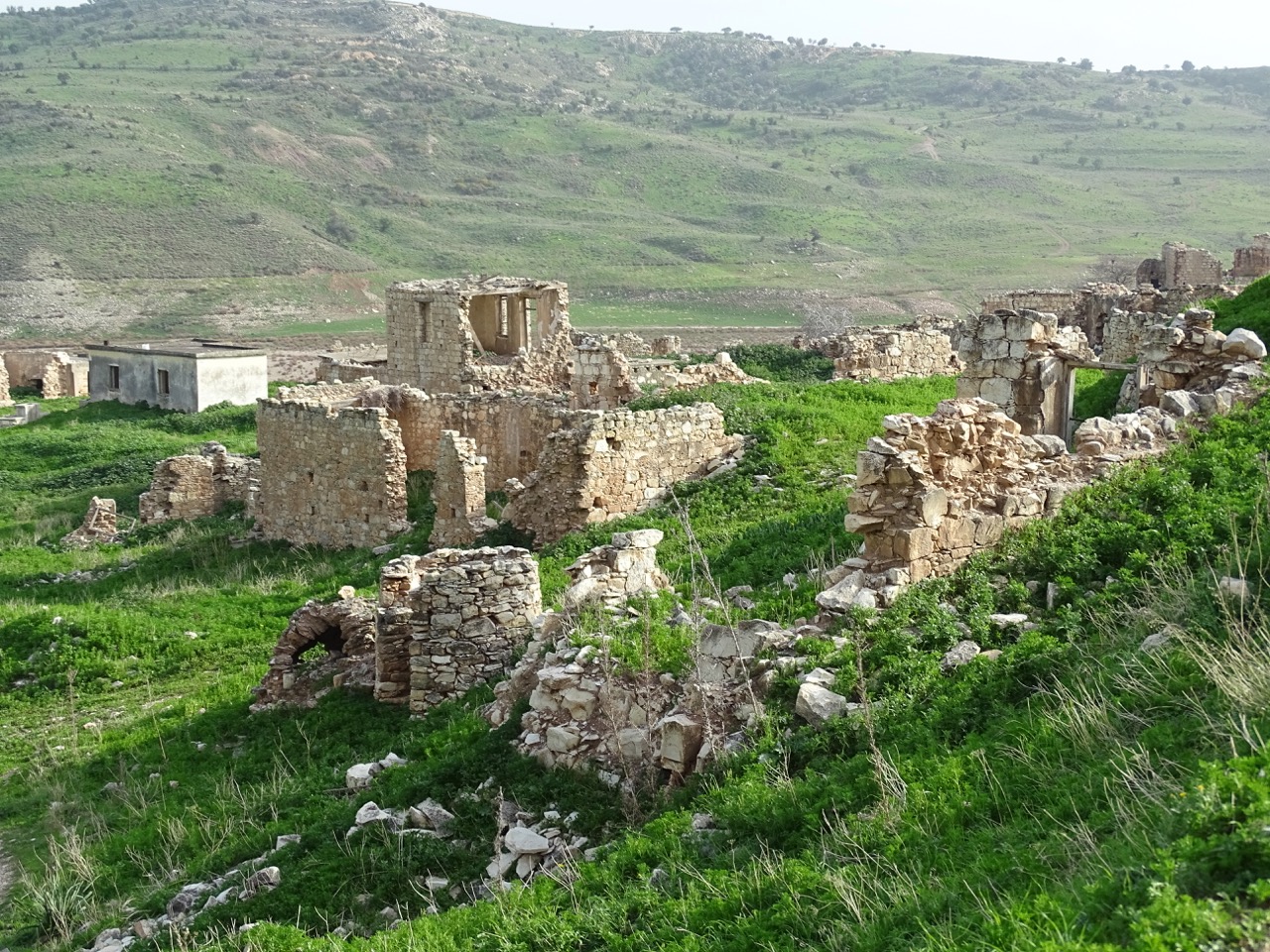 Naturally, visiting in early spring helped. Old almond trees in full bloom and an abundant cover of emerald green grass beautifully mixed with yellow shades of ruins.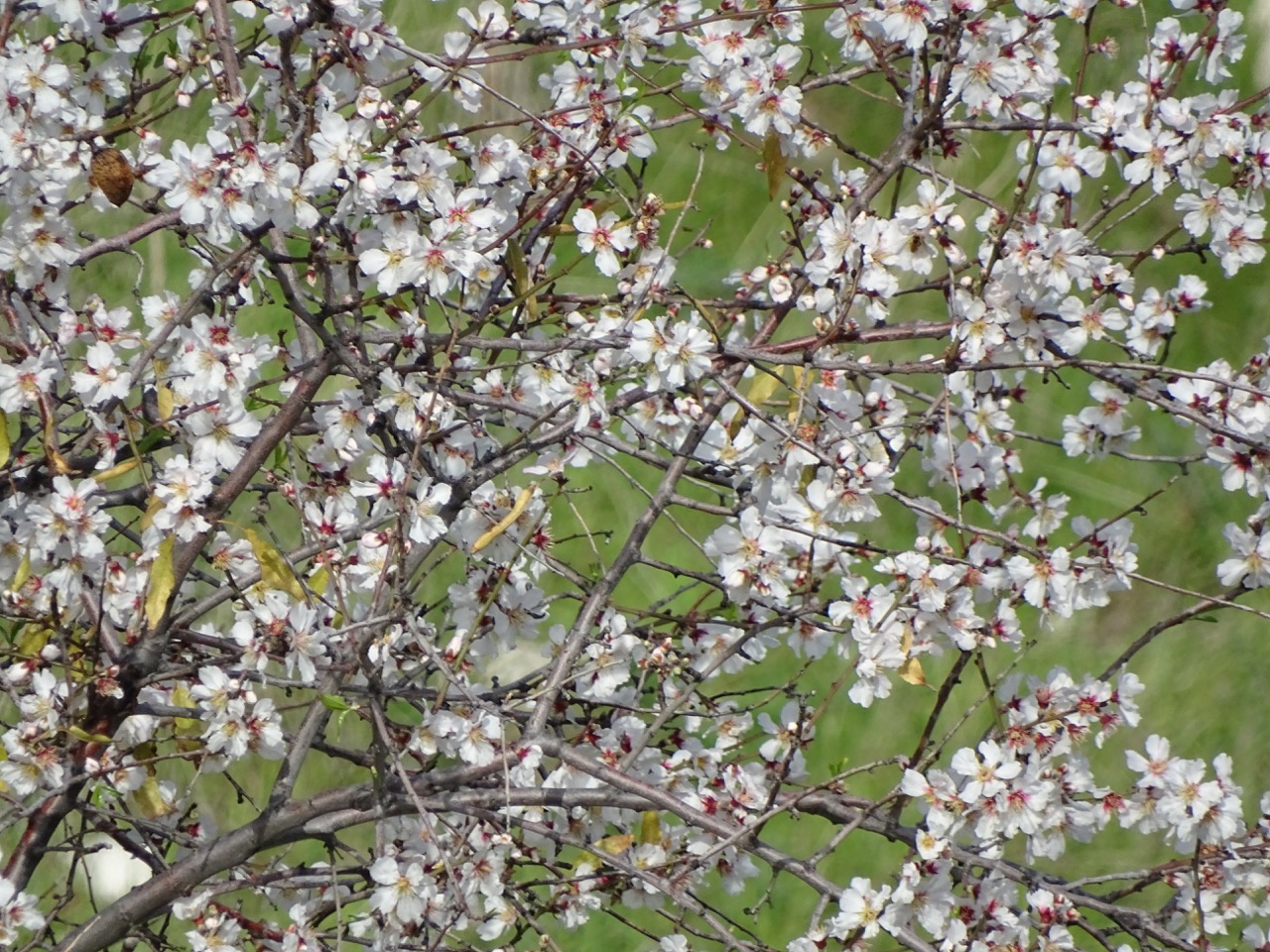 The oldest part of the village still eerily retains the shape of fortification. The outer wall is partially intact. The inner courtyard is there. All buildings were built entirely out of stone. Their thick walls combined with the elevated position above the river would discourage any potential attack.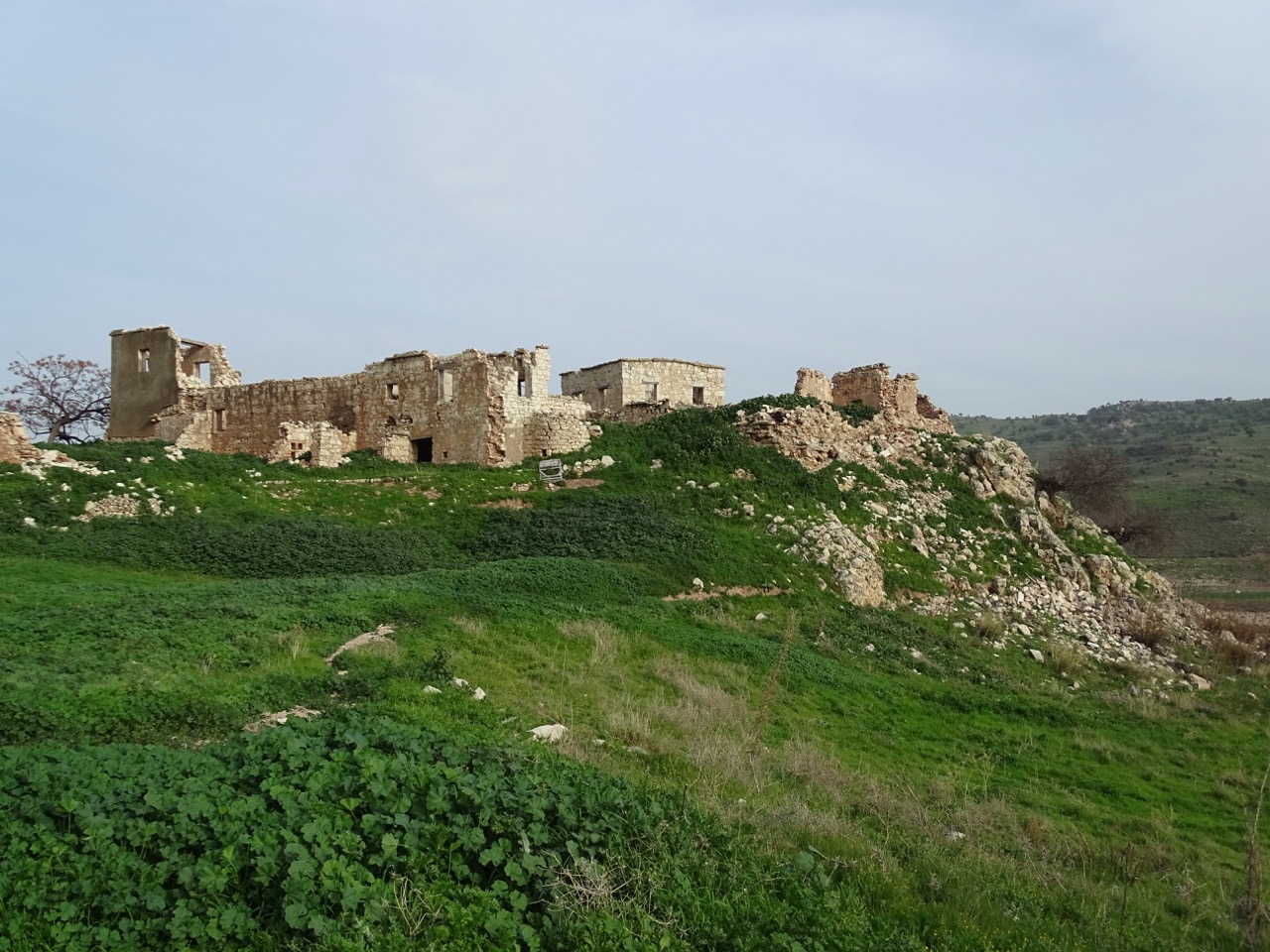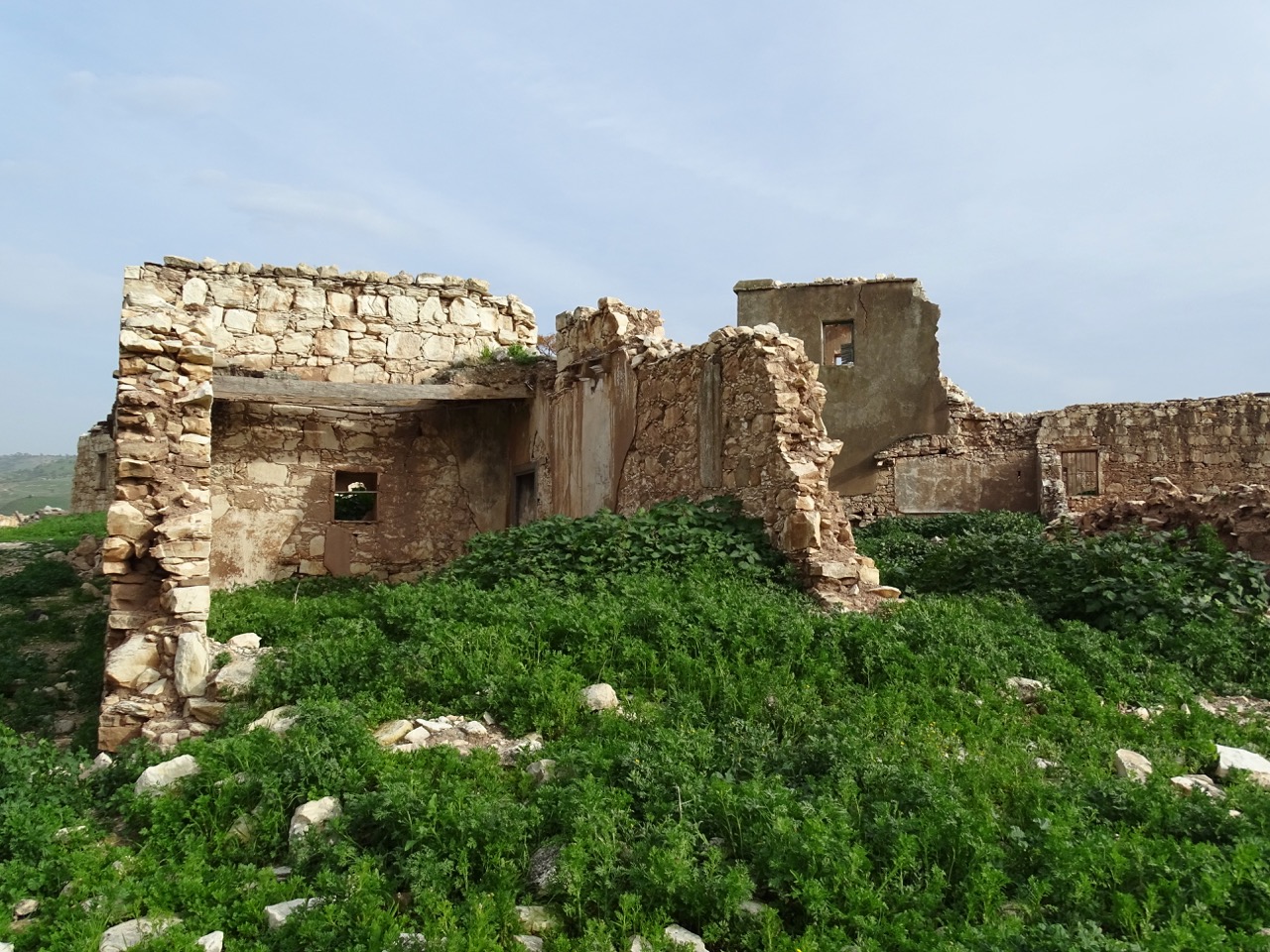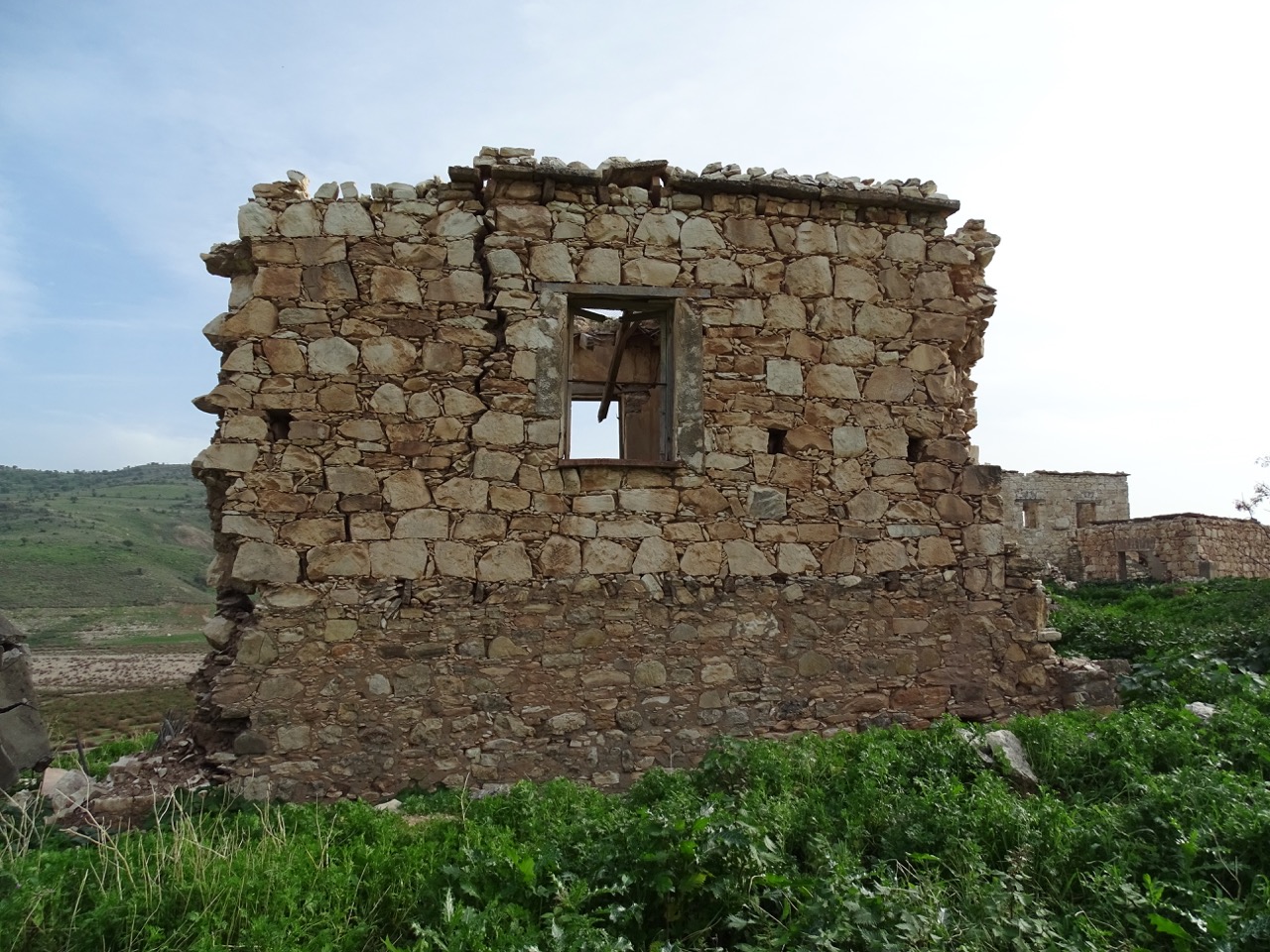 Some stone stairways are still visible. A few remaining windows and doors provide a hint of how houses used to look. A part of the ceiling, an internal wall, and a partial roof are clearly visible. However, the ground is covered by knee-high vegetation making it impossible to decipher what lies beneath. Frankly, you would have to heavily rely on your imagination to mentally reconstruct the Commandaria della Finicha.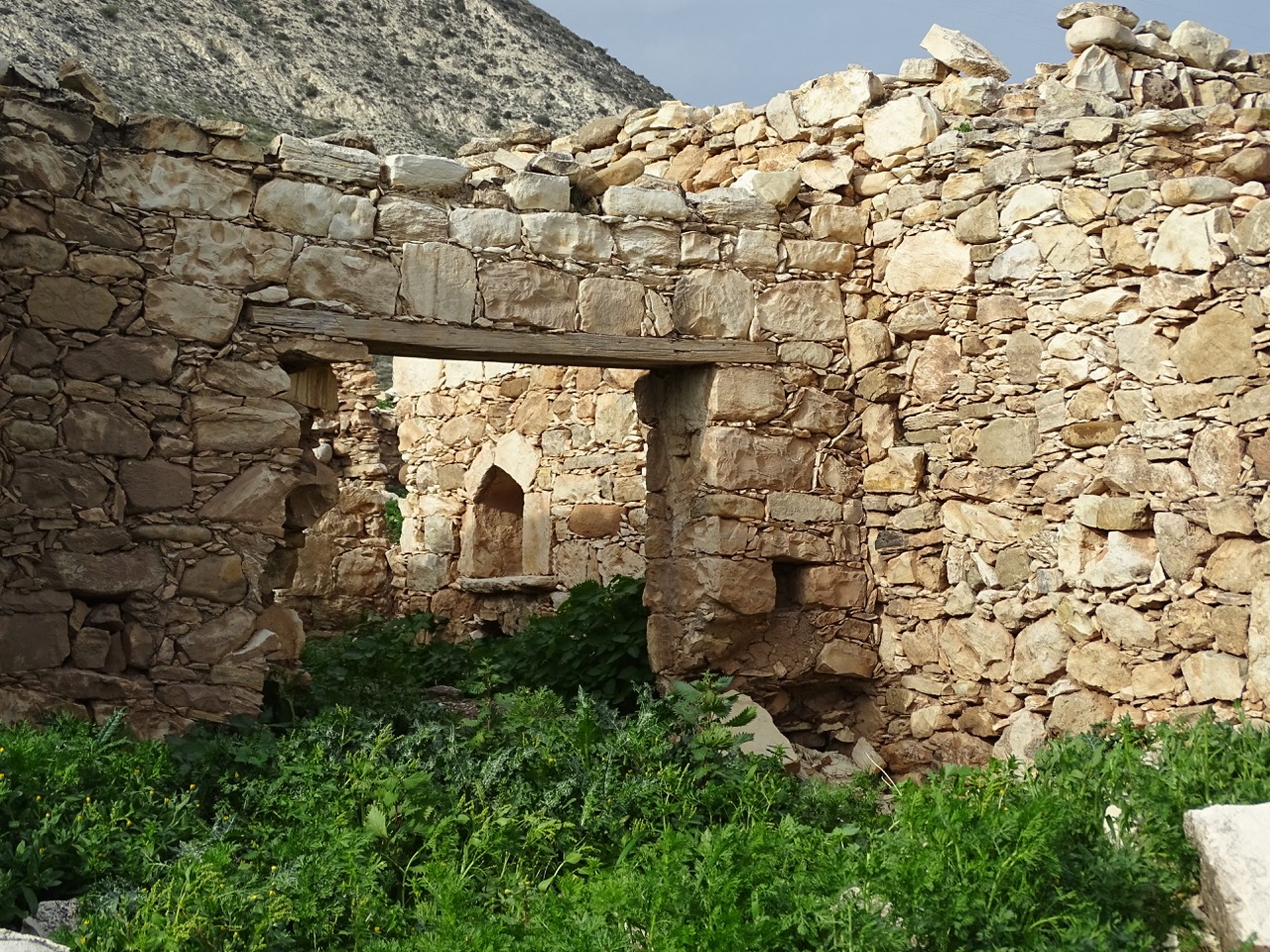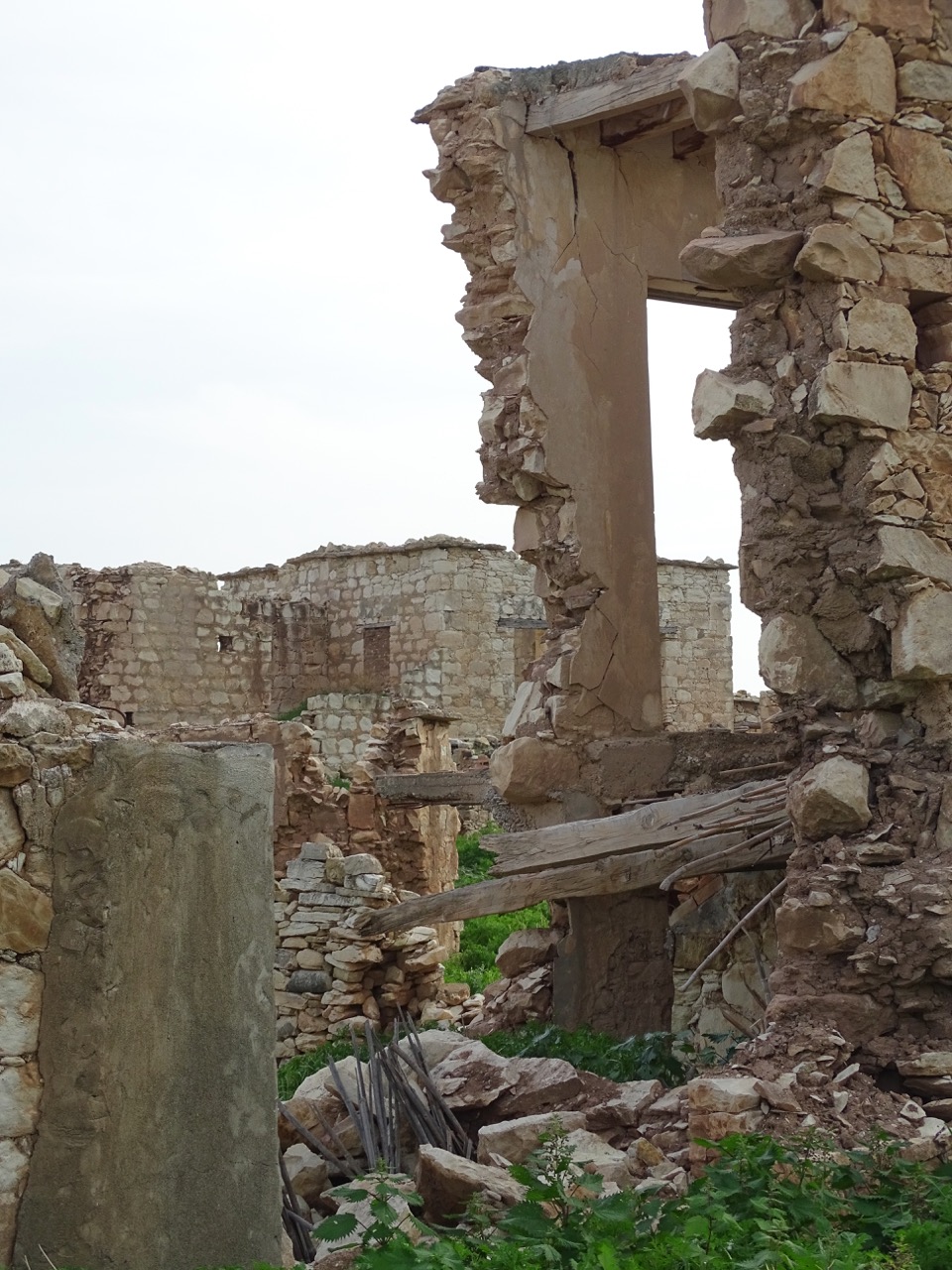 There are quite a few more modern looking structures scattered around. They mostly have the uninspiring design of the first half of the 20th century. Some of them were standalone house, others – small apartment buildings with apartment numbers still clearly visible.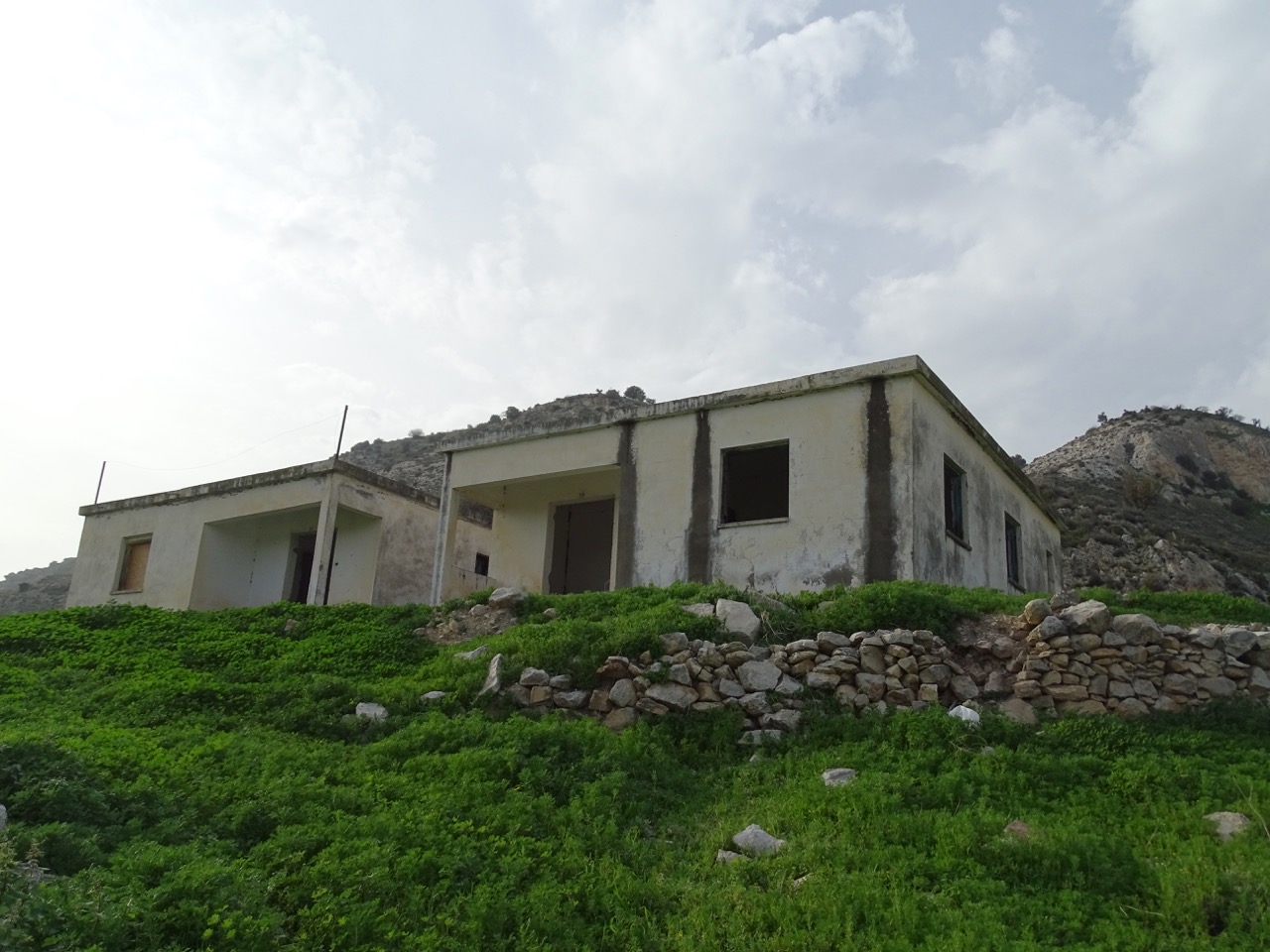 The cobblestone road running through the village is still in fair shape.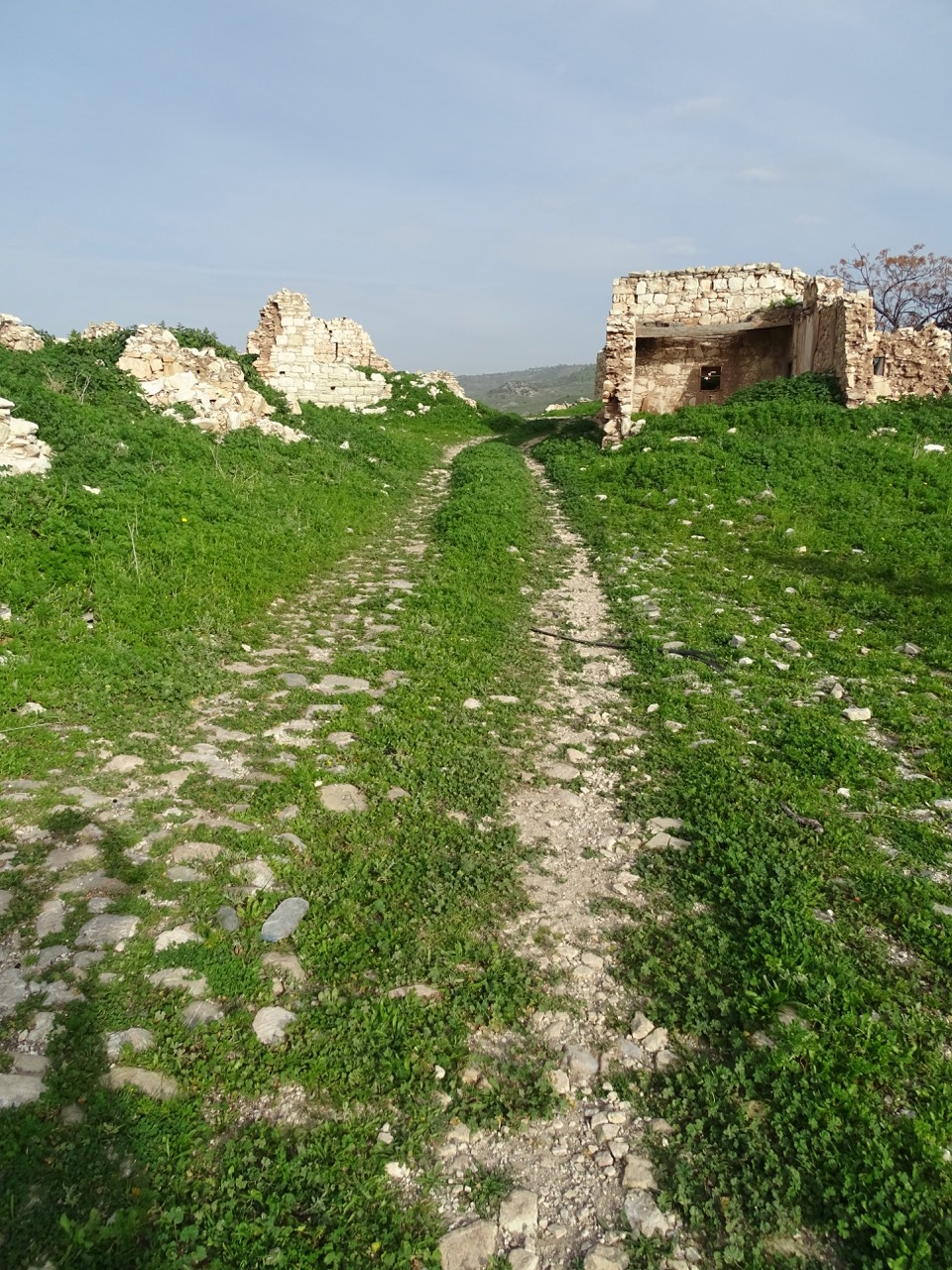 Foinikas was big enough to have a few streets. As expected, they are narrow and almost completely disappeared under the thick grass and shrubs. This impenetrable cover poses some dangers.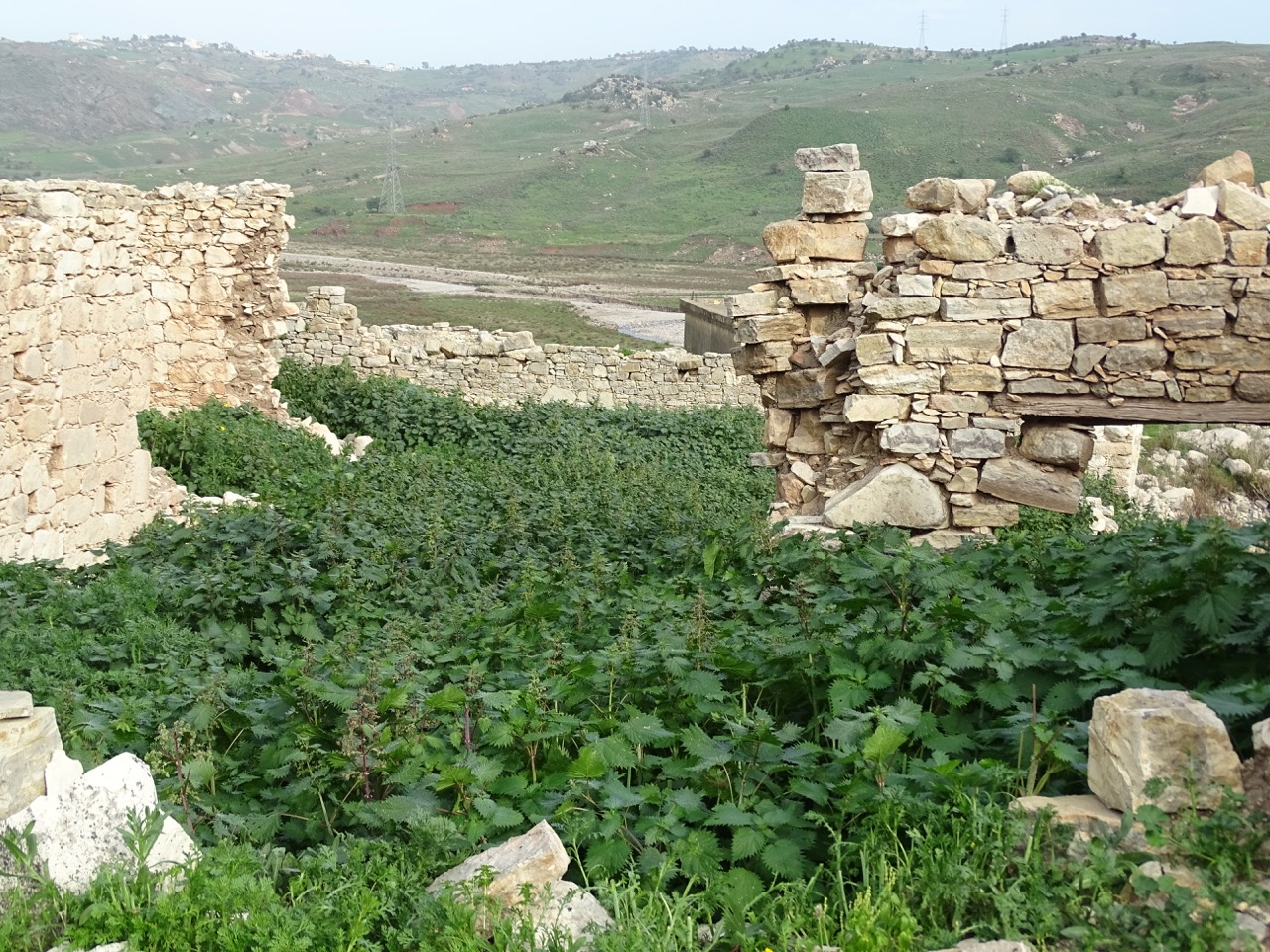 The stench around one of the buildings was impossible to bear. As it turned out, the building had some kind of underground storage. A poor goat got trapped there some time ago. His remains covered by flies were still visible through the broken wooden planks.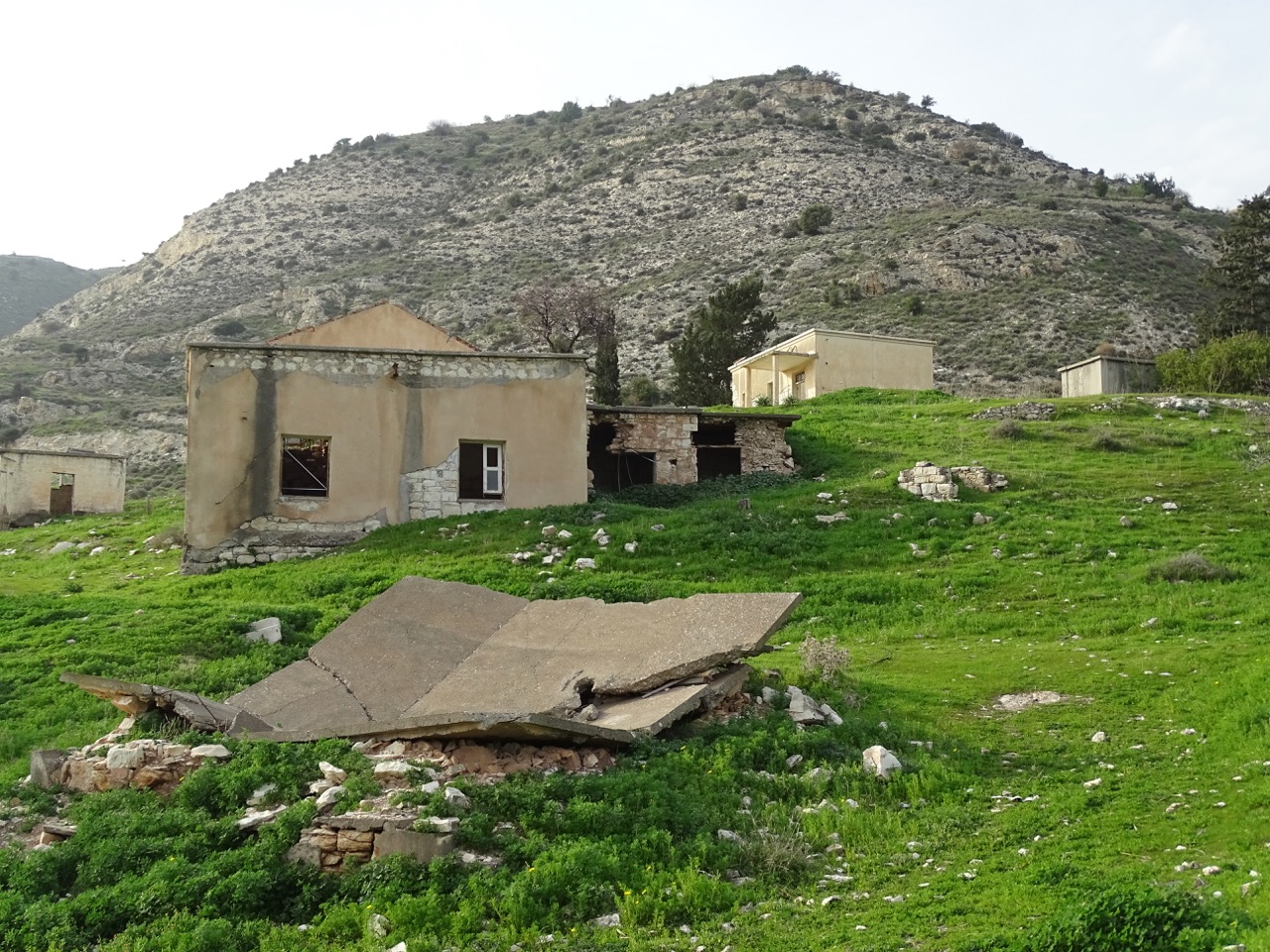 There was evidence of human presence in the newer part of the village. Couple windows were covered with black plastic with some curious trash littered around. It looked a bit spooky. Perhaps, some local shepherd decided to stay there for a while. Or, maybe, some squatter. Whoever it was, was not present in person or preferred to remain hidden at the time of our visit.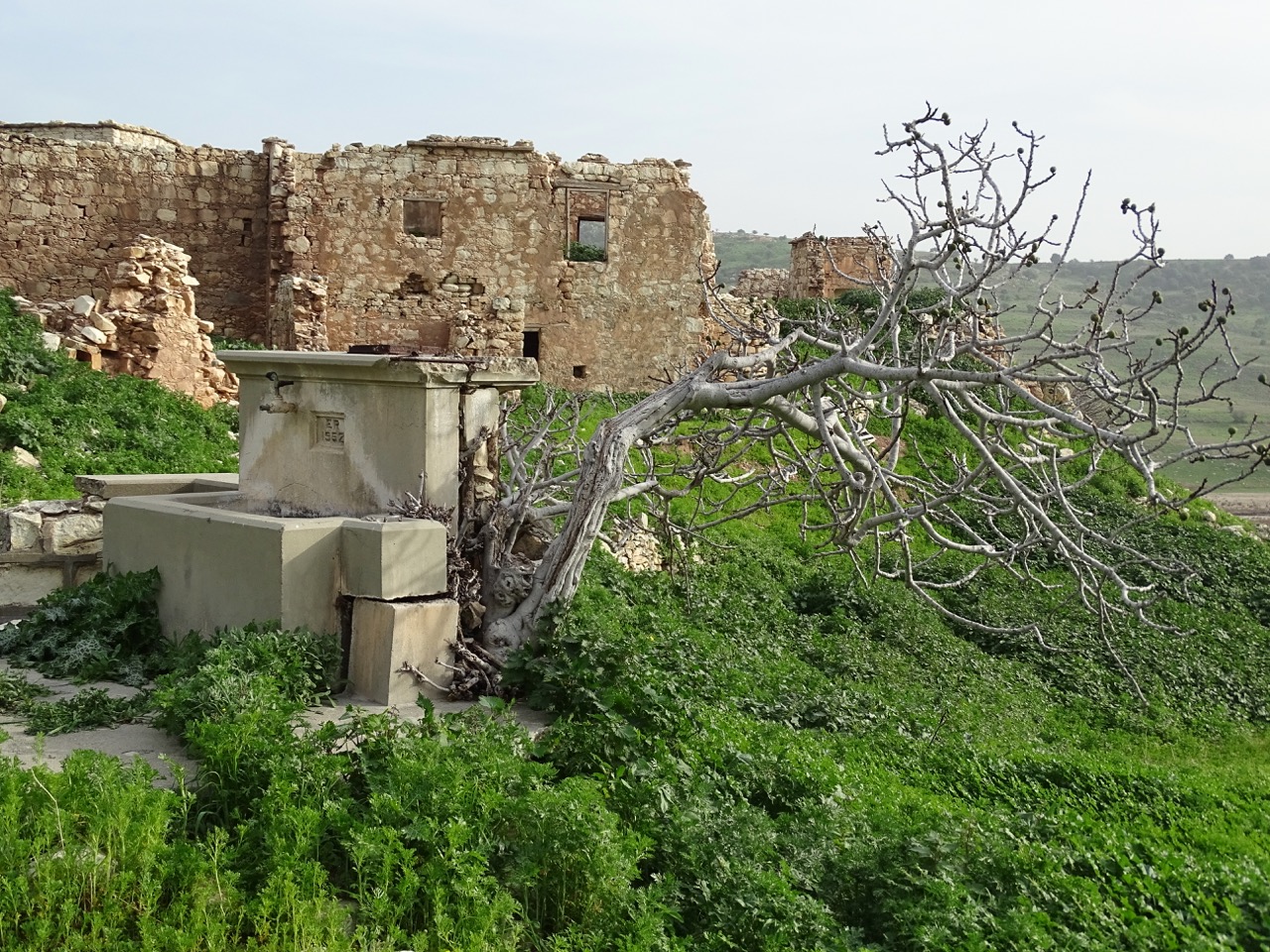 The village was quiet and looked deserted. Evidently, the only recent visitors were goats. They left plenty of hoof prints around.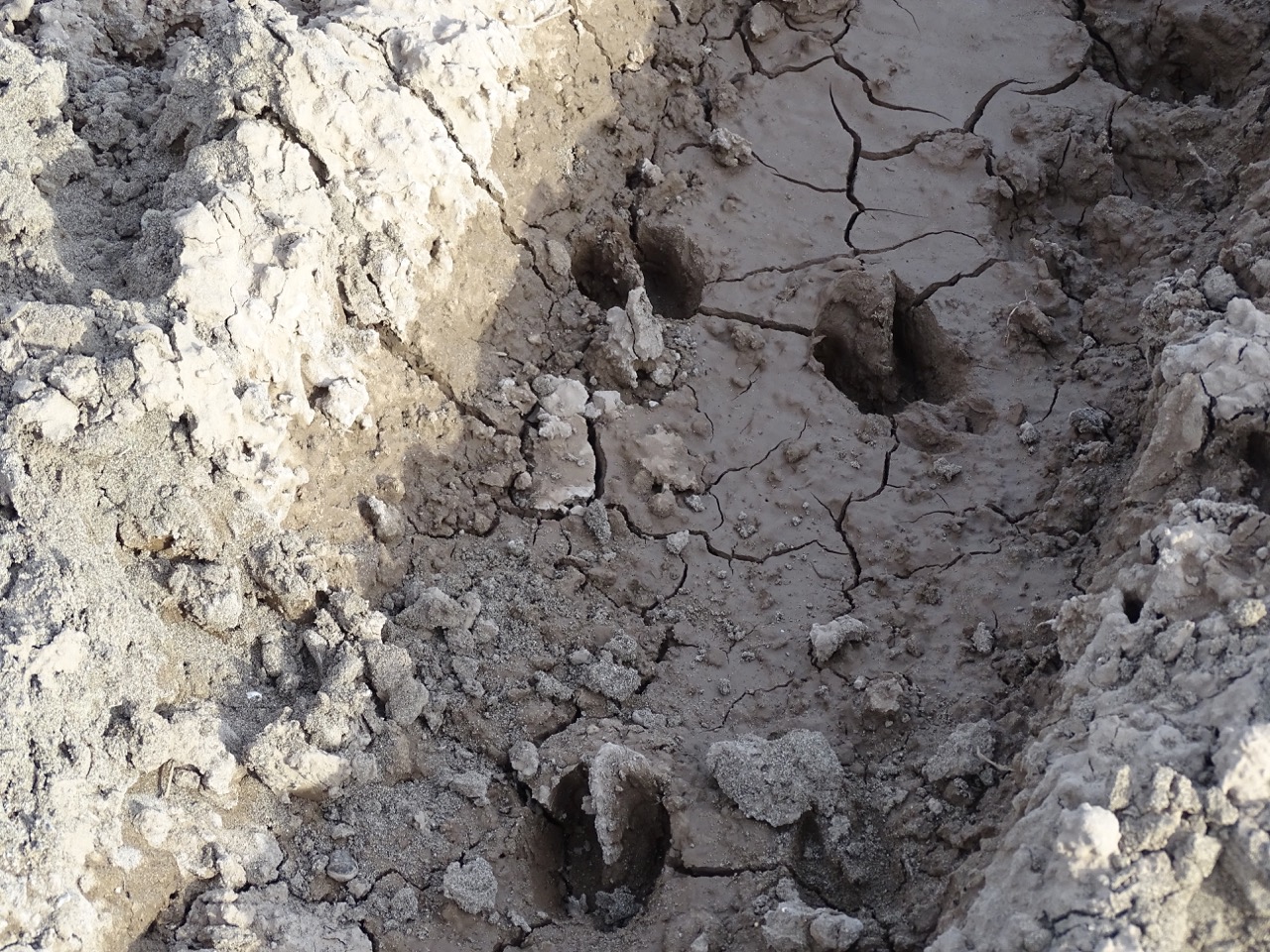 How to get there
The conventional wisdom is to get there by car. I have a better idea. Forget about the luxury of riding your auto-horse and get some exercise by hiking to the village. We did it in February when wild hyacinths popped up here and there, and almond trees were in full blossom. There was an ancient olive grove with lazy lizards dozing under the sun. The whiteness of the hills was contrasted by emerald green grass. The steep descend unfolded amazing vistas. Frankly, the scenery along the road was totally worth the visit just by itself.
Practical advice
This track is not for driving (even 4×4). The initial descent is way too steep.
You have to be in decent physical shape. The hike is not too strenuous except for the first few hundred meters where it drops the equivalent of 28 stories. Remember, you would have to climb back if you want to see your car again.
Hiking shoes, water, and cell phone are strongly encouraged
Do not go alone if you can help it. The village is abandoned, but there were some signs of human presence.
More photos of Foinikas the way it looked in late February 2018.
Share this article on Pinterest by clicking Save button