St. Lucia is undoubtedly an island paradise, which is why tourists flock to the island nation year after year.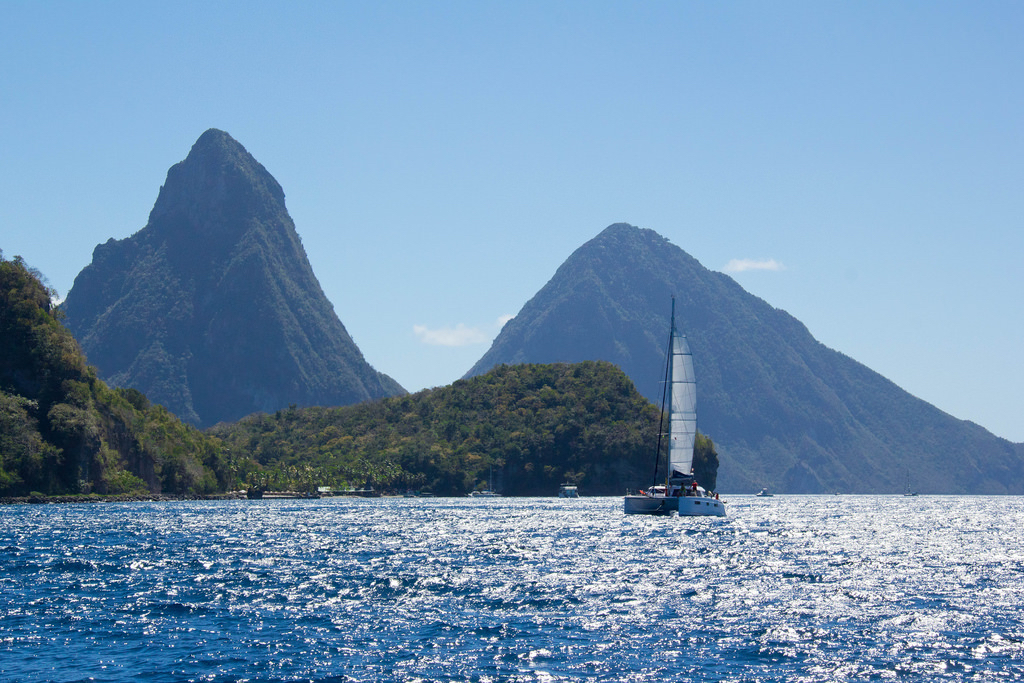 Located in the eastern part of the Caribbean, St. Lucia is an island nation that is home to some of the most luxurious resorts in the world. With gorgeous beaches, lush rainforests, fishing villages, mountains to climb, St. Lucia has a lot of explore for the adventurous at heart.

Stunning Views and Warm Weather
St. Lucia boasts one of the most breathtaking views of all the islands of the Caribbean, particularly because of the pair of twin tapered mountains overlooking the sea. Tourists can rent a luxurious villa in St Lucia, enjoy the year-round warm weather and cool winds, and experience a small slice of island heaven. It is perfect for those looking to get away from the humdrum of life and reconnect with nature.
Clear Water and Soft Sandy Beaches
St. Lucia is surrounded by white sandy beaches with incredibly fine, soft sand to relax and sunbathe. For those looking to get out of the sun, there is water is crystal clear, perfect for swimming. There is even snorkeling available for those in the mood to explore the reefs that surround the island. The beaches are undoubtedly the main attraction when visiting the islands and are absolutely worth visiting once.
Romantic Resorts
There are a number of scenic resorts also available to guests, most famously the Anse Chastanet, which was designed by famous architect Nick Troubetzkoy. Resort goers can dine on a candlelit beach and take strolls among the various gardens and groves.
A Jungle to Explore
For those tired of the beach, there is also a dense rainforest for tourists to explore. Over 70% of the island's inland is a pure rainforest, perfect for visitors that want to take a hike or ride a bike and explore the wildlife. There are also a plethora of parks, zip lines, and guided tours through the rainforest. Tourists will be surprised to find rare plants that they'll never see anywhere else in the world.

Mud Bath at Sulphur Springs
Ever wanted to go into a volcano – it sounds absurd, doesn't it? The Sulphur Springs of St. Lucia calls itself the world's only "drive-in volcano." Located on a dormant volcano, Sulphur Springs offer a once in a lifetime opportunity, to literally dive into the volcano in a boiling mud bath. The baths have health benefits, as the mud is rich in minerals and can greatly soften skin and help ease joint pain. After soaking in the mud, bathers can wash off in the waterfall located near the mud springs. Just be prepared for the smell as sulphur is very pungent, but it's worth it.
Historic Forts
There's a sight for history buffs as well on Pigeon Island, which has numerous ruins of various forts. St. Lucia was a battleground between the British and the French in the 18th century with both countries fighting for control of the island. St. Lucia was an important location for both countries as a strategic naval location. Tourists can explore old ruins including Fort Rodney, a British fort used to spy on French ships on neighboring islands. There are also restaurants that serve local cuisine and two beaches for visitors to enjoy after a crash course through European military history.
Go Hiking at the Twin Peaks
The Pitons are perhaps the most iconic view on St. Lucia, a pair of twin mountains surrounded by luscious vegetation. While most hikers go hiking on Gros Piton, experienced hikers will enjoy the challenge as Petit Piton is very steep. While Petit Piton is physically demanding, it is extremely rewarding for hiking enthusiasts after completing it.
Carnival & Other Festivals
There are several festivals held annually but none that are as pervasive as Carnival. Plenty of music, sexy costumes, bright and colorful parades, Carnival is an experience. The locals in St. Lucia know how to dance and have a good time. There is also an annual jazz and arts festival and is notable for offering some of the best jazz music in the world.
Water Park on the Water
You read that right, St. Lucia doesn't have just any regular old water park like the ones found elsewhere. Splash Island Water Park is a floating water park located right off the cost of Gros Islet. The park is made up entirely of inflatable walkways and rafts. There are bouncy castles, trampolines, monkey bars, a volleyball court, and a rope wall to climb, perfect for families with hyper kids looking to expend some energy.
Shop at the Local Markets
Tourists can finish off their trip at the island's capital city, Castries, and shop in the food and flea market there. Shoppers will be able to buy fresh coconuts to sip on to keep cool as they explore all the market has to offer. From local cuisine to handcrafted souvenirs, Castries has a lot to offer for those looking to bring a piece of the island home at the end of their vacation.
In conclusion, St. Lucia has a lot to offer besides sandy beaches, making it an exceptional choice compared to other islands in the Caribbean. Tourists looking for the ideal vacation would seriously regret not putting St. Lucia at the top of their list as it is an extremely versatile island with plenty to do.
Share this article on Pinterest by clicking Save button