Costa Rica has a long tradition of stable democracy, has not had military since 1948, and prides itself on its peaceful nature. However, like any popular destination, the country is not immune to some criminal activity.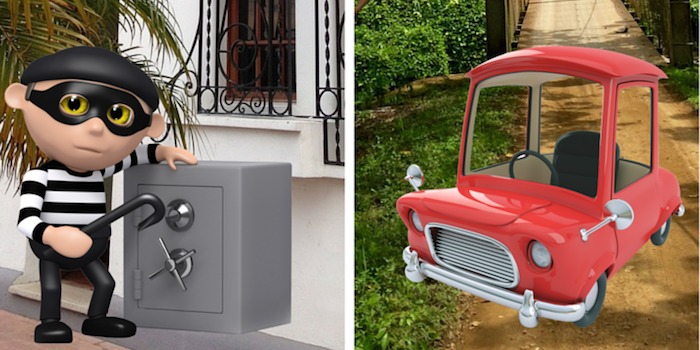 Pickpocketing, mugging, purse snatching, and petty theft are the biggest issues confronting tourists while visiting the country. Vehicle burglaries, smash-and-grabs, and home robberies are fairly common too. In fact, we experienced it first hand in San José. After a short vacation on the Pacific Coast of Costa Rica, we came back home to learn that somebody broke in into our apartment.
Doing research about the area, using common sense and been vigilant generally should be sufficient to stay safe in Costa Rica. Hopefully, following these simple tips make your visit more pleasant.
First, these are the important phone numbers in case of emergencies:
Police emergency – 911
Ambulance – 911
Fire – 911
OIJ* – 911, 2295-3639, or 2295-3640
Tourist Police – 2586-4620, 2586-4287, 2586-4287, or 2586-4458
*) OIJ – Organismo de Investigación (OIJ), Costa Rica's investigative police. To have a crime investigated and/or prosecuted, it must be reported to OIJ.
And now, the safety tips in Costa Rica:
Avoid walking alone at night.
If you plan to visit an unfamiliar area, consult with a trustworthy local regarding precautions or concerns. Attacks of tourists on isolated roads and trails are a known threat.
The downtown area of San José is a prime tourist destination during daylight hours. After dark, though, it is better to stay away from there.
Avoid the El Pueblo Centro Comercial area of San José.
The areas of Jaco on the Pacific Coast and Limón on the Caribbean Coast are not safe at night for tourists due to drug and prostitution activity.
Do not carry large amounts of cash or valuable jewelry. Be careful with expensive gadgets such as smartphones, cameras, etc…
If confronted by a thief, do not resist. Try to stay calm, give the perpetrator what s/he wants, and they are unlikely to hurt you. Most victims of theft are injured when they try to fight back.
Always carry a photocopy of your passport, but leave the original in the safe place. Passport theft is a known problem in Costa Rica.
Use a safe or lockbox wherever you stay.
Do not leave your bags unattended in public.
Change money only in the banks or at your hotel.
Only take a taxi from reputable companies (red or orange in color). Always check if the taxi complies with the established requirements, i.e. yellow triangles on the side doors and a taximeter in the front.
In the city, park your car in a parking lot, not on the street. Outside the city, always park at the well-lit areas.
Always keep your car locked.
Never leave valuables in the car. Do not leave anything lying in sight.
Before any driving, research and study your destination. Have a planned route of travel.
If a passing motorist told you that something is wrong with your car or if you noticed that you've been followed, do not stop. Drive to the nearest public area and if needed call for police assistance.
The signals of emergency or police vehicles are blue and/or red. Do not stop for flashing headlights alone.
If you got lost while driving (more common than you think due to lack of conventional addresses), find a public place, such as a gas station, and stop there to check directions and/or ask for assistance.
If your car is bumped from behind, do not stop on the roadway or side road. Drive to the nearest public area and call for police assistance.
In case of a flat tire, go to the nearest public place or a gas station. Do not accept help from strangers. Thieves try to steal valuables from the vehicle while helping to change a flat tire.
Last, but not least, some notes about natural hazards:
Costa Rica is located in an active earthquake and volcanic zone. The last large earthquake, a magnitude 7.6, occurred in September 2012. It was one of the largest earthquakes recorded in Costa Rican history but caused limited damage, considering its size. Consider that such a disaster may strike without warning. Learn about natural disaster preparedness beforehand.
Serious flooding occurs annually on the Caribbean Coast and the Pacific Province of Puntarenas. Flash floods and severe landslides occur in other parts of Costa Rica as well, depending on the time of year and rainfall. We can attest to this personally: our rental house in Cahuita was severely flooded to the point that we could no longer stay there.
On both the Caribbean and Pacific coasts, ocean currents are swift and dangerous.
In conclusion, ladies and jellyspoons, if you want to visit Costa Rica you definitely should.