Kuala Lumpur was a tough place to visit. We braved mugginess and the unrelenting threat of thunderstorms and ventured on a day-long walkabout. Half-way into our adventure, I doubted our sanity. By the end of it, I was proud of surviving it.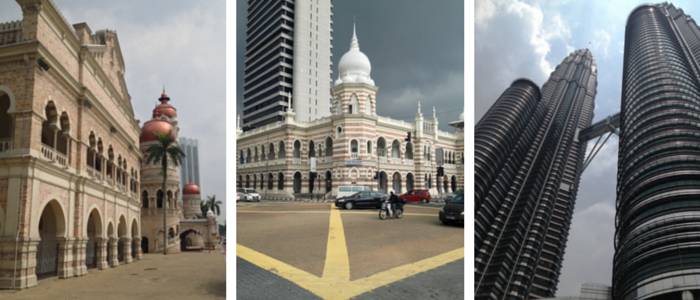 Looking through these pictures reminds me how challenging that day was. The skies looked sickly grey, the distant objects seemed hazy and out of focus. That was the reality of KL. I guess, in a while anyone gets used to it, but a newcomer undoubtedly would have a hard time adjusting to a Malaysia capital's normality.
Our walkabout started near famous Petronas Towers at KL City Centre Park and snaked through the Little India to Merdeka Square. On the way, we took many memorable Kuala Lumpur photos from the ancient cemetery guarded by a huge lizard to an explosion of brightly colored fabrics in little India to the old colonial streets busy with everyday life.