From personal experience, the emergency room in Clinica Biblica Hospital is excellent. The staff speaks very good English, facilities are modern and well-organized, the service is efficient and adequate.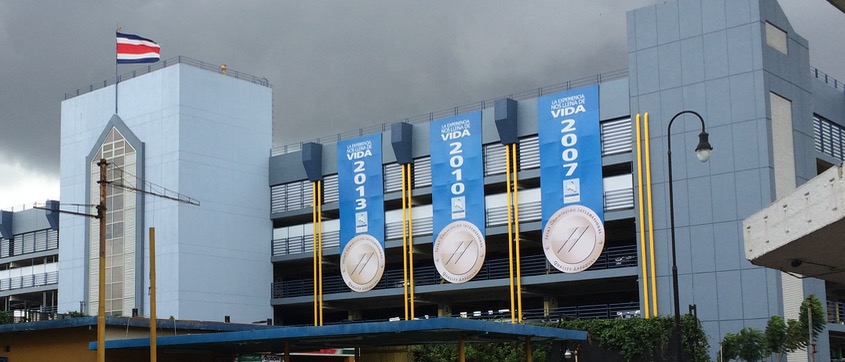 Most hospitals will require upfront payment (paying by credit card is acceptable in some hospitals in San José, but there might be a surcharge). US medical insurance is not always accepted.
There is an interesting recommendation from the US Embassy: consider purchasing private air medical insurance before traveling to Costa Rica. We didn't do it, and I have no idea how one can buy it. This is Costa Rica Medical Response website where you might find more information.
The main emergency number in Costa Rica is 911.
Air Ambulance Services (private) by Costa Rica Medical Response (CRMR) – 2286-1818, 2286-4848 or use the online form on their website. Provide your name, phone number, the route or destination of the medical transport, and the condition of the patient.
Additional phone numbers:
La Fortuna – 2479-8911
Monteverde Area – 2645-7778
CRMR offers payments either by cash, credit card rate or bank transfer. You can even pay after the emergency.
List of Local Hospitals and Clinics with Contact Information recommended by the US Embassy
San José
Clinica Biblica Hospital (private) – 2522 1000 / 2522 1030 (emergencies)
CIMA Hospital (private) – 2208-1000
Hospital Mexico – 2242-6700
Hospital Calderon Guardia – 2212-1000
National Children's Hospital – 2523-3600
Hospital Clínica Católica (private) – 2246 3000 / 800 2286 5488 (emergencies)
Hospital Metropolitano (private) – 2521-9595 (main office)
Puntarenas
Hospital Monseñor Sanabria – 2630-8000
Limón
Tony Facio Hospital – 2758-2222
Guanacaste
Enrique Baltodano Hospital – 2690-2300
Ciudad Nelly (close to Panama)
Hospital Ciudad Nelly – 2785-9600
Nicoya
Hospital Anexion – 2685-8400
Los Chiles
Hospital Los Chiles – 2471-2000
San Carlos
Hospital de San Carlos – 2460-1176
Cartago
Hospital Maximiliano Peralta Jimenez – 2550-1999
Perez Zeledon
Hospital Escalante Padilla – 2785-0700
Alajuela
Hospital San Rafael de Alajuela – 2436-1001
Heredia
Hospital San Vicente de Paul – 2562-8100
For more phone numbers of hospitals and clinics in Costa Rica check this list.