Spring is here, and the first asparagus crop of this season has arrived. Let's put it to good use with this quick and delicious Dungeness Crab and Asparagus Salad recipe.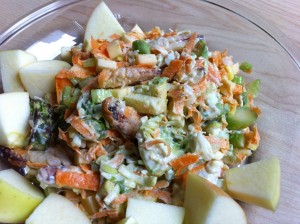 print recipe
Prep time:
20 minutes
Cook time:
0 minutes
Total time:
20 minutes
Serves 4
INGREDIENTS
1/2 lb dungenes crab
1/2 large golden delicious apple diced
6 asparagus spears chopped
1 large carrot shredded
1/2 cup celery finely chopped
1/4 cup leek finely chopped
1 medium avocado
1/2 cup mayonnaise

DIRECTIONS
In a large bowl, combine all ingredients. Mix well. Serve immediately.
Enjoy!
NOTES
First spring asparagus spears are so soft that they do not need any trimming. However, later in season you can trim off the tough bottom of the spear by grasping each end and bending it gently until it snaps at its natural point of tenderness (about 2/3 of the way down the spear). You can also peel off the outer skin of the spear using a vegetable peeler.
This recipe uses Kewpie Mayonnaise which is far superior in taste. Of course, you can substitute it either with a homemade one or any mayonnaise available in your local store.