Sea beans are quite salty and crisp hence they perfectly complement dungeness crab in our salad recipe.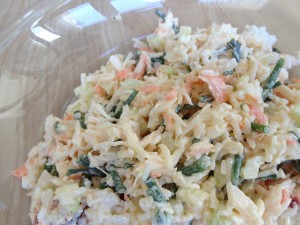 print recipe
Prep time:
15 minutes
Cook time:
0 minutes
Total time:
15 minutes
Serves 4
INGREDIENTS
1/2 lb dungenes crab
2 cups sea beans chopped into 1/2-inch-long pieces
1 cup celery chopped
1 medium carrot shredded
1/2 cup onions chopped
3 cups steamed white rice
1/2 cup mayonnaise

DIRECTIONS
In a large bowl, combine all ingredients. Mix well. Serve immediately.
Enjoy!
NOTES
This recipe uses Kewpie Mayonnaise which is far superior in taste. Of course, you can substitute it either with a homemade one or any mayonnaise available in your local store.