This gluten free buckwheat recipe is perfect for lunch or breakfast: toasty buckwheat with crispy bacon and tofu covered with fried egg.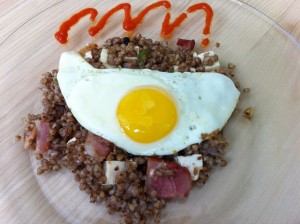 print recipe
Prep time:
15 minutes
Cook time:
25 minutes
Total time:
40 minutes
Serves 3
INGREDIENTS
1 cup roasted buckwheat groats (kasha)
6oz extra firm smooth tofu
4 pieces meaty bacon
1 serrano pepper
6 cloves garlic
5 coriander seeds
5 black peppercorns
1 small bay leaf
3 medium eggs

DIRECTIONS
Buckwheat Preparation
bring 2 cups of water to boil in a medium size saucepan
add 1 cup roasted buckwheat groats (kasha), black peppercorns, coriander seeds, bay leaf and a dash of salt
reduce heat to low, cover and simmer 17 minutes
Bacon and Tofu Preparation
slice bacon into small pieces (0.5×1.5 inches) and fry until it starts becoming slightly crisp
slice serrano pepper
crash garlic
add serrano pepper and garlic to a skillet with bacon and sauté for about 1 minute
cut tofu into 0.5×0.5 inches cubes
add tofu to the mix and sauté for another 2 minutes
Mixing Together
add cooked buckwheat, mix, turn off heat and let it stand for 5 minutes
Fried Eggs
while the mix is resting, fry eggs the way you like. Use 1 egg per serving
Serving
plate, put the fried egg on top and serve
Enjoy!
NOTES
To create a vegetarian version of this dish you can substitute bacon with a teaspoon of olive oil.
The serrano pepper is a type of chili pepper, so it can be very hot. If you prefer milder taste do not add serrano pepper to this dish.