Balik Pulau is a quaint town in the southwestern part of Penang Island lost half way between the airport and fishing villages.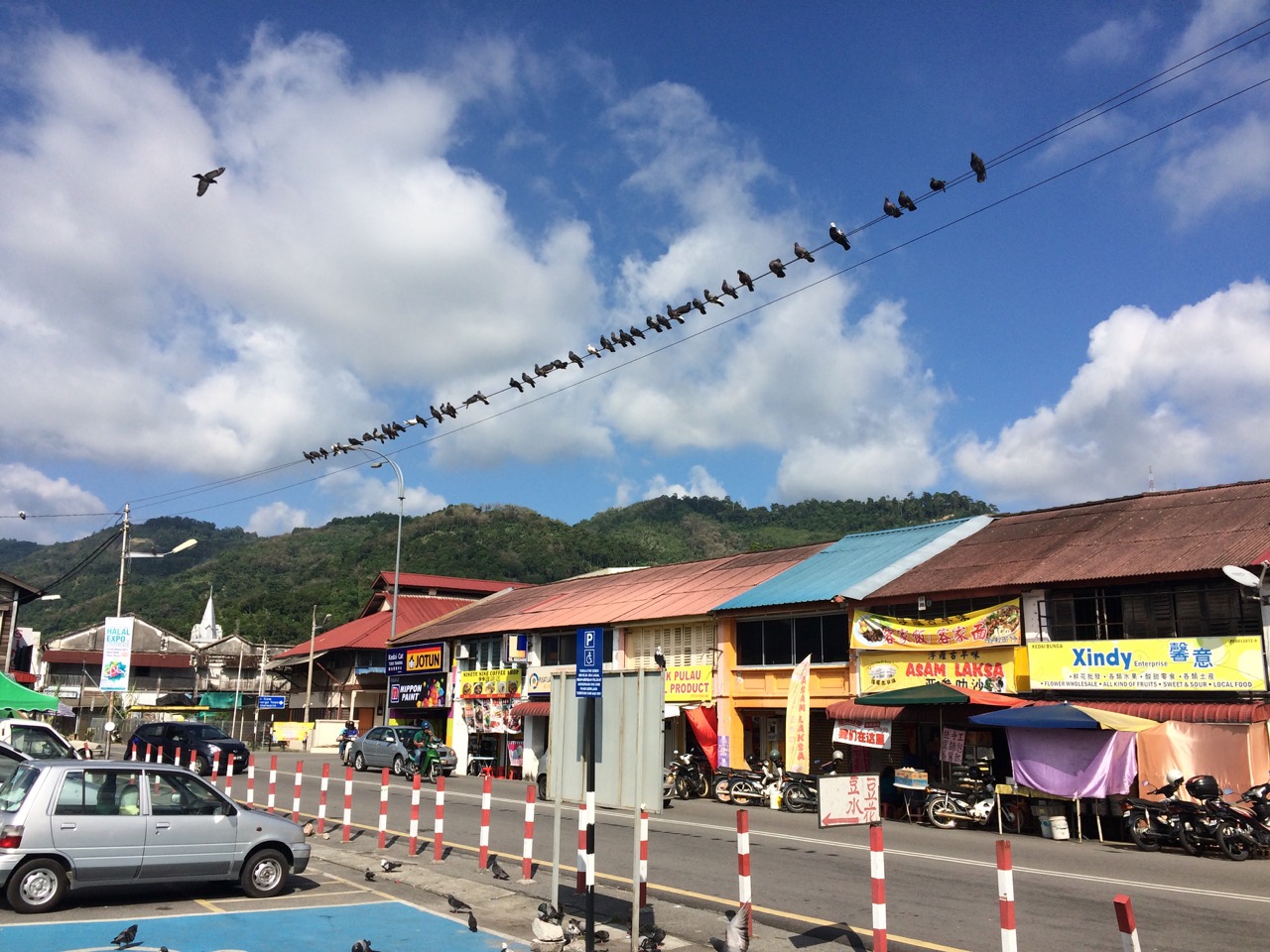 Better known for fruit farms, it is an unlikely place to look for street art. Perhaps unfairly, but one would think that younger generation would be looking somewhere else to hang out and, subsequently, leave a visual footprint of their presence.
It was an unexpected treat when one day riding in a car, I spotted a huge mural. It was Silversmith, a well-known work of Ernest Zacharevich. It's location often loosely listed as Penang, so I made a rookie mistake assuming that it meant somewhere in George Town.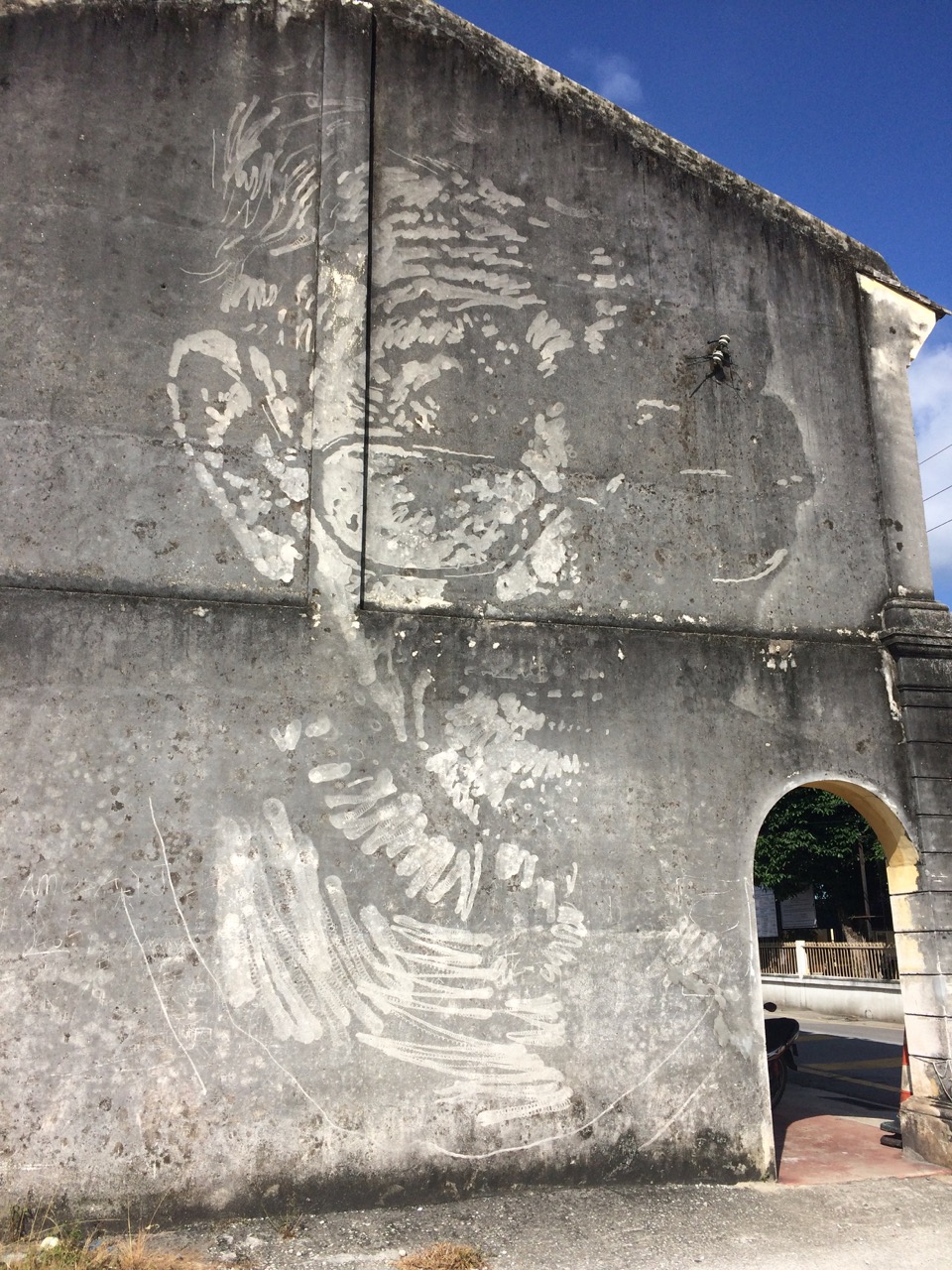 Stuck in traffic, I didn't get a chance to snap a picture. Hence, I came back couple weeks later. This time, though, better prepared. I found out the name of the place where Silversmith landed. It's called Balik Pulau. Moreover, the person who inspired this mural was the local craftsman Fong Ten Sent. Sadly, he passed away in 2016.
Julia Volchkova, a talented Russian artist, left her distinct mark there too.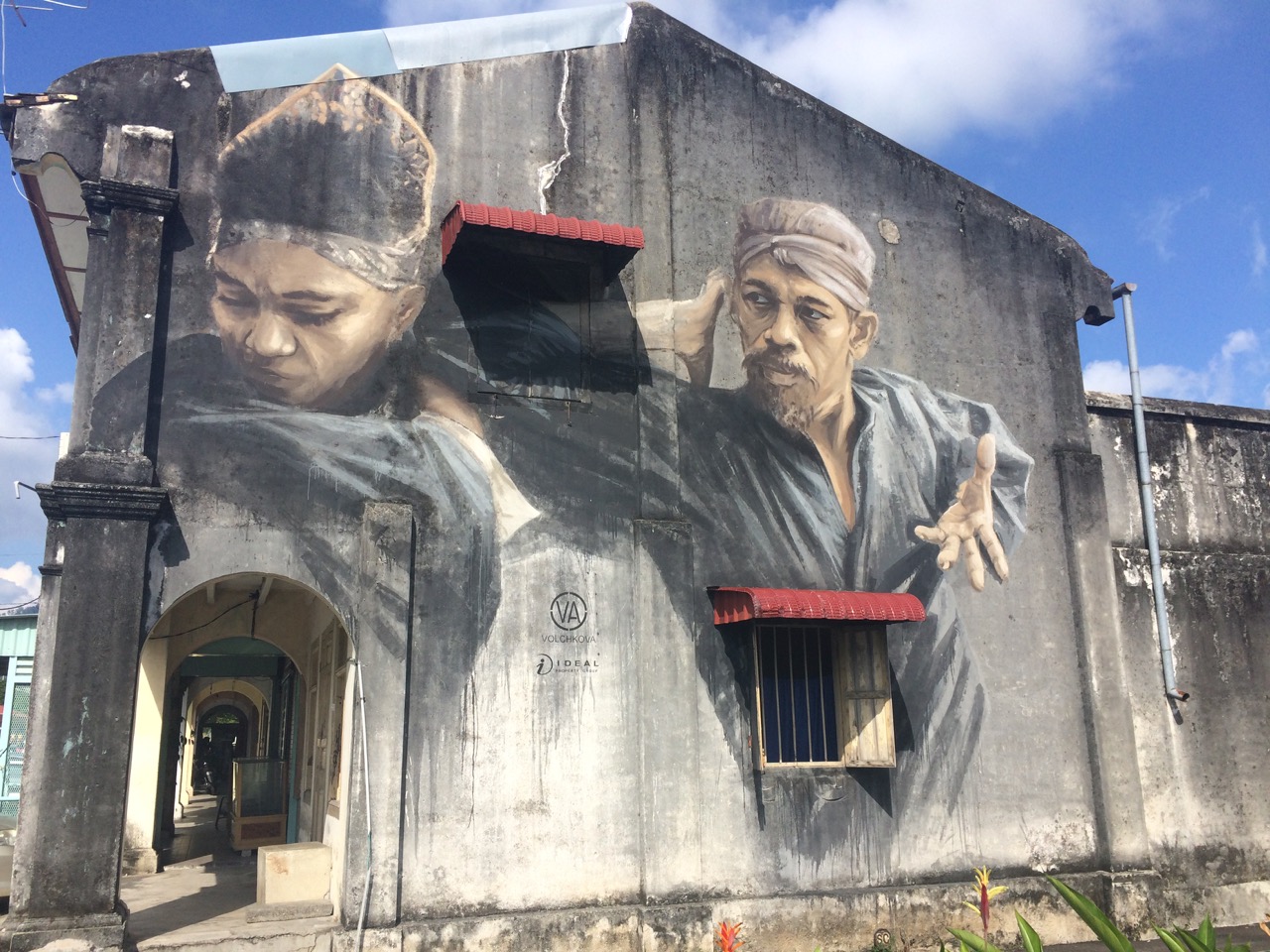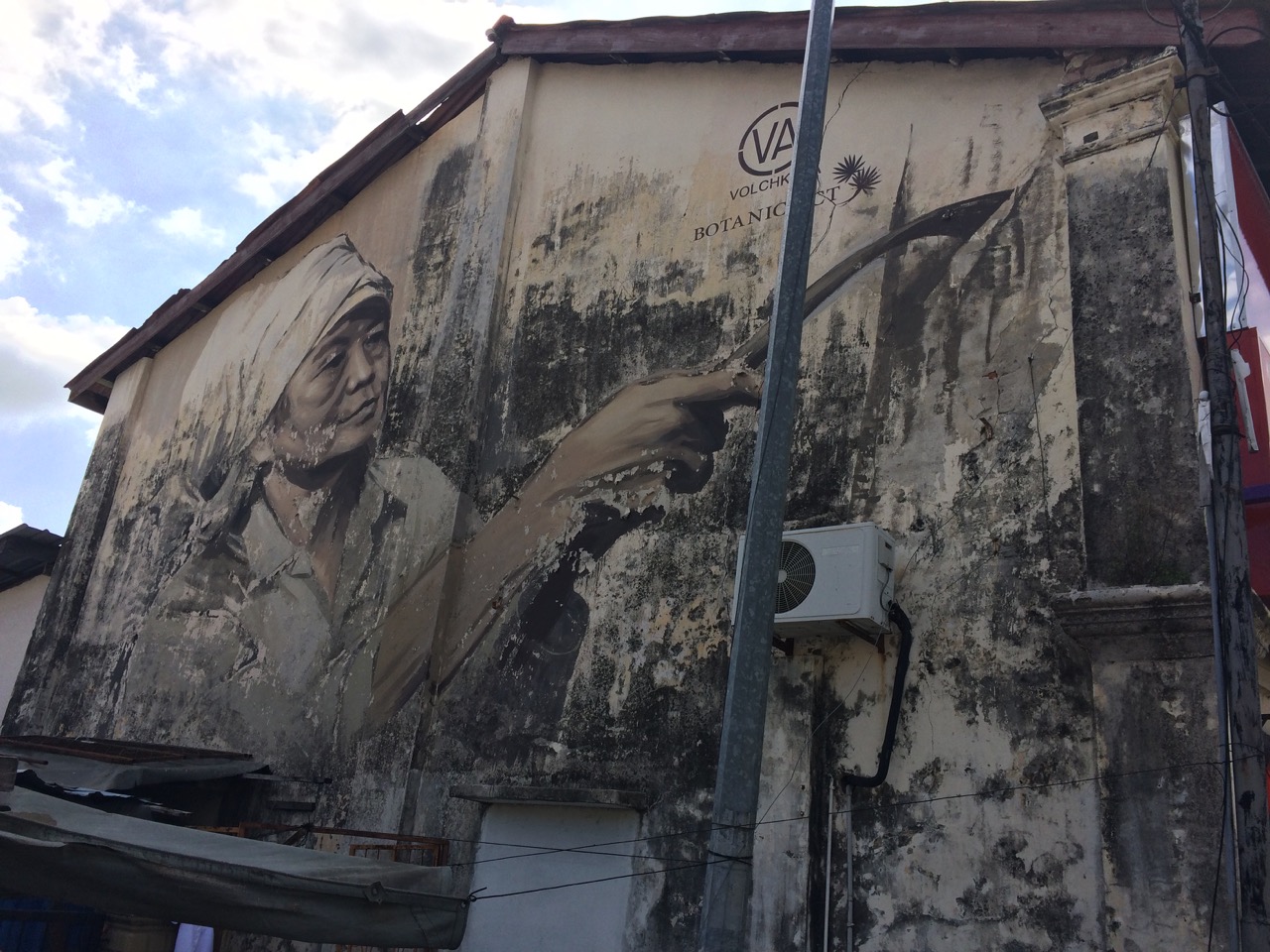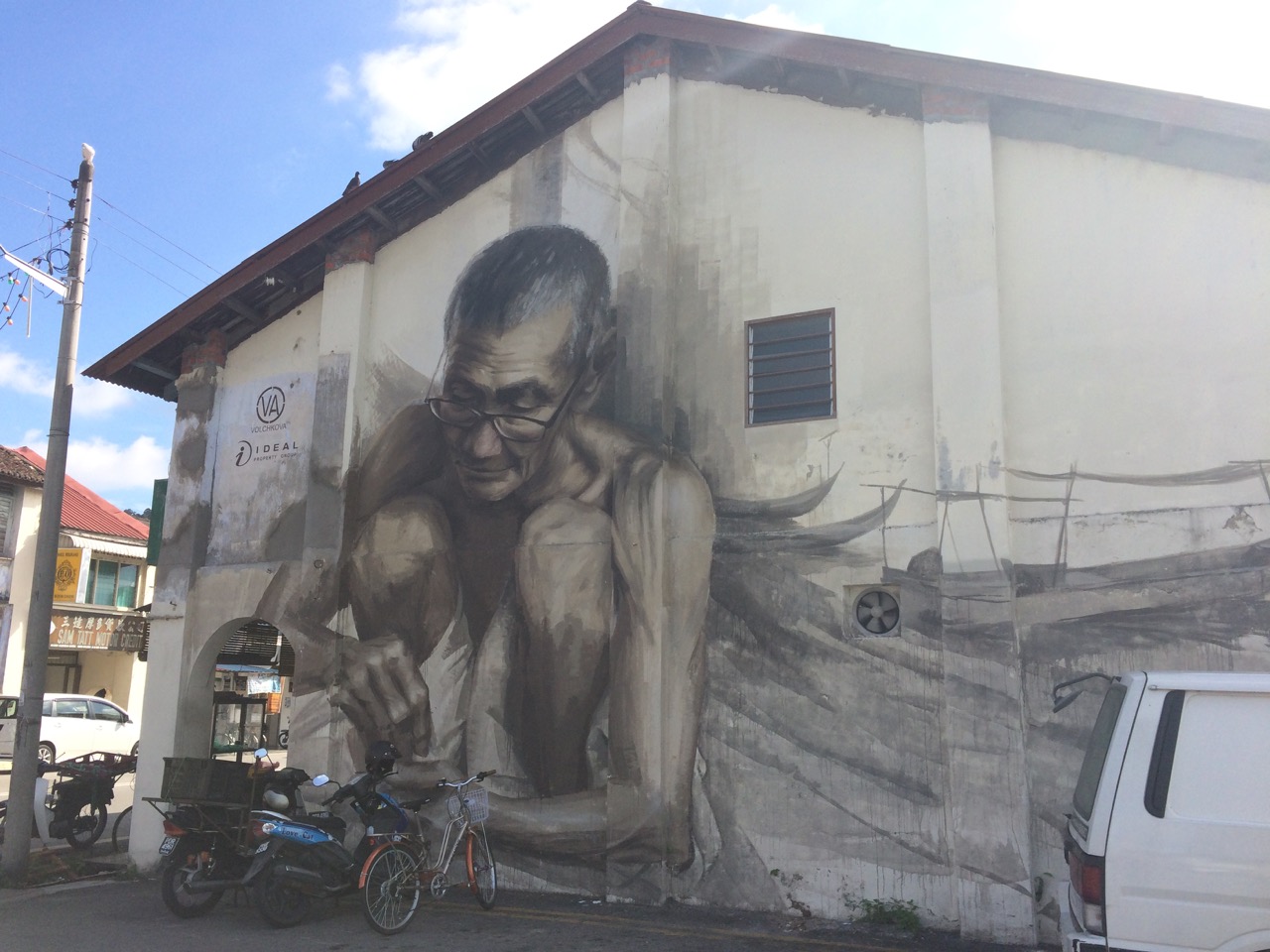 I was convinced that there should be more. Following a theory that crowd always follows the lead, I decided to walk around to check if I get lucky and find some other works. What are chances that more artists discovered this quiet town?
A monkey appeared next. The mold-infested wall almost entirely consumed it by now.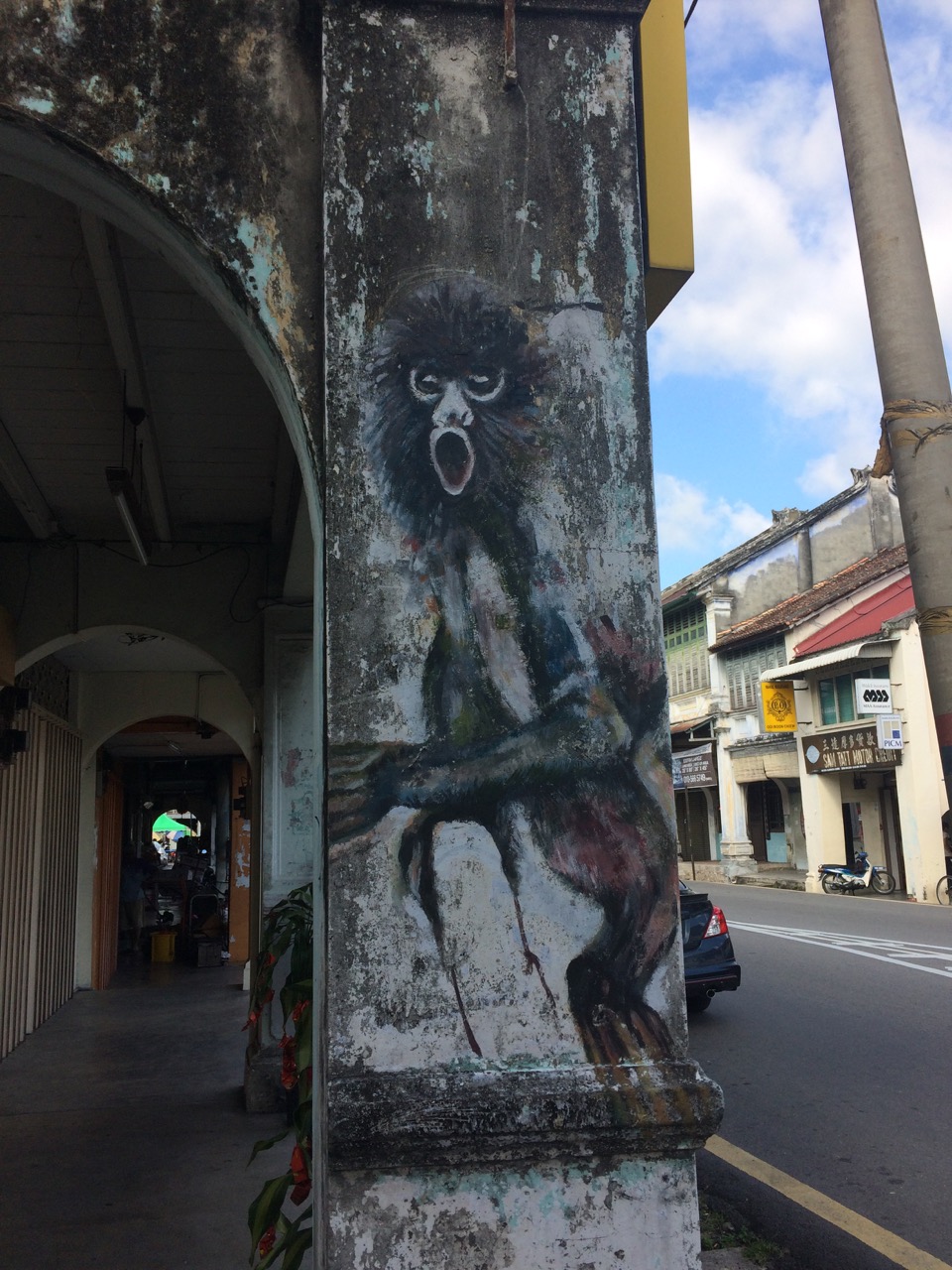 Next, a face poked out from an alley. It's psychedelic style caught my eye across from a street.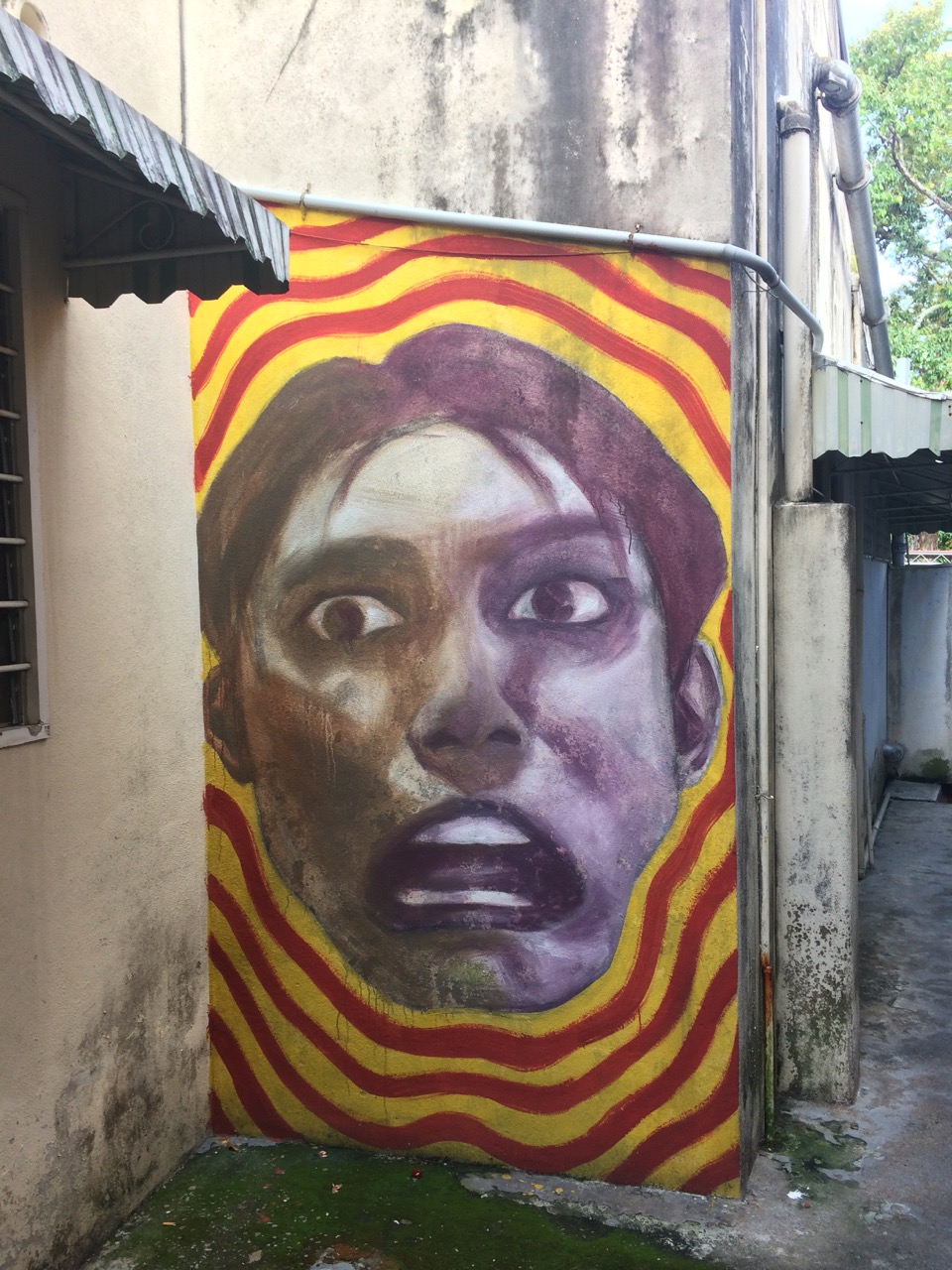 Determined to take a closer look, I almost missed an incredible work.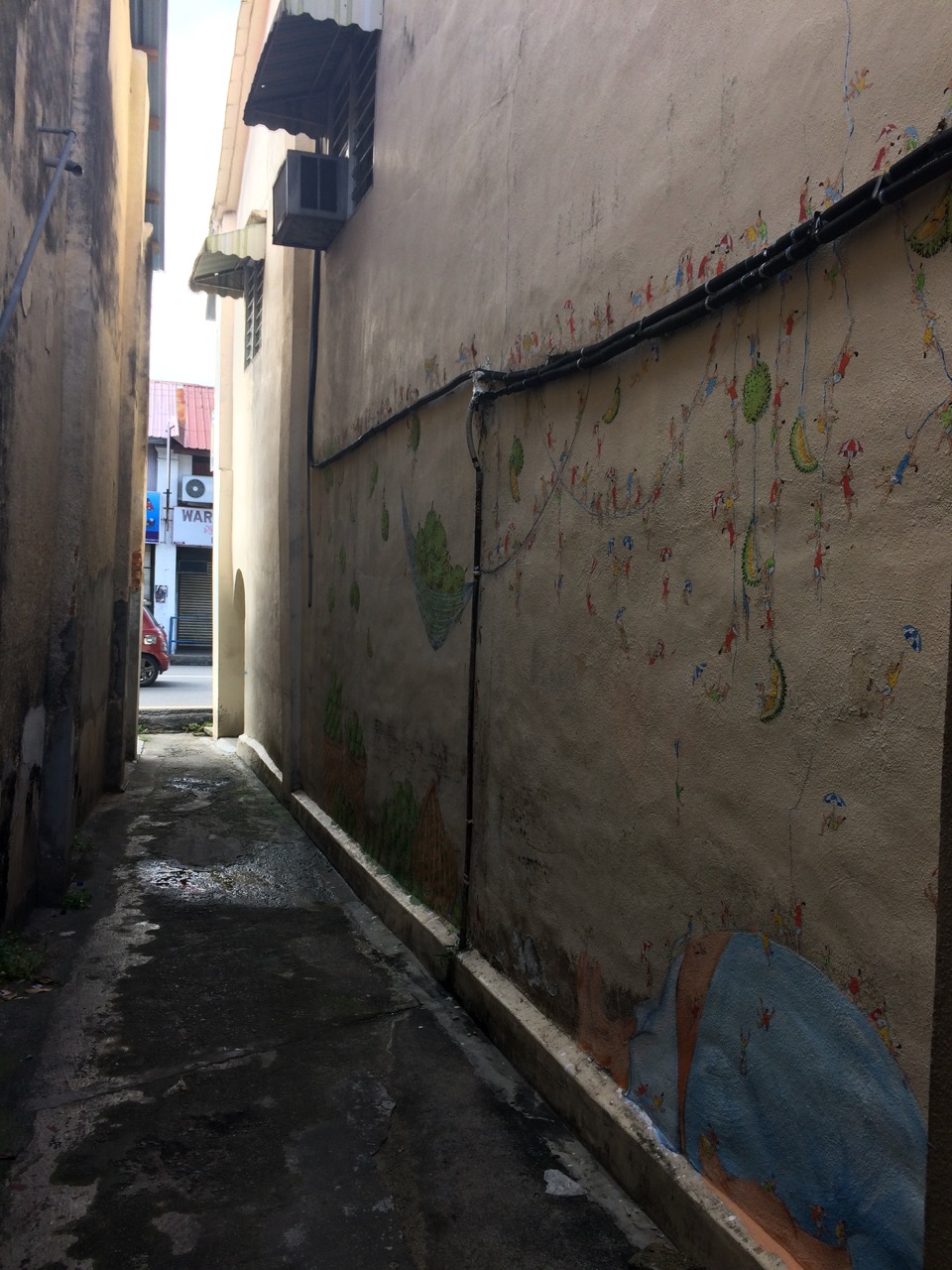 In a narrow, smelly alley exists an incredible world of its own. It is full of tiny colorful beings, a happy cat, durians, a sleeping giant á la Gulliver… Whoever painted it, cleverly incorporated exposed pipes and wirings of a real building into a whimsical mural.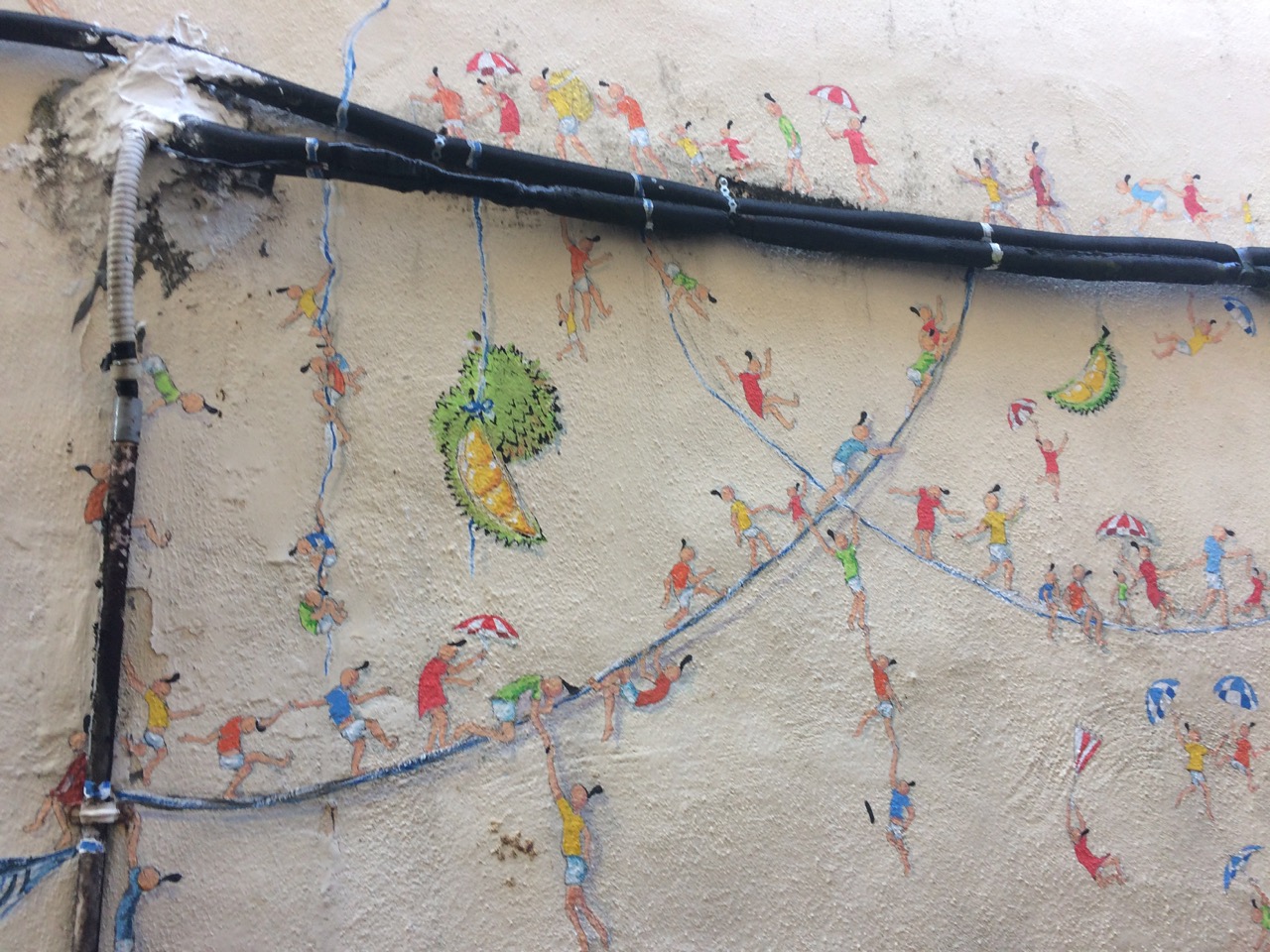 The painting is so humongous, and the alley is so narrow that it is impossible to view it in full. You have to walk along the wall to admire all elements of this epic masterpiece one by one.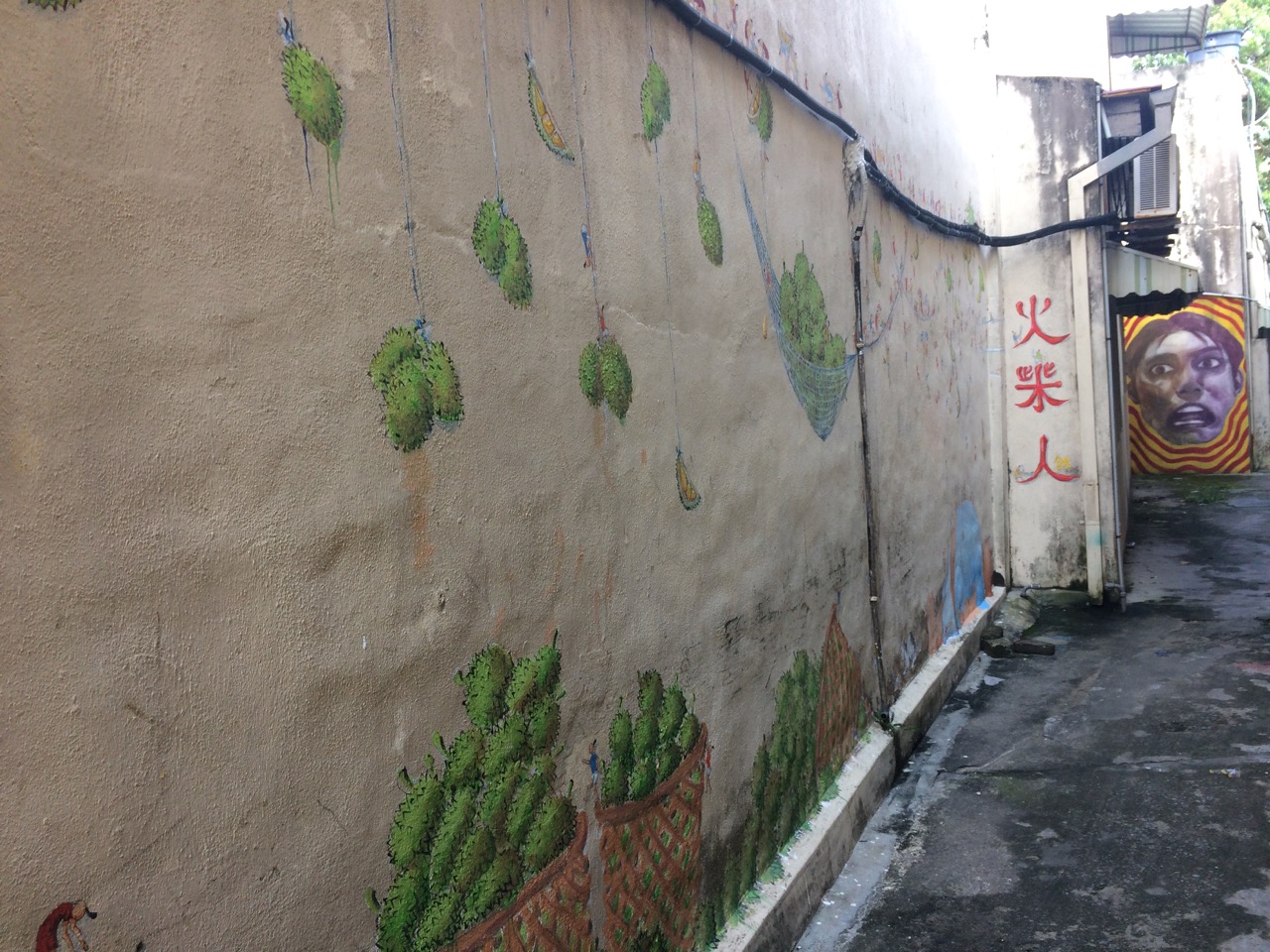 This video helps to look at all details and gives an idea of how large it is.
It is an incredible painting tackled in the most unfortunate location. It could be the perfect illustration of "you have to see it to believe it" expression except you can't. Which is sad. It would be awesome to see the whole picture from some distance.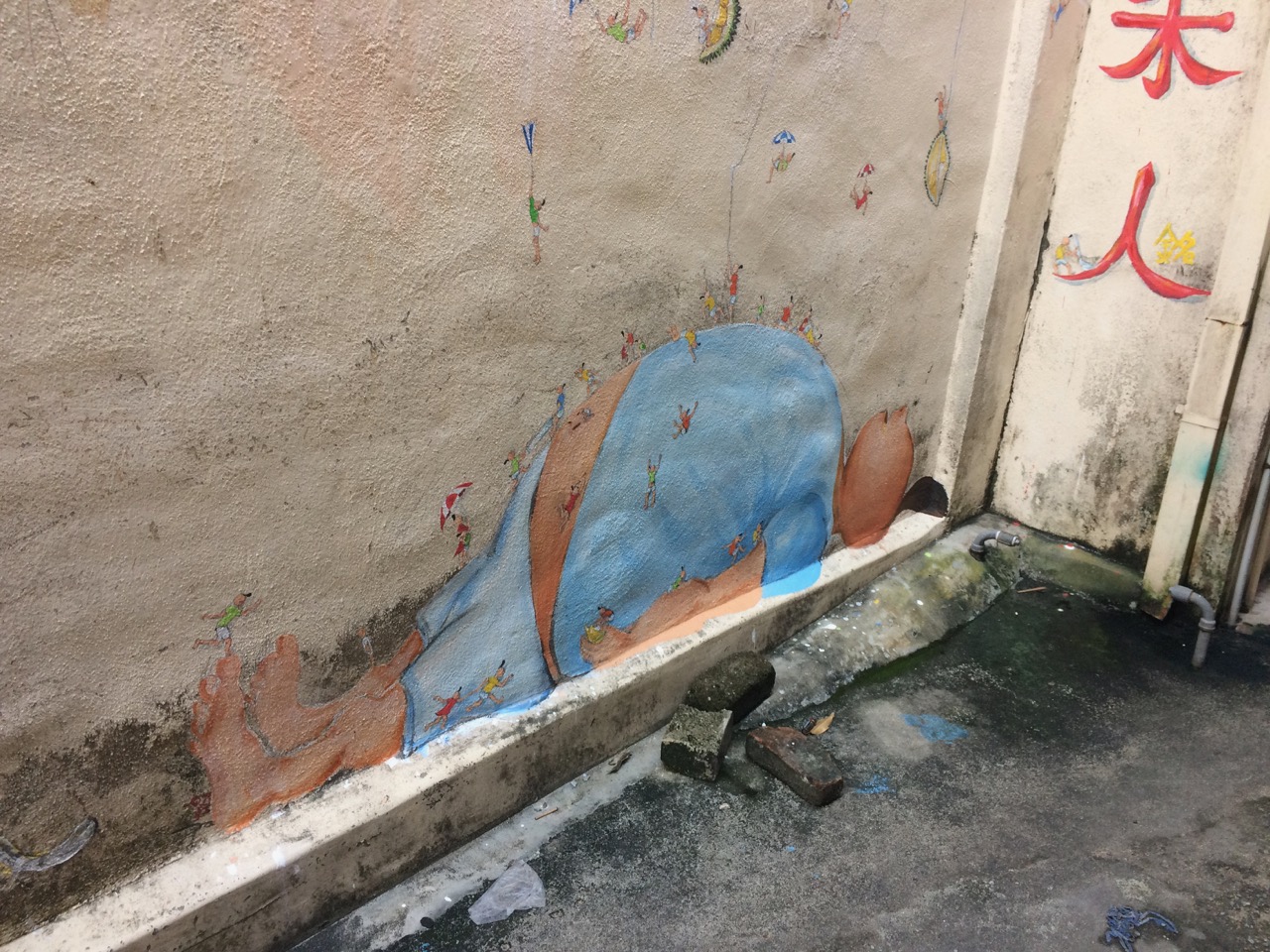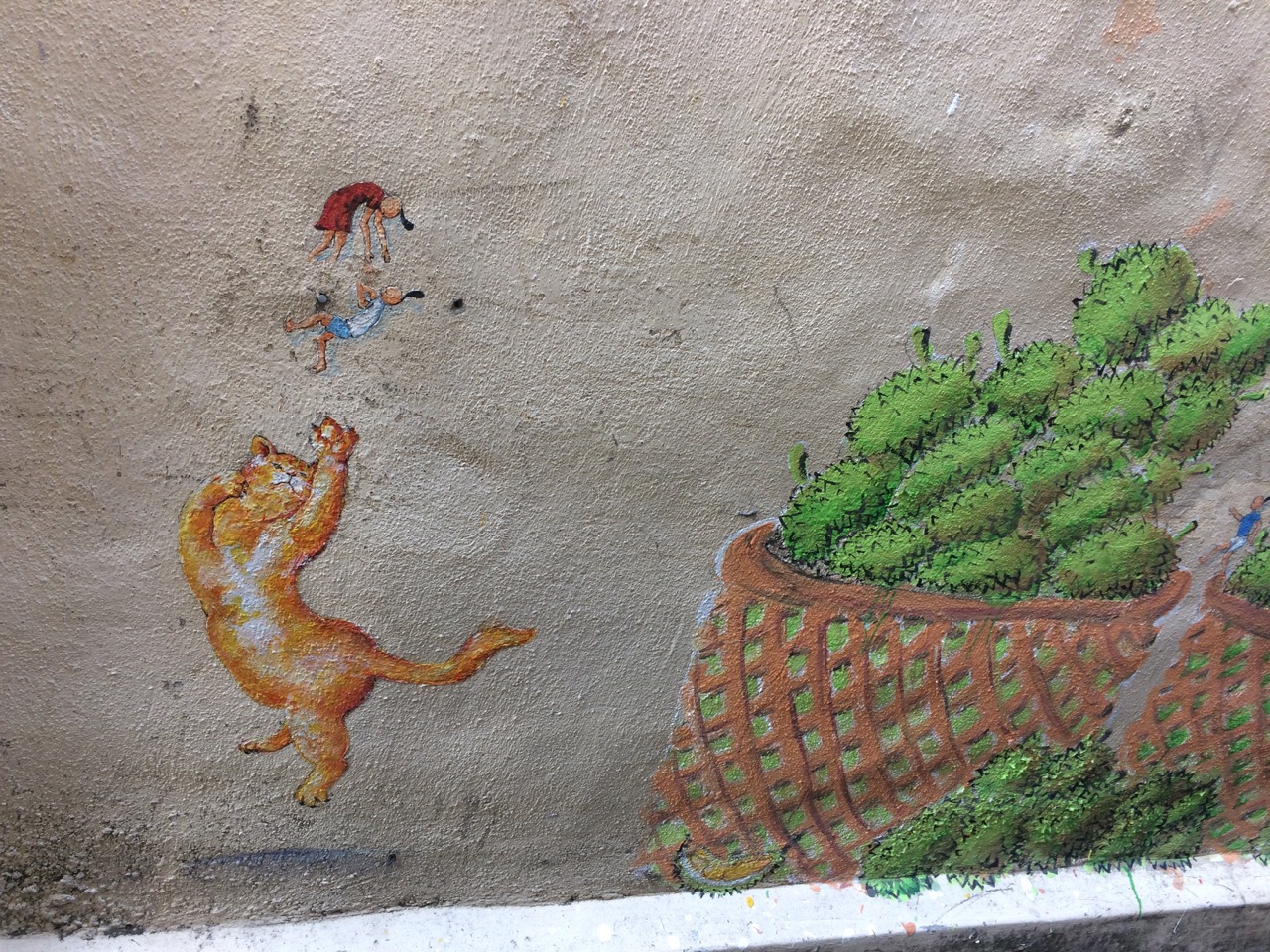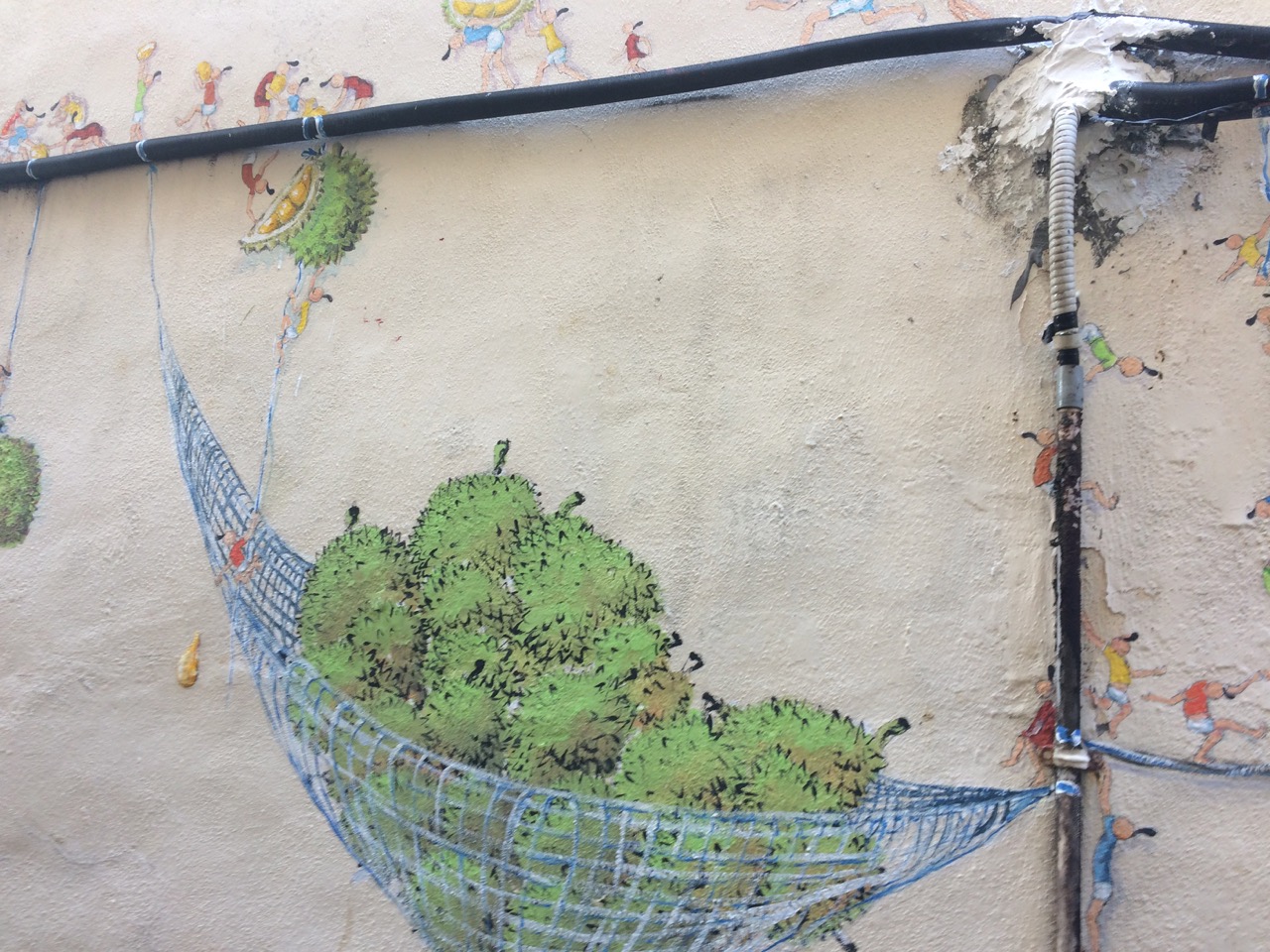 Despite all efforts, I couldn't find any information about the artist. Attaching a name to this mural would be great. If you know who the author is, drop me a note in comments below. Same goes for the monkey and the face. Thanks!
If you are interested in street art, read about awesome murals we found in Ipoh. It's relatively easy to get there either from Penang or KL and totally worth a trip.
Share this article on Pinterest by clicking Save button