Heavy downpour delayed my street art hunting excursion. I wouldn't mind some refreshing rain to easy an oppressive mid-day heat. Instead, it felt like the skies opened emergency flooding gates. Streets became rivers with visibility limited to your own nose. By the time rain passed, just about an hour left of daylight. It looked like Mother Nature didn't want me to see all the street art of Ipoh. Since it was one of the main reasons coming there, I decided to go out anyway hoping to catch as much as I can.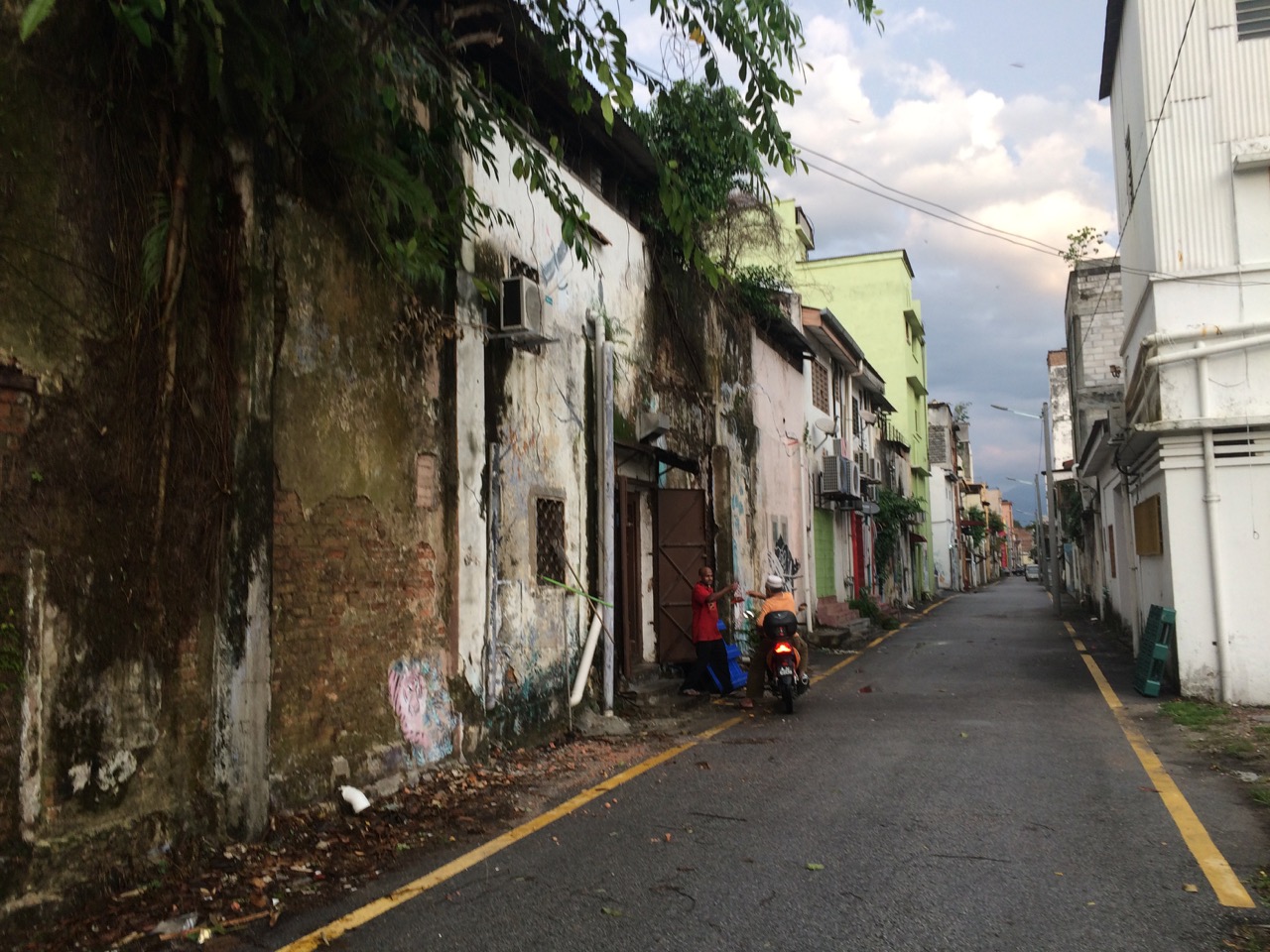 As an outdoor medium, street art impressions get affected by some outside factors. Weather conditions, ever-changing seasons, time of the day or even phases of the moon may collaborate (or antagonize) with art pieces. A clever artist takes advantage of these natural gifts. Occasionally, it happens by accident.
There's something to be said about being in the right place at the right time. Some street art works look more impressive in the dark. Here is the great example. Evolution by Ernest Zacharevic (aka ZACH), a Lithuanian-born multidisciplinary artist, is an epic masterpiece stylized as Chinese ink painting showing Ipoh's rise and fall as a tin mining town and what lies ahead.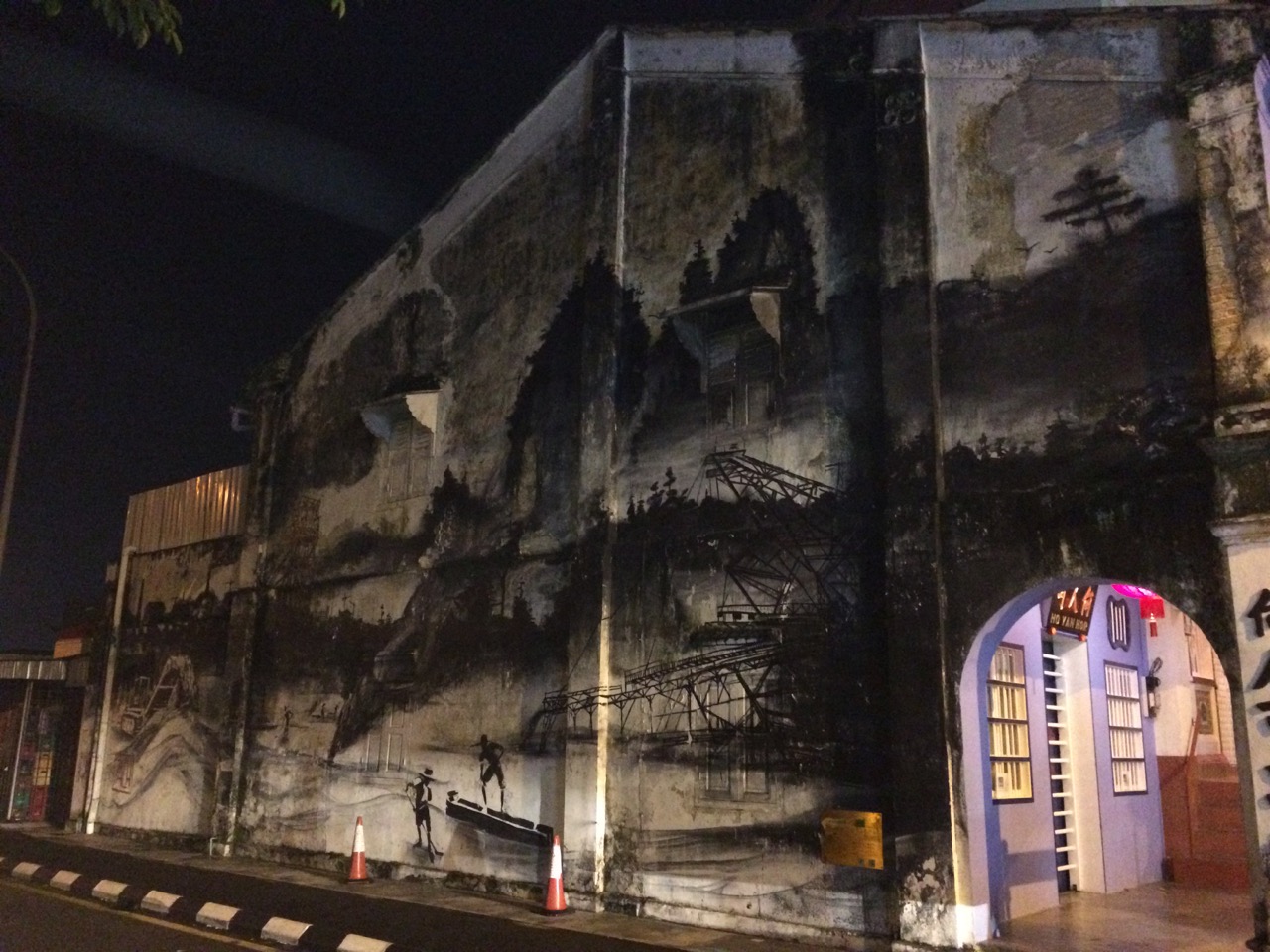 I knew about this black and white mural from photos even before coming to Ipoh. I regarded it as a stylish work of a gifted artist, a nod to local culture and traditional painting technique. Nothing more, nothing less. I was blown away how different it looked at night. The dark industrial structures with shadowy hills and forests in the background looked foreboding and hostile. You could feel the plight of miners. I sincerely think Evolution is the outstanding artwork.
I almost finished writing this post when I found author's thoughts about Evolution on his Instagram account. Thoughtful and heartfelt, it has to be read to appreciate the mural even more. The artist wrote: "… I think this was most challenging artwork I have ever done. I still can't really understand where it came from… I remember I spent days looking at the wall and trying to see whatever it's trying to tell me. And it told me a lot. I have barely painted anything. Just a few spontaneous strokes translating whatever was there into language people can understand. It's very rewarding to see how appreciated this piece is amongst locals. Without knowing it, I painted a piece that speaks to people the memories of past the current struggles and the challenges of future. I don't look like anything I've done before, and I don't think I'd be able to do something like this again. This wall is doomed to go under renovation soon, and the painting will have to leave this town just like a tin mining industry did back in the day, but that I feel only gives it more charm… P.S. It's also a first time I wrote an essay in the photo caption."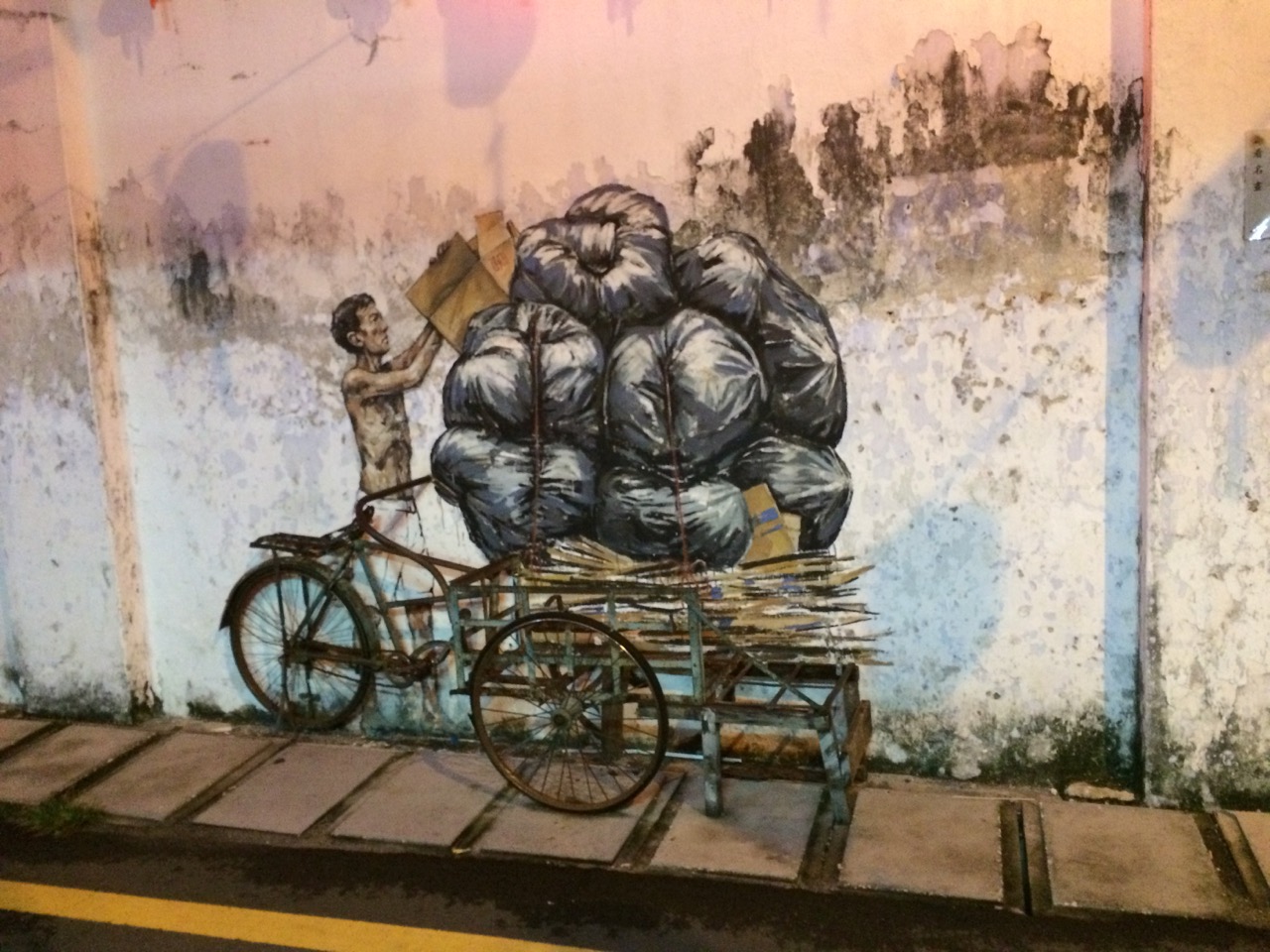 Zacharevic name is well-known in Penang. Arguably, some of his works are the most photographed examples of street art. I'd never seen tourists not only queuing but willing to patiently wait a considerable amount of time to take a selfie next to a rusted bicycle. Up until our Evolution encounter, I viewed him as a talented artist who hit the jackpot, so to speak, with a particular style of merging painting and a physical object. Do not get me wrong: the idea is great. The only issue is that it's getting stale after a few repetitions. It's nothing to be ashamed of. Have you ever been to The Dali Museum in Florida? By the end of walking through all the rooms, even the most staunch Dali lovers(yours truly included) need a breath of fresh air.
Due to time constraints, I didn't have a chance to visit all street art murals created by Ernest Zacharevic in Ipoh. Frankly, Evolution left such a strong impression that I also did not want to spoil newly found admiration for the artist.
Useful Tip
Evolution looks amazing under night skies. However, the rest of Zacharevic murals are better to be seen during daylight.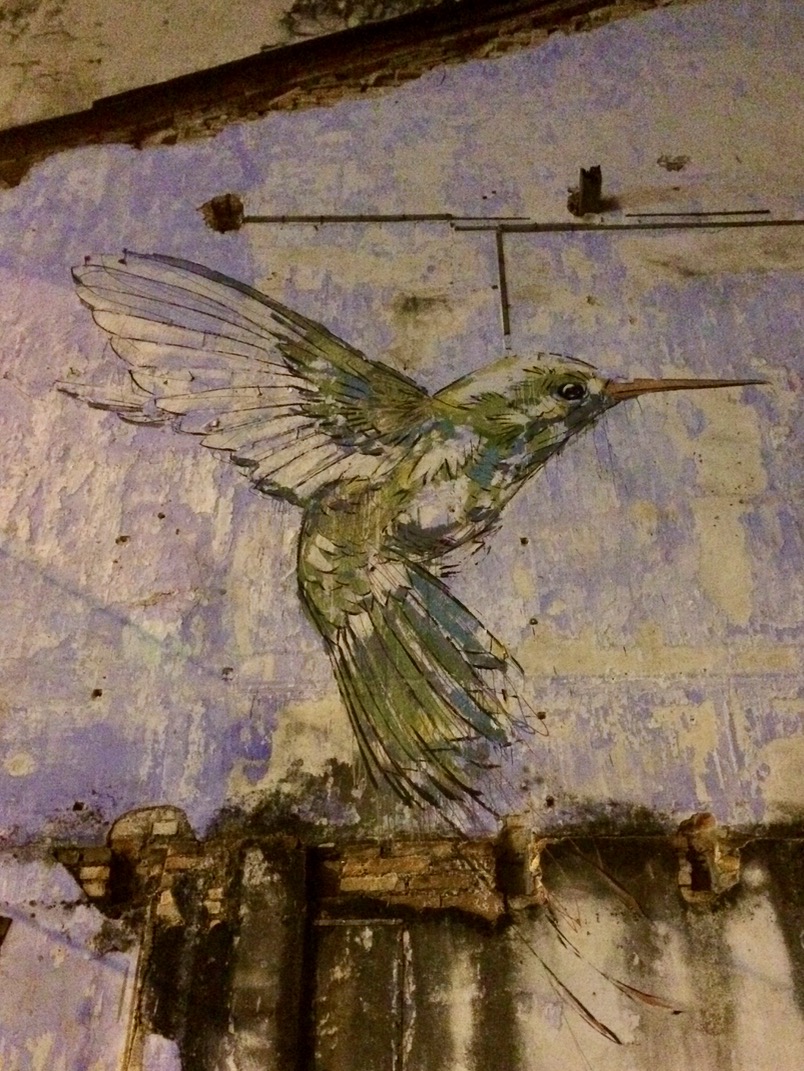 Couple years ago, the artist collaborated with OldTown White Coffee, a local coffeehouse chain, to produce series of murals collectively called the Art of OldTown. The idea behind the project was to celebrate the cultural traditions and history of Ipoh that is incidentally the birthplace of white coffee. He painted 8 murals. Use the map below to find them:
Funny Story
During our Old Town Ipoh walkabout, a building caught my attention. I always was a sucker for urban decay (not a cosmetics brand but the real stuff). This corner beauty was impossible to miss. Lo and behold, we took pictures and walked around. A week later, it dawned on me that we actually saw the original version of kopi-O by @ernestzacharevic.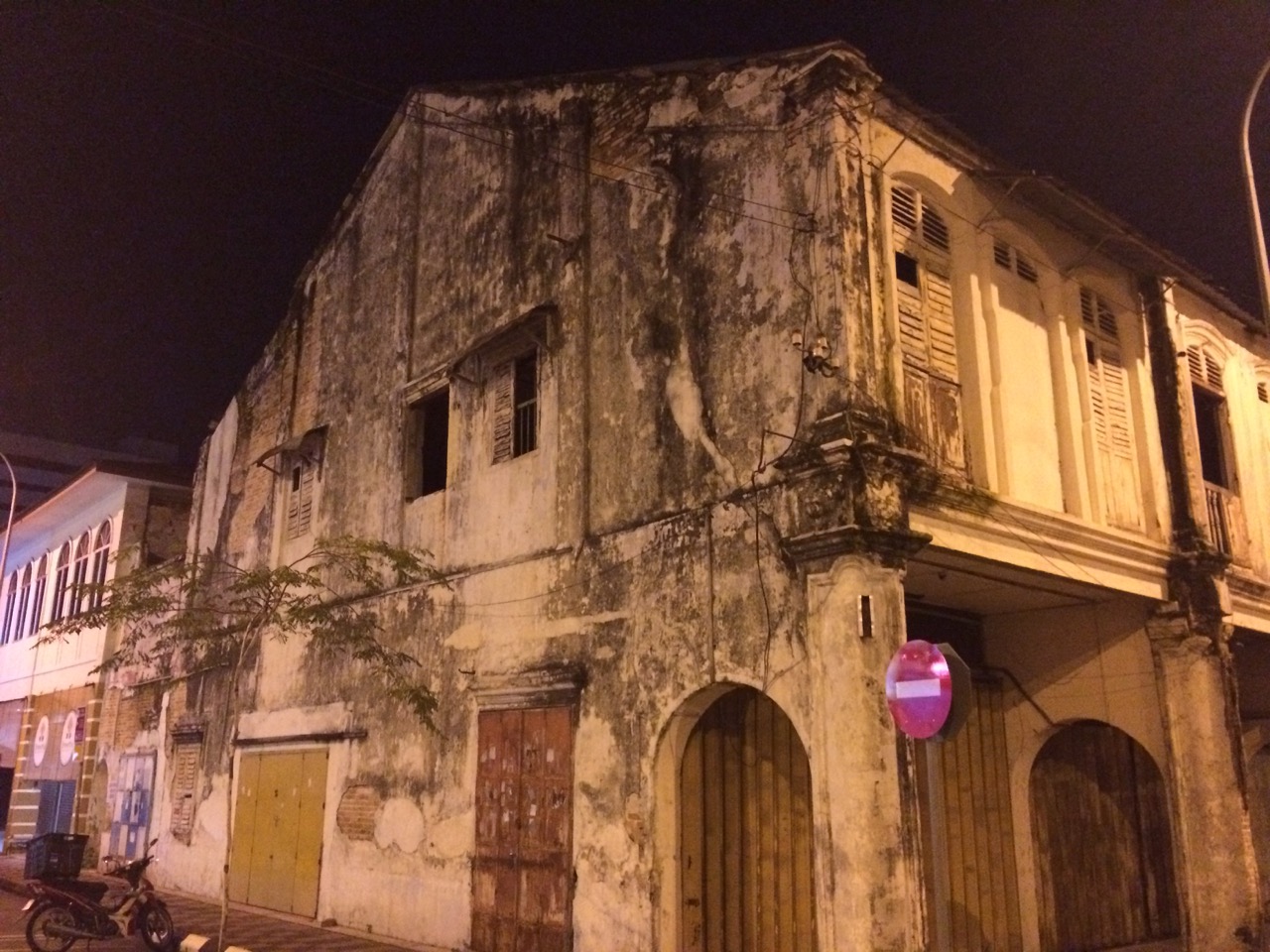 If you are interested in street art, read about
awesome murals we found in Balik Pulau
in the middle of Penang. Everybody knows about the famous street art of George Town, but there are more impressive works just a short drive away.
Perhaps, you noticed Part 1 in the title. There are many more murals sprinkled throughout Ipoh. I was going to write another post about them. While doing research about the artists, it dawned on me that I'll be just parroting a myriad of already existing write-ups and pictures. I guess this is the byproduct of our digital age where virtually everyone has some sort of camera or smartphone and a social media presence. Click, snap, post. Repeat. The same mass production so to speak applies to a multitude of websites that simply duplicate each other sometimes even with the same grammatical mistakes or odd phrases. There are just a few authors who spent time doing their homework and put real efforts into producing quality material about local artists beyond widely available albeit scarce facts. Disheartened, I never wrote about the rest of Ipoh's street art. Following the same sentiment, I never wrote about George Town street art either.
There is one exception.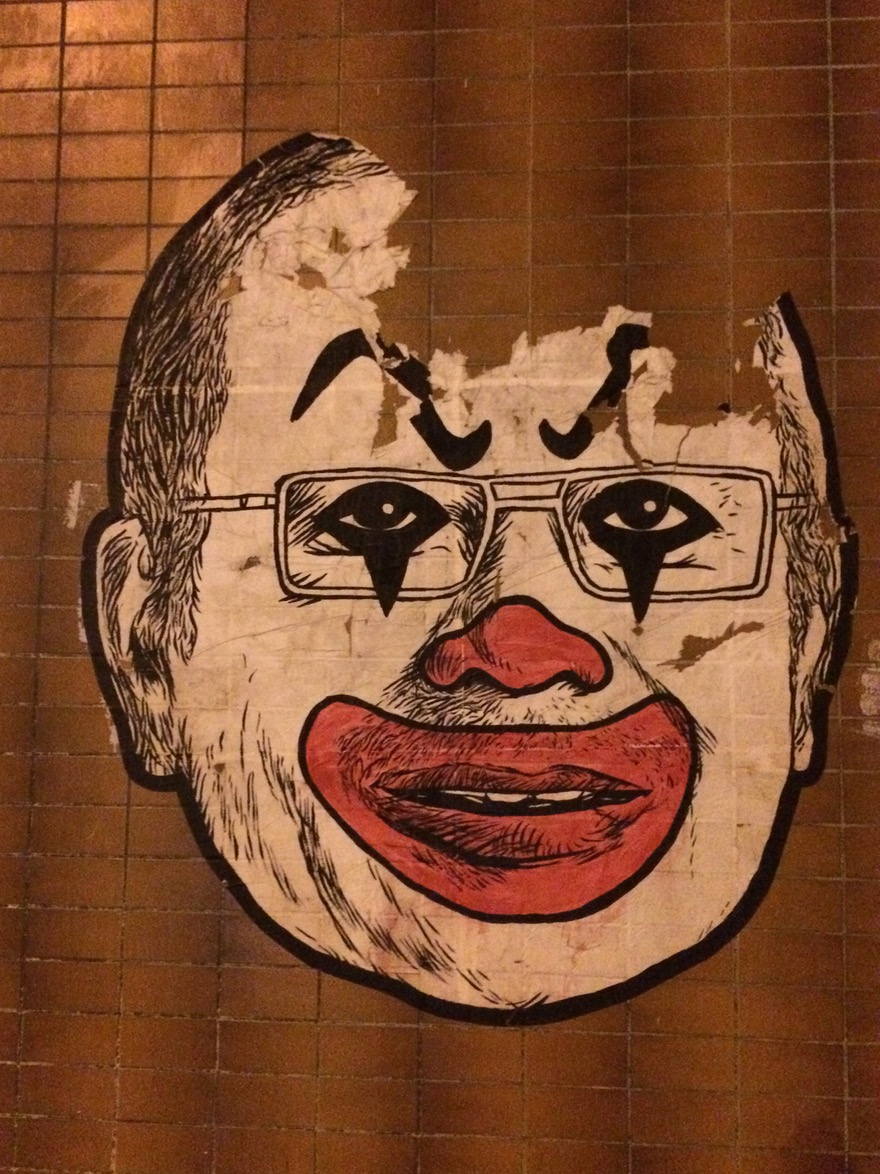 This clown looked vaguely familiar. I couldn't figure out why until I came back to Penang and looked through some old newspapers. Here is the story. About a year before our visit to Malaysia, this poster made a front-page splash. You see, the country's street art is rarely if ever been used as a political statement generating a social media storm and a wider protest. Fahmi Reza, a Malaysian graphic designer and activist, addressed a corruption scandal that involved then Prime Minister, Najib Razak, by creating a poster that went viral with the hashtag #KitaSemuaPenghasut meaning "we are all seditious."** He downloaded a portrait from Razak's Facebook page and added clown makeup to it. He put the poster up on the street and posted it to his social media accounts. Malaysian authorities didn't like it. Reza had been charged with violating multimedia laws and eventually arrested.
**) sedition – 1) incitement of discontent or rebellion against a government; 2) any action, especially in speech or writing, promoting such discontent or rebellion; 3) archaic. rebellious disorder.
Here is the location of the Clown in Ipoh. Though, I am not sure if it's still there:
If you want learn more about Fahmi Reza and the Clown, follow the links below.