Parque Lleras is eerily quiet in the morning. Nightlife revelers sleeping off excesses of the previous night. Small shops and restaurants are closed. No cars, no tourists yet either. Occasionally, a dog and his master could be seeing lazily following their morning routine or a dedicated fitness fanatic running in circles around the neighborhood.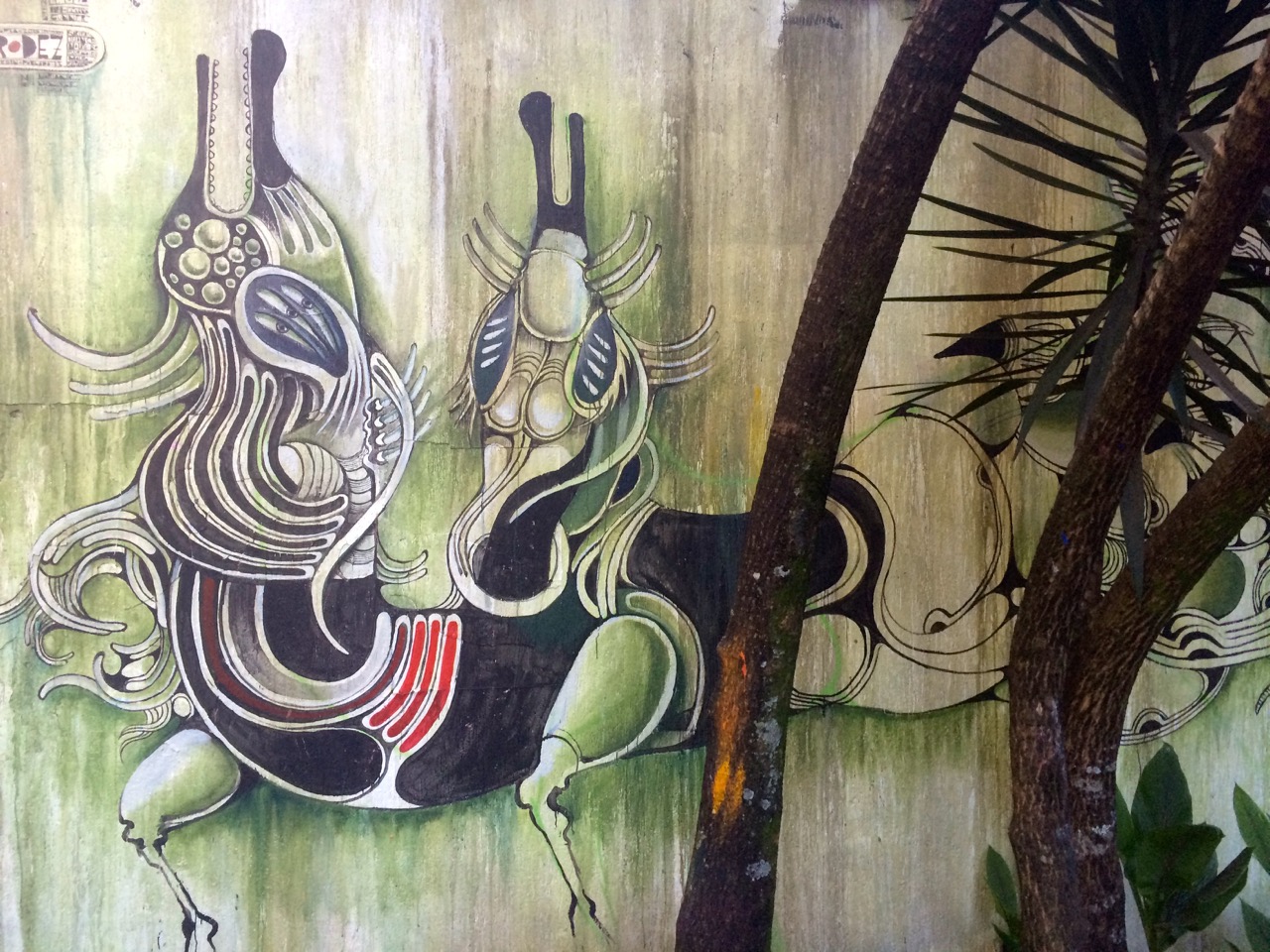 Meet the Creatures
A narrow path dives into a shadow of small building evidently housing some unremarkable bar. Another turn and suddenly you are looking at a different world… on a wall… full of whimsical creatures. There are two whales (for sure), there is a two-headed elephant (maybe), an oversized rabbit (or an undersized kangaroo). The creatures are so striking that assigning them known definitions, like an elephant or a whale, does not really mean anything. They are who they are in their own world.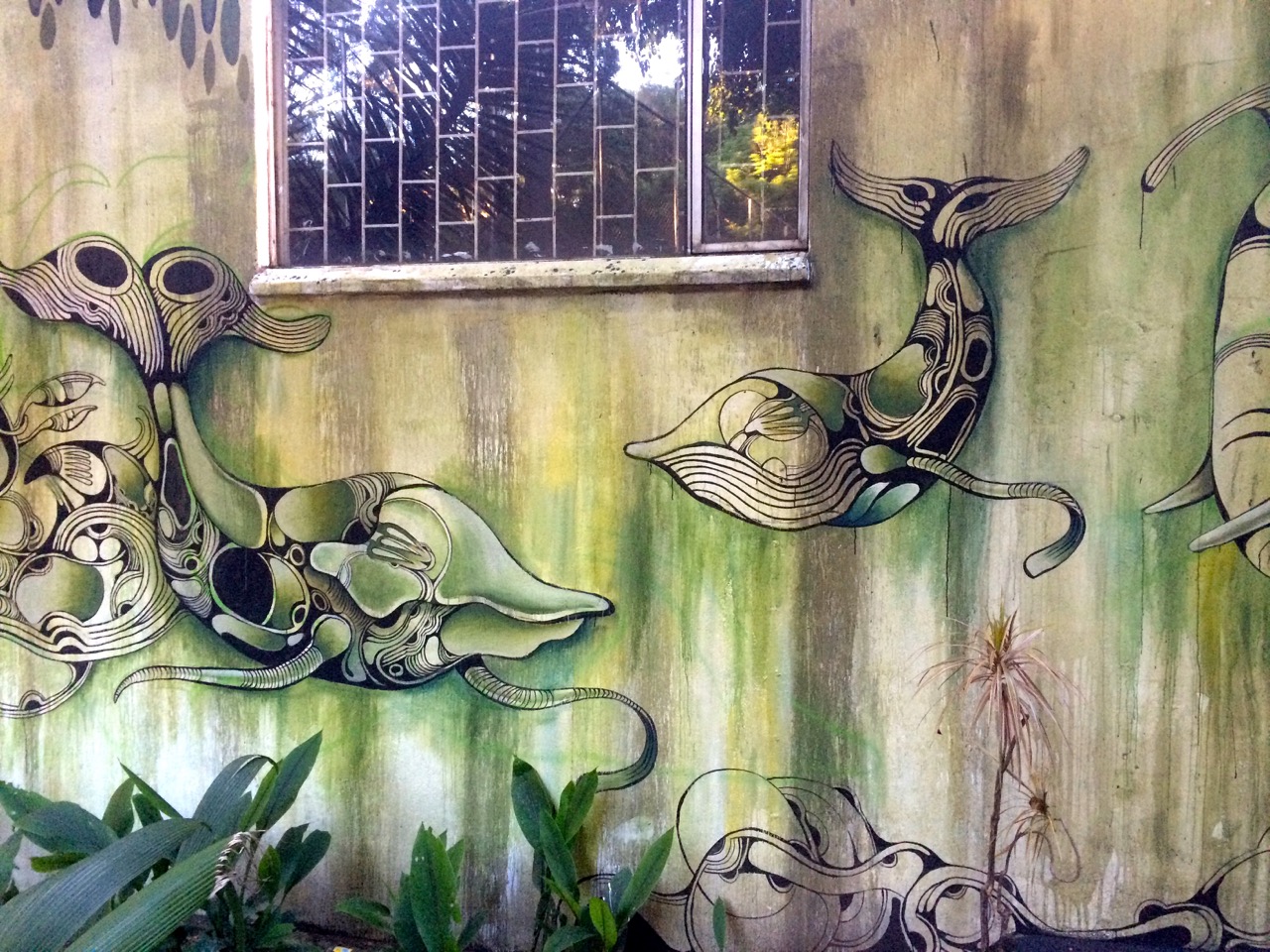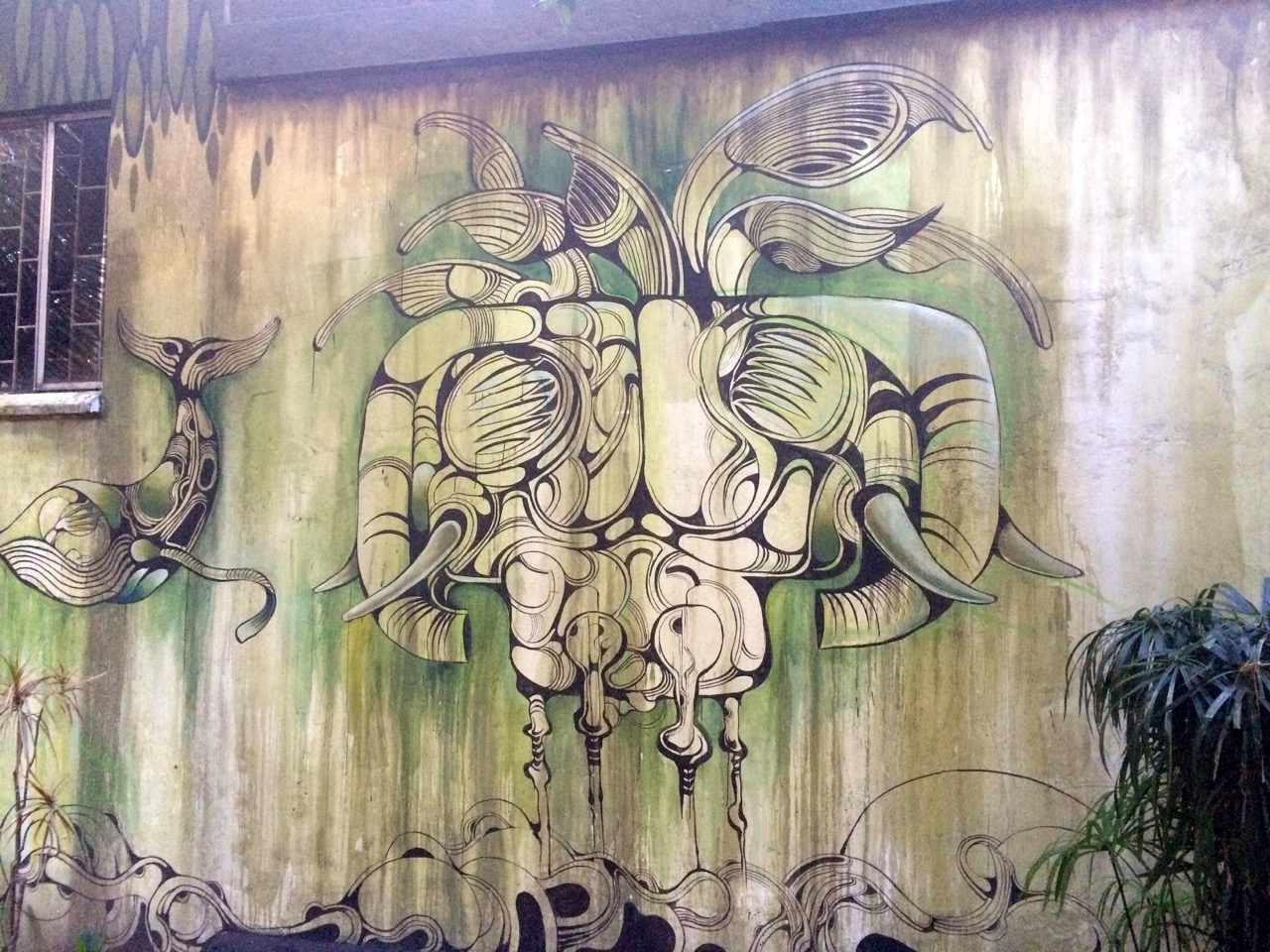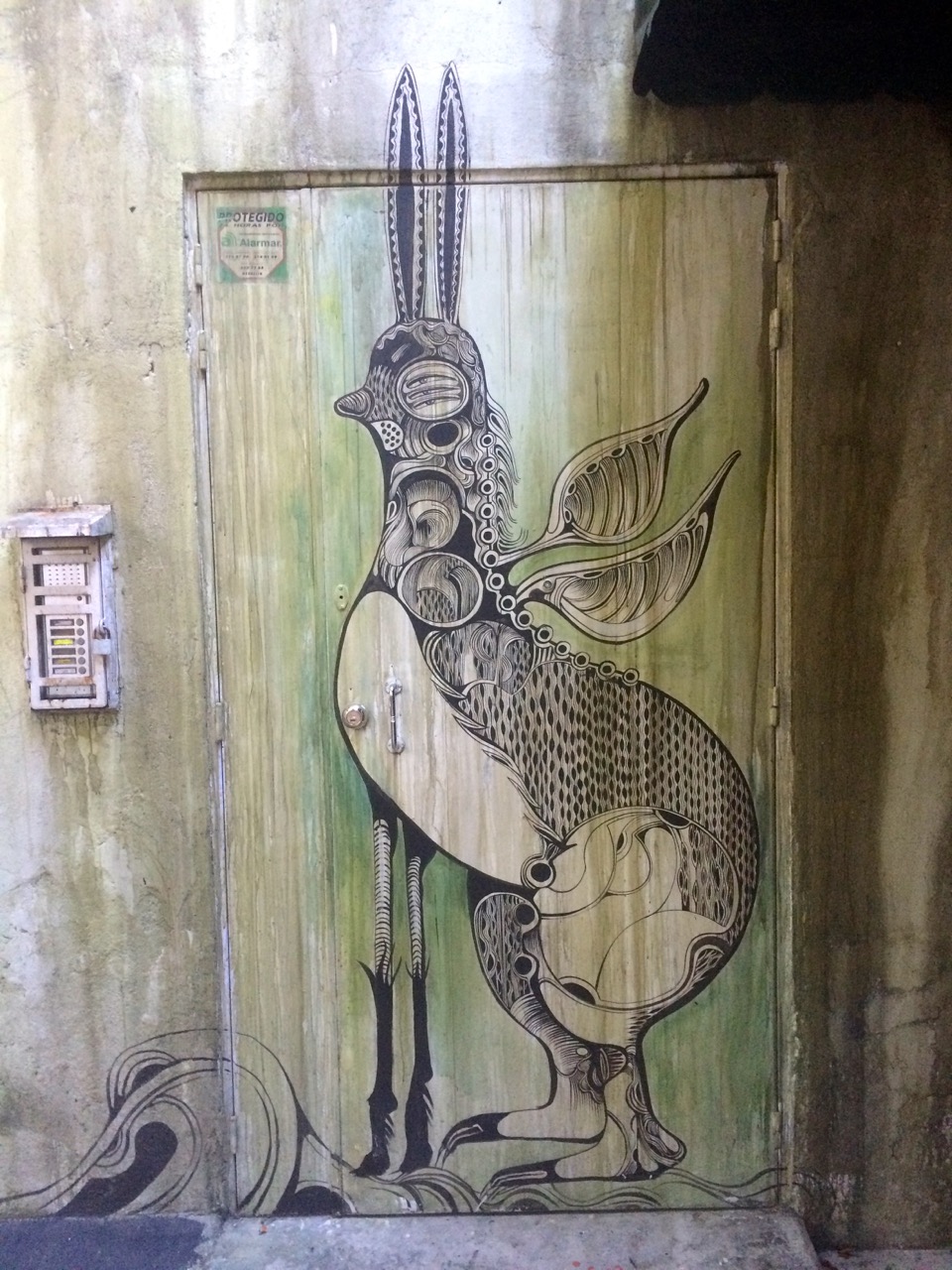 I was intrigued by these murals. We saw a number of very interesting street art works in Medellin, but these particular ones stand out by a big margin with immaculate attention to details and unusual style. They even slightly reminded me of ancient Phoenician and Greek drawings. Luckily the author left a distinct signature next to his work.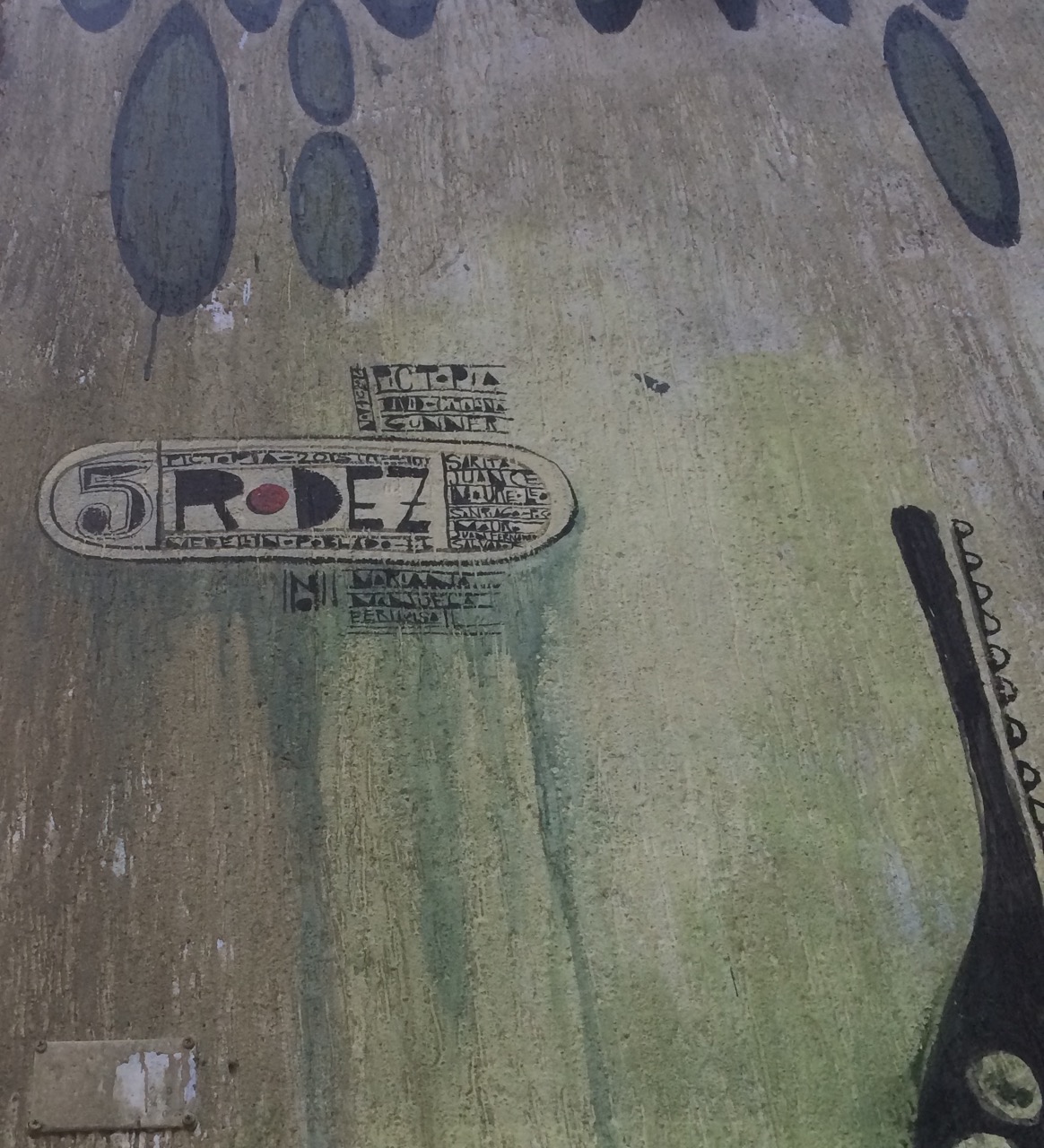 It appears that we stumbled upon murals created by Rodez.
About the author
Edgar Rodriguez, better known as Rodez, is a Colombian visual artist, graphic designer and illustrator, known for his unique and original style. His signature works are defined by creating mythological and fantasy animals. He has designed, written and illustrated more than 50 books for children, youth and adults in Colombia, Mexico, Spain and the United States. Rodez has received many awards and prizes for his work in the publishing industry.
Rodez began working at the mid-80s, as a graphic designer and illustrator. For more than 15 years, he also taught art at various universities and art schools. In the earlier 2000s, Rodez entered the street art scenery while creating his own distinct visual language. His murals could be found in Colombia, Argentina, Germany, Czech Republic, Spain, in both public and private spaces. In recent years, he extended his interests into even more areas: body paintings, paintings on cars, textiles and utilitarian objects.
Here is the great documentary about Rodez street art directed by Juan David Areiza
More information about Rodez:
Rodez creatures in Parque Llleras on Google Maps: