Airfare aggregators are traveler's best friends. However, there are some strings attached if you want them to serve you best.
Here are some quick tips to get best experience:
» Never stick with one aggregator. Search at least 2 or 3 different ones.
Every aggregator works with particular airlines: it could be an exhaustingly long list, but no one searches all airlines in the world. This is not a big secret and certainly understandable from a business point of view. Nevertheless, if you ask around quite often you would hear I use Hipmunk, I use Skyscanner or even worse Travelocity. Do not be lazy – 5 additional minutes may save you substantial amount of money.
» Look for newcomers.
Technology constantly moves forward and new services pop up all the time. Tool of the year circa 2010 might not be your best friend in 2014.
» "Big guns" are not the best choice for niche market.
Ok, let me explain this by following example. Hipmunk arguably is one of American favorite airfare searches (at least among people I know). It works well if you search for flights within the US. However, if you are looking for cheap tickets between lesser known European destinations, Hipmunk won't be your best friend.
» Use aggregators for search, but book tickets directly from airline's website.
Undoubtedly, airfare aggregators save you a lot of time and may search some airlines you never heard about. However, once you settled on your favorite choice, do not book a ticket right away via the aggregator. Go to the airline's website and check prices there for the route you selected. There are 2 reasons to do so:
1. in case you run into some problems with your tickets you will be dealing directly with the airline
2. you may get a better price directly from the airline as illustrated below
I used Skypicker.com to search for the low-cost flight between Seville and Dubrovnik on July 18th. The search result: 103.33EUR for Seville—>Rome—>Dubrovnik from Vueling Airline. It falls within my budget, so I was ready to book tickets.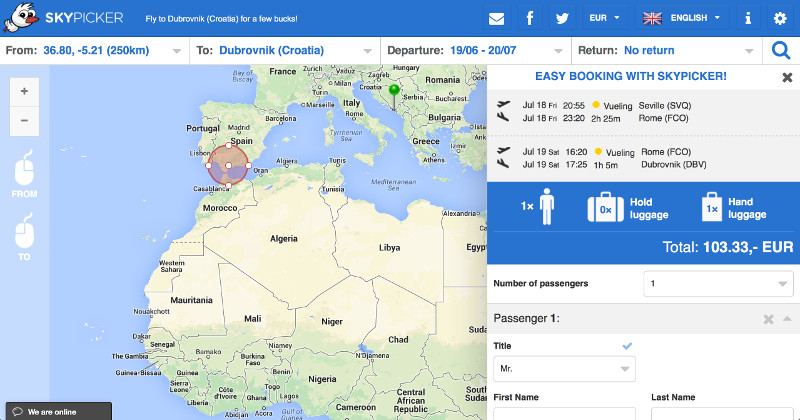 Then, I searched directly Vueling website for the same route.
Seville —> Dubrovnik search resulted in Seville—>Barcelona—>Dubrovnik route (different than Skypicker's) with price range from 144.98EUR to 204.98EUR depending on flight times. Not good. Vueling search results displayed number of different time choices, but adamantly refused to show any other routes except via Barcelona.
I split my search into two to replicate Skypicker's results: Seville —>Rome; Rome—>Dubrovnik. It worked and I got following.
Seville –>Rome: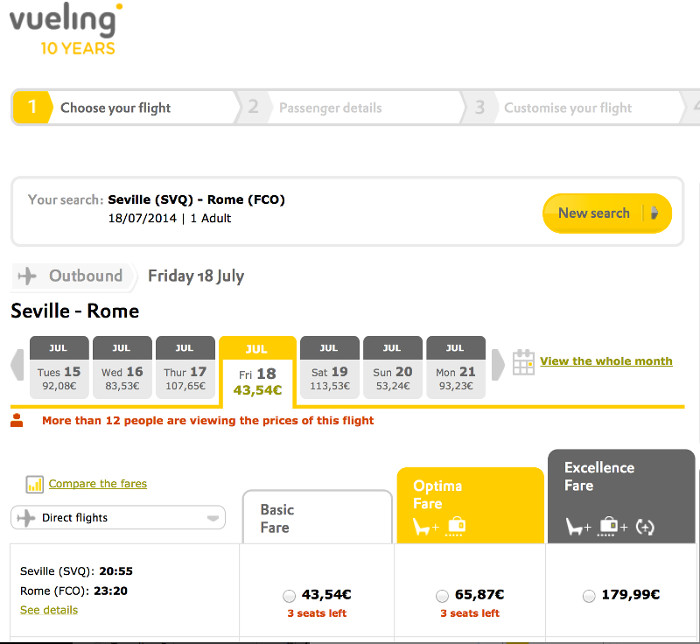 Rome –>Dubrovnik: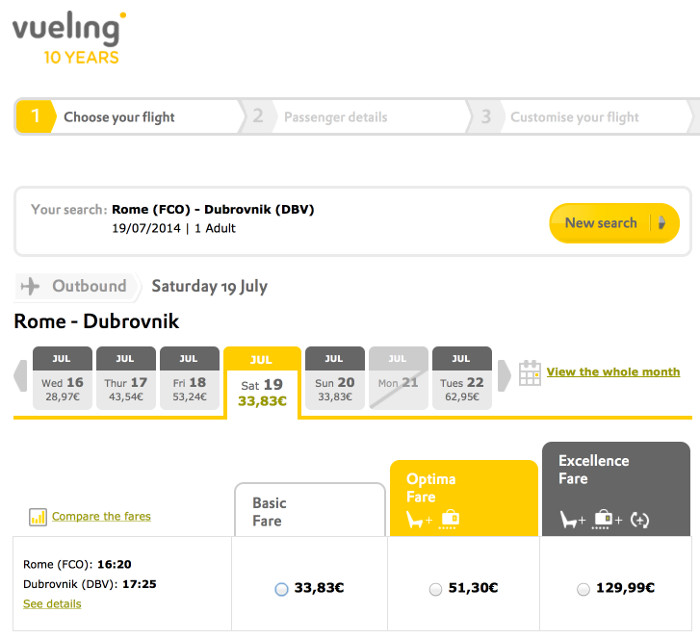 For the same route on the same date I got:
Skypicker: 103.33EUR
Vueling: 43.54EUR+33.83EUR=77.37EUR
I spent about 5min on Vueling website and saved 25.96EUR as a result.
Last, but not least. This is the list of my favorite airfare search engines as of June 2014:
1. Matrix Airfare Search – by ITA Software. Note: you can not buy tickets directly from ITA Software. Price out and go to the airline website to book.
2. Skypicker – search for low-cost tickets. I am not overly impressed with their UI, but it beats Matrix Airfare Search if you look for the cheapest tickets around Europe.
3. Dohop – from Reykjavík with love.