Tai Po Hui Market is an example of how Hong Kong government modernized traditional wet market culture. Presently, it occupies 2 floors of a large warehouse-style structure built in 2004 and called Tai Po Hui Market and Cooked Food Centre.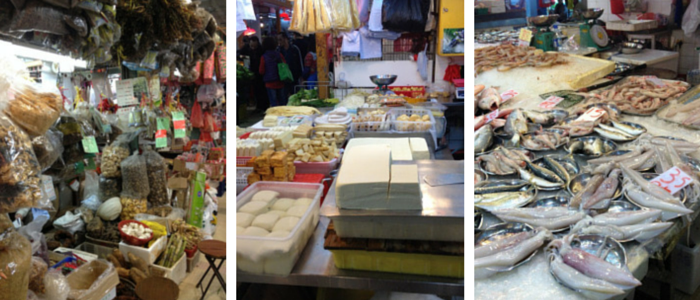 Wet Market definition from Wikipedia: Wet Market is a technical term used to differentiate fresh meat and produce markets from Dry Markets, which sell durable goods like cloth and electronics.
Simply put, wet markets are known as such because they sell meat and fish, which require frequent floor washing.
The majority of 12,000 square meter space is occupied by stalls offering food-related stuff (fish, meat, poultry, fruits, vegetables, spices, etc…). However, some household items, clothing and jewelry are also sold there. Some stall owners are even multitasking by combining selling and sewing chores. Sewing machines are hidden in the back of stalls where seamstresses tirelessly producing more and more clothes.
The Cooked Food Centre is on the third floor. It is as impressive as the market with an abundance of food options and seemingly endless amount of stalls. Definitely, it is worth a separate visit, but I was so overwhelmed by everything we saw on the first two floors that we left it for next time. Meanwhile, you can read about it here.
How to get there: