Couple months ago we were walking on Seattle's Alki beach and snapped this photo.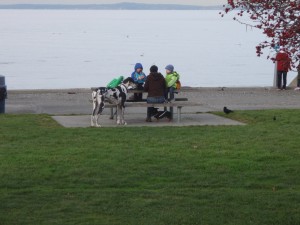 Everything seems pretty ordinary: a family having a picnic… except have you noticed their dogs? Remember this saying: I'll create a diversion and you go for a cake? Well, it immediately sprang to my mind. Every time I am looking at this picture I wonder out of those two who is creating a diversion…
While visiting the Golden Gate Park in San Francisco we spotted this sign.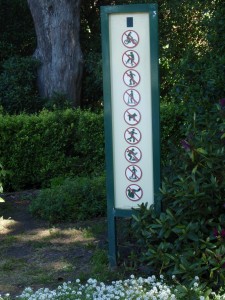 I like clarity and sometime guilty of lengthy explanations, but this warning is just plainly ridiculous. I guess we should be thankful that we are allowed to breathe there.
Another time, in Fremont neighborhood of Seattle this sign caught our attention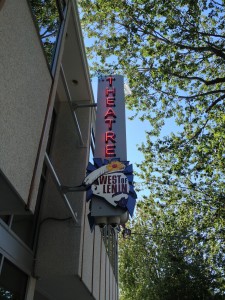 Bizarrely, there is a Lenin's statue nearby, so this theater very well could be located west of it.
I was checking photos taken in the past 3 years and realized that we amassed quite a collection of amusing snapshots. What they have in common is that all of them caught our attention with a simple question "What the heck is that?" – sometimes in a positive way, sometimes wondering what the author was smoking. They are humorous, serious, bizarre … To me, they illustrate the diversity of human nature and how different, but still similar humans are around the world.